A soft, sweet-spicy whisky from Scotland's oldest working distillery has been declared the world's top single malt Scotch. Aged in three types of wood and boasting a 45% ABV, the amber comes at a price of only USD 55 (HKD 431 approx.). Here's all about it.
One of the most prestigious competitions in the world of all things heady – the International Wines and Spirits Competition (IWSC) awards the most exceptional spirits from around the world, giving each a score out of 100. The 2023 edition saw several quality libations receiving medals – double gold, gold, silver, bronze. And of thousands of whisky entries, Glenturret Triple Wood 2022 was crowned the best single malt Scotch with 99 points. Produced by Scotland's oldest names in the business – dating as far back as 1763 – the dram is creamy and spicy. Best part? It will only set you back by USD 54.96.
The world's best scotch whisky promises smooth sips Glenturret is well known for being a key part of Scotland's favorite blended Scotch The Famous Grouse, which also includes The Macallan and Highland Park. However, of late, it's been in the headlines for its new earthy-spicy 33-year-old Prowess. What truly set off a wave of chatter around the brand however, was the Triple Wood 2022 – a smooth Scotch deemed the best in the world. It's distilled using traditional methods – a hallmark of the brand. This includes wooden washbacks, slow processes, hand mashing, and cutting the spirit by eye.
Although it doesn't have an age statement, as the name suggests the dram has been matured in three casks – American Sherry, European Sherry, and Bourbon. The payoff is a golden pour that has hints of dried fruits, oak, and vanilla on the nose. Every sip is sweet and creamy, with hints of peaches, cinnamon, candied ginger, orange, dark chocolate, and pepper. The finish is creamy, smooth, and subtle. The whisky comes in a stunning heavy decanter bottle designed by luxury glass art brand Lalique. The IWSC Panel – which includes the likes of master blenders David Stewart and Richard Paterson – meanwhile, described it as, "A summer Turkish delight of sweet raisin, marmalade and orange blossom aromas with a rich fruitcake palate, hints of brown sugar and honey, with a creamy toffee texture on the finish." Other expressions from the brand that won medals include the 10-year-old 2022 Release Single Malt Scotch Whisky (95 points), 15-year-old 2022 Release (95 points), and 12-year-old Whisky 2020 Maiden Release (95 points). The 7-year-old 2022 Release, 12-year-old 2022 Release, 10-year-old Peat Smoked 2021 Release, 10-year-old Peat Smoked 2020 Maiden Release, and Triplewood 2020 Maiden Release received silver medals.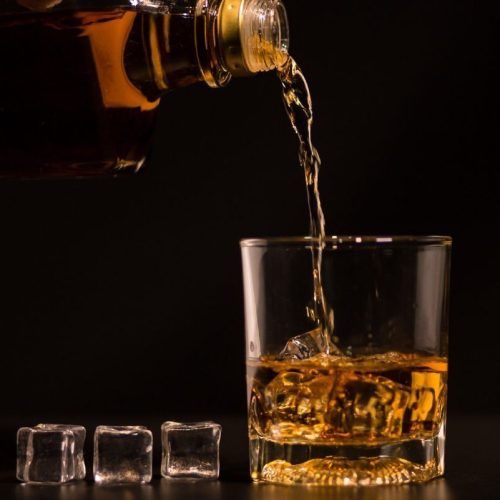 About 23 Scotch whiskies were rated 98 – just short of a point to match up to the Triple Wood 2022. Of these, 21 are single malts and 3, blended whisky. About 105 Scotches have a score between 95 and 97 – earning them a gold medal. Originally known as Thurot Distillery, Glenturret is nestled on the banks of the Turret River in the Scottish Highlands. Its history spans both illegal and legal production. The water source Loch Turret flows over the granite in the Grampian Mountains – producing exceptionally soft water that's perfect for producing whisky. That said, it only recently began offering up single malt expressions – with popular options being the 10, 12, 15, and 21 year-olds. The 25 and 30 year-old expressions, meanwhile, are difficult to source.
At an average price of USD 54.96 – this complex whisky is worth an addition to your whisky collection, especially if you enjoy a good ol' on-the-rocks ritual.
All images: Courtesy Brand
This story first appeared in Lifestyle Asia India