British artist Damien Hirst has joined hands with art services and technology business HENI to present his iconic Spin Paintings in a more technology-driven format dubbed The Beautiful Paintings. Now, fans of Hirst's decades-old work can get their own version of Spin Paintings in the form of non-fungible tokens (NFTs) using HENI's technology.
The Beautiful Paintings NFTs are minted on the Ethereum blockchain. They can also be physically produced in four different sizes in either square or round shapes. HENI says Hirst will sign the physical artworks by his own hand.
The artworks can be produced by avid collectors via an app dashboard accessible on HENI's official website.
More about The Beautiful Paintings
How to use the dashboard and create an artwork? Collectors can select the size, style, colours, shape and medium to generate their artwork, which will be randomly generated using the inputs. HENI says that "each artwork in this series will be unique."
There are 25 different styles that generators can pick. Spin styles are given names such as 'Heavens,' 'Gyrations,' 'Explosions,' 'Tourbillons,' 'Supernovas,' and 'Typhoons' among others. There is also a black-and-white style named 'Star Clusters.' Collectors can further customise their output by using the optional blur feature.
Titles of each output, which are "playfully long and descriptive," are created through machine learning, starting with the word 'Beautiful' and ending in 'Painting.' But if the name is not what the collector would want, they can regenerate a new one for the artwork.
The Beautiful Paintings were launched on 31 March and will be available till 10 April. The physical versions of the artwork are Giclée prints on poly-cotton artist canvas mounted on birch plywood stretchers. Depending on the size, the physical artworks will cost between USD 1,500 to USD 6,000, excluding taxes. All NFTs versions, on the other hand, are priced at USD 2,000 excluding taxes.
What are Spin Paintings?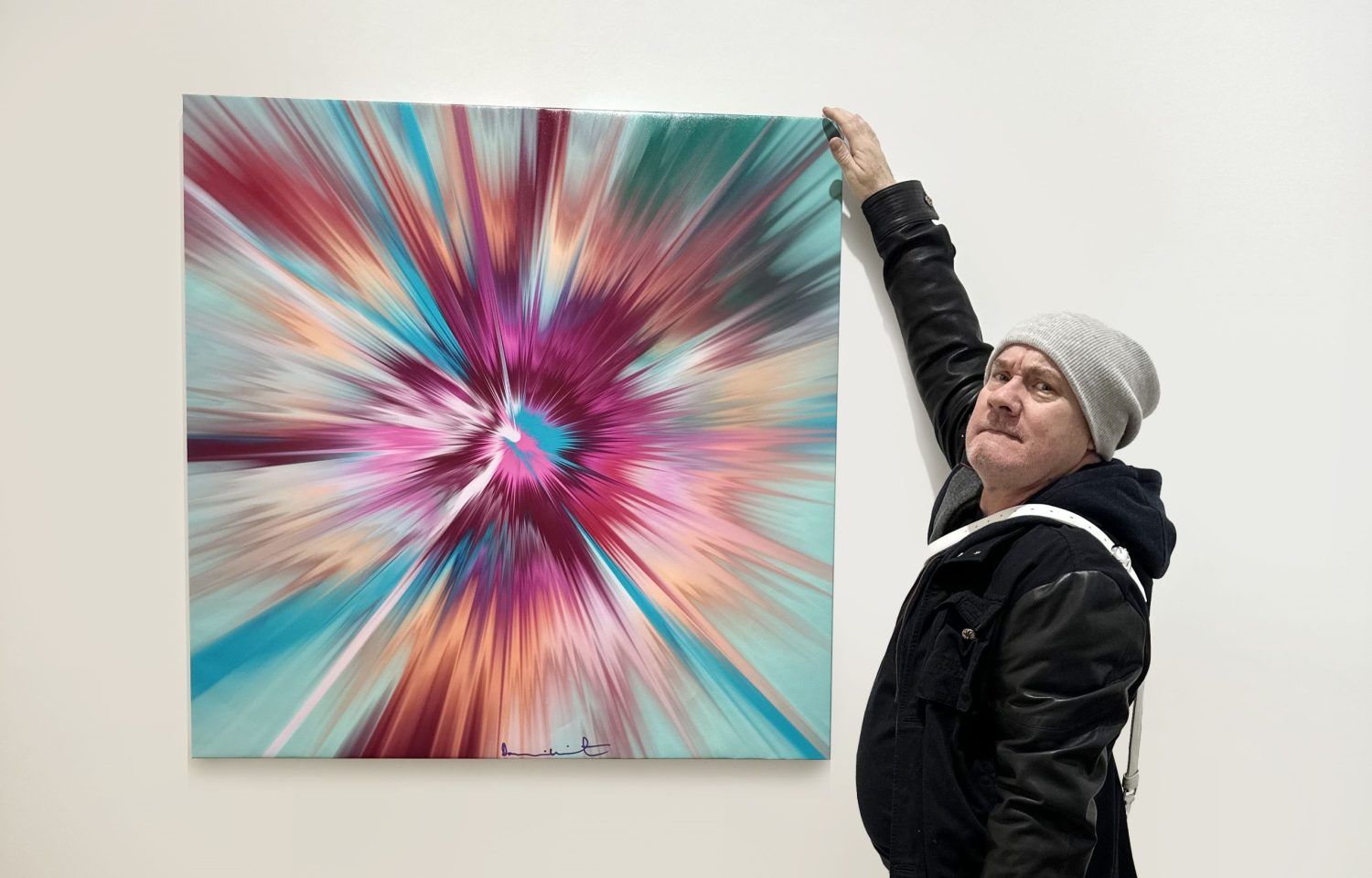 The Spin artworks were produced on a spinning canvas, with Damien Hirst pouring in pigments and the colours merging together.
Hirst started his Spin Paintings in 1992. The first artwork was titled Beautiful Ray of Sunshine on a Rainy Day Painting.
One of his famous collaborations was with music legend David Bowie, with whom Hirst created Beautiful, Hallo, Space-Boy Painting in 1995. That painting was auctioned for around USD 1 million in 2016.
(Main and Featured images: Prudence Cuming Associates Ltd.)
This story first appeared in Prestige Online Hong Kong
written by.
Manas Sen Gupta
Manas enjoys reading detective fiction and writing about anything that interests him. When not doing either of the two, he checks Instagram for the latest posts by travellers. Winter is his favourite season and he can happily eat a bowl of noodles any time of the day.