BTS members shell out major fashion goals with every outing, inspiring the youth to step out of their basic fashion game. Ever since their debut in 2013, the boys have switched their looks many times, experimenting with a variety of hair colours, piercings as well as tattoos. Eagle-eyed fans have long been intrigued by BTS' tattoos and the meaning they hold in the K-pop stars' lives. So, what are these tattoos all about?
All BTS members are a part of the tattoo club, thanks to their matching friendship tattoo '7'. However, Jung Kook and Jimin are known for their individual tattoo collections. In fact, Jung Kook has so many amazing works of body art that we are not sure how to track them. We've compiled a list of designs the band members have flaunted in the past. Have a look!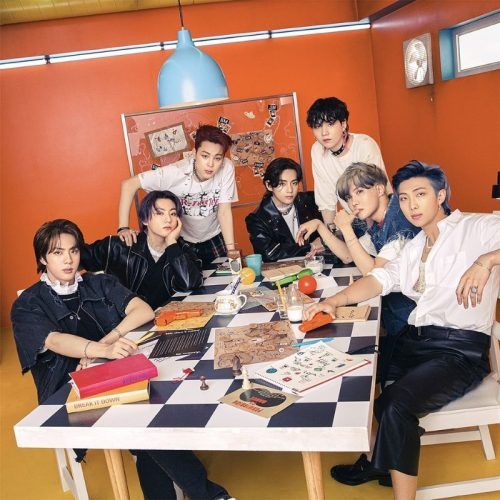 BTS tattoos: Special meanings
The friendship tattoo
We're sure the BTS ARMY already know about the band's friendship tattoos, and interestingly, it was Suga's idea to get the number '7' inked on their bodies. The tattoo announcement was made by BTS during their annual Festa dinner party video, following which some of the members flaunted the design via social media.While leader RM got the tattoo right above his ankle, J-hope flaunted it on one of his calf legs. While Jimin got inked on his finger, Jung Kook and Jin got it behind the ear and on the back of the waist, respectively.Rounding up the septet are BTS' V and Suga. V got the tattoo on his leg (right above his knee) and Suga's friendship tattoo is still a mystery. However, fans spotted a very similar-looking tattoo on his neck.
View this post on Instagram
The actual meaning of the tattoo runs much deeper than friendship and BTS' tattoo artist Polyc SJ revealed the interesting fact via social media. All the different font styles of the number '7' tattooed by the members, when positioned in their original place, spell BTS. Now isn't that amazing?
omg polyc, jungkook's tattoo artist and also the one who tattooed the friendship tattoo of the boys just shared this masterpiece "all 7s tattoos combined and you got BTS. it's definitely a soulmate thing" he said pic.twitter.com/s5k53gNRLx

— ⁷‍♀️ (@jeonsfairyy) November 13, 2022
Individual tattoo collection of each member
Jimin
BTS ARMY has spotted Jimin's tattoos from time to time and many have theorised what they could mean. From our research, the artist has a total of seven tattoos including the friendship tattoo.
The singer has 'NEVERMIND' inked on his right side and according to Popsugar, Jimin got it as a temporary design and turned it into a permanent one later.
The second tattoo is the number '13' visible on the inside of Jimin's wrist, which many believe is an ode to either BTS' debut date June 13, 2013, or his own birthday on October 13.
The next tattoos are 'young' and 'forever', each near his elbows that echo BTS' 2016 track Young Forever.
Another interesting design spotted on the back of Jimin's neck is a series of moon tattoos, all in distinct phases inked vertically on his back. These tattoos were revealed during the promotional photos of his solo album FACE.
WAIT WHAT WE FINALLY GOT PARK JIMIN MOON TATTOO

PARK JIMIN RECORD BREAKER#BTSJIMIN #FACE_Jimin #Jimin_FACE #facebyjimin pic.twitter.com/gTmmEkaK25

— x⁷ (@Eclipse_Sin_7) March 24, 2023
The last one in Jimin's tattoo collection is the word 'youth' inscribed behind the back of his ear in cursive style. It represents BTS' song Youth as well as an upcoming BTS-inspired K-drama of the same name.
jimin's "nevermind, , young forever, youth and crescent moon " tattoos ♡ pic.twitter.com/x3080Gexap

— SJM#FACE (@stussyjimin) March 14, 2022
Jung Kook
Jung Kook clearly loves tattoos, and his expansive collection is a testament to it. The artist also gave fans a detailed explanation of all his tattoos during a Weverse Live session. So, let's break down everything for you.
The boys have a karmic connection with their ARMY, and they never cease to shower love on their fans. Jung Kook's first-ever tattoo rightly proves so! The singer has 'ARMY' and a purple heart tattooed on the back of his palm. This area is also decorated with a crown tattoo over the "A" of ARMY and a 'J' motif which stands for his name. He also has his favourite emoticon inscribed on his middle finger.
The second significant tattoo which also appears on the side of the same palm is BTS's debut date, 06/13, just like Jimin.
Jungkook showing his ARMY tattoo pic.twitter.com/KW8qaBp3K7

— ◡̈ (@taebokkiii) March 14, 2023
Moving on, Jung Kook has a couple of tattoos on his forearm, one of which represents the date on which he came to Seoul. This is accompanied by two quotes the singer swears by, displayed in a criss-cross manner. These read 'rather be dead than cool' and 'make hay while the sun shines'.
Other significant tattoos on Jung Kook's forearm include a big tiger lily, which is his birth flower. It comes along with the phrase 'please love me' written behind it. Adjacent to the flower you'll find a clock, which reveals the singer's exact birth time. Further, he added a microphone with a chain, which sheds light on the fact that he was born to be a singer.
If these weren't enough, Jungk Kook's elbow has more to offer. Here you'll find the Chinese word Hwayangyeonhwa, which translates to The Most Beautiful Moment in Life. For those of you who don't know, The Most Beautiful Moment in Life is one of the most notable albums by the band which came out in 2015. This appears with another design that draws inspiration from the traditional Korean painting technique called dancheong.
jeon jungkook's tattoos pic.twitter.com/4K5LCEDP3n

— km. (@jikookalbum) January 19, 2023
Jung Kook's tattoo cover-ups
Jung Kook also has a trail of cover-up tattoos as well. The first one among these is a cloud and lightning tattoo, which came as a replacement for a motif he got back in the US while shooting for the 'ON' music video. Jung Kook explained how the original tattoo was a mess, therefore his new tattooist decided to convert it into a cloud design which was further filled with colours.
The second is a bullet proof design on his forearm, which has been morphed from an eye design. The change happened because he didn't like the earlier version.
Coming to Jung Kook's wrist area, there's a big snake tattoo. The singer earlier had three parallel lines in this area, which are a symbol of 'Geon' (it represents heaven in Korean).
J-Hope
The next band member, J-Hope stands in stark contrast to Jung Kook when it comes to tattoos. The singer has just one tattoo, the common BTS friendship tattoo right above his Achilles tendon. The placement of the tattoo is also interesting as the term "Achilles heel" means somebody's weakness or vulnerable point.
Fans pointed out that J-Hope once called ARMY his "Achilles heel" during 2021 Let's BTS talk show. He elaborated that the ARMY is the only strength that keeps him going and is a big driving force for the band.
BTS V
BTS' V aka Kim Taehyung also doesn't seem like a big tattoo fan and only has the BTS friendship tattoo engraved on his leg, just above his knee. The revelation was made via an Instagram post, where he is seen posing shirtless during his trip to Mexico.
V Friendship tattoo#rihopesmiley pic.twitter.com/WyKYmuSfPI

— RIYA (@rihope_smiley) December 16, 2022
Jin
Jin too flaunts just one tattoo – BTS' '7' tattoo on his waist. He treated fans to a shirtless picture of him, where fans could see the tattoo on the curve of his waist.
View this post on Instagram
Suga
Suga also has a friendship tattoo, however, he hasn't revealed it yet unlike his band members. The Valentino brand ambassador has built immense curiosity around his '7' engraving. The ARMY seems to have discovered it via one of his Instagram posts.
The artist shared shirtless pictures of him on Instagram and fans immediately noticed the number '7' resting on his neck. We hope Suga makes an official revealtion soon!
THE 7 TATTOO HELLO YOONGI ?? #SUGA #BTS @BTS_twt pic.twitter.com/pvSXBgJIVS

— Jiya⁷ FACE (@BTSTJ4SR) January 5, 2023
RM
Lastly, BTS' leader RM too has the '7' inscribed as a tribute to the band, which appears a little above one of his ankles. The singer also spoke about his tattoo procedure in one of his live sessions. He mentioned, "It took 2 hours to stamp on the body to check the font and positions, but it took me only two damn minutes to have an actual tattoo on my body. It was only two lines. one line "oh ouch" 2nd line "oh ouch" and done."
10062022 Rkive insta story update

A TATTOO?!?!?!? #RM #BTS #김남준 #NAMJOON @BTS_twt pic.twitter.com/NG7fRoaJ8a

— RM BASE₁₂₃ INDIGO (@RMBASEINA) June 10, 2022
Hero image: Courtesy bts_bighit/ Twitter; Feature image: Courtesy bts.bighitofficial/ Instagram
This story first appeared on Lifestyle Asia Singapore
Frequently Asked Questions (FAQs)
Question: What is BTS' friendship tattoo?
Answer: Each BTS member has gotten a '7' tattooed on their body to pay tribute to the band and their friendship.
Question: What does BTS 7 mean?
Answer: '7' is the BTS friendship tattoo that each member has gotten inked on their body.
Question: Who got their friendship tattoos after RM?
Answer: BTS leader RM was the first member to flaunt his '7' tattoo, following which J-Hope, Jung Kook, Jimin and V revealed it.
Question: What does BTS Jung Kook's tattoo mean?
Answer: BTS' Jung Kook has the most number of tattoos among the group, each having a deep meaning attached to it. Jung Kook's forearm has a big tiger lily, which is his birth flower. It comes along with the phrase Please love me written behind it.