Face, the debut solo album of BTS member Jimin, will be released on 24 March.
In a message posted late on 21 February, BIGHIT MUSIC announced that the solo album will drop at 1 pm KST/12 AM ET on the date.
The date announcement comes days after Jimin, who in January became Dior's global brand ambassador, dropped hints during a Weverse live broadcast that his solo album was on the way in March.
More about Face, the first solo album from Jimin
Teaser released alongside statement by BIGHIT MUSIC BIGHIT MUSIC released a teaser of Face, showing dark water and droplets slowly turning into a rose pink pool with the name of the album formed by ripples.
FACE
2023. 3. 24.
1PM (KST) | 12AM (ET)#지민 #Jimin #Jimin_FACE pic.twitter.com/knSAq951C7

— BIGHIT MUSIC (@BIGHIT_MUSIC) February 21, 2023
No specific details were shared by BIGHIT MUSIC. The agency, however, released a press statement describing Face as an album that is "all about Jimin facing himself head-on as he gets ready for his next step as a solo artist."
The statement says that the album is part of the "various activities" through which the 27-year-old BTS member will see fans.
BIGHIT MUSIC said that the album is available for pre-order starting 22 February at 11 am KST.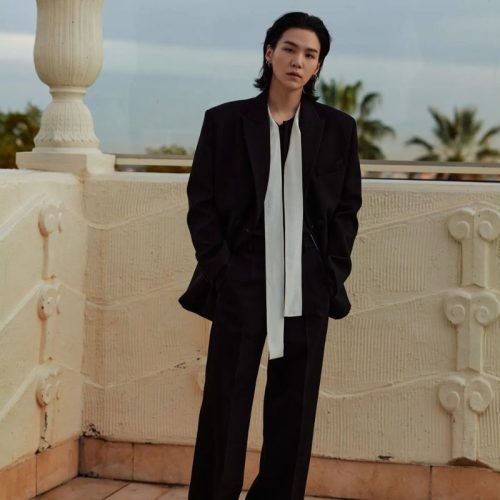 Jimin had earlier hinted at a March release
According to Soompi, during the live Weverse stream on 10 February, Jimin told fans about the possible March release of his album.
"I think the album I've been working on is going to drop in around March. I'm currently preparing lots of things that I can do together with you guys around that time," he said.
Jimin had earlier in 2023 teamed up with BIGBANG member Taeyang for the song "Vibe."
TAEYANG – 'VIBE (feat. Jimin of BTS)'
2023.01.13 2PM (KST)
⠀
M/V TEASER Out Now!
▪️https://t.co/BG9YVlyNZI
Pre-Save
▪️https://t.co/1TyNirEX4P
⠀#VIBE #바이브#TAEYANG #태양 #Jimin #지민#THEBLACKLABEL #더블랙레이블 pic.twitter.com/IVFlnbbcsx

— TAEYANG (@Realtaeyang) January 11, 2023
Face is the fourth solo work by a BTS member since the group took a break from collective activities to complete their respective calls for compulsory military service.
Jin dropped the single "The Astronaut" in October 2022 and subsequently became the first member to enlist. RM released his solo album Indigo in December 2022 and J-Hope released his album Jack In the Box in July 2023.
(Main and Featured images: BTS_official/@bts_bighit/Twitter)
This story first appeared in Lifestyle Asia Bangkok
written by.
Manas Sen Gupta
Manas enjoys reading detective fiction and writing about anything that interests him. When not doing either of the two, he checks Instagram for the latest posts by travellers. Winter is his favourite season and he can happily eat a bowl of noodles any time of the day.