Location is important to any movie, irrespective of the genre as it helps establish the movie's disposition. And, for horror movies, a carefully constructed set or a real-life spot exuding an eerie and spooky vibe is half the battle won in adequately scaring the audience. It is not easy to successfully ace the horror genre, and a location completes the experience indeed, along with cinematography, background score, makeup, suspenseful plot, special effects and acting. By Sushmita Mahanta
While many iconic horror movies such as Psycho (1960) have been shot on a set, there are movies such as The Shining (1980) which were filmed in real international locations like the Timberline Lodge in Oregon.
It is creepy yet interesting to explore the real-life locations of some of the scariest and spookiest horror movies of all time. Visiting these locales may surely give you an eerie feeling and might even send a chill down your spine as you recount some of the most horrific scenes shot here. Most of these locations are carefully preserved and open to the public too.
Be it London's All Saints Church where a key scene from The Omen (1976) was shot or The Haddonfield, Illinois residence in South Pasadena, where a young Michael Myers (James Jude Courtney) murdered his sister in John Carpenter's original Halloween (1978), visiting these shooting locations may appeal to every horror movie fan in the world.
If you plan to explore these locations and relive the scariest memories from your favourite horror movies, we have you covered.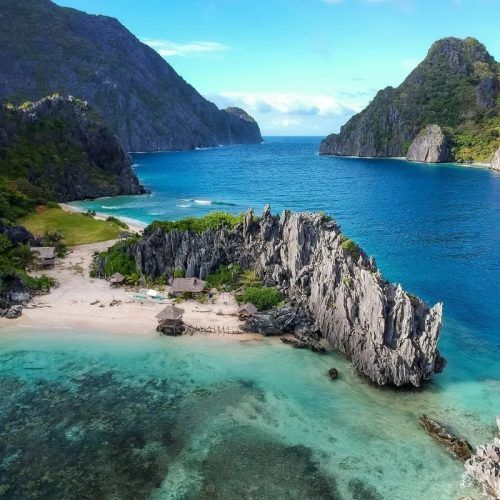 Here are some of the must-visit international horror movie shooting locations
(Main image credit: Marty Aligata/CC BY-SA 4.0/ via Wikimedia Commons; Featured image credit: G Yancy/CC BY 2.0/ via Wikimedia Commons)
01
The Spadena House in 'The Undead' (1957) The Spadena House located at Walden Drive, also known as 'The Witch's House', in Beverly Hills, California, was one of the major shooting locations for this horror movie. The Witch's House, which was moved to Beverly Hills in 1924, was designed by Henry Oliver in 1921 on Irvin Willat's film studio's backlot in Culver City. A not-so-known fact about the house is that before being moved, it was used as an office and a dressing room.
(Image credit: Carol M. Highsmith/ Public domain/via Wikimedia Commons)
02
The Ennis House in 'House On Haunted Hill' (1958) Designed by Frank Lloyd Wright and built in 1924, the Ennis House in Los Feliz, California served as the main setting for this American horror film. They also used the historic Ennis House for the exterior shots of its infamous 'haunted house party'. However, a bulk of the film was shot on sound stage sets, replicating the 1890s Victorian style interiors of the house.
( Image credit: evdropkick/CC BY 2.0/via Wikimedia Commons)
03
Universal Studios in 'Psycho' (1960) This iconic horror movie following a serial killer from Alfred Hitchcock's creations has been majorly shot at Universal Studios in Hollywood and is one of the most visited tourist spots now. Fans can experience the horrors of Bates Motel in a Universal Studios backlot tour. The set is preserved for movie buffs across the world who wish to get an immersive experience of being a part of this immortal movie brought to life by Anthony Perkins as Norman Bates.
(Image credit:Diego Delso/ CC BY-SA 4.0/via Wikimedia Commons)
04
Potter Schoolhouse in 'The Birds' (1963) This horror movie by Hitchcock has been filmed in the actual Potter Schoolhouse in Bodega Bay, California. Interestingly, the location is a preferred spot for migratory birds in reality. Now a private residence, there are instances where the owners have claimed to have experienced supernatural presence inside the premises.
(Image credit: MARELBU/ CC BY 3.0/via Wikimedia Commons)
05
Evans City Cemetery in 'Night of the Living Dead' (1968) The cemetery in Night of the Living Dead has always been a place of interest. And once you head to Pennsylvania, you can easily locate the Evans City Cemetery on Franklin Road, where parts of the movie were shot. The cemetery is quite isolated and the many surrounding trees exude a creepy atmosphere. So if you enjoy strolling by old graveyards, love exploring headstones, and can't wait to revisit the famous Nicholas Kramer gravestone from the movie, Evans City Cemetery awaits your presence.
(Image credit: Willjay/CC BY-SA 3.0/via Wikimedia Commons)
06
Quick Hill in 'The Texas Chainsaw Massacre' (1974) The house where Leatherface's (Robert Jack) family lived, has been an integral part of The Texas Chainsaw Massacre since its inception in 1974. And explorers would be happy to know that the makers ditched artificial sets and went for real shoot locations.
The family house originally stood in an area known as Quick Hill in Round Rock, Texas. However, it was made a part of the Antler's Hotel complex and shifted to Kingsland in 1998. Currently, you can find the house at 1010 King Court, Kingsland, TX 78639. It is now the Grand Central Cafe and their meals are a must-try.
(Image credit: Another Believer/CC BY-SA 4.0/via Wikimedia Commons)
07
Timberline Lodge in 'The Shining' (1980) Stanley Kubrick's classic horror-drama was mostly shot in Oregon's Timberline Lodge, a ski lodge that has been entertaining guests since 1937. The brilliant expertise of the movie's team made the exteriors of the lodge look like the fictional Overlook Hotel throughout.
From turning the lodge's room #217 to the famous room #237, using aerial shots of Timberline for the opening sequence to shooting at Elstree Studios in England with a mock-up of the lodge's south face for the hedge maze and loading dock, Kubrick made sure the ski lodge's presence was felt strongly in the movie.
Interestingly, the official website of Timberline Lodge points out, "curiously and somewhat ironically, room #217 is requested more often than any other room at Timberline."
(Image credit: Jrozwado/CC BY-SA 4.0/ via Wikimedia Commons)
08
Camp No-Be-Bo-Sco in 'Friday the 13th' (1980) The real-world shooting locations of this popular American slasher film is what makes it stand out in the horror genre. The movie is mostly set around the famous Camp Crystal Lake and its set was a 1927 boy scout retreat called Camp No-Be-Bo-Sco located in Hardwick, New Jersey. The camp is operating to this day but no excited fans are allowed to trespass. However, No-Be-Bo-Sco treats visitors with elaborate Crystal Lake Tours on select days. The usual date for holding these tours is of course Friday the 13th during some months, especially for the film's crew.
(Image credit: Enzo Arcamone/CC BY-SA 4.0/ via Wikimedia Commons)
09
Venice and Los Angeles in 'A Nightmare on Elm Street' (1984) This 1984 horror movie directed by Wes Craven was shot in Venice and Los Angeles, California. While Nancy's (Heather Langenkamp) house was located at 1428 N. Genesee Avenue, Hollywood, most of the school scenes were shot at John Burroughs Middle School, Los Angeles. A few other places from the movie that a horror movie enthusiast can visit in Los Angeles are the Cahuenga Branch Library, Evergreen Cemetery, Morningside Way, John Marshall High School and Venice Beach.
(Image credit: Blake Everett/ CC0/via Wikimedia Commons)
10
South Pasadena in 'Halloween' (1978) This iconic John Carpenter directorial is majorly shot in South Pasadena, California. So if you wish to visit the famous Meridian Avenue and Mission Street, the intersection where Michael (Courtney) drives behind Dr. Loomis (Donald Pleasance) in the movie, you know where to be. 1019 Montrose Avenue, South Pasadena, California 91030 is where visitors can relive the hedges shown in the movie. Micheal's house in the movie, located right off the train in South Pasadena, is currently a massage therapist's office now.
(Image credit: Jimmy/Unsplash)
11
New York Public Library's Stephen A. Schwartzman building in 'Ghostbusters' (1984) The haunted neighbourhood, from the 1984 flick Ghostbusters, is located around the New York Public Library's (NYPL) Stephen A. Schwartzman building in Midtown Manhattan, and will always be a place of intrigue for fans of the popular franchise.
Stephen A. Schwarzman building, a neatly-stacked research library with 2.5 million volumes in its collection, is guarded by a pair of stone lions that are called 'Patience' and 'Fortitude'. If visitors intend to request materials including maps, art prints, photographs, and rare books from the library, they have to do so 24 hours in advance. Along with exploring the Stephen A. Schwarzman Building, travellers can also visit NYPL's largest circulating branch, the Stavros Niarchos Foundation Library, located across Fifth Avenue from the main building.
(Image credit: Bestbudbrian/CC BY-SA 3.0/via Wikimedia Commons)
12
Santa Cruz County in 'The Lost Boys' (1987) This cult horror movie is filmed entirely around Santa Cruz County. Most of the scenes unfold in locations that are around the boardwalks, bridges and beaches of Santa Cruz, California. The city is one of the main tourist attractions of central California's coast. With its numerous eateries, shops and the Santa Cruz Beach Boardwalk's vintage rides (including the 1911 Looff Carousel), the city is the most fun place to visit among all the horror movie shooting locations.
(Image credit: David Alonso Rincon/CC BY 2.0/via Wikimedia Commons)
13
Old Arnold Estate in 'The Conjuring' (2013) The Conjuring has been shot at the Old Arnold Estate in Harrisville, Rhode Island. This is a 17th-century house which is believed to be a portal for supernatural beings to interact with mortals. The movie depicts a story inspired by the real-life incidents of the Perron family who lived here for a decade (1970-1980). The farmhouse was opened to visitors in 2019. Guests are said to have experienced paranormal activities in the estate.
(Image credit: Screenshot/The Conjuring/YouTube)
written by.
Sushmita Mahanta
A PhD research scholar, Sushmita is a full-time writer and a part time poet. Notepads are Sushmita's one true love -- the unbothered victims drowned in the ink of her pen. An avid fan of K-pop and K-dramas, she mostly writes about Korean culture and entertainment. When not writing, Sushmita is dancing, reading, collecting books, learning about fashion, art, motion pictures, and appreciating BTS.