There is nothing more relaxing than travelling in the first class of an airline during a long haul flight. Designed to provide unsurpassed luxury to the flyer, the first-class experience is truly delightful in every respect. From reclining armchairs to dishes prepared by internationally renowned chefs, no stone is left unturned in redefining lavish travel.
Nearly all major airline companies have first class in some aircraft of their fleet. Those who travel in it are also provided exclusive facilities even on the ground, such as access to the luxurious lounges of the airliners at some airports and chauffeur service. No wonder then that the first class is sometimes also referred to as "suites" by many for their exclusivity, high-end service, on-demand fine dining and unmatched level of comfort.
Here are some of the world's best first class in airlines.
Emirates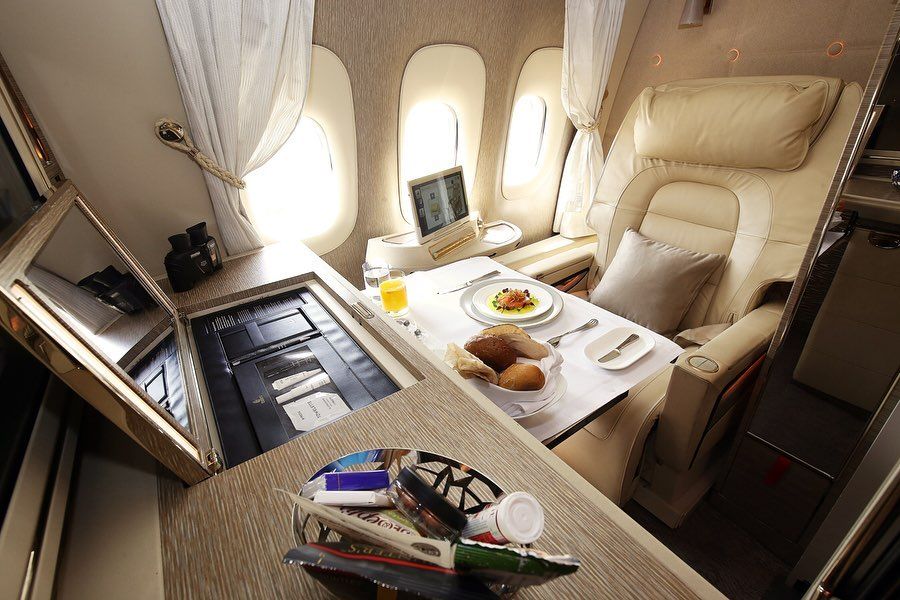 Emirates flies two of the world's biggest passenger airliners — the Boeing 777 and the Airbus A380. While both offer first-class experiences, each is better than the other.
The new first-class facility on the Boeing 777 of Emirates airline was introduced in 2018. Each compartment has floor-to-ceiling doors, ensuring complete privacy for the occupant. In fact, this is what primarily differentiates an Emirates Boeing 777 from its Airbus A380. While the latter has private suites with doors, they are not fully enclosed. Most of the other amenities provided by Emirates are the same on both airliners.
Each cabin, whether Boeing 777 or Airbus A380, is spacious and comes with several facilities, including a personal wardrobe. There is a large screen to view any of the 5,000 channels available for entertainment. A smaller screen is meant to video call members of the crew for any requirement. Noise-cancelling Bowers & Wilkins E1 headphones, custom-made for the airline with fine Italian saffiano leather by Scabrenta, can be used for an outstanding audio-visual experience. The desk is large enough to write on. Fitted with the desk is the minibar, which is stocked with beverages and snacks to satiate that short hunger pang.
On the Boeing, the seat can be reclined to zero gravity setting — which is where the body finds its natural resting position. A console next to the seat lets the occupant control the temperature in the suite as well as pick from any of the ten colours of lighting according to their mood. The lights can be dimmed altogether for a more relaxed atmosphere. Almost similar features are also available on Airbus A380, alongside an onboard shower spa and an onboard lounge with a dedicated bartender serving beverages and canapés.
A highlight of the Emirates first class is the wide range of Byredo products available for personal use. The allergy-free skincare collection, which includes eye cream, facial mist and sleep oil, is made exclusively for the Emirates. First-class flyers get an amenity kit with beauty essentials from Bvlgari Le Gemme collection, just so they can arrive refreshed at their destination.
Now about the food. There is a wide range of dishes from around the world served on the flight. For instance, the menu on a Dubai-Sydney flight would include cheeses from the Yarra Valley and Australian Angus beef. The à la carte dining experience includes an assortment of wines, spirits, beer and the Dom Pérignon 2008 champagne. Available exclusively in first class is the Dalmore King Alexander III, the world's first single malt to be matured in six exquisite casks.
And if you are flying in this class, Emirates provides chauffeur-drive to and from the airport in select cities.
Air France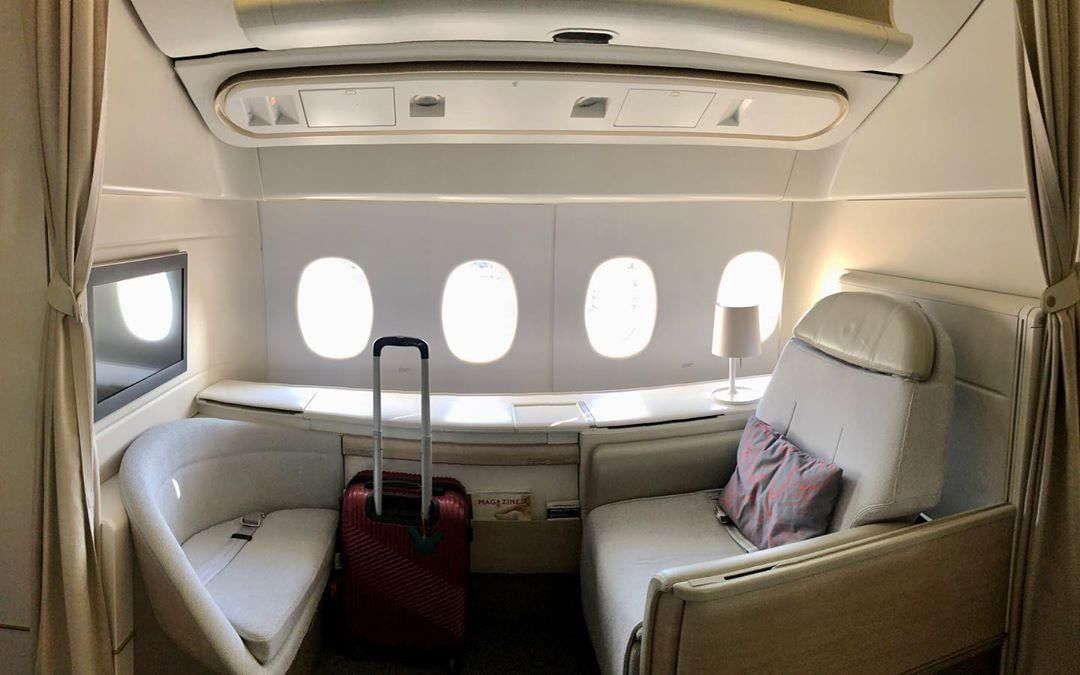 The first class in Air France, also called La Première, is luxury redefined from the point flyers travel to the airport to catch their flight. Air France provides a personal Hertz DriveU ride to and from the airport in select French cities.
First-class passengers are received at the airport by a member of the crew. They can spend some time at the La Première lounge and enjoy delicacies from the menu items selected by chef Alain Ducasse. After a luxurious welcome, the flyers are then led to the airline's Boeing 777-300 aircraft, which has the La Première cabin with four private suites constructed using suede, soft leather, wood, metallic finishes and tweed trim textile fabrics.
Privacy is ensured in each of the spaces with curtains that can be drawn, and partitions in the middle row which can be raised with the push of a button. Each seat can be converted into a comfortable bed of memory foam mattress. A large fluffy duvet and a pillow help occupants sleep as they do at plush hotels. A beautiful lamp with Air France's famous hippocampe ailé (winged seahorse) logo on the shade is next to each seat. The light can be dimmed for comfort.
There is a touchscreen in each suite providing 650 hours of on-demand entertainment. The interface can also be controlled by a remote. There is also a smaller seat, an ottoman, positioned just below the touchscreen, which can be used as a footrest or where guests can join the flyer for a drink. Compartments next to the main seat and below the smaller seat can be used to store small items such as books and wallets. They also contain the Denon over-the-ear headphones for in-flight entertainment.
For additional comfort, pyjamas, slippers and socks are provided on the flight. Flyers are also provided with a specialised Air France travel kit containing skincare products from Sisley Beauty Institute Paris.
However, what sets Air France apart from the rest is perhaps the dining options. Meals in the La Première can be chosen from a gourmet menu, which is tailored according to the destination. The 2023 Air France first-class menu on flights departing from Paris includes signature dishes from Arnaud Lallement, Mauro Colagreco, Régis Marcon, and Emmanuel Renaut.
The menu has staples from chef Julien Royer of three Michelin-starred restaurant Odette on flights from Singapore, the city whose airport is rated the best in the world. Chef Jean-François Rouquette's selection is available on flights to Paris, departing from New York or Los Angeles.
The curated on-board list of wines and champagnes from French vineyards is courtesy Paolo Basso, who was named the world's top sommelier in 2013.
Food is served in Bernardaud porcelain plates and bevelled Christofle glasses and flatware. And to top it all, the dishes are renewed every four months.
All Nippon Airways (ANA)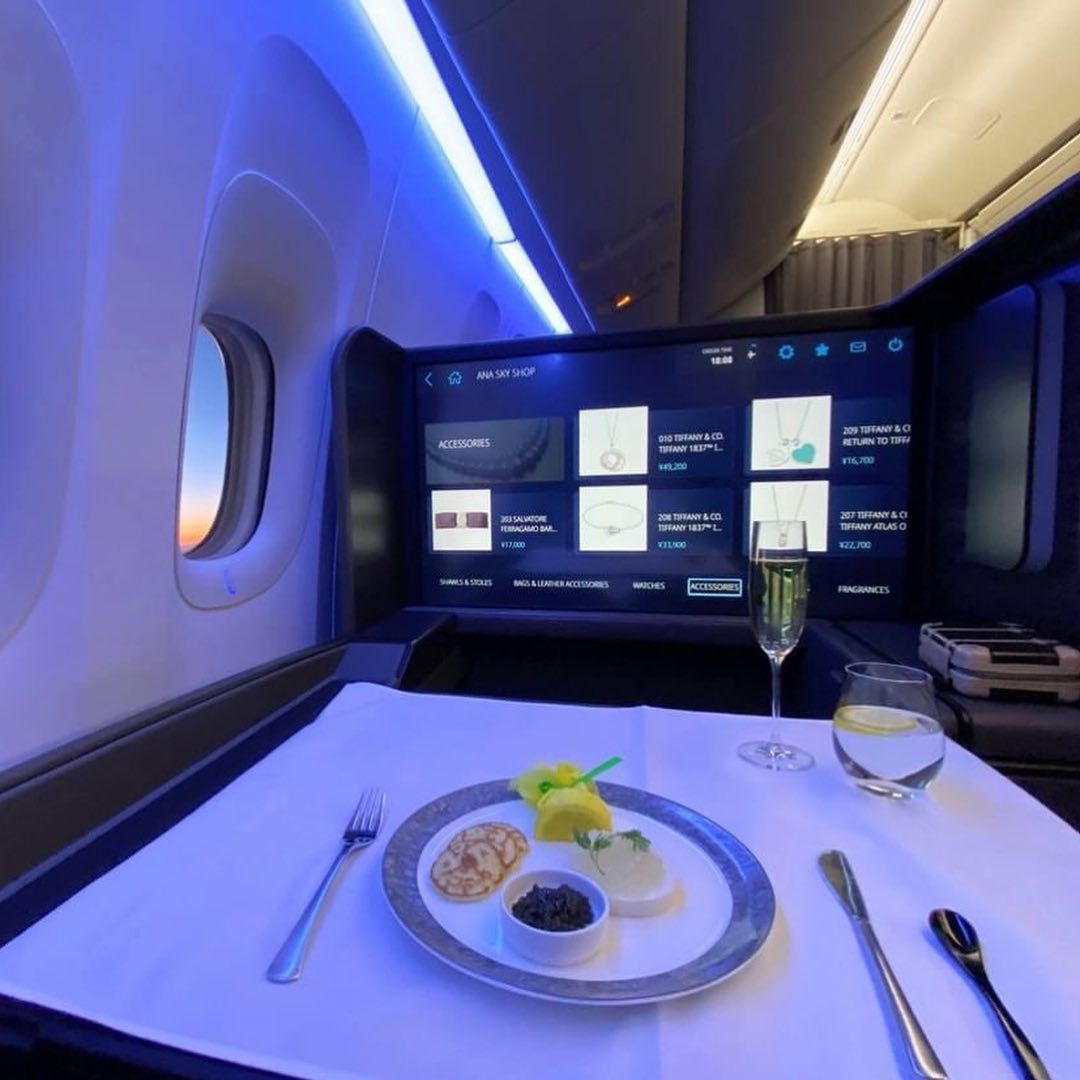 Travelling first class in the All Nippon Airways (ANA) is something food lovers would perhaps enjoy the most. The onboard menu is tailored down to season, destination, age, religion, dietary and allergen-free preferences. Meals have been created for ANA by some of the best-known chefs in Japan and outside, including the likes of Ginza Okuda owner Toru Okuda, Restaurant Ryuzu owner Ryuta Iizuka, Yonemura owner Masayasu Yonemura, and Yoshihiro Takahashi, who is the 15th generation owner of the over 400 years old Hyotei restaurant. ANA also has its own team of chefs.
Depending on the route and season, dishes may include boiled wagyu sirloin beef with udo and Japanese parsley or snow crab salad.
As for the actual comfort of flying with ANA, the type of compartment depends on the aircraft. On Boeing 777-300ER, there are two types of first class — The Suite and ANA First Square. There are only eight seats classed as The Suite. The cushion of each seat is made in collaboration with Nishikawa. It can be converted into a fully flat bed. A sliding door can be drawn to ensure privacy. Inside The Suite is a 43-inch 4K monitor for in-flight entertainment purposes. Closets for jackets and other items are also provided within it.
The First Square, on the other hand, is like an office cubicle with high-panel walls designed for maximising comfort by utilising space as best as possible. There are multiple storage spaces, including on the outer part of the walls, for jackets, headphones and other personal items. Large items can be placed under the seat. A 23-inch touch-panel LCD wide-screen monitor with digital noise-cancelling headphones provides onboard entertainment to the flyer. Both The Suite and ANA First Square have sliding tables.
The first class on ANA Airbus A380 looks almost like The Suite with a key difference in that the former comes with a 32-inch LCD widescreen monitor.
Flyers can change into ANA's eco-friendly knitted organic cotton top and bottoms set for comfortable sleep. The Tenerita blanket, a pillow made with high-quality Hungarian white duck down, Nishikawa comforter and Nishikawa AiR bed pad, all of which are provided to the flyer, are designed to provide the maximum possible relaxation thousands of miles in the air.
The ANA Original Globe-Trotter Pouch is the airliner's first class amenity kit containing skincare products from Ginza as well as a toothbrush set, eye mask and ear plugs.
Singapore Airlines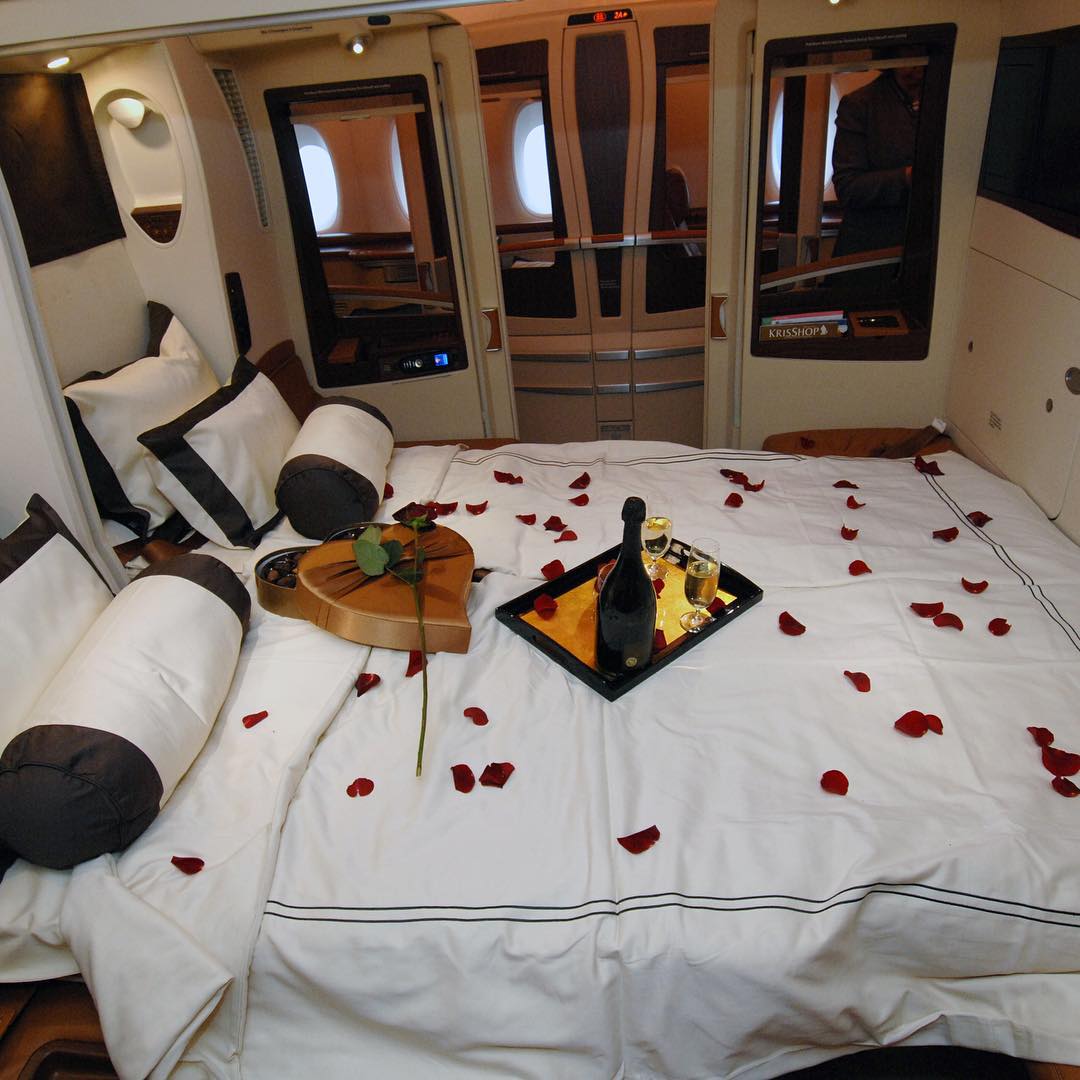 Singapore Airlines has a special class called Suites, which is different from their traditional first class.
Available on Singapore Airlines' Boeing 777 aircraft, the first class is basically a private section for the flyer with an extra wide seat made of hand-stitched, luxurious leather down to the footrest. Comfortable seating in any position is ensured by its diamond-stitch pattern. High-quality linen, duvet and pillow are provided for additional comfort. Among the amenities is a 24-inch HD-enabled personal LCD monitor on which 1,800 entertainment options can be accessed. Sound is provided by noise-cancelling headphones by Bang & Olufsen.
The Suites is an entirely different experience. Available on the Airbus A380 of the airlines, its most unique feature is that the bed is separate from the seat. And when the central partition is removed, it can be transformed into a double bed for two. The swivel, reclinable seat has a Poltrona Frau full-grain leather upholstery. A sliding door adds to the privacy. Flyers can access several features via the handheld wireless tablet and the capacitive controls on the sideboard, including in-flight service. There is also a sit-down vanity counter on the plane which has products by Lalique for rejuvenating the body.
Facilities such as "book the cook" for meals as well as reservation for the main course 24 hours before take-off are available for both first class and Suites flyers. Singapore Airlines says that due to COVID-19, some facilities may not be available.
The menu includes creations of internationally renowned chefs and wine experts on Singapore Airlines' International Culinary Panel, including the likes of legendary French chef Georges Blanc, Carlo Cracco of Italy's two Michelin-starred Ristorante Cracco, Indian celebrity chef Sanjeev Kapoor, James Beard recipient chef Suzanne Goin from the US, and Jeannie Cho Lee who is the first Asian to be awarded Master of Wine. Meals are prepared according to preferences such as religion, diet and for children.
Lufthansa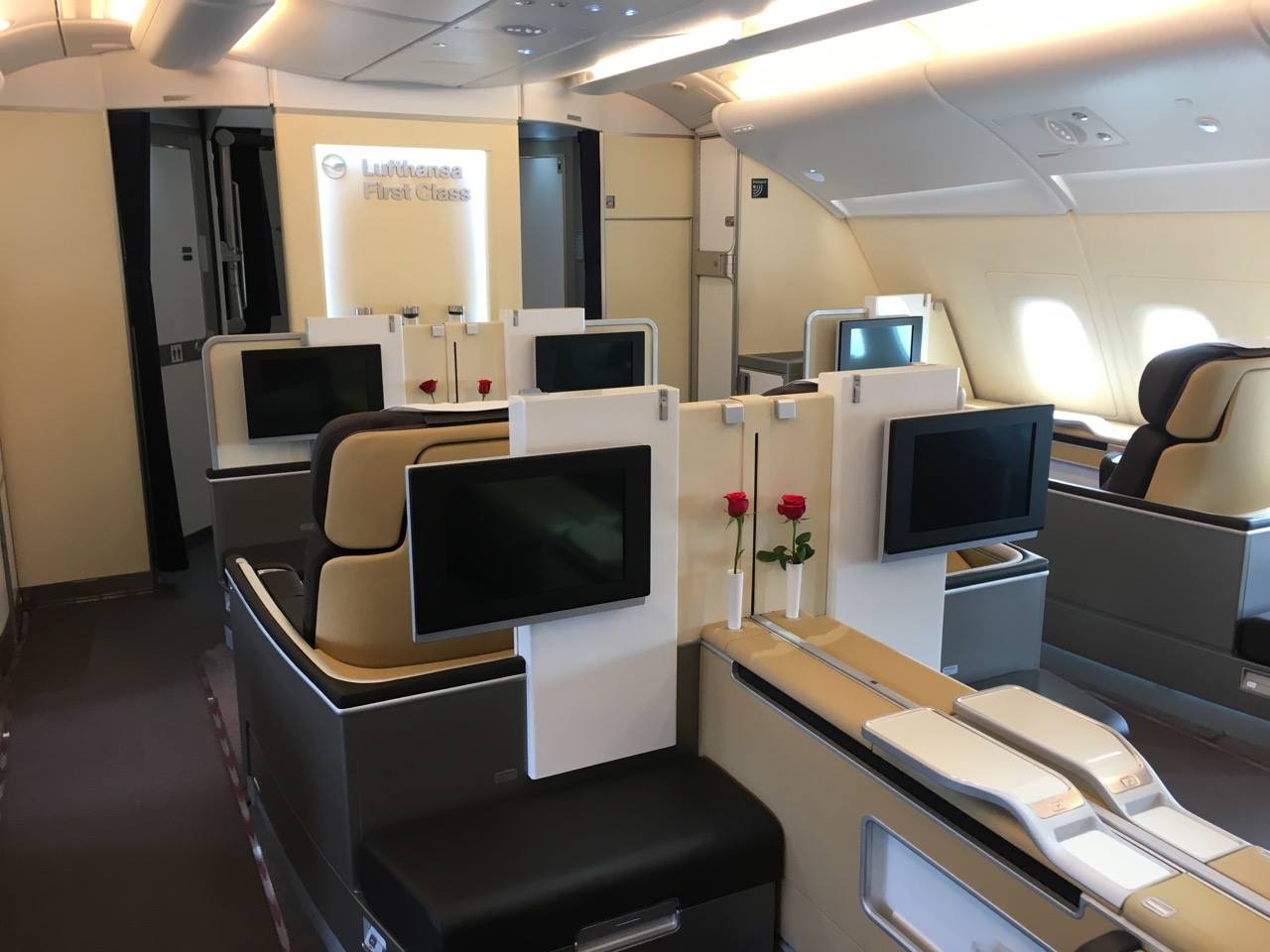 In select cities around the world, flyers are provided with several facilities from the moment they arrive at the airport to fly first class with Lufthansa. From personalised information about gates and lounges to escorting through security, a personal assistant helps the esteemed guest with everything until they board the flight.
If the flight is taking off from Frankfurt, Munich, Vienna, Geneva or Zurich, then there is also the luxury of travelling in a chauffeur-driven limousine or exclusive minivan straight to the aircraft.
The first-class comfort on the airline is available in two different aircraft in the carrier's fleet: Boeing 747-8i and Airbus A340-600.
In both, the seats can be converted into a two-metre-long bed. For comfort, a mattress, temperature-regulating duvet and top-quality bed linen are provided. When used for seating, the seats can be reclined and the lights adjusted according to need. Soundproof curtains provide a sense of privacy and peace throughout the cabin.
Lufthansa's wine list offers four different red and four different white wines every month from the world's best wine-growing regions. As for the exquisite cuisine, Lufthansa has deals with selected hotels which provide "Michelin-quality" cuisine on board.
There are over 100 films, 200 TV programmes, live TV channels, and a large selection of CDs, audiobooks and podcasts from all over the world for in-flight entertainment. But nowhere can the experience become more immersive and realistic than on Lufthansa because it has the unmatched sound quality of Bose noise-cancelling headphones.
Etihad Airways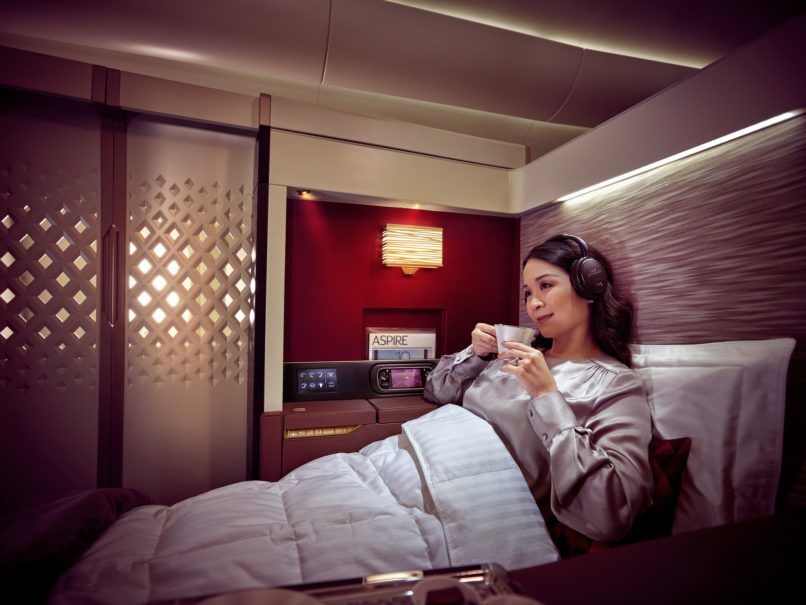 The first-class option is available on the Boeing 787 of Etihad Airways. On the 787, the reclining seat can be converted into a full-length bed with all necessary bedding provided for an absolutely peaceful sleep.
Full-length wardrobes are provided on the walls of the sections, which have sliding doors for privacy. In-flight entertainment with a personal screen on which 100s of hours of movies, TV shows, music or Live TV can be accessed. The in-flight chef can be called in to help choose dishes and drinks from à la carte menu and boutique wine list.
An amenity kit by Italian lifestyle and fashion company Acqua Di Parma, containing Colonia lip balm, body lotion and cologne, is also provided along with an eye mask, socks, a toothbrush and toothpaste. Flyers can request for comb, ear plugs or shaving kit separately from the crew.
During the pandemic, Etihad grounded its Airbus A380 aircraft. The airliner says that it will reintroduce four of the aircraft in the summer of 2023. It would mark one of the most highly anticipated resumptions of luxury flying because apart from traditional first class, the Etihad A380 has a very class called The Residence.
The traditional first class of the aircraft comes with ornamentally designed suites with longer ottomans in each, besides all other features and facilities flyers receive in the first class of the Boeing B787. But The Residence is widely hailed as the next level of luxury flying.
It is essentially like a three-room hotel suite up in the air. Meant for two people, it is divided into three sections — living room, bedroom and ensuite bathroom. The living room is for seating, enjoying meals, reading, working and entertainment. The luxurious bedding in the bedroom is provided by Duxiana. The bathroom has a full-height shower for proper reinvigoration.
The Residence on A380 also came with a 32-inch screen with two video-touch handsets for smooth viewing of the entertainment options. The doors of the special section measured 1.6 metres in height, perfect for the necessary privacy. Besides an in-flight chef, those who booked The Residence also enjoyed the service of a butler.
Swiss International Air Lines Food is certainly one of the biggest highlights among the facilities provided for first-class flyers on Swiss International Air Lines. Exquisite dishes by Bernadette Lisibach, head chef at the new Neue Blumenau in Canton of St. Gallen, are on the menu across all classes.
Exclusively in the first class are meat specialities such as Mostbröckli, Bauernschüblig and Braumeister ham, as well as a duo of veal with braised shoulder fillet and Pojarski with morel cream sauce, mashed potatoes, kohlrabi and mange tout. Vegetarians can try the delicious tagliatelle with green asparagus and saffron sauce.
The airliner has three types of aircraft offering first-class flying facilities — Boeing 777-300ER, Airbus A340-300 and Airbus A330-300. Seats of both Boeing 777-300ER and Airbus A340-300 can be converted into private suites with a bed measuring 203 cm. There is a private wardrobe by the seat and extra storage space.
The seat in the first class of the airline's Airbus A330-300 can be converted into a bed with a mattress and privacy walls. It can also be turned into a lounge armchair or a table for two according to need.
For entertainment, the Boeing 777-300ER and Airbus A340-300 come with large 32-inch monitors on each first-class seat, while the Airbus A330-300 has 23-inch screens. More than 90 films and 170 TV programmes are available for viewing, including award-winning documentaries, besides over 100 music playlists, CDs, podcasts and audiobooks.
(Main image: Joakim Honkasalo/@jhonkasalo/Unsplash; Featured image: Emirates/@emirates/Instagram)
This article first appeared on Lifestyle Asia Hong Kong.
written by.
Manas Sen Gupta
Manas enjoys reading detective fiction and writing about anything that interests him. When not doing either of the two, he checks Instagram for the latest posts by travellers. Winter is his favourite season and he can happily eat a bowl of noodles any time of the day.