If you want to fly the skies in luxury and style, then look no further than this list of some of the most expensive private planes.
Flying is a pain—that is, it's a pain for most of us who can only afford to fly economy. Even flying first class or business class is something many of us only hope to somehow miraculously experience one day. But if you're one of the very few people that consider first class the only way to fly and even that's getting to be a little too burdensome, then you may actually have the financial means to perhaps buy one of the planes listed here.
Forego the tight aisles, the snoring passengers, and the limited space. Here are some of the most expensive private planes you can buy so you can truly fly not just in comfort and style but in luxury.
From Gulfstream to Airbus, here are some of the most expensive private planes
Gulfstream G700 – USD $75 million The name "Gulfstream" is synonymous with private jets and their latest flagship model carries on their tradition of providing customers with a comfortable time in the skies all in the luxury of their very own plane. Don't be fooled just because it's the cheapest plane on this list. The G700 can come with up to five living areas and the whole plane can seat 19 passengers. Gulfstream has also boasted that the G700 is sustainable, from its aerodynamic design and engineering to its interior design, where you can choose leather alternatives or vegetable-dyed materials for the inside of the plane. Aside from the design and interior, the G700 also boasts a maximum range of 7,500 nautical miles (13,890 kilometres) with a maximum speed of 0.925 Mach.
Bombardier Global 8000 – USD $78 million The Canadian jet company's latest iteration of their Global line of private jets boats the ability to comfortably seat 19 people and can reach speeds of up to 1,000 kilometres per hour or Mach 0.94. The "8000" is actually the nautical miles it can reach, which is 14,816 kilometres, enabling one-way flights between cities like Singapore to LA and London to Perth. The plane comes with a conference suite, which includes a space that can either be a meeting or dining space that seats six, as well as an entertainment suite complete with a 40-inc 4K TV with home theatre surround sound. But if you just want to get some rest, the principal suite has a full-sized bed and an en suite lavatory with a stand up shower so you arrive at your destination rested and refreshed.
Airbus ACJ350 – USD $317 million An Airbus as a private jet? If you've got a little upwards of USD $300 million, why not? Small and compact usually come to mind when someone mentions "private jets", but the Airbus ACJ350 boasts a floor area of 308 square metres. The concept of its interior design is to make it feel like your home in the sky. Some of the unseen things that contribute to the comfort of this Airbus include the cabin air being exchanged every two minutes and it also has the "quietest sound level in the industry" according to its brochure. The cabin's layout is completely up to you. You'll work with the ACJ TwoTwenty Creative Studio who will take into account how you'll be using your plane and propose a design according to what you've told them. Depending on what you want, you may have to shell out a couple more million for your cabin. You have some lying around anyway, right?
Boeing 747-8 – USD $418.4 million This particular model is used by Lufthansa, Koran Air, Nippon Cargo Airlines, and is even the model for the current Air Force One. So if you have one of these as a private plane, it means you've really got deep pockets—and you want to show it off. One of the few people who own one for private use is a Middle Eastern businessman who hired design house Albert Pinto for the interior, transforming the humongous plane into the businessman's very own mansion in the sky. So yes, it is possible to have a Boeing 747-8 all to yourself.
Airbus A380 – USD $432.6 million Disclaimer: this is a bit of a cheat. Like the Boeing 747-8, the Airbus A380 is a plane that's usually utilised for commercial and cargo uses. However, in 2007, Prince Al Waleed bin Talal Al Saud commissioned an A380 for himself which he dubbed "The Flying Palace", which is a fitting name considering that the plan was to have three decks and that the typical seating for the plane can accommodate a whopping 525 passengers. The Flying Palace was going to have a garage, a business centre with two conference rooms, and five master bedrooms on the owner's deck according to Autoevolution.
Despite all these luxurious plans, the plane was never built for unknown reasons. Why then is this plane on this list? The prince has proven that you can buy an Airbus A380 for your own private use. While there isn't one that's privately owned right now, you might be the one to outdo the prince if you decide to procure a Flying Palace for yourself.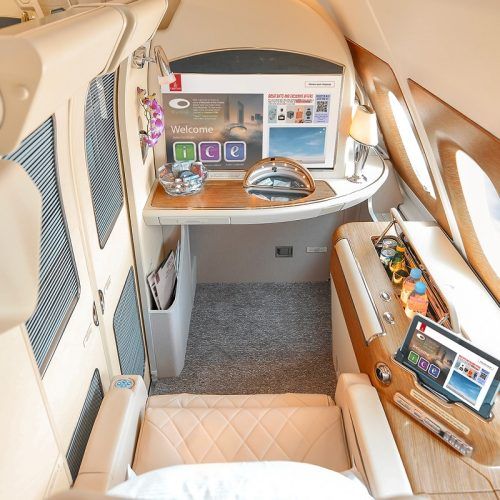 [Image credit: Bombardier]
This story first appeared on Prestige Online Thailand