The Milan Fashion Week is helmed as one of the most highly anticipated events in the fashion world. This is because it offers the perfect platform for designers to unveil some of their latest trends and collections. For the recent Spring/Summer showcase, the Milan Fashion Week 2024 commenced on June 17 and continued till June 19.
From iconic fashion houses such as Gucci, Fendi and Prada to emerging designers such as JW Anderson and Dhruv Kapoor, the Spring/Summer 2024 collections at the Milan Fashion Week saw a celebration of creativity, artistry and the ever-evolving landscape of fashion. So, let's take a look at some of the best menswear collections from the fashion extravaganza.
The best of menswear at the Milan Fashion Week Spring/Summer 2024
Fendi Designed by Silvia Venturini Fendi, the Italian fashion house's Spring/Summer 2024 collection was unveiled at the Milan Fashion Week. The collection honoured the brand's recent return to Florence and is an ode to functional, everyday workwear. Some of the notable pieces showcased on the runway included collared shirts, trench coats, stripped office wear shirts, denim boiler suits and dungarees. Coming to the accessories, leather bags and workwear belts were the highlights of the show.
Valentino
Emblems of affection and tenderness, the flower is both a graphic decoration and a replacement for the rigid structures of traditional tailoring at Valentino The Narratives.

Watch the show at https://t.co/ZduAvYcKZp

Music: @d4vddd
Grooming: #ValentinoBeauty… pic.twitter.com/TcBhGKmIPg

— Valentino (@MaisonValentino) June 16, 2023
Valentino made a noteworthy comeback to the Milan Fashion Week and showcased their latest men's collection for Spring/Summer 2024. The event took place at the Università degli Studi di Milano Statale and was titled Valentino The Narratives. Under the guidance of creative director Pierpaolo Piccioli, the show offered a sartorial take on "what makes a man today".
The opening looks featured structured blazers with sharp shoulders, buttoned jackets and collared shirts combined with above-the-knee shorts, all in pristine whites. Valentino's signature Pink PP was introduced in one look, featuring a blazer, a floral-embossed top and pleated shorts. Floral-inspired stitchings were also consistently present across various silhouettes such as oversized coats, cardigans and short-sleeved shirts.
Prada Dubbed Fluid Form, Prada's co-creative directors Miuccia Prada and Raf Simons managed to bring the notion of fluidity to their Spring/Summer 2024 collection. The show began with a black shirt as the foundation and then expanded the distinctive sartorial collection with a range of neatly tailored and tucked ensembles. The shirts featured deep V-necks that extended into pant shorts, creating an illusion of a boiler suit featuring Raf's Prada designs from the past. The rest of the collection featured some shirts adorned with floral appliqués and bouquets blossoming from the chest, while others were adorned with fringes and vibrant patterns.
Zegna At Zegna's Spring/Summer 2024 show, linen ruled as king and here's why.
Titled L'Oasi di Lino or The Oasis of Linen, creative director Alessandro Sartori showcased a presentation that revolved around linen, with the venue, the iconic Piazza San Fedele in Milan, adorned with 192 bales of raw linen that emphasised the fabric's significance.
The tailored outfits exuded a relaxed and comfortable feel, effortlessly combining elegance and freedom. Soft, natural tones dominated the Spring/Summer 2024 wardrobe, offering versatile options for various occasions. The showcase also saw matching co-ord sets, round-neck tops taking the place of traditional jackets, bombers transformed into shirts, and sack jackets with three-quarter-length sleeves.
Etro
Unveiling #EtroAllegories, the #Etro Spring Summer 2024 Men's collection pic.twitter.com/g0WyBgM3xx

— ETRO (@EtroOfficial) June 18, 2023
At Etro, creative director Marco De Vincenzo went back to the house's original roots for the SS24 collection. The inspiration for the latest collection came to De Vincenzo after travelling to and returning from his birthplace in Messina, Sicily. He unexpectedly discovered a version of Cesare Ripa's Iconology, a comprehensive collection from the 17th century that showcased symbolic illustrations representing virtues, attributes and vices. The collection featured jumpsuits, fuzzy sweaters, sparkling shirts, hoodies, embroidered coats and leather blazers with the label's signature paisley print.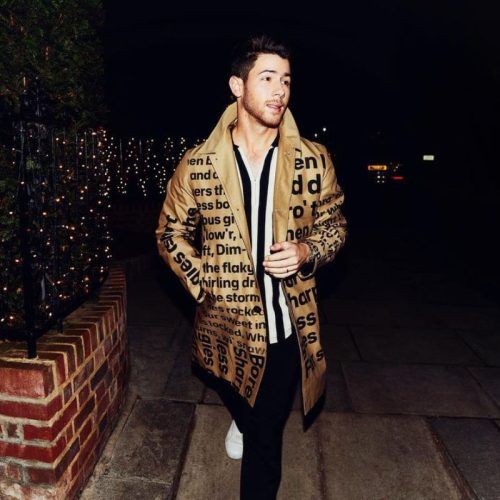 Gucci
The new #GucciSS24 men's collection debuts at the House's temporary exhibition against a backdrop of an equestrian-inspired collage created by Ed Davis, which also appears as a print on one of the looks. #GucciHorsebit #EdDavis #MFW Discover more https://t.co/aPmz8cdgkw pic.twitter.com/y8FlIJsZsy

— gucci (@gucci) June 17, 2023
Gucci revealed its Spring/Summer 2024 collection in the form of a digital lookbook. The collection showcased classic silhouettes that have been given modern twists, while also introducing new styles infused with nostalgic elements. We saw pieces such as checkered suits with a high waist and double-breasted designs (as per the brand's traditions), the Gucci emblem sweater, skater shorts, metallic looks, monochrome suits and printed co-ords.
JW Anderson Jonathan Anderson's namesake label JW Anderson also showcased its SS24 collection at the Milan Fashion Week. The designer started the collection with chunky polo-neck sweaters, asymmetrical cuboid-shaped shorts and tank tops made from thick wool. The brand's signature Bumper silhouette was also reimagined as dresses for this collection. Speaking of dresses, we also spotted voluminous dresses, sweaters with fringes on the front, and avant-garde textured sweaters with three-dimensional elements.
Dsquared2 At Dsquared2's Spring/Summer 2024 collection, the designer duo of Dean and Dan Caten sent models down the runway in solid-coloured rugby jerseys accompanied by poplin accents, cricket jackets with appealing stripes, cable-knit sweaters featuring transparent vertical patterns, bronze leather trousers and t-shirts with bold messages. Additionally, there was a major focus on denim (of all types) in this collection – think double denim, dyed denim pants, denim shorts as well as classic denim jackets with leather patchworks.
Dhruv Kapoor The Indian designer showcased his latest ready-to-wear Spring 2024 collection at the Milan Fashion Week. Titled Fantasms, the collection featured '70s sci-fi prints against vibrant florals and crop circle patterns, and a versatile colour palette of brights and broody neutrals such as fiery red, calming blue, nostalgic pink and deep charcoal grey. The models also strutted down the runway in freshly printed co-ord sets and overcoats, bowling shirts and graphic-printed ensembles.
MSGM Following the Dreamers University collection for the Fall/Winter 2023 season, MSGM's creative director Massimo Giorgetti has now unveiled a broad range of designs that go deeper into the theme of dreams as a prominent source of inspiration for its Milan Fashion Week 2024 collection. This collection featured tan leather coats, tie-dyed suits and co-ord sets, work-wear knitwear, black tailored looks, loose suits, skin-tight tank tops, printed shirts as well as hoodies.
Missoni At Missoni, comfortable everyday silhouettes were the highlight. Throughout its 70-year history, the Italian fashion house has emphasised knitwear, playfulness and reinvention. So for their Spring/Summer 2024 collection, the brand aimed to reinterpret men's style by presenting a range of relaxed silhouettes. This collection offers the versatility to dress up or down for any occasion, with notable pieces including trench coats, blazers, blousons, Bermuda shorts, shirts, jeans and Missoni's iconic cardigans.
(Hero and feature image credits: Courtesy Instagram/Milan Fashion Week)
Frequently Asked Questions (FAQs)
Question: Which designers showcased Spring/Summer menswear collections at the Milan Fashion Week 2024?
Answer: Fashion houses such as Gucci, Fendi, Prada, Etro, Zegna, Valentino, MSGM and designers such as JW Anderson and Dhruv Kapoor showcased their menswear spring/summer collections at the Milan Fashion Week 2024.
written by.
Sanika Achrekar
Digital Writer, Augustman
Sanika lives for fashion and skincare. She enjoys writing about style, beauty, and lifestyle. She worked as a fashion writer for Man's World India magazine. When not writing about designers and trends, she likes to shop, travel, try new Sushi restaurants, practise pilates and rewatch her comfort shows.