Ever since its conception in 2019, the Samsung Galaxy Z Fold has championed the cause of the largest displays possible on a smartphone, a notion that defined Samsung in the early years of the smartphone revolution. Sure, it was the Galaxy Z Flip that caught attention for its cool vibes but the Galaxy Fold, which later became the Galaxy Z Fold, fueled the world's obsession with massive displays. These phones have become reliable and better suited for the world, which is why you are likely to find the well-heeled crowd replacing their ageing iPhones with these fancier Galaxy Z Fold models. For 2023 and 2024, the responsibility of wooing this well-heeled crowd is on the shoulders of the Galaxy Z Fold 5.
The Galaxy Z Fold 5 was announced last month at the Samsung Galaxy Unpacked 2023 in Seoul, South Korea and, as the media stood with bated breath, expecting revolutionary changes, Samsung revealed its foldable smartphone with minimal changes. The phone looks almost identical to its predecessor and so does the majority of the specifications sheet. Social media lit up with cries and complaints, with many calling out Samsung for being the next Apple (since Apple gets away with minimum changes to its iPhones).
But are the minimal changes bad for the Galaxy Z Fold 5? I have been using it ever since its announcement and so, in our Galaxy Z Fold 5 review, we will unfold everything this big boy has to offer (no pun intended).
Samsung Galaxy Z Fold 5's specifications
Main Display: 7.6-inch QXGA+ Dynamic AMOLED 2x 1Hz-120Hz folding display
Cover Display: 6.2-inch 2316 x 904-pixel Dynamic AMOLED 2X 48Hz-120Hz display
Chipset: Snapdragon 8 Gen 2 for Galaxy
RAM: 12GB
Storage: 256GB, 512GB, 1TB
Main Cameras: 50-megapixel main, 12-megapixel ultra-wide, 10-megapixel 3x zoom
Front Cameras: 10-megapixel on Cover Display, 4-megapixel under-display camera on main display
OS: One UI 5.1.1 on Android 13
Battery: 4,400mAh
Charging: 25W wired, 15W wireless
Samsung Galaxy Z Fold 5 review
Design exhibits elegance
The Galaxy Z Fold has never looked like a conventional smartphone and in its fifth generation, the Fold 5 continues to be the thick and heavy foldable phone we first saw in 2019's Galaxy Fold. It is often easy to mistake it for a spectacle case or a fancy mouth organ. However, Samsung deserves all the credit for masking the massive hinge as a style element and keeping the rest of the phone's design synonymous with its Galaxy S series, despite dealing with the bulk in the folded state. When unfolded, it looks no different than a slate! A massive edge-to-edge display with slim bezels and no disruption from a camera cutout, all packed in a slim profile. In the Icy Blue colourway that we have, the Galaxy Z Fold 5 looks elite.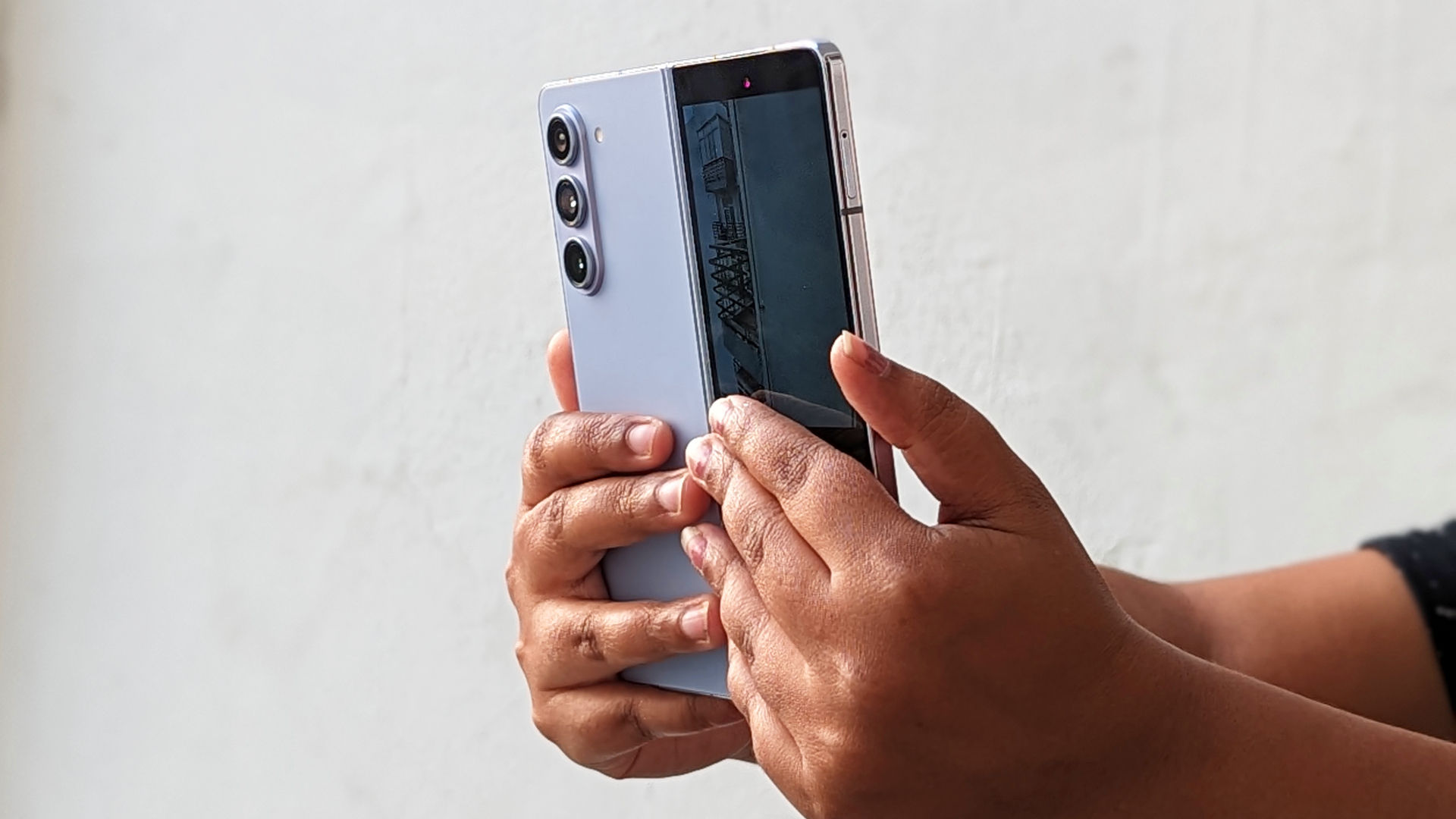 It retains the IPX8 certification for splash resistance from water, but the Galaxy Z Fold 5 still doesn't like dust. The main foldable display has Ultra-Thin Glass (UTG) along with a plastic screen protector pre-installed for safety but the cover display on the outside gets Gorilla Glass Victus 2 protection. Coupled with Samsung's proven Armor Aluminium chassis, the Galaxy Z Fold 5 is among the most durable foldable phones you can buy today.
But what about the changes? Is there anything new here?
As someone who has had the privilege of using all the generations of the Samsung Fold, the Galaxy Z Fold 5 sees huge improvements in ergonomics. Compared to the Galaxy Z Fold 4, the Fold 5 shreds about 10 grams of weight and adopts the new gapless hinge mechanism, allowing the phone to be noticeably slimmer when folded shut. 10 grams sounds negligible on paper but in the real world, the improvement is noticeable. As a result of these changes, the Galaxy Z Fold 5 is much easier to hold in both its folded and unfolded state.
This noticeable reduction of weight is so welcome that I decided to skip putting the S Pen case on it, all for the sake of enjoying the sleek and lightweight profile. Talk about first-world problems and their solutions.
A display to die for!
The primary reason why you are reading our Galaxy Z Fold 5 review is probably to find out if its main display is worth the hype. Humanity's love for massive displays has seen no bounds and on Fold 5, it has allowed Samsung to put the biggest display possible on a smartphone. At 7.6 inches, this display allows the Fold 5 to play in the compact tablet category. While an iPad Mini offers a larger 8.3-inch display at a quarter of its price, the million-dollar question arises – can you fold it into half?
The size is just one aspect of the Fold 5.
When it comes to quality, Samsung is known for making some of the finest smartphone displays on the market. As it turns out, Fold 5 has the most advanced one yet. It's a lively display that loves to throw vivid colours and high contrasts on everything it shows. The QXGA+ pixel resolution keeps everything sharp and peak brightness levels now reach up to 1,750 nits, which means you can see or read content even under the bright sun. That said, there's a noticeable colour shift when viewed at an angle and the crease becomes prominent when your movies or videos have a lot of dark scenes.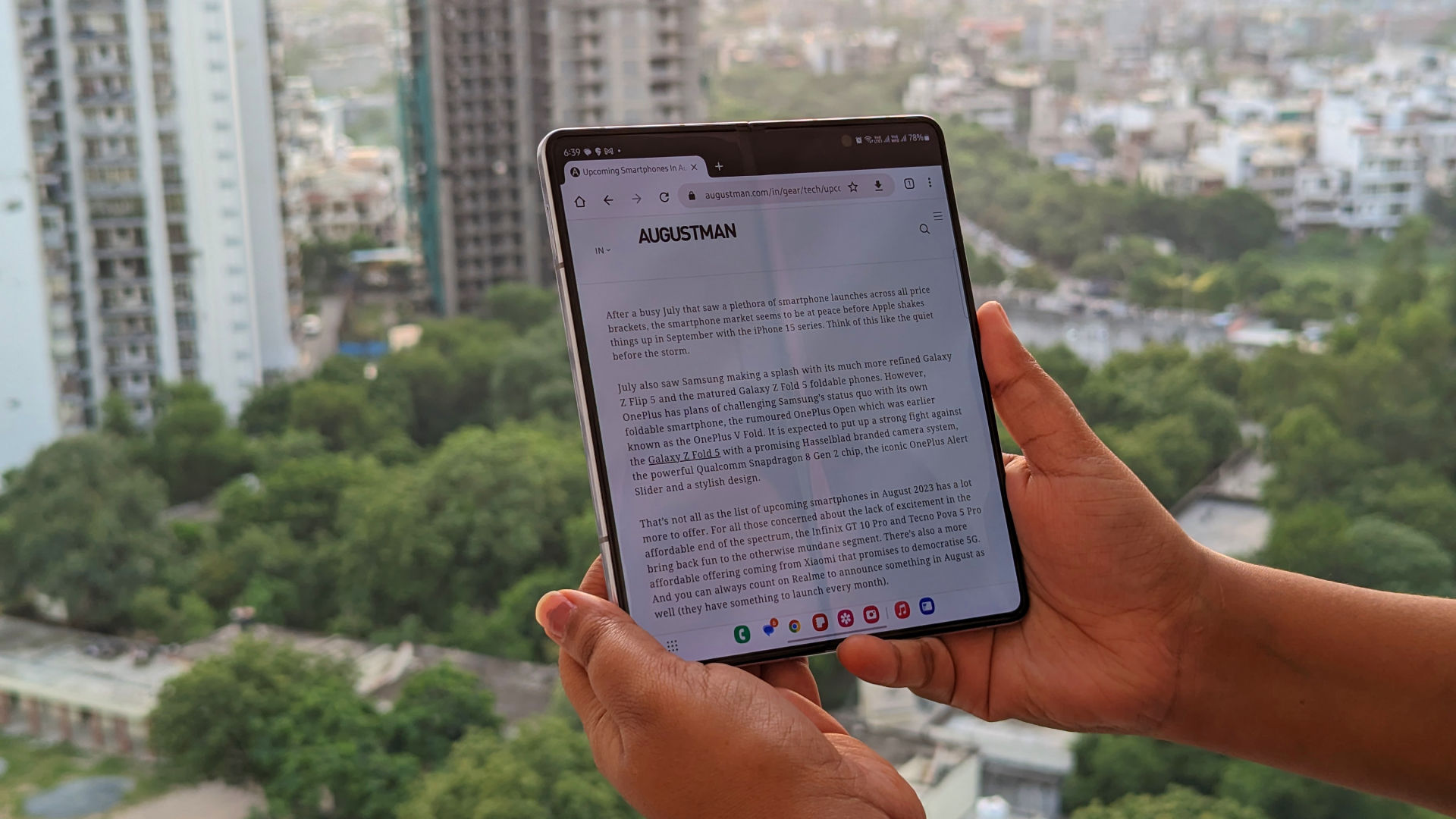 The main display also has another trick up its sleeves. For video calls, there's a 4-megapixel camera sitting under the display, and you can barely figure out its presence when the display is showing all of its colours. The 'pixelation effect' is far less obvious than in the previous generation models and, unless you hunt for it, it sits out of sight.
When you are done using the expansive main display, just fold it shut and the humble 6.2-inch cover display is primed for action. This one has a lower range of variable refresh rates to deal with and its aspect ratio is narrower than most conventional smartphones. However, it is still a great display to get work done quickly when you just need it to function like a regular smartphone. You can use it to write emails, send texts on WhatsApp and even watch YouTube videos (albeit in cramped windows with huge letterboxes). On some of my busy days, I have managed to only use the cover display and not feel restricted. A wider aspect ratio is welcome though and I hope Samsung does something about it in the Galaxy Z Fold 6.
Performance that is second to none
The Galaxy Z Fold 5 is, in essence, a giant Android phone with mighty powerful specifications. It is using the same Snapdragon 8 Gen 2 for Galaxy chipset from the Galaxy Z Flip 5 and Galaxy S23 series, which is blistering fast and mighty capable of running almost all apps and games available on the Android ecosystem. Whether you are scrolling through multiple attachments in an email or playing Wreckfest, the Galaxy Z Fold 5 chews through everything you throw at it and is ready for more.
One crucial upgrade in this department is the cooling solution. Samsung has given the Galaxy Z Fold 5 a vapour chamber-based heat dissipation system and I can verify its effectiveness while playing Wreckfest for over two hours at a stretch. Unlike the previous generation Fold 4 which used to warm up considerably, the Fold 5 remained cooler and didn't drop the frame rates.
However, the Galaxy Z Fold 5 is nothing without its One UI 5.1.1 software. The One UI experience remains identical to the experiences you get on the Galaxy Z Flip 4 and the Galaxy S23 as long you are relying on the cover display. On the main display though, Fold 5 is a multitasking beast that blurs the line between a smartphone and a PC.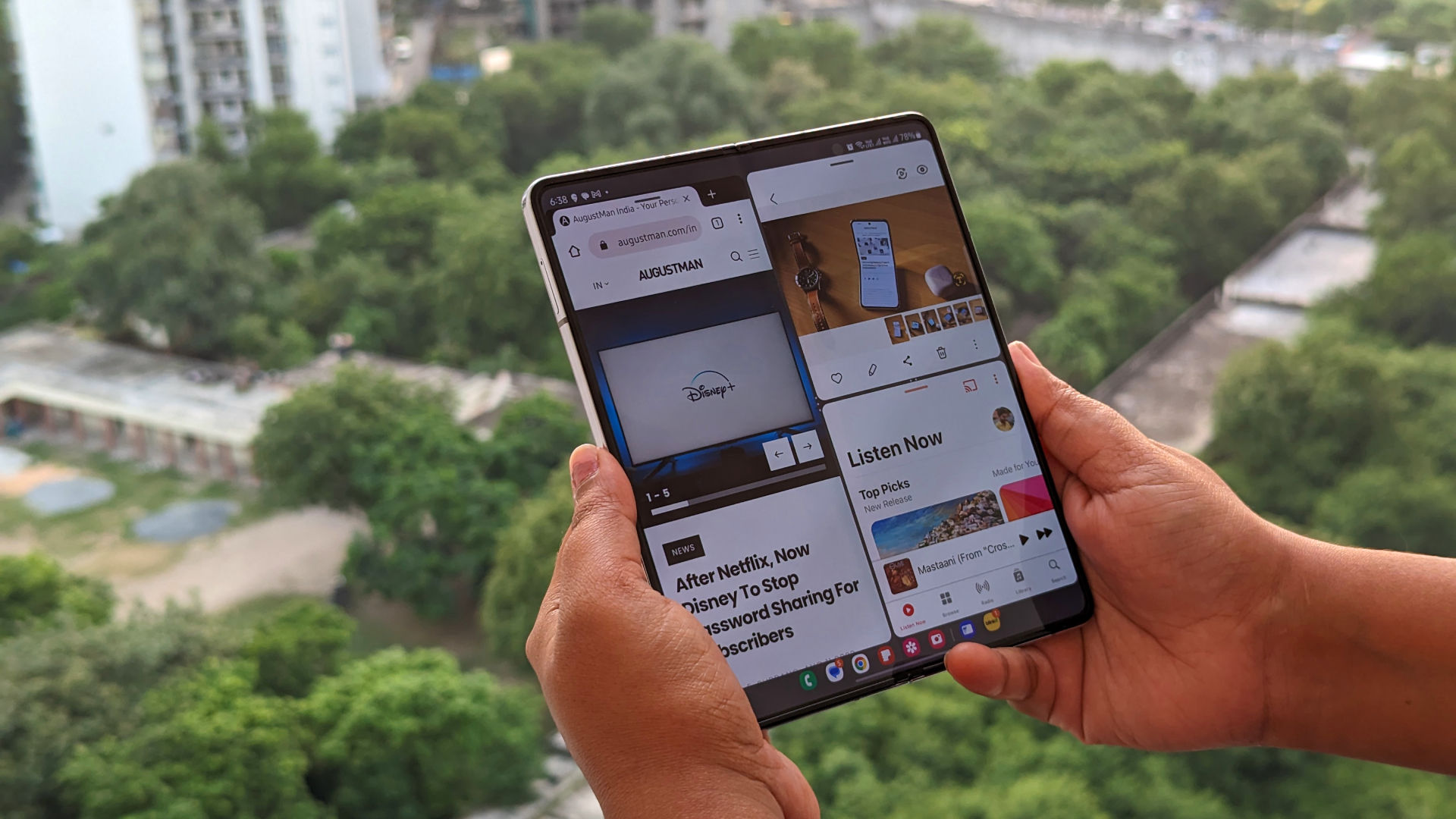 The large 7.6-inch display can efficiently stack up to three apps (with a fourth one in a pop-up window). You can effectively use all of these apps at once, just like you do on a Windows PC. A new two-finger drag-and-drop feature is provided for moving images between Samsung Notes and other apps, but basic copy/paste functions can be done with all compatible apps. You can even launch two or three apps in a combination from the Edge Panel. The Taskbar section evolves from the Galaxy Z Fold 4's version, stuffing more apps in the recants apps section. Those using the S Pen stylus gain even more PC-like functionality such as selection tools, live translate, easy text selection and more.
Frankly, with this kind of versatility, the Galaxy Z Fold 5 is nothing short of a multitasking God!
Fold 5 won't disappoint multimedia junkies either. The dedicated dual stereo speaker system complements the massive display, delivering a loud yet meaty audio profile. The low-end frequencies are nicely amplified and there are decent levels of bass on offer as well. That said, the overall output is not as immersive as the iPhone 14 Pro Max's audio.
Network connectivity has been generally reliable on the Galaxy Z Fold 5. The phone was able to manage both Airtel and Jio's networks simultaneously, offering good mobile data speeds and call quality.
Cameras: The usual flagship affair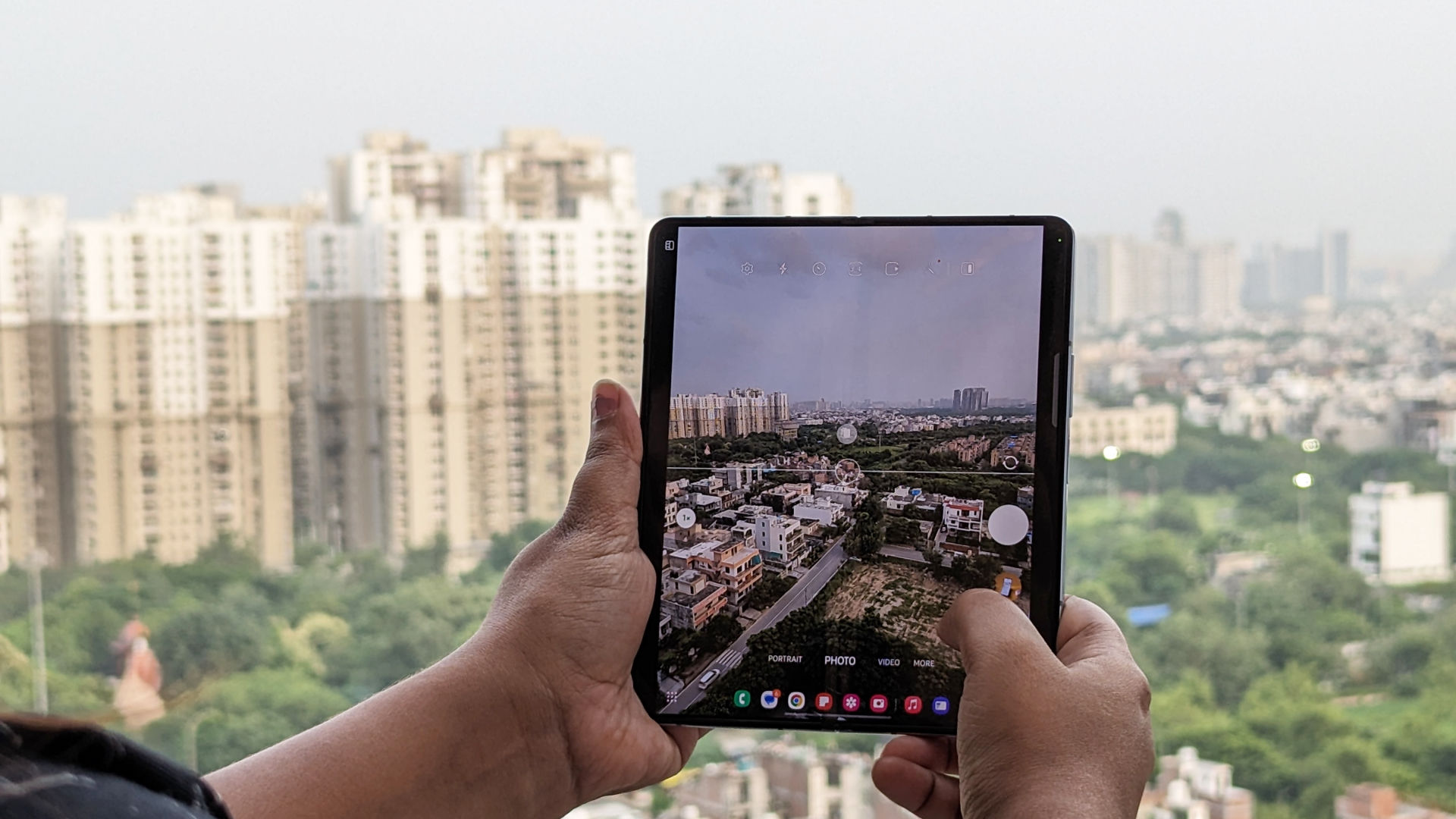 The Galaxy Z Fold has always had a good set of cameras that would never upset its users. The basic hardware on the Galaxy Z Fold 5 doesn't change from its predecessor. You still get the 50-megapixel main camera, a 12-megapixel ultra-wide camera and a 10-megapixel telephoto camera with 3X zoom. This triple camera setup is identical to the Galaxy S23 and the same can be said for its performance.
In typical Samsung fashion, the photos from this camera system look cheerful, showcasing great details, fine white balance and impressive exposure management. The saturation is towards the higher side, and you are likely going to love the outcome unless you seek a professional-grade look. The main camera can do wonders in both day and night-time photography but the ultrawide is best reserved for bright daylight conditions.
The telephoto camera's quality seems to have improved, offering better quality textures at 3X magnification.
You can flip things around in the 'Flex mode' and use these superb cameras for selfies. While the quality of these photos will be top-notch, there is a substantial amount of hand gymnastics necessary to get it right. I also observed some issues with focusing on the ultrawide and telephoto cameras.
View this post on Instagram
The 10-megapixel selfie camera on the cover display is as effective as regular selfie cameras can be. It achieves good skin tones, a nice balance of details and smoothening and impressive background exposure management. The portrait mode also does impressive subject cutouts and the artificial background blur seems believable.
The exceptional camera performance also extends to videography, wherein the recording quality is almost as good as the iPhone 14's, if not better. I was also impressed with the dynamic range and the overall stability while shooting in 4K. Since the Fold 5 has a 50-megapixel sensor, you can record 8K videos at 30fps (especially great if you have a compatible 8K resolution display).
All-day battery
Despite managing two large displays with high refresh rates, the Galaxy Z Fold 5 surprisingly manages to last an entire day with some spare juice left. With a use case that mostly involves texting, checking emails, scrolling through social media apps, casually using the cameras, watching YouTube videos and simple gaming, the Galaxy Z Fold 5 managed to end the day with around 35 per cent battery. Most of these tasks were performed on the bigger main display instead of the cover display.
The 25W wired charging takes over an hour to top up the battery from less than 10 per cent of charge. This is slower by today's standards but it's manageable considering most of us charge our phones overnight. The 15W wireless charging is a blessing for these overnight charging sessions.
Samsung Galaxy Z Fold 5 review: The final verdict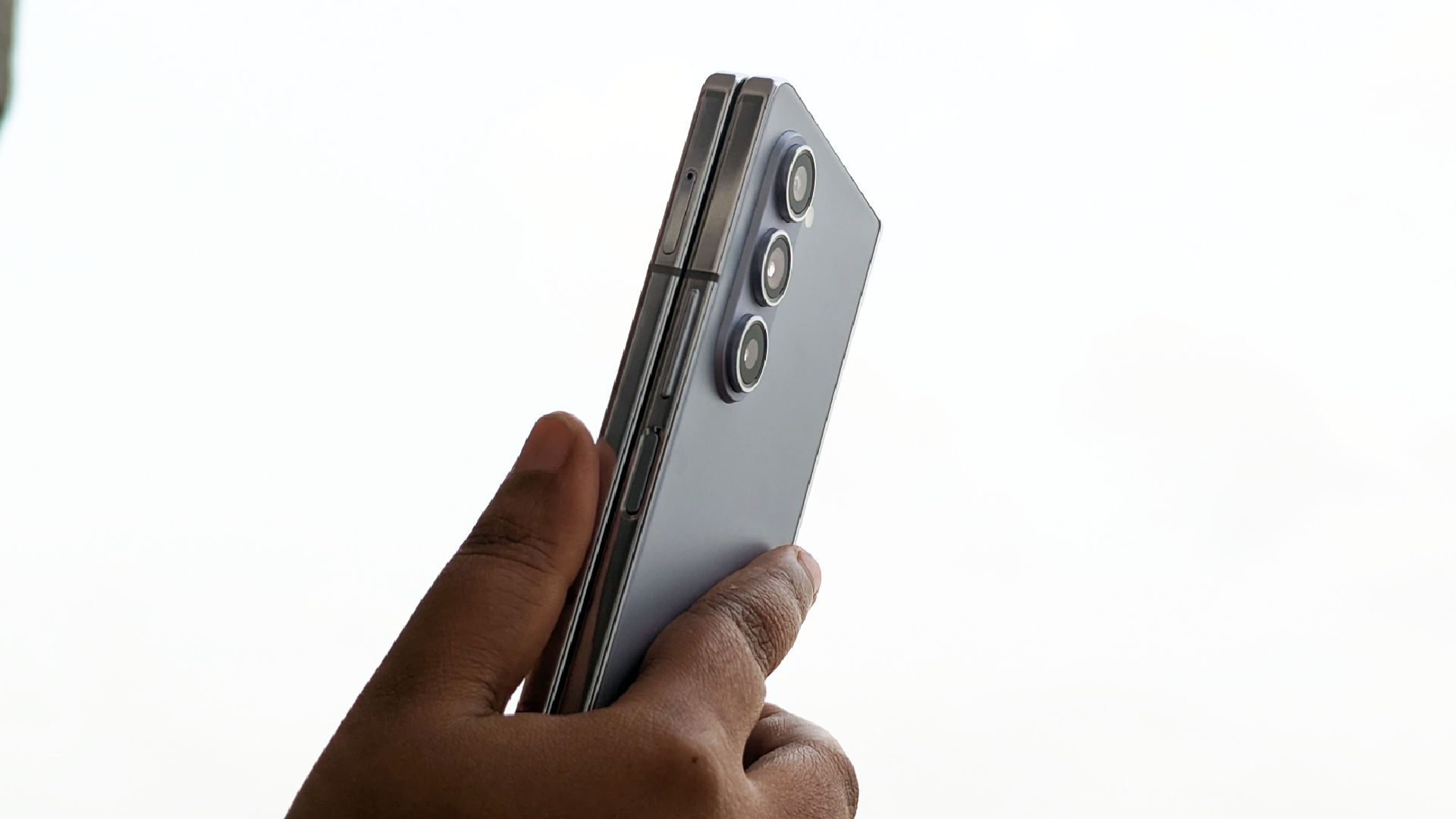 The previous generation Galaxy Z Fold 4 is already one of the best folding smartphones on sale and the current price cuts make it a steal deal. The Galaxy Z Fold 5 brings refinements to this great package and bumps up the performance potential by a notch with the new Snapdragon chipset. That's not a bad deal for a consumer who simply wants the most refined and versatile smartphone experience money can buy.
As a Galaxy Z Fold loyalist, it would have been nice to see a wider aspect ratio and a set of more capable cameras akin to the Google Pixel Fold, but Samsung's brilliant software design and hardware durability make up for these niggles.
The Galaxy Z Fold 5 starts at HKD 13,598 and at this point in time, it doesn't have much formidable competition in the foldable smartphone category. Globally, the Google Pixel Fold and Honor Magic V2 are the only rivals it has but Samsung's domination in software and overall execution blows them all away. The upcoming OnePlus Open hints at a promising package to rival the Galaxy Z Fold 5 but it remains to be seen if the former is able to live up to those expectations.
From the world of conventional smartphones, Apple's iPhone 14 Pro Max and Samsung's very own Galaxy S23 Ultra are the only two putting up a formidable fight. The Galaxy S23 Ultra excels with its durability, cameras and great battery stamina, whereas the iPhone 14 Pro Max offers a polished iOS experience and a generally reliable package. However, the Galaxy Z Fold 5 overshadows them with its massive display and God-like multitasking capabilities.
Hence, is the Samsung Galaxy Z Fold 5 the ultimate smartphone to buy? The simple answer is a resounding YES.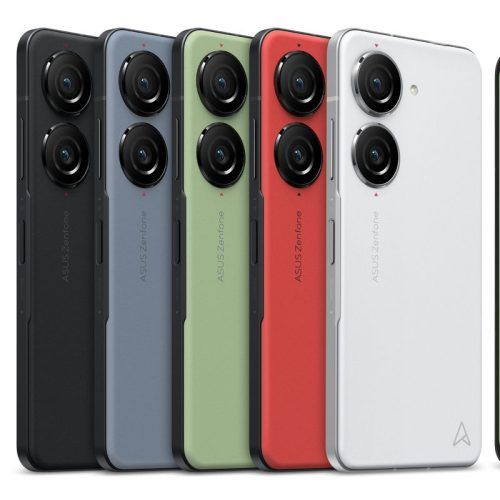 Frequently Asked Questions (FAQs)
What is the launch date of the Samsung Galaxy Z Fold 5?
– The Samsung Galaxy Z Fold 5 was launched at the Galaxy Unpacked event on July 26 in South Korea.
What is the price of the Samsung Galaxy Z Fold 5?
– The Samsung Galaxy Z Fold 5 carries a price of HKD 13,598 for its base variant.
What are the specifications of the Samsung Galaxy Z Fold 5?
– The Samsung Galaxy Z Fold 5 features a 7.6-inch QXGA+ 1Hz-120Hz Dynamic AMOLED 2X main display, a 6.2-inch 48Hz-120Hz Dynamic AMOLED 2X cover display, a Snapdragon 8 Gen 2 for Galaxy chip, 12GB RAM, up to 1TB storage, a 50-megapixel + 12-megapixel + 10-megapixel camera setup and a 4,400mAh battery with 25W wired and 15W wireless charging.
What colours is the Samsung Galaxy Z Fold 5 available in?
– The Samsung Galaxy Z Fold 5 is available in Icy Blue, Phantom Black and Cream.
(Hero and Featured Image Credits: Courtesy Augustman / Amritanshu Mukherjee)
written by.
Amritanshu Mukherjee
Amritanshu lives and breathes tech, cars, Formula 1, space stuff and everything that delivers an adrenaline rush. Since 2016, he converted his favorite hobby of going all gaga over iPhones and Lamborghinis into his profession; hence, you aren't likely to be surprised upon checking his browser history. In his spare time, he loves to drive and explore food joints, but will somehow end up with a plate of Chicken Biryani and a big smile. He has previously written for Hindustan Times, India Today, BGR.in, and Deccan Chronicle.