Hong Kong tennis fans are pinning their hopes on talented teenager COLEMAN WONG to raise this city's profile on the international professional tour. Briefly back in town before heading to Barcelona, where he currently trains, he found time in a packed schedule to talk to Prestige.
Professional men's tennis returned to this city for the first time in 20 years at the Hong Kong International Tennis Challenge in December. Top-ranked international professionals delighted a sold-out crowd at Victoria Park for their highly anticipated return, but most of the crowd were also there to see local teenager Coleman Wong. Hong Kong's men's No 1, and a two-time Grand Slam junior doubles champion, Coleman Wong returned to delight his hometown crowd, with a rare opportunity for him to compete against the world's best – and he didn't disappoint.
With many calling him the real deal for the future of Hong Kong tennis, Coleman Wong had an impressive junior career and, at the age of 18, has already accomplished so much. He reached a junior career singles high in the ITF Junior rankings at No 11 in the world in 2022, won the 2021 US Open Boys' Doubles, and then won a second consecutive Grand Slam at the 2022 Australian Open Boys' Doubles, propelling him to local stardom and the eyes of international tennis world as one of the next generation to watch. Coleman Wong is now making his ascent in the rankings of the ATP tour. Currently placed 597, his goal is to be in the top 200 by the end of 2023, to qualify for Grand Slams in 2024. How did it feel, playing in Victoria Park again with that roster of amazing talent?
Before the match I was really excited and also kind of nervous, because I hadn't played in Victoria Park recently and especially as this time there was a full crowd of 4,000 people. It was crazy, but I was really happy and honoured to play there against some of the top players in the world. I'd never played them before, but just seen them on TV. It was jam-packed! Are you having flashbacks about that? It was pretty crazy, so loud – and the crowd was cheering for me, shouting my name. I dreamed of it when I was young. I still remember when I was five, when I started playing in Victoria Park, court three. That was my first session with tennis – and after 13 years, the idea I could actually be playing in the stadium with a full crowd against the best players in the world …
You said you loved the experience of being with the other players, observing their way of handling things. Did anyone give you advice?
I really learned a lot from Cameron Norrie. I asked him for some tips, when he's in high-intensity matches, what I should do to recover or prepare. He told me how to do ice baths and other small details that really help. He said he really cares about those things, because it's those small details that make the difference between winning and losing. Back to the match against Stan Wawrinka, it was so close.
What were some of the learnings you took away?
To be honest, it was still an exhibition match, it didn't play for points. But I really enjoyed it. In the match I was smiling, really enjoying, having fun. I think he was too, as he was clapping and feeling the crowd. He's a three-time Grand Slam champ, and I had the chance to play against him in front of that many people. Probably he's already used to that, but for me it's another thing, because I've just started my professional career. It was close and at the end of the day I really enjoyed it and I learned a lot from him. You mentioned being at Victoria Park starting out. How did you begin?
When I was five, I was kind of chubby and my parents tried to find a sport for me to get into. My elder sister was playing tennis and it's quite funny, because one day she had a session but got sick, so I was the substitute. I just played, I loved it and my coach felt. I had talent.
When did you start getting serious about tennis?
Around seven or eight, I won three Hong Kong Tournaments in a row and felt like, oh, this is it. My parents really supported me and I thank them because without them I couldn't skip half days from school for tennis. Normal parents wouldn't allow that, especially not in Hong Kong.
How did your school or the Hong Kong Tennis Association support you?
It's pretty hard to balance tennis and academics because of travel for a few months and I'd lose my progress at school. But I feel the Diocesan Boys' School really helped me a lot, because they assigned a teacher to help with tutoring, during recess or lunchtimes when I was back, so I could catch up, do the exams and get to the next grade. I also went to the Hong Kong Sports Institute to train and also some HKTA programmes. They also really helped me a lot, especially the international tournaments where I could keep pushing myself and improving.
You've moved to Spain to train with the Rafael Nadal Tennis Academy. Could you tell us what an average day is like?
I wake up around 7am and play tennis from 8am until 10:45am. At 11am, I go to the gym until around 1pm, then rest up and have lunch. At 3:30pm a second hitting session until 6pm. Then recovery, an ice bath or physio, and that's my day, six days a week. It makes me understand what it takes to become a professional tennis player, and what they have to do in their routines. I really work well with my coaches; they've helped me a lot and the academy provides the best facilities possible.
You've had hitting sessions with Nadal. What was that like?
It's amazing playing with a legend – and he's my idol for sure. I feel honoured and grateful and he gave me a lot of tips. I didn't just play with him once, I played with him for like a whole week, every day.
How about setbacks?
I had a long clay-court season from February to June last year, when I probably won just four matches in four months. I grew up on hard courts and I was struggling a lot.I couldn't win a match and was feeling very weak and not very confident. I really need to thank my coaches as they really helped me believe in myself. Even after those months playing on clay, I feel like I've become a better player. I needed more rallies to win a point, to grind it out as they say, which isn't easy for me. But I really learned a lot.
What do you do on your downtime?
When I'm back in Hong Kong, I like to go out to eat, explore new restaurants, just spend time with friends … chatting, going shopping, maybe watching a movie, and just not thinking about tennis, to disconnect from it and just enjoy a bit of life.
What's your advice to young tennis players from Hong Kong?
Try to get out to play in the international circuit. You need to have the mentality of going out and exploring the world. Even if you lose first round every time, if you only win in Hong Kong you won't know the level outside … so play in Europe or the US. Also, as you heard, I have a long schedule, so you really need to love tennis, because that's the only thing that will keep you moving. That's the reality.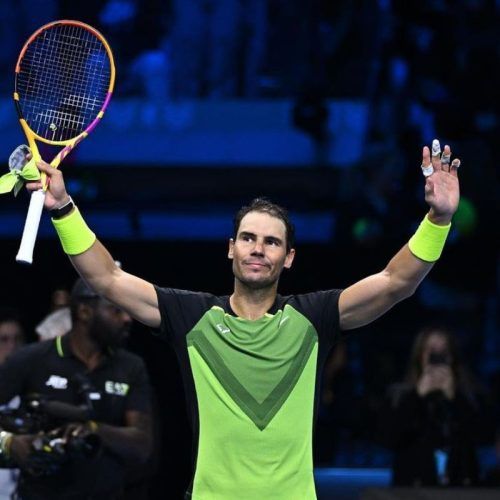 This story first appeared on Prestige Online Singapore