With Avatar: The Way of Water becoming a huge worldwide success and joining the USD 2 million club, director James Cameron has a clear vision for the future of his franchise. The director has already shot Avatar 3 and some parts of Avatar 4 and now with the massive success of the second film, the fifth film is also likely to happen.
The first Avatar made almost USD 2.97 billion at the global box office and remains the highest-grossing film of all time. The sequel, which was released in December 2022, has already collected more than USD 2.13 billion worldwide, becoming the fourth highest-grossing movie of all time.
#AvatarTheWayOfWater is the #1 movie in the nation, 7 weeks in a row 💙

Experience it only in theaters and get tickets now: https://t.co/9NiFEIHBie pic.twitter.com/e2nawHyAET

— Avatar (@officialavatar) January 29, 2023
Speaking on the future of the Avatar franchise, Cameron said in an episode of Who's Talking to Chris Wallace?: "We'll have a discussion soon with the top folks at Disney about the game plan going forward for Avatar 3, which is already in the can – we've already captured and photographed the whole film, so we're in extended post-production to do all that CG magic. And then Avatar 4 and 5 are both written. We even have some of '4' in the can. We've begun a franchise at this point. We've begun a saga that can now play out over multiple films."
When will Avatar 3 be released in theatres?
If post-production isn't delayed, Avatar 3 will be released in theatres on December 20, 2024. The third part was already filmed back-to-back with Avatar: The Way of Water, so it'll be coming out sooner than anticipated.
Will Avatar 3 introduce new cast members?
Charlie Chaplin's granddaughter Ona Chaplin, known for her role as Talisa Maegyr in Game of Thrones, has been cast in Avatar 3 and will be playing the role of Varang. Everything Everywhere All at Once and Minions: The Rise of Gru star Michelle Yeoh will also be joining the Avatar franchise to portray Dr Karina Mogue, a human scientist.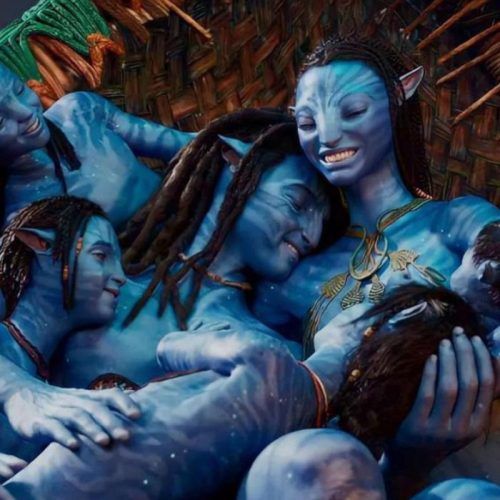 In 2021, Collider revealed that Eiza González auditioned for a part in Avatar 3 after playing a small role in the Cameron-produced Alita: Battle Angel. Similarly, British actor David Thewlis, known for his role as Hogwarts' professor Remus Lupin in the Harry Potter franchise, will also play a key role in the movie. He will be playing Peylak, one of the Na'vi in not just Avatar 3, but also the other upcoming sequels.
What to expect from 'Avatar 3'?
In a new interview with Empire magazine, Avatar producer Jon Landau revealed some new details about what fans can expect from the next three sequels. Cameron has already explained that the third part would introduce a more antagonistic race of Na'vi. Now Landau is adding that this new race will be known as the 'Ash People', described as an aggressive, volcanic race of Na'vi whose leader Varang will be played by Chaplin.
It was further revealed in the interview that there will be a big time jump for the fourth film, which will then lead into Avatar 5 which will be partially set on Earth.
(Hero and feature image credits: Courtesy Instagram/Avatar)
Frequently Asked Questions (FAQs)
Question: Has Avatar 3 been confirmed?
Answer: Yes, Avatar 3 has been confirmed and was already filmed back-to-back with Avatar: The Way of Water. 
Question: When will Avatar 3 release?
Answer: If post-production isn't delayed, Avatar 3 will be released in theatres on December 20, 2024.
Question: What will be the title of Avatar 3?
Answer: As of now, no official title has been confirmed for Avatar 3.
Question: Who is getting casted in Avatar 3?
Answer: Ona Chaplin, Michelle Yeoh and David Thewlis are some of the new cast members confirmed for Avatar 3.
written by.
Sanika Achrekar
Digital Writer, Augustman
Sanika lives for fashion and skincare. She enjoys writing about style, beauty, and lifestyle. She worked as a fashion writer for Man's World India magazine. When not writing about designers and trends, she likes to shop, travel, try new Sushi restaurants, practise pilates and rewatch her comfort shows.