Brendan Fraser has been the talk of the town through 2022 with The Whale becoming one of the most acclaimed movies in his career. The film has been received very well by critics, with particular praise coming Fraser's way.
Directed by Darren Aronofsky, The Whale is a psychological drama about Charlie, a gay English teacher weighing 272 kg who wishes to reconnect with his estranged daughter. Fraser plays Charlie while his daughter's role is played by Stranger Things (2016– ) star Sadie Sink.
The film had its world premiere at the 79th Venice International Film Festival on 4 September 2022. It received a six-minute standing ovation.
A video of Fraser becoming visibly emotional as critics and fans applauded him went viral on social media. Even Dwayne Johnson, popularly known as The Rock, took to Twitter to shower effusive praise on Fraser.
Man this makes me so happy to see this beautiful ovation for Brendan. He supported me coming into his Mummy Returns franchise for my first ever role, which kicked off my Hollywood career. Rooting for all your success brother and congrats to my bud Darren Aronofsky. #TheWhale 👏🏾 https://t.co/SNBLPHHmEZ

— Dwayne Johnson (@TheRock) September 4, 2022
Because of his performance in The Whale and the overall appreciation the film has received, many believe that Fraser now has a sure chance of earning an Academy Award nomination — the first of his career — in 2023.
But where did Brendan Fraser disappear?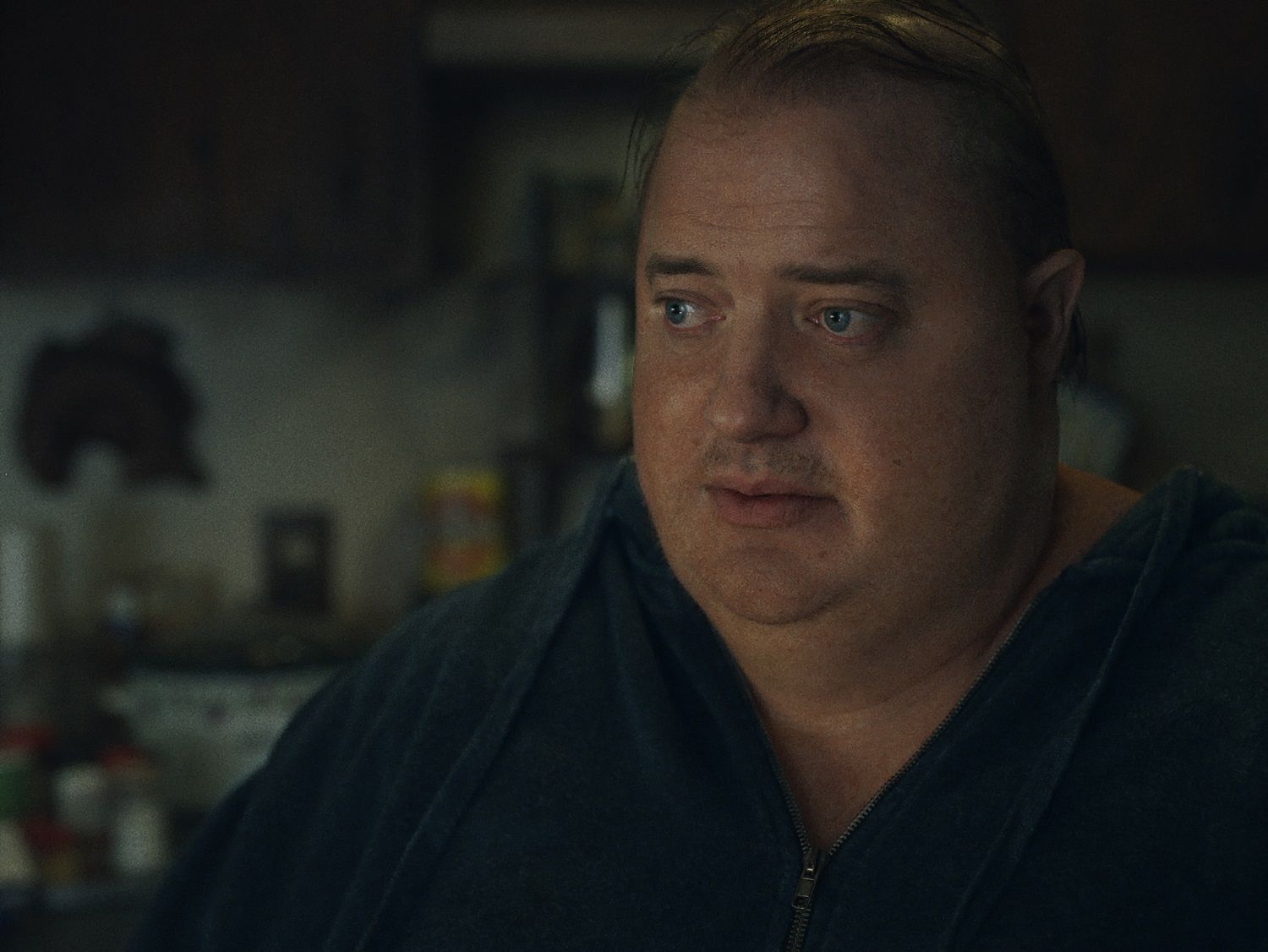 Fraser's personal life is itself like the plot of a movie. He made his cinematic debut with the film Dogfight (1991), which starred Lili Taylor and River Phoenix — the older brother of Academy Award winner Joaquin Phoenix. His role was simply credited as Sailor #1.
Encino Man (1992), his next theatrical release, turned Fraser into a star. He played a caveman who is freed from a block of ice in the modern world and goes on a hilarious adventure. Though critically panned, the film was a major box-office success.
Fraser quickly became one of the top Hollywood actors in the 1990s and, as a result, one of the highest-paid actors of his time. However, his career started going downhill in the mid-2000s, and he almost disappeared from the spotlight in the 2010s.
Part of this was because of the injuries he suffered on the set of The Mummy (1999-2008) franchise.
"By the time I did the third Mummy picture in China [in 2008], I was put together with tape and ice — I was building an exoskeleton for myself daily," he told GQ magazine in 2018.
In the famous tell-all interview, he said that health-related problems such as partial knee replacement and damage to his vocal cords among other issues forced him to visit hospitals for almost seven years.
In the same interview, Fraser accused Philip Berk, the then-president of the Hollywood Foreign Press Association (HFPA), the organisation behind the Golden Globes, of sexually assaulting him in 2003. Fraser said that the incident pushed him into depression and that he felt as if the HFPA blacklisted him.
"I don't know if this curried disfavor with the group, with the HFPA. But the silence was deafening," he said, adding that he was rarely invited back to the Globes after 2003.
Personal struggles added to Fraser's plight. The Canadian-American actor and his wife Afton Smith got divorced in 2007, and Fraser lost his mother in 2016 — an incident that was behind his sad appearance when he appeared for his first interview in years on AOL's BUILD series.
"I buried my mom. I think I was in mourning, and I didn't know what that meant," he told GQ.
Between these years, his big screen career took a backseat, and he was no longer the face of blockbusters like he once was.
Yet, Fraser managed to keep himself busy with low-budget movies. Alongside, he tried to transition into TV, with noteworthy performances in the miniseries Texas Rising (2015) and season 3 of Showtime's The Affair (2016-2017).
After playing Nathan Fowler in season 1 of the thriller series Condor (2018), Fraser did a string of forgettable films, including the Indian crime drama Line of Descent (2019).
In early 2019, he started appearing as Cliff Steele aka Robotman, one of the main roles, in the superhero series Doom Patrol — considered by many as one of the best Brendan Fraser movies or TV shows.
Fraser, who lends his voice to the character which is physically portrayed by Riley Shanahan, has been widely praised for the role. He has played the character in all three of its seasons and is set to reprise it in the fourth.
He was also set to play the supervillain Firefly in Batgirl, starring Leslie Grace as the titular superhero. The film was supposed to release later in 2022. But even though filming was completed and it was in the post-production stage, makers Warner Bros. cancelled Batgirl to the shock of fans.
The best Brendan Fraser movies to watch right now
(Hero image: Courtesy of Universal Studios – © 1999 – Universal Pictures – All Rights Reserved/IMDb; Featured image: Courtesy of © 2008 – Universal Studios/IMDb)
Jump To / Table of Contents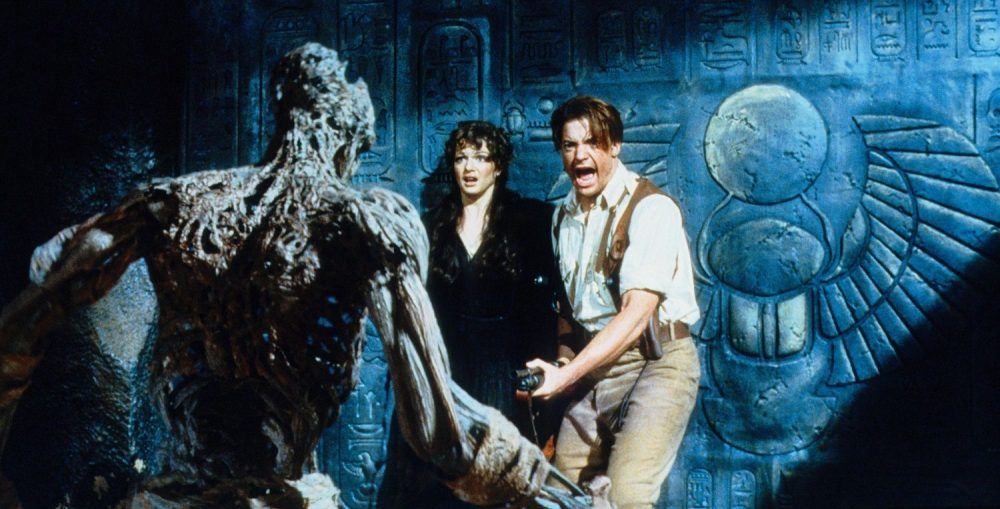 Genre: Action-Adventure
Directed by: Stephen Sommers
Other cast members: Rachel Weisz, John Hannah, Arnold Vosloo, Oded Fehr, Patricia Velásquez, Kevin J. O'Connor
Release date: 7 May 1999
Synopsis: Rick O'Connell (Fraser), an adventurer in 1923's Egypt, joins a young Egyptologist Evelyn Carnahan (Weisz) and her brother, Jonathan (Hannah), to save the world after they accidentally awaken a mummified Imhotep (Vosloo) in ancient Hamunaptra.
More about the film: The Mummy was a global box office success, turning Fraser into an international action star. Made on a budget of USD 80 million, the film earned over USD 155 million at the worldwide box office.
Image: Courtesy of © 1999 – Universal Pictures – All Rights Reserved/IMDb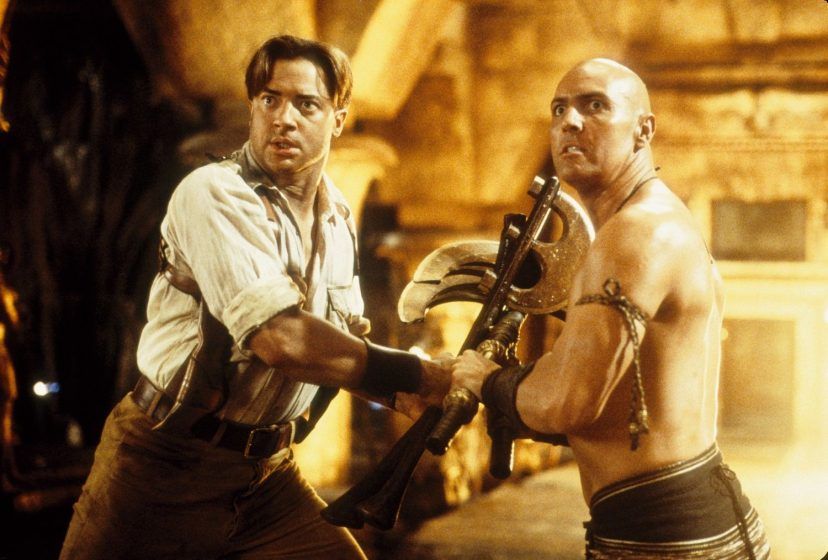 Genre: Action, Adventure
Directed by: Stephen Sommers
Other cast members: Rachel Weisz, John Hannah, Arnold Vosloo, Oded Fehr, Patricia Velásquez, Freddie Boath, Dwayne Johnson
Release date: 4 May 2001
Synopsis: Ten years after the events of the first film, Imhotep's mummified body is brought to London. He awakes and goes on a rampage. And this time, Rick and Evelyn have not only to protect themselves but also their young son, Alex (Boath), unaware that he holds the power to awaken the Scorpion King (Johnson).
More about the film: This was the second film of The Mummy trilogy. It was an even bigger box office success than its predecessor, grossing over USD 430 million worldwide against a budget of USD 98 million. Unlike the first, the sequel received negative reviews from critics.
Image: Courtesy of Universal Studios – © 2001 – Universal Studios – All Rights Reserved/IMDb
03
The Mummy: Tomb of the Dragon Emperor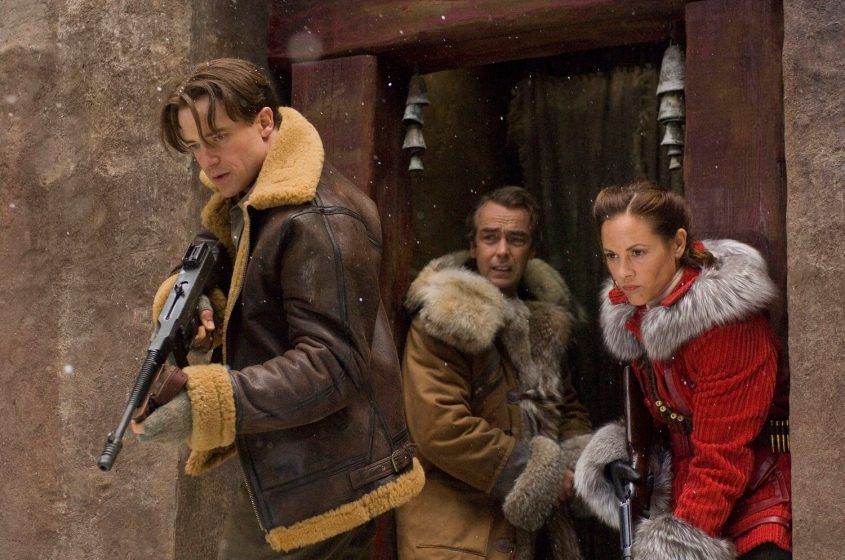 Genre: Action-Adventure
Directed by: Rob Cohen
Other cast members: Jet Li, Michelle Yeoh, Maria Bello, Liam Cunningham, Luke Ford, Isabella Leong, Anthony Wong
Release date: 1 August 2008
Synopsis: A grown-up Alex (Ford) discovers the mummy of the first Emperor of Qin (Li) in China in 1933. An evil warlord resurrects the Emperor, who goes on to unleash havoc with his supernatural powers. Alex must unite with his parents, a mysterious young girl named Lin (Leong) and the immortal sorceress Zi Yuan (Yeoh) to stop the Emperor.
More about the film: The third and last film of The Mummy trilogy, Tomb of the Dragon Emperor was critically panned despite having major action stars such as Yeoh and Li. Its worldwide box office gross was lower than the second film, despite having a high budget of USD 145 million. Though Fraser returned to play Rick, Bellow replaced Weisz in the role of Evelyn.
Image: Courtesy of © 2008 – Universal Studios/IMDb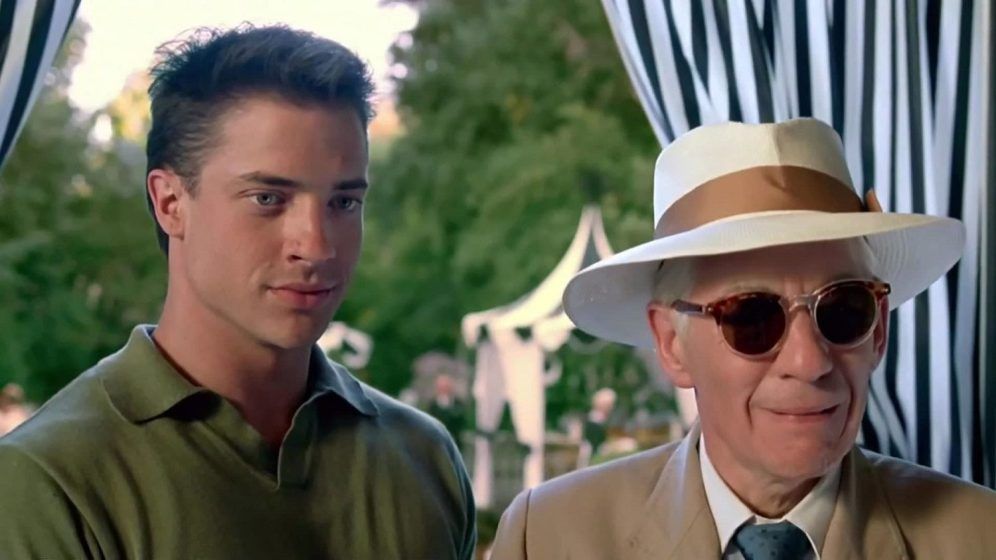 Genre: Biography, Drama
Directed by: Bill Condon
Other cast members: Ian McKellen, Lynn Redgrave
Release date: 4 November 1998
Synopsis: James Whale (McKellen) is a homosexual filmmaker in poor health. Once the toast of Hollywood, he now lives alone and only has his loyal housekeeper, Hanna (Redgrave), for company. One day, a young gardener, Clayton (Fraser), enters his life, and it affects Whale more than anything else in his last days.
More about the film: The biographical film depicts the fictionalised final days of James Whale, who is best known for directing a string of successful horror films in the 1930s. The title, Gods and Monsters, comes from a line in Whale's film Frankenstein (1931).
Gods and Monsters were shown at several film festivals, including Sundance Film Festival, before its theatrical release. It was received with wide critical acclaim by critics as well as moviegoers. Condon won the Academy Award for Best Writing, Screenplay Based on Material Previously Produced or Published. McKellen and Redgrave were nominated for best actor and best supporting actress Oscars.
Image: Courtesy of IMDb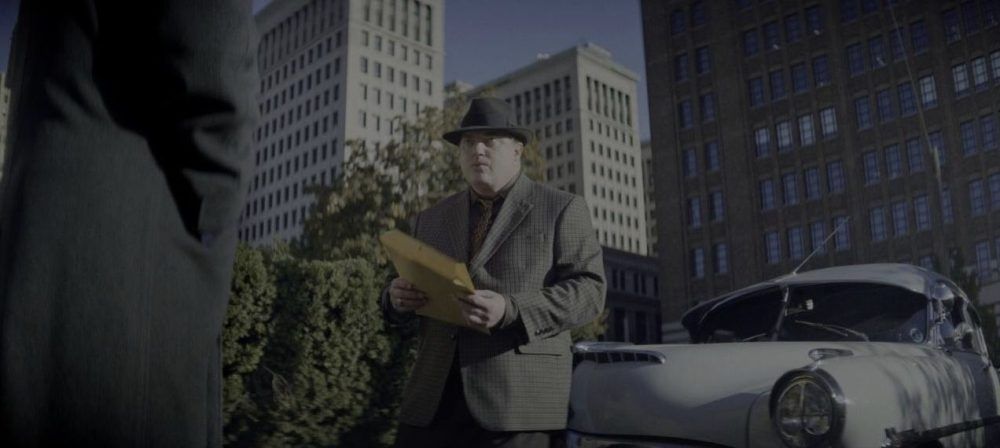 Genre: Crime, Drama
Directed by: Steven Soderbergh
Other cast members: Don Cheadle, Benicio del Toro, David Harbour, Ray Liotta, Jon Hamm
Release date: 1 July 2021 (Internet)
Synopsis: In Detroit in 1954, two gangsters, Goyen (Cheadle) and Russo (del Toro), are tasked with stealing a document from the home of accountant Matt Wertz (Harbour). The job goes wrong and the two find themselves embroiled in a much more dangerous conspiracy.
More about the film: Fraser doesn't play any of the main characters in this critically acclaimed film. However, his role as Doug Jones, who recruits Goyen and Russo, is significant to the story. No Sudden Move was released directly on HBO Max, after its world premiere at the Tribeca Film Festival.
Image: Courtesy of IMDb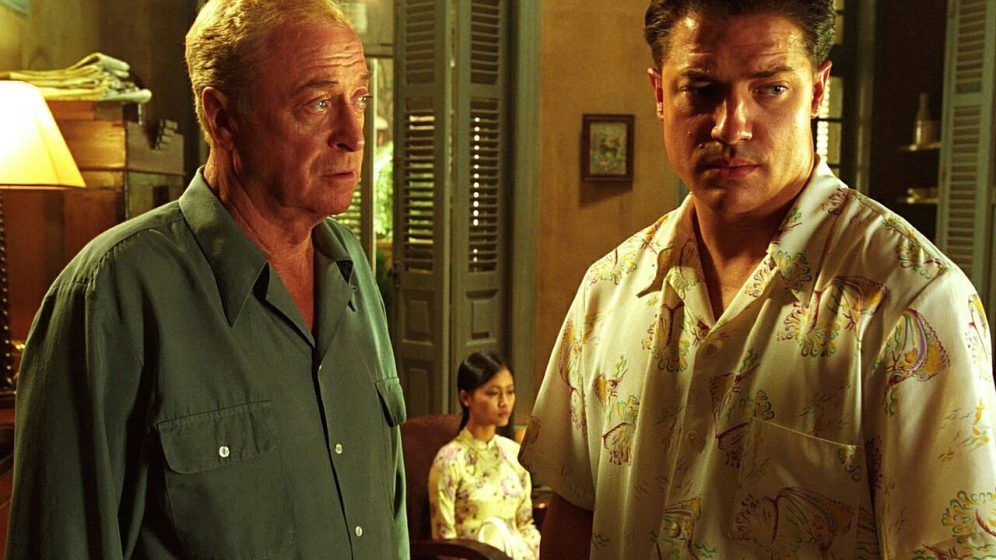 Genre: Drama
Directed by: Phillip Noyce
Other cast members: Michael Caine, Đỗ Thị Hải Yến
Release date: 22 November 2002
Synopsis: Thomas Fowler (Caine) is an old English journalist stationed in Vietnam during the French Indochina War in 1952. He falls for the charms of a local Vietnamese woman, Phuong (Hải Yến). However, a young American doctor, Alden Pyle (Fraser), is also in love with her. Their love triangle in the midst of the conflict leads to consequences that change their lives forever.
More about the film: Based on Graham Greene's 1955 novel of the same name, The Quiet American was a box office bomb. Yet, it was widely loved by critics and is counted among Fraser's most acclaimed performances on the big screen.
Image: Courtesy of IMDb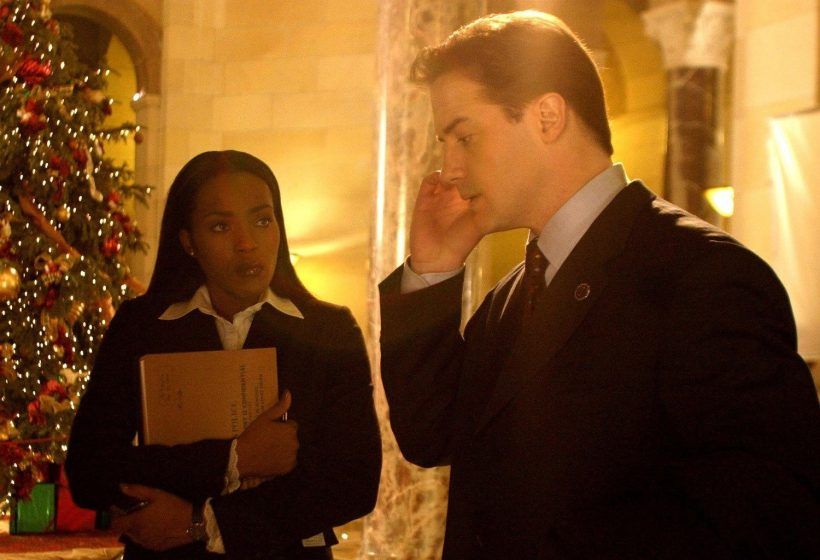 Genre: Crime, Drama
Directed by: Paul Haggis
Other cast members: Don Cheadle, Sandra Bullock, Thandiwe Newton, Matt Dillon, Jennifer Esposito, Terrence Howard, Michael Peña, Ludacris
Release date: 6 May 2005
Synopsis: The lives of several characters in modern-day Los Angeles are affected by race, class, family and gender in a post-9/11 world. Among them are a district attorney (Fraser) and his wife (Bullock), a racist traffic cop (Dillon), and a rich African-American couple (Howard and Newton).
More about the film: Crash was made on a budget of just over USD 6 million, but went on to gross more than USD 98 million worldwide. Its overwhelming box office success was matched equally by its critical accolades. Crash won three Oscars in 2006, including Best Motion Picture of the Year, and was nominated in another three categories. The performances of all cast members, including Fraser, were praised widely. As part of the ensemble cast, Fraser won the Screen Actors Guild Award for Outstanding Performance by a Cast in a Motion Picture.
Image: Courtesy of IMDb Genre: Comedy, Drama
Directed by: James F. Robinson
Other cast members: Joanna Going, Lou Rawls
Release date: 1 May 1998
Synopsis: The fun-filled comedy romance revolves around a street performer named Fletcher (Fraser) who has a vision of a woman he thinks is his future wife. However, this woman, Roz (Going), is actually a con artist. Fletcher meets Roz and tries all he can to convince her that she is how he sees her.
More about the film: Still Breathing received average reviews from critics, many of whom agreed that the film was "charming."
Image: Courtesy of IMDb
09
Journey to the Center of the Earth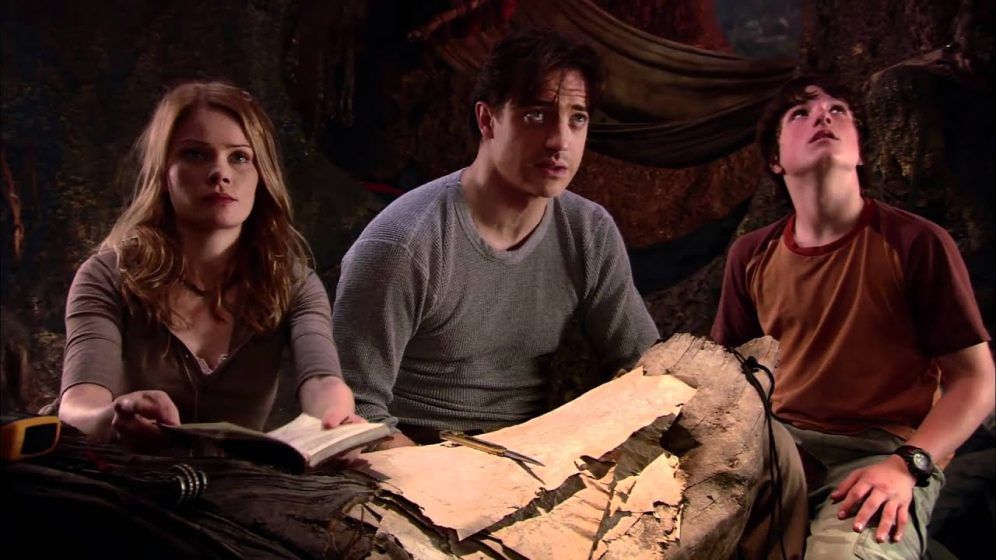 Genre: Action, Adventure
Directed by: Eric Brevig
Other cast members: Josh Hutcherson, Anita Briem, Seth Meyers
Release date: 11 July 2008
Synopsis: The film is a fantastical adaptation of Jules Verne's acclaimed 19th-century novel. Professor Trevor Anderson (Fraser) is a volcanologist who takes his nephew, Sean (Hutcherson) on a trip to Iceland to search for his missing brother. Joined by a young girl, Hannah (Briem), the trio discovers a lost world at the centre of the Earth.
More about the film: Journey to the Center of the Earth is another one of Fraser's major blockbusters. Its box office performance was decent, earning more than USD 240 million on a budget of USD 60 million. However, the film wasn't particularly appreciated by fans or critics. Fraser's character didn't return for the sequel to the film, Journey 2: The Mysterious Island, in which Hutcherson starred alongside Dwayne Johnson.
Image: Courtesy of IMDb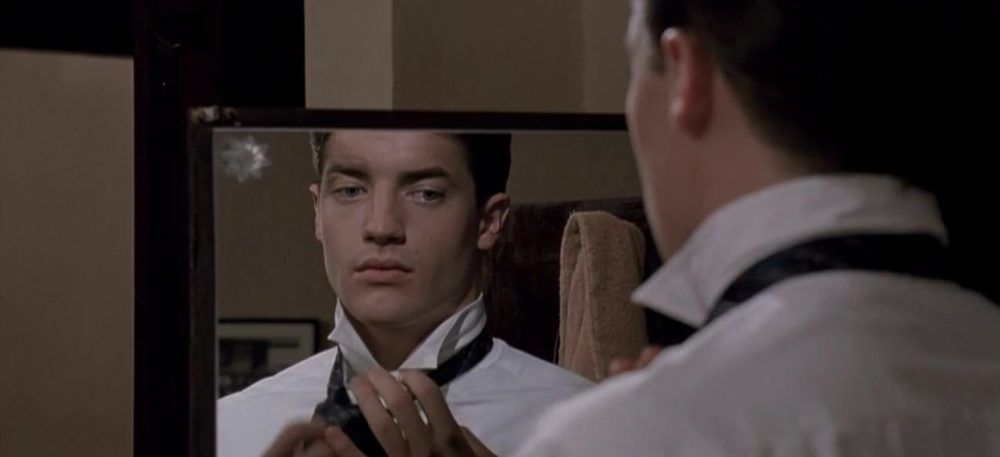 Genre: Drama
Directed by: Robert Mandel
Other cast members: Matt Damon, Chris O'Donnell, Randall Batinkoff
Release date: 18 September 1992
Synopsis: David Greene (Fraser) is a talented American footballer who gets a chance to play for an elite New England preparatory school in 1959. But when his Jewish identity is revealed, Greene becomes a target of his Evangelicals classmates — Chris Reece (O'Donnell) and Charlie Dillon (Damon).
More about the film: Fraser's first major recognition came for his performance in School Ties. He received universal praise for his performance, as did the rest of the cast.
Image: Courtesy of IMDb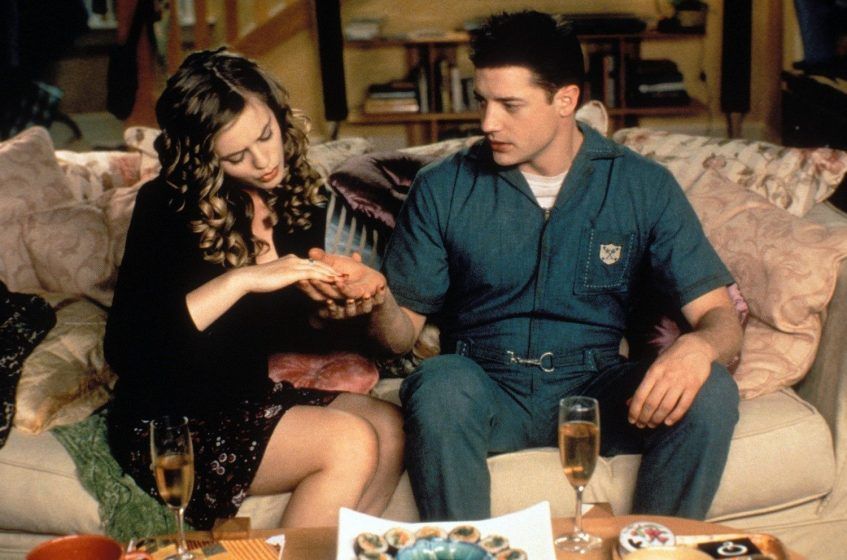 Genre: Comedy, Drama
Directed by: Hugh Wilson
Other cast members: Alicia Silverstone, Christopher Walken, Sissy Spacek
Release date: 12 February 1999
Synopsis: The romantic comedy is about a young man, Adam (Fraser), who is born and raised inside a nuclear shelter in Pasadena for 35 years. When he emerges before the outside world, the stunned Adam discovers that there was no nuclear attack as his father, Calvin (Walken), always thought. Adam meets the beautiful Eve (Silverstone), who tries to help the confused man.
More about the film: Though some critics like the film's idea, it didn't impress other departments. As such, it could neither satisfy the critics nor moviegoers.
Image: Courtesy of © 1999 New Line Cinema./IMDb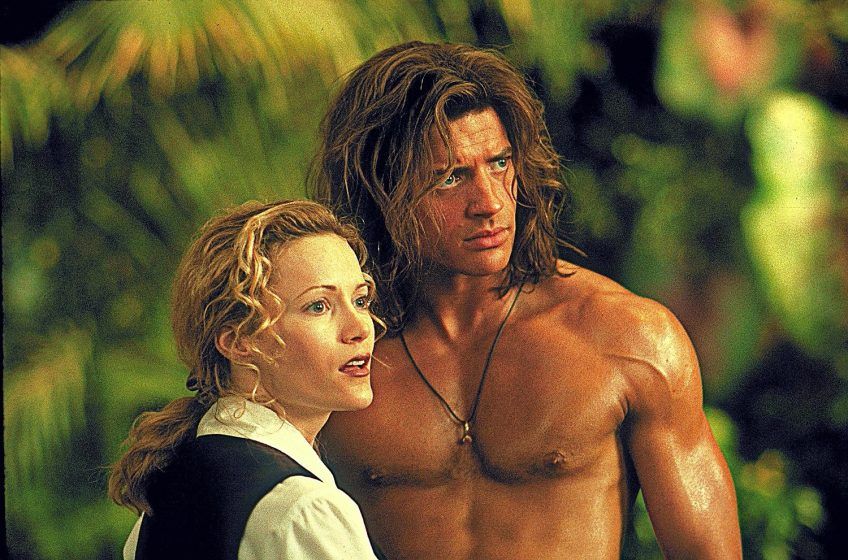 Genre: Comedy, Adventure
Directed by: Sam Weisman
Other cast members: Leslie Mann, Thomas Haden Church, Richard Roundtree
Release date: 16 July 1997
Synopsis: George has been raised in an African jungle since he was a baby. One day, the adult George (Fraser) comes across the beautiful Ursula Stanhope (Mann) and is smitten by her. Ursula takes George to San Francisco, leaving her fiancé, Lyle (Church), but the two return to Africa when George's gorilla buddy is captured.
More about the film: Based on the hilarious American animated TV series of the same name, the film is essentially a spoof of Tarzan. It failed to impress critics but managed to go past USD 100 million at the worldwide box office.
Image: Courtesy of © Mandeville Films/IMDb
13
The Passion of Darkly Noon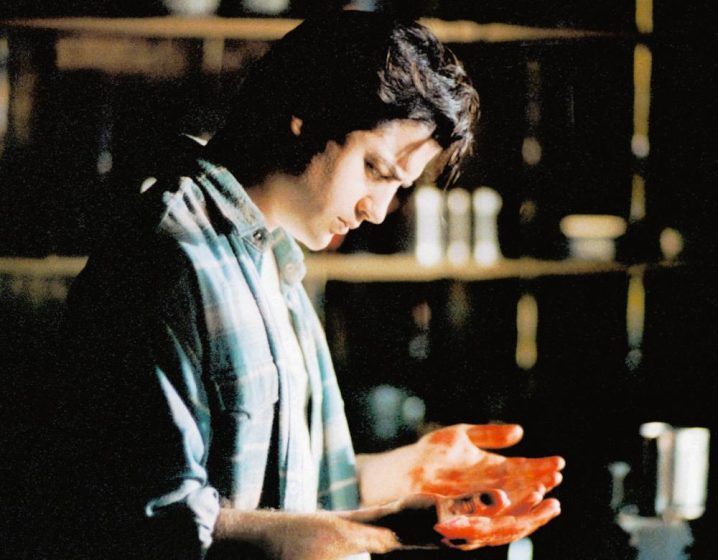 Genre: Drama, Thriller
Directed by: Philip Ridley
Other cast members: Ashley Judd, Viggo Mortensen, Loren Dean, Grace Zabriskie
Release date: 19 May 1995
Synopsis: Darkly Noon (Fraser) is a former member of an ultra-conservative Christian cult. After losing his parents, he meets four people — a coffin transporter named Jude (Dean), a kind young woman named Callie (Judd), her mute boyfriend Clay (Mortensen) and Clay's mother Roxy (Zabriskie). However, as his conflicting desire for Callie increases, things spiral out of control for Darkly Noon.
More about the film: Like many of Fraser's earlier films, The Passion of Darkly Noon was met with a lukewarm response from critics and fans. Yet, it is one of the films which is counted as one of Fraser's best from the point of view of performance.
Image: Courtesy of IMDb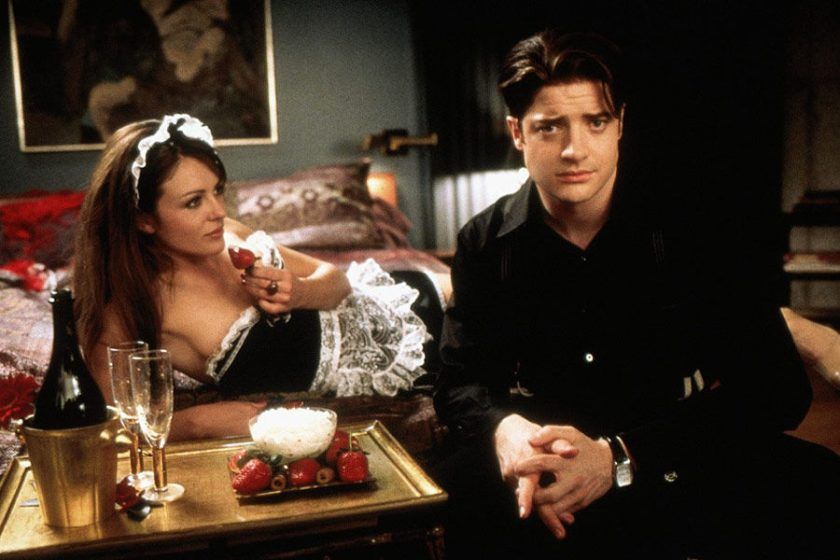 Genre: Fantasy, Comedy
Directed by: Harold Ramis
Other cast members: Elizabeth Hurley, Frances O'Connor, Orlando Jones
Release date: 20 October 2000
Synopsis: Elliot Richards (Fraser) agrees to give his soul to the Devil (Hurley) for seven wishes in order to win the love of his co-worker, Alison Gardner (O'Connor). However, as his wishes are granted one by one, Elliot realises that the deal is getting him into serious trouble.
More about the film: Bedazzled is a remake of the 1967 British film of the same name. It came at the height of Fraser's worldwide stardom and was, therefore, a highly anticipated film at the time. Yet, it fizzled at the box office and received less-than-average reviews from critics.
Image: Courtesy of IMDb
written by.
Manas Sen Gupta
Manas enjoys reading detective fiction and writing about anything that interests him. When not doing either of the two, he checks Instagram for the latest posts by travellers. Winter is his favourite season and he can happily eat a bowl of noodles any time of the day.