Singer-songwriter Taylor Swift is known for creating some of the most famous songs of modern times. With 12 Grammy awards, she is the first and only female solo artist to win the award for Album Of The Year thrice. Besides the music, the unique aspect of the songs by Taylor Swift is that the lyrics and music videos often contain cryptic references, or Easter eggs, to her relationships and those who may have crossed her.
Each time a Taylor Swift song is released, her fanbase (known as Swifties) minutely studies its lyrics and video to hunt for clues that might reveal who or what the singer-songwriter is alluding to. Thus, it was the day before her first show on The Eras Tour when she dropped four songs, including "All of the Girls You Loved Before" — a hitherto unreleased track from her 2019 album Lover. Fans believe that the song refers to Swift's boyfriend Joe Alwyn's past and indicates, according to Elle, that she believes their love is "serious, endgame, and fated."
Swift includes previously mentioned references from her own songs in new albums as well. For instance, the music video of the song "Anti-Hero" from her 2022 album Midnights has visual and lyrical references to her sixth album Reputation and Fearless tour. In the 2022 song, Swift is seen picking up the phone which, according to her fans, is an indication of the lyrics "I'm sorry, the old Taylor can't come to the phone right now…" from the album. Whereas, props, such as a guitar from her Freedom tour, were noticed in "Anti-Hero".
But why does Taylor Swift leave such hidden messages in her songs?
In November 2021, Swift appeared on The Tonight Show Starring Jimmy Fallon where she revealed that she started leaving cryptic messages a long time ago as a "sort of a tradition."
"I think the first time that I started dropping sort of cryptic clues in my music was when I was 14 or 15, putting together my first album," she said.
Referring to her self-titled debut album, she said, "I wanted to do something that incentivised fans to read the lyrics because my lyrics are what I'm most proud of out of everything that I do… When I was a kid, I used to read through CD booklets and just read the teeny, tiny print and obsess over it."
Some Easter eggs and references in select songs by Taylor Swift
Taylor Swift to Red The singer's debut studio album, Taylor Swift, was released in 2006. It was followed by Fearless in 2008, Speak Now in 2010 and Red in 2012.
During this period, Swift reportedly followed a style of slipping cryptic messages in the liner notes of her albums. According to multiple reports, the notes would appear in lowercase on the CD booklets for the albums from Fearless to Red. Swifties were able to decipher the message by picking out the few capitalised letters in the notes. However, the singer reversed the system in 1989, hiding the messages in lowercase while the notes were in uppercase.
One of the songs — believed to contain a direct reference to someone connected to Swift — is from her debut album. The song, "Should've Said No," referred to someone named "Sam" repeatedly when the letters on the album's booklet were deciphered. The name, according to some Swift theorists, is of a former boyfriend who allegedly cheated on Swift.
Similarly, "Forever & Always," a track from her album Fearless, is believed to be about Swift's relationship with Joe Jonas of the pop group Jonas Brothers. According to Billboard, the song was a last-minute addition to the album and hints at her breakup with Jonas.
"When I find that person that is right for me he'll be wonderful and when I look at that person, I'm not even gonna be able to remember the boy who broke up with me over the phone in 25 seconds when I was 18," Swift had said on the Ellen DeGeneres Show in 2008.
Without taking Jonas' name, Swift also said on the show that one song is about a guy who is "not in my life anymore unfortunately."
The lyrics of "Last Kiss," the 13th track on her album Speak Now, refer to Swift's "Forever & Always."
Following the capitalised letters in the lyrics of her song "22" from Red reveals the "ASHLEY DIANNA CLAIRE SELENA." According to her fans, these are apparently the names of her then-best friends Ashley Avignone, Dianna Agron, Claire Kislinger and Selena Gomez.
1989
The album 1989, which dropped in 2014, is particularly interesting. Fans believe that the album refers to her relationship with English singer Harry Styles, which reportedly lasted for a very short time in 2012.
One song, in particular, is titled "Style." In a radio interview with Ryan Seacrest around the time of the release of 1989, Swift said that the song is her "secret favourite."
Commenting about why she picked the particular title for the song, she said, "Because the hook is 'We never go out of style,' and I thought 'We never go out of style' was a long title."
"This song is about my life and I have never actually revealed who it's about, but the song speaks for itself. The way it sounds and feels is all I need people to know about that story," she added.
A 2012 MTV report reveals that the letters in lowercase in the songs of 1989, when taken together, read like a story of the relationship between Swift and Styles, which eventually didn't work.
The report decoded the messages contained in all the songs of the album:
"We begin our story in New York ("Welcome To New York"). There once was a girl known by everyone and no one ("Blank Space"). Her heart belonged to someone who couldn't stay ("Style"). They loved each other recklessly ("Out of the Woods"). They paid the price ("All You Had To Do Was Stay"). She danced to forget him ("Shake It Off"). He drove past her street each night ("I Wish You Would"). She made friends and enemies ("Bad Blood"). He only saw her in his dreams ("Wildest Dreams"). Then one day he came back ("How You Get The Girl"). Timing is a funny thing ("This Love"). And everyone was watching ("I Know Places"). She lost him but she found herself and somehow that was everything ("Clean")."
Reputation Reputation was released in 2017. With this, Swift stopped leaving hidden messages in the linear notes.
In the album's prologue, Swift wrote that she was tired of the speculations around her relationships and "the men they can attribute to each song as if the inspiration for music is as simple and basic as a paternity test…There will be no further explanation. There will just be reputation."
According to TODAY, the album chronicled the events in Swift's life in 2016. These include her breakup with Scottish DJ Calvin Harris, a link-up with English actor Tom Hiddleston and a song that American rapper Kanye West, officially known as Ye, released, referring to an infamous moment at the 2009 VMAs when he grabbed the mic during her acceptance speech.
The lead single, "Look What You Made Me Do," in particular, is seen as a response to Ye's song "Famous" in which he sang about Swift hinting at the episode from the event.
Ye had then claimed that he and Swift "had a[sic.] hour long convo" and that the latter gave her "blessings" to him. However, Swift categorically denied that Ye called for approval for the release of the song and, in fact, "declined and cautioned him about releasing a song with such a strong misogynistic message" in it.
Swift, one of the richest celebrities in the world, then famously deleted all posts from her Instagram account and released the song "Look What You Made Me Do" whose music video contains the Easter eggs that fans have since linked to Ye and others.
In the video, she can be seen lounging in a bathtub which is filled with jewellery. There is also a USD 1 bill, which can be seen among the jewels in the bathtub. According to Seventeen, the USD 1 bill indicated the amount for which Swift sued DJ David Mueller, for groping her at a meet-and-greet in 2013. The report said that her "suit isn't about making money; it's about showing everyone sexual assault is never OK."
Some others on the internet felt that the jewellery in the bathtub was Swift's idea of making fun of Kim Kardashian, who was then married to Ye and was robbed while in a bathtub.
According to Insider, there is another fan theory that suggests the song takes a jibe at American singer-songwriter Katy Perry as well, who was friends with Swift in 2008; but the two fell out later.
"I don't like your little games / Don't like your tilted stage," reads the lyrics of the song, which Swifties think refers to the tilted stage that Perry used at her 2017 Grammys and 2015 Super Bowl performances. A similar stage was also used by Ye during his "St. Pablo" tour.
"Literally the whole video is just an Easter egg," she said in a video on Entertainment Weekly. "There are thousands of Easter eggs. There are some that people still haven't found. It will be decades before people find them all."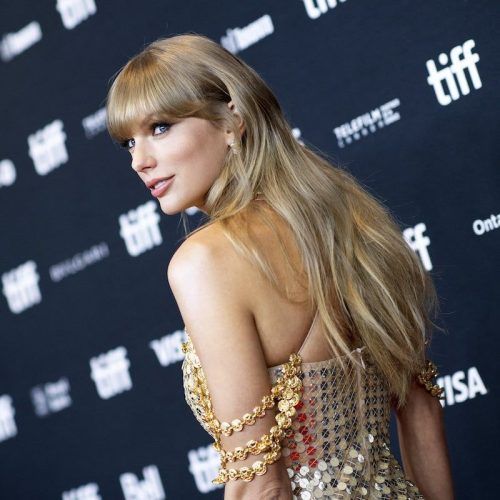 Folklore and Evermore Swift's eighth studio album Folklore was released in 2020. It is where she is believed to have alluded to her boyfriend, Joe Alwyn, for the first time. Her eagle-eyed fans noted that two of the tracks in the album were credited to a certain "William Bowery." The same name was credited in three other songs by Swift in her subsequent album, Evermore.
Connecting the dots, Swifties reportedly discovered that "William" was the name of Alwyn's great-grandfather and "Bowery" referred to Bowery Hotel where Swift first met Alwyn in 2016.
In her 2020 documentary film Folklore: The Long Pond Studio Sessions, which Swift directed, she said, "William Bowery is Joe, as we know."
This isn't the only Easter egg in Folklore. The song, "Betty," is now known as having been named after the third child of Blake Lively and Ryan Reynolds. Citing a source, Elle reported in July 2020 that Lively and Reynolds let Swift make the revelation through her song.
The lyrics also contain a reference to Betty's older siblings, sisters James and Inez. The two names were what led the singer's fans to figure out that Betty is the name of Lively and Reynolds' third child. At the time, the couple hadn't revealed her name.
Introducing the song on country radio in August 2020, Swift confirmed that she "named all the characters in this story after my friends' kids."
(Main and Featured images: Taylor Swift/@taylorswift13/Twitter)
written by.
Manas Sen Gupta
Manas enjoys reading detective fiction and writing about anything that interests him. When not doing either of the two, he checks Instagram for the latest posts by travellers. Winter is his favourite season and he can happily eat a bowl of noodles any time of the day.