Every December, millions of people flocked to Goa to attend the craziest EDM festival — the Sunburn Music Festival. But due to the COVID-19-induced lockdown, everything came to a standstill. Goa was no longer buzzing with crowded spaces, loud music and a fun atmosphere. People were eagerly waiting to rush back to the beaches of Goa and attend this festival like before. Sunburn then finally made a return in 2022 with a blast, and now without wasting any more time, the organisers have announced the details of Sunburn Goa 2023.
The EDM festival will be returning to the beach paradise in December 2023. From an exciting lineup of international and Indian artists to new adaptations, Sunburn Goa 2023 is going to be a lit affair. If you wish to be a part of this amazing experience, you have arrived at just the right place. Here's everything you need to know about Goa's biggest music festival.
Sunburn Goa 2023: Date, ticket price, venue & More
View this post on Instagram
The annual event will be returning for its 19th edition this year. While the festival takes place at Vagator Beach, the organisers are yet to reveal the location for Sunburn Goa 2023. The EDM event will go on for four days.
Date: 28, 29, 30, 31 December
Location: Venue is to be announced
Timing: Entry starts at 2:00 pm
Ticket price: USD 45.56 (INR 3750)
Artists arriving for Sunburn Goa 2023 The artist lineup is yet to be announced. However, the organisers introduced one of the many artists who will be taking over the main stage. Australian DJ & record producer, Timmy Trumpet will be arriving to make the audience groove to his upbeat music.
The theme of the event The theme of this year's event is Enchanted Forest. So be ready to join other EDM music lovers in the heart of the jungle to enjoy stimulating sounds and captivating performances from artists from across the globe.
How can you get your hands on the tickets? The ticket sale is already live. The early bird tickets are available at a lower price with a 30 per cent discount as well. Options to pay 50 per cent of the amount of a ticket immediately and to pay the rest later are also available. All you have to do is go to BookMyShow, select your preferred tickets and pay the price. The tickets/wristbands will be home-delivered to you between 17 December to 24 December. You can also collect the bands from the box office counter at the event venue, in exchange for your e-ticket copy. Home delivery is mandatory for the tickets.
For more details, visit bookmyshow.com.
Different kinds of tickets available for Sunburn Goa 202 There are different kinds of tickets available for this year's event. A VIP ticket will grant you access to an exclusive elevated platform on the main stage. It also has a dedicated entry lane, bars, food stalls and toilets. A Fanpit ticket will grant you access to the Fanpit zone. It is situated right in front of the main stage and has a dedicated backstage entry into the festival. An exclusive backstage lounge for F&B and toilets will also be set up. You can also buy passes like daily passes, passes for all days, early entry passes, and after-party tickets.
Grab your hands on the Sunburn merchandise kit An exclusive Sunburn Goa 2023 merchandise kit is also available for purchase. The kit includes one tote bag, one Sunburn flag, one Sunburn Poster, two coasters, three badges and one pack of playing cards.
Quick tips to keep in mind Having fun at Sunburn Goa 2023 music festival needs to be your top priority. To avoid last-minute hassle, book your tickets in advance. When at the event, remember to carry sunscreen to avoid tan. Remember to carry power banks as well. Sunburn Goa also has happy hours, so keep note of the timings and enjoy more drinks during these hours. Also, look for accommodations near the venue to avoid travel expenses.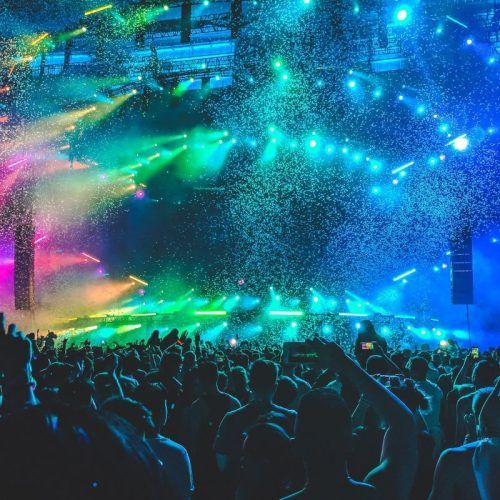 All Images: Sunburn Festival/Instagram
This story first appeared on Lifestyle Asia India
Frequently Asked Questions (FAQs)
Question: Where is the Sunburn 2023 venue?
Answer: Sunburn Goa 2023 will likely take place at the Vagator beach.
Question: How much do Sunburn Goa tickets cost?
Answer: The ticket price starts from USD 45.56 (INR 3750).
Question: Is the food free at Sunburn Goa?
Answer: Food is only free for VIP guests. Others can purchase food at the venue.
Question: What is the VIP zone in Sunburn?
Answer: A VIP ticket will grant you access to an exclusive elevated platform on the main stage.
Question: What is included in a Sunburn ticket?
Answer: A Sunburn ticket will give you access to the event plus additional facilities. The different kinds of tickets are daily passes, passes for all days, VIP passes, early entry passes, and after-party tickets.