Back in 2020, Parasite won four awards at the 92nd Academy Awards including Best Picture, Best Director, Best Original Screenplay, and Best International Feature Film. While the Hallyu wave had already dominated the world, this win made people take note of Korean films even more. It was no longer just about BTS, Korean skincare and K-dramas. People were also interested in South Korean movies, especially in the sci-fi genre.
What appeals to the audience is the fact that these films put a different spin on the genre. South Korean sci-fi movies offer a unique perspective and often compel one to think about the world around them. The engaging art of storytelling pushes the boundaries of traditional cinema and takes the experience of watching a sci-fi film to a different level as well. Korean filmmakers take sci-fi movies to an entirely new dimension, leaving you so impressed that you are always demanding more.
If you are someone who has not yet hopped on this bandwagon, then we have just the list for you. We have curated a checklist of the 10 best South Korean sci-fi movies that you need to add to your binge list. The movies offer different themes and plot twists that will always keep you on the edge of your seat. Check it out below.
Check our complete list of K-dramas to watch!
10 best Korean sci-fi movies you need to watch right away
The Host
Director: Bong Joon-ho
Cast: Song Kang-ho, Byun Hee-bong, Park Hae-il, Bae Doona, Go Ah-sung
Release Date: July 27, 2006
Synopsis: One of the best Korean sci-fi movies that you need to watch is The Host. The suspense drama revolves around a family who is trying to survive a mysterious monster and rescue their daughter from its clutches. The plot keeps you hooked till the end, providing you with enough twists and turns. The central theme is the importance of family and love which will resonate with you surely.
Where to watch: Netflix
Doomsday Book
Director: Kim jee-Woon, Yim Pil-sung.
Cast: Ryoo Seung-bum, Kim Kang-woo, Song Sae-byeok
Release Date: April 5, 2012
Synopsis: This thought-provoking film is set in the future world. Narrating three interconnected stories, Doomsday Book talks about the impact of technological advancement and environmental degradation on the world. The film challenges your perception of society and makes you think about what the coming years are going to look like.
Where to watch: Amazon Prime Video
Young Gun in the Time
Director: Young-doo Oh
Cast: Young-geun Hong, Song-hyeon Choi, Eun-Jung Ha
Release Date: 30 August, 2012
Synopsis: Private detective Young Gun meets Choi Song Hyun and instantly falls in love with her. Before things conspire into something bigger, the young girl dies in a car accident. Things take a turn when Song Hyun from three days ago travels to the future through a time machine. She asks Young Gun to save her life, a mission he happily agrees to fulfil.
Where to watch: Amazon Prime Video
Save The Green Planet!
Director: Jang Joon-hwan
Cast: Shin Ha-kyun, Baek Yoon-sik
Release Date: April 4, 2003
Synopsis: Very few South Korean sci-fi movies have managed to make an impact as huge as Save The Green Planet! The film tells the story of a troubled man who kidnaps a pharmaceutical executive. The protagonist is convinced that this man is the leader of Andromedan aliens seeking to conquer Earth and plans to stop him from succeeding in his evil plans.
Where to watch: Netflix
Flu
Director: Kim Sung-su
Cast: Jang Hyuk, Soo Ae, Ma Dong Seok
Release Date: August 14, 2013
Synopsis: Flu is an action-packed film that narrates the story of a city trying to fight a deadly virus. The new kind of virus enters the body through the respiratory system and kills the victim in 36 hours once infected. The people of the city now have to navigate a way to stay alive.
Where to watch: Amazon Prime Video
The Witch: Part 1. The Subversion and Part 2. The Other One
Director: Park Hoon-jung
Cast: Part 1 (Kim Da-mi, Jo Min-su, Choi Woo-shik, Go Min-s, Jung Da-eun ) | Part 2 (Shin Si-ah, Park Eun-bin and Jo Min-su)
Release Date: Part 1: 27 June, 2018 | Part 2: 15 June, 2022
Synopsis: South Korean movies rarely get a sequel but this sci-fi movie surely needed another part. The Witch: Part 1 – The Subversion and Part 2 – The Other One revolves around a girl named Ja-yoon. She develops psychic powers and great strength and speed while being held hostage at a lab facility. She manages to escape from the lab and fights her captors while finding out how she got the powers first-hand. The sequel gives more insight into her life and promises a lot more sci-fi drama.
Where to watch: MX Player, Amazon Prime Video, Apple TV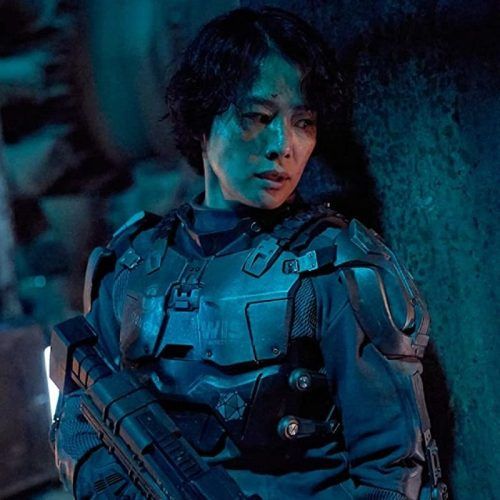 Okja
Director: Bong Joon Ho
Cast: Ahn Seo-hyun, Byun Hee-bong, Yoon Je-moon, Choi Woo-shik, Tilda Swinton, Paul Dano, Steven Yeun
Release Date: June 29, 2017
Synopsis: Considered to be one of the best Korean sci-fi movies, Okja narrates the story of a young girl named Mija. She is best friends with a genetically engineered "super pig" named Okja. The pig is taken away from her after which she sets out on a mission to rescue her best friend. The central theme of friendship and the interesting plot twists makes this a must-watch movie in this genre.
Where to watch: Netflix
The Call
Director: Lee Chung-hyun
Cast: Park Shin-hye, Jeon Jong-seo
Release Date: November 27, 2020
Synopsis: The Call revolves around time travel where a young woman goes back in time to prevent a disastrous event that endangers the future. Things get worse when another woman gets involved and decides to change her past, present and future as well.
Where to watch: Netflix
SORI: Voice from the Heart
Director: Lee Ho-Jae
Cast: Lee Sung-Min, Chae Soo-Bin, Lee Ha-Nee, Kim Won-Hae
Release Date: January 27, 2016
Synopsis: The film revolves around a father who is set on a mission to search for his daughter with the help of an AI satellite robot that saves every conversation made on a phone. He names the robot Sori ("Voice") and sets on a beautiful adventure.
Where to watch: Amazon Prime Video
Lucid Dream
Director: Kim Joon-sung
Cast: Go Soo, Sol Kyung-gu, Kang Hye-jung
Release Date: February 22, 2017
Synopsis: Dae-ho is an investigative journalist who seeks to know about the whereabouts of his son. It has been three years since he lost him and now with the help of a detective and a psychiatrist friend, he tries to retrace his memory of the incident through the use of lucid dreaming techniques and find out where his son is.
Where to watch: Netflix
Hero & Feature Image: Courtesy IMDb
This story first appeared in Lifestyle Asia India