ChatGPT is what everyone is talking about right now. The artificial intelligence (AI) powered chatbot, created by OpenAI, has become the fastest-growing consumer application in history, crossing 100 million users in just two months. As the number of users continues to rise, OpenAI has been busy with introducing unique updates to make ChatGPT more accurate in its responses and factually robust.
The massive popularity of the chatbot has been indeed astonishing. According to a UBS study, the AI-powered chatbot clocked 13 million unique visitors per day in January. TikTok, one of the world's most famous social media apps, took around nine months from its launch to hit the 100 million mark in monthly active users. Meta-owned Instagram, which is almost every month coming up with new updates and features, took two-and-half years to reach the number.
Before we check out the updates, let's try to know what it is about this chatbot that makes it stand above the rest and challenge the authority and dominance of search engine behemoth Google.
Why is ChatGPT famous?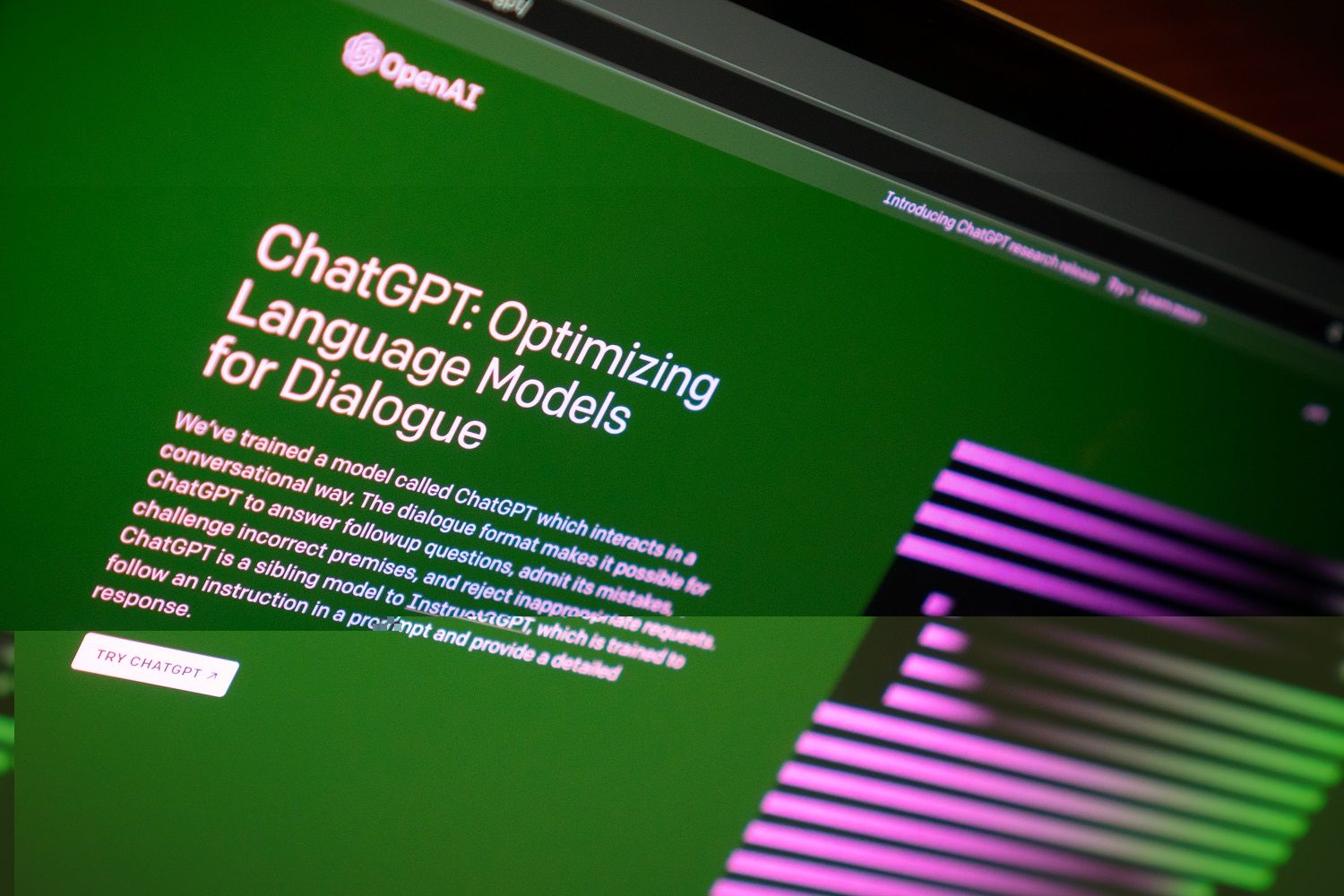 Users are turning to this tool for its obvious utility: it is an AI that can generate human-like responses to almost any question the user may have. The answer is often well-structured and loaded with precise details.
Built on Generative Pre-trained Transformer (GPT), ChatGPT is essentially a neural network learning model through which a machine can be trained to perform tasks that fall within the purview of natural language processing (NLP).
To put it simply, the GPT enables this new chatbot to respond in a conversational way, and the neural network is essentially a learning algorithm which makes the chatbots mimic the brain and understand human languages as they are spoken or typed.
Yet, despite all the hype surrounding it, this tool is still a work in progress.
Many have found problems with its answers, especially with regard to factual accuracy, since the information in it is limited to 2021. This means that the chatbot cannot give accurate answers to queries that would be connected to events after it, such as 'who won the FIFA World Cup 2022?' and similar questions.
Asked #ChatGPT abt who won the FIFA world cup in 2022. It couldn't answer. That's expected. However, it seems to provide wrong information (abt the other 2 wins) even though the information is there in the system. Any #Explanations? pic.twitter.com/fvxe05N12p

— indranil sinharoy (@indranil_leo) December 29, 2022
Also, there are concerns over the manner in which it can be abused into giving answers it is programmed not to, such as generating ransomware or phishing emails — two of the biggest dark sides of the AI chatbot that researchers have been able to point at.
And, that's why updates become all the more important before it grows into the go-to search engine or digital assistant.
All the important ChatGPT updates
ChatGPT Plus
On 1 February, OpenAI announced the launch of ChatGPT Plus in a blog post. At USD 20 per month, the pilot subscription plan for ChatGPT will give users access to the platform even during peak times, besides faster response times and priority access to new features and improvements.
The premium service was rolled out for customers in the US in the first phase. OpenAI said, "people from our waitlist" will start receiving invites over the coming weeks. The service will also be extended to more countries and regions.
ChatGPT Plus is different from 'ChatGPT Pro,' which will be a much advanced and improved version of the current chatbot.
Improved factuality and maths capabilities
After coming under fire for giving inaccurate results for arithmetic problems, OpenAI, on 30 January 2023, upgraded the ChatGPT model with improved factuality and mathematical capabilities.
Although there is no clarity on exactly how the upgrade is affecting the responses by ChatGPT, experts have previously found that this chatbot prototype has not always been precise when it comes to mathematics.
Thus the timely upgrade essentially means that the AI chatbot should be able to deliver more accurate results when it comes to queries that involve calculations. This makes ChatGPT even more useful for students and professionals in domains of data science and statistical research, among other related fields where number-crunching is an essential task.
However, one user, Deedy Das, founding engineer at Glean, found that despite the upgrade, ChatGPT failed to provide accurate answers to simple mathematical questions.
ChatGPT's Jan 30 update promises "improved factuality and mathematical capabilities".

I tried it on previous failure modes, but it failed.

The right answers here are 44% (not 46%) and 1555.8.. (not 1551.9..). pic.twitter.com/pAsMeC9UZU

— Deedy (@debarghya_das) January 31, 2023
Conversely, Rizz co-founder and CEO Charis Zhang found that the AI chatbot "crushed the math with calculator section of a 2020 SAT and only made two mistakes."
Just tried the upgraded ChatGPT model with improved math capabilities –

It just crushed the math with calculator section of a 2020 SAT and only made two mistakes.

Here are two examples of the problems it was solving in less than 5 seconds🤯 pic.twitter.com/srLcSfE8An

— Charis Zhang (@gmchariszhang) January 30, 2023
Responding to a user's feedback on more errors being committed by ChatGPT, Zhang said that the chatbot "suspiciously" gave the right answer without explanation on many practice problems.
"I wonder if it has been optimized for certain test banks to know the choices but not why the choice was correct?" wrote Zhang.
It suspiciously gave the correct answer without explanation instantly with many SAT practice problems, I wonder if it has been optimized for certain test banks to know the choices but not why the choice was correct?

— Charis Zhang (@gmchariszhang) January 30, 2023
Apart from straightforward mathematical equations, it is also possible that ChatGPT is unable to properly answer a complex mathematical problem.
Below is an example where the user asked the chatbot about a trigonometric problem. The answer by ChatGPT is apparently impossible to compute. In fact, the width of the river can be measured without having to "throw a rock" at all.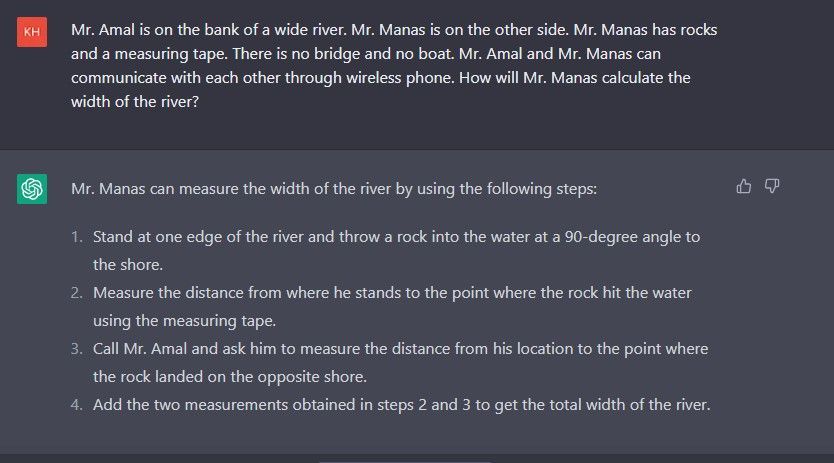 Stop generating
Though Open AI became instantly famous for its quick and human-like answers, there was one thing which was quite annoying — the lengthy replies. To fix this, the chatbot was given a feature to stop generating text.
"Based on your feedback, we've added the ability to stop generating ChatGPT's response," OpenAI said in its release notes on 9 January. Along with this update, it also made some changes to improve accuracy and factuality.
What is "stop generating"?
Normally, ChatGPT can sometimes keep returning sentence after sentence in response to a query. It is possible that the user may have had their answer in the first few sentences, and would not require any more information on the subject. In this case, everything that ChatGPT could be generating becomes useless.
'Stop Generating' is handy at this point. It is a button placed in the middle of the screen at the bottom. Clicking on it informs the AI chatbot that it can stop answering a query.
User experience reveals that the AI chatbot immediately stops generating its response when the button is clicked. The button then transforms into a 'Regenerate response' button. Clicking on it makes ChatGPT begin answering from the very beginning but in a different manner. This is useful when the answer previously generated was not to the user's satisfaction.
In case the user intends ChatGPT to continue with its original answer after it was asked to stop generating, a command to do so is required to be fed in the command box. It could be "continue" or "start where you stopped" or any other similar word or sentence which would mean the same.
Performance update
The first batch of updates to ChatGPT was released on 15 December 2022, within a fortnight of the public launch of the AI chatbot.
A general performance update was one of the features. At the time, OpenAI said that, among other improvements, "users will notice that ChatGPT is now less likely to refuse to answer questions."
The performance improvement, presumably, might have been carried out after OpenAI CEO Sam Altman. on 4 December, posted a tweet stating that "retraining" was on the cards to improve the chatbot.
also, we have not done any retraining yet; presumed improvements are just luck of the draw. we will do a retrain this week that will hopefully significantly improve things!

— Sam Altman (@sama) December 4, 2022
Conversation history
As part of the first update (on 15 December), OpenAI also made conversation history available on the chatbot, thereby giving users a more accessible interface. It's a simple feature which lets users see past conversations with the chatbot.
Saved conversations automatically get a default name once a response is generated. To view past conversations, users can simply click on the specific name of the conversation and see it. The feature began gradually rolling over the next few weeks and is now almost widely available.
The name can be changed by the user by clicking on the 'write' icon next to the default name. Conversations can also be deleted by clicking on the 'recycle bin' icon, which is next to the 'write' icon.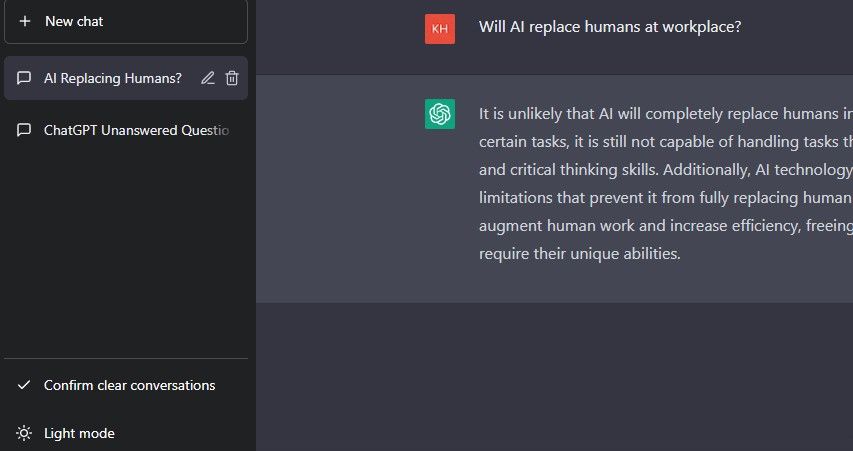 Daily limit
The daily limit cap was also introduced in the first update.
"To ensure a high-quality experience for all ChatGPT users, we are experimenting with a daily message cap," said OpenAI in its release.
"If you're included in this group, you'll be presented with an option to extend your access by providing feedback to ChatGPT," the company further said.
The daily limit on the free version is apparently still in place. However, according to a waitlist link posted by the company on messaging platform Discord, the professional ChatGPT (or ChatGPT Pro) will let users get "as many messages as you need (at least 2x the regular daily limit)."
(Main image: Jonathan Kemper/Unsplash; Featured image: Zac Wolff/Unsplash)
written by.
Manas Sen Gupta
Manas enjoys reading detective fiction and writing about anything that interests him. When not doing either of the two, he checks Instagram for the latest posts by travellers. Winter is his favourite season and he can happily eat a bowl of noodles any time of the day.