The UFC has been the proving ground for the best fighters on the planet. The fabled octagon has seen epic battles between the best mixed martial artists in the world across its 30-year run. Some of these fighters have further gone on to cement their legacies and reputations as the most dangerous unarmed individuals on the planet.
Physical combat has been such an integral part of human history that we still hold the gladiators of the Coliseum in high regard. The idea that two men can be locked in mortal combat with only a referee separating them from certain death speaks to our inherent primal nature. Forgetting about the ethical and civilised notion of the 'higher being' here, violence is, unfortunately, considered by far too many people as the easiest and fastest way to solve a debate. This probably explains why some people adore and idolise folks who can summon the call of violence at the drop of a hat. Mike Tyson is not a man that should be looked up to but we still hold him in high regard, don't we?
In the modern day, the limited skillset in boxing has given way to the more free-form fighting in mixed martial arts and the sport has now been cemented in the public eye as the most complete fighting style there is. So, alluding to our innate desire to prop up incredibly dangerous individuals, the most dangerous men on the planet can be found plying their trade in the UFC. On that note, let's take a deeper look at the best UFC fighters. We'll look at their skills, opponents, weaknesses and title reigns (if any) to really see who comes out on top.
These are the best UFC fighters of all time
Jon 'Bones' Jones – Record: 27-1
View this post on Instagram
Considered by many to be the greatest of all time, Jon Jones has never really lost in the octagon. In fact, the only loss on his record came in a fight against an outmatched Matt Hamill. Jon struck Matt with an illegal 12 to 6 elbow which resulted in a disqualification. That's the only loss on his record.
He's beaten everyone else the UFC has put in front of him and reign as light-heavyweight champion will, undoubtedly, go down in history as the most dominant. In fact, it can be safely said that Jon Jones was one of the first fighters in the sport to really make use of his frame. He's 6'4 and has a reach of 84 inches! He still holds the record for the longest reach in the UFC.
Jones uses a variety of strikes, usually thrown one at a time, to baffle and confuse opponents, and when they least expect it, he dives in on a takedown and rains down some of the most damaging ground strikes in the history of the sport. Jon Jones is also incredibly defensively savvy. He uses a combination of head movement, good footwork and his height to avoid a lot of damaging shots. It's no surprise then that he holds wins over former champions, highly touted prospects and wily veterans. To sum up, Jones has seen and done it all.
Although he has been in a few tough fights against the Swede Alexander Gustafsson and American Dominick Reyes, he's always managed to find a way to win. To really sweeten his legacy, he's now moved up to the heavyweight division and captured the title in an effortless performance against Cyril Gane. While Jon's legal problems outside the cage are not to be discounted, his skills inside the cage make him the greatest fighter in mixed martial arts history.
Georges 'Rush' St Pierre- Record: 26-2
View this post on Instagram
There is no doubt that GSP is the greatest welterweight of all time. The French-Canadian fighter from Montreal was one of the first to really dive deeper into the 'science of fighting' and used an incredibly cerebral approach to conquer his division.
He first made waves as a savvy striker from Canada and was fast-tracked into a title shot against then-champion Matt Hughes. He was only 22 at the time and after putting on a good showing, was ultimately submitted with an armbar at the end of the first round. He would later face Hughes in a rematch and while the fight was a one-sided beating at first, things changed in the third round when GSP decided to end the contest with a barrage of blows after knocking down the champion.
In a moment of weakness, he allowed the lifestyle of a UFC champion to get to him and did not take his first title defence seriously. In came the unheralded Matt Serra who proceeded to knock GSP out in the first round. It is still the biggest upset in UFC history. Georges went back to the drawing board and never lost another fight again. He faced Serra in a rematch and gave him quite the beating en route to a second-round Technical Knockout. GSP then went on to defend his title a record nine times before moving up a weight class and winning the tile there as well.
It won't be wrong to say that GSP changed the sport in many ways, chief among them, the image of a professional athlete. He wore suits to press conferences and was always good with the media. He did not behave like a fighter but more like a true mixed martial artist. While GSP has not retired from the sport yet, he is still a shining example for younger fighters to follow.
Khabib 'The Eagle' Nurmagomedov – Record: 29-0
View this post on Instagram
No other fighter on this list can claim to be truly undefeated except for one – Khabib Nurmagomedov.
The Dagestani native made his debut in the UFC sometime in 2012 and was already looked at as the next big thing. He was dominating the Russian regional circuit and once he entered the UFC, it was clear that the hype was real. Khabib uses a slick blend of clubbing strikes, wrestling and judo takedowns to offset his opponents and take them to the ground. The Sambo world champion possesses a potent blend of ground stikes and dangerous submissions that have worn out some of the toughest men in the lightweight division. His run through the division has been nothing short of spectacular. In fact, according to most experts, he hasn't lost a single round in the UFC. Some fans will say that he did take one round off against Conor McGregor but then he came back and choked the Irishman out.
His methodical destruction of contenders like Dustin Poirier and Just Gaetjhe is proof of his varied and dominating skillset. And, unlike a lot of his peers, he called it a day when he was at the top of his game. After the death of his father, Khabib swore to his mom that his fight with Justin would be his last and he kept his word. His influence on the UFC community has been enormous and currently, he is coaching and developing the next generation of Dagestanis. He is, without question, one of the best UFC fighters of all time.
Demetrious 'Mighty Mouse' Johnson – Record: 25-4
View this post on Instagram
The most complete fighter on the list, the flyweight kingpin Demetrious Johnson is a dynamo.
He made his debut in the UFC by fighting in the 135lb bantamweight division. A bit undersized for the weight class, Johnson still displayed an incredible level of skill, only losing to the then-champion Dominick Cruz by decision. He then dropped down to the flyweight division where he began his reign of terror.
Johnson possesses incredible speed, technical acumen and the ability to make both orthodox and southpaw strikes, making him a serious threat everywhere. His ground game is no joke either as he has submitted jiu-jitsu black belts with ease. He first captured the title against perennial contender Joseph Benavidez and defended it a record 11 times.
His two fights against Benavidez really gave fans an idea of what high-level mixed martial arts looked like. Johnson has since left the UFC and is now fighting in Asia for One Championship but at the age of 36, he continues to defy the odds and now holds the bantamweight title there. Without question, one of the best UFC fighters the world has ever seen.
Anderson 'The Spider' Silva- Record: 34-11
Anderson Silva was one of the first true striking experts in the UFC. The Brazilian made a name for himself fighting in Japan and was already known to most hardcore fans at the time. He made his debut in the UFC against a tough and grizzled veteran in Chris 'The Crippler' Leben and promptly dispatched the overmatched challenger in less than two minutes. Thus, the world was introduced to Anderson 'The Spider' Silva. Fans were already clamouring for a fight between him and Rich Franklin, the middleweight champ and the UFC gladly obliged. Silva gave a horrendous beating to the American, shattering his nose in the process. He fought Franklin again in a rematch and gave him an even worse beating this time around. Silva's title reign had finally begun and extended to a 10-fight unbeaten streak.
Silva was known to be a striking expert and it showed. He used a slick combination of straight punches, a stinging jab and damaging kicks to put the hurt on his opponents. Later in his career, he also added a jiu-jitsu black belt to his already incredible skillset. He was tough to take down and even tougher to keep down. It also helped that Anderson had a granite chin during his prime. The man absorbed some of the most hellacious shots and walked right through them.
His downfall came against the All-American Chris Weidman who stole the champion's thunder with a precise left hook to put him to sleep. Anderson has also done irreparable damage to his legacy by taking fights when he shouldn't have. He was past his prime and the end of his career, was filled with brutal losses to random journeymen. Nevertheless, his reign as the middleweight champion cannot be denied and he definitely is one of the best UFC fighters of his generation.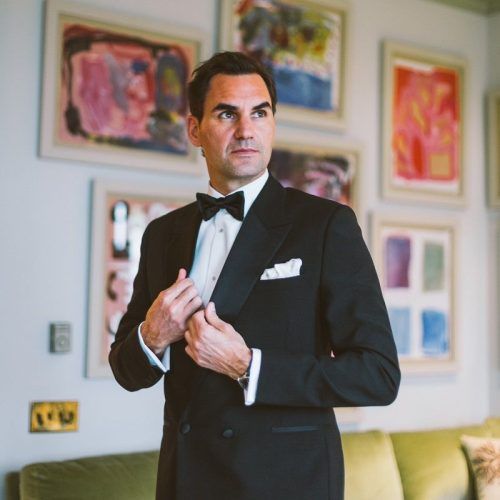 Frequently Asked Questions (FAQs)
– Who is the best fighter in the history of UFC?
From his record and skill set, we can confidently say that Jon Jones is the best fighter in the history of the UFC. He has captured gold in both the light heavyweight and heavyweight divisions and has arguably never lost a fight.
– Who is the best UFC fighter in 2023?
The best UFC fighter in 2023 is featherweight champion Alexander Volkanovski. The Australian has recently been crowned the pound-for-pound king after his fight with Islam Makhachev.
– How many fights has Khabib lost?
Khabib Nurmagomedov has never lost an MMA fight. He has barely even lost a single round in an MMA competition.
– Who won the highest number of titles in UFC history?
The fighter with the most amount of title fight victories in UFC history is Demetrious Johnson with 11 flyweight title defences. He is also known as one of the greatest fighters of all time.
(Feature image credit: Instagram/@georgesstpierre)
(Main image credit: Instagram/@georgesstpierre and @jonnybones)
written by.
Andrew Lu
Andrew writes about MMA, music, sports, pop culture and video games. In his free time, he practices Brazilian Jiu-Jitsu, plays the drums and guitar, and collects comic books. He has previously contributed to publications like ScoopWhoop, MensXP and Digit India.