The stars of the watchmaking world have descended on Geneva, Switzerland for Watches & Wonders 2023. Held from March 27 to April 2 at the Palexpo, the annual horology fair features the most-anticipated timepieces from some of the most prominent names in the industry. With 48 booths available at Watches & Wonders 2023, there's so much to see and do, and we've curated the best highlights here.
Incredible watches aside, this year's edition also marks the first time that the event is opening its doors as a ticketed show to the public on April 1 and 2 — a departure from the past when it was accessible only to media, watchmakers and industry folk. The event even saw a dash of Hollywood glamour on its first day, thanks to a guest appearance by actress Julia Roberts, a brand ambassador for Chopard.
If you can't attend in person this year, we've got you covered as our editorial teams are at the event right now. Read on for our picks of the best moments and most spectacular booths at Watches & Wonders 2023.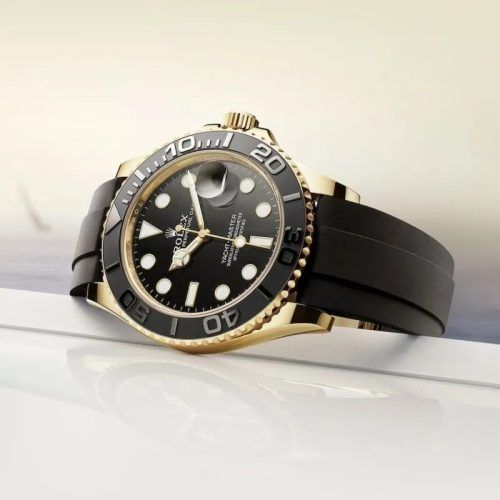 Best moments and booths at Watches & Wonders 2023
Julia Roberts in the house at Chopard's presentation
Chopard brand ambassador Julia Roberts was part of a panel organised by the brand, where its representatives emphasised its commitment to sustainability. Chopard has been using 100% ethical gold in its watches and jewellery since 2018, and its next goal is to use a minimum of 80 percent of recycled steel — a material it has trademarked as Lucent Steel — in its timepieces by the end of this year. "My street cred really goes up with my kids and my friends," said Roberts, when commenting on the brand's sustainable focus. The actress currently stars in the new 'Chopard Loves Cinema' campaign, which released on March 20 and was directed by James Gray.
Baume & Mercier
Baume & Mercier celebrates 50 years of its Riviera model with a giant installation shaped like the case of its signature watch.
Bell & Ross
Over at Bell & Ross' minimalist-chic booth, deconstructed watch components hang from the ceiling for an eye-catching effect.
Cartier
Cartier unveils an elegant space befitting of its beautiful timepieces. The booth is decked out in curved lines and walls and accentuated with strips of light for a soothing and inviting ambience.
Chanel
Chanel creates an immersive, quirky experience with smartphone-toting statues perched on couches, while various videos play on screens on the wall and ceiling. A large reflective disc takes pride of place in the centre.
Chopard
The Chopard booth draws inspiration from its ongoing 'Chopard Loves Cinema' campaign by having a theatre-style façade emblazoned with Julia Roberts and James Gray's names. A large portrait of the actress wearing its watch and jewellery takes centre stage on the display wall, and is flanked by videos of the campaign.
Grand Seiko
Giant lattice screens lead the way into Grand Seiko's venue at Watches & Wonders 2023. This year is the second time that the brand is exhibiting at the fair.
Hermès
Is this an art gallery or the Hermès' booth? The answer is: both. Titled 'Fantasy of Time', the space is designed by artist Clément Vieille and carries a playful vibe with whimsical sculptures of woven carbon fibre plates that swivel and swing. Several of the brand's new H08 watches in colourful straps are also suspended from one of the installations.
Hublot
Dive into space at Hublot, where a massive spinning blue sphere greets you upon entry. Projected on the ceiling are mesmerising visuals of similar orbs.
Jaeger-LeCoultre
An indoor waterfall? Jaeger-LeCoultre says why not. Its booth is inspired by the concept of the Golden Ratio, which is also the inspiration behind the design of its iconic Reverso. And yes, in case you're wondering, the brand has launched new Reverso models and you can find out more here.
Montblanc
We're very much enamoured with Montblanc's dreamy space, which is dressed in calming grey hues and embellished with illuminated silhouettes of mountains.
Roger Dubuis
Come for the watches, but stay for the robots at Roger Dubuis. Not only will they display the timepieces for your viewing pleasure — some will even fix you a drink as you wait your turn. There's even a robot dog.
Van Cleef & Arpels
Van Cleef & Arpels has transformed its booth into a forest replete with trees of vibrantly hued stones set against a colourful wallpaper of flowers and butterflies. If you're seeking an ultra Instagram-worthy spot at the fair, this is it.
More about Watches & Wonders 2023 here. You can also read all our stories from the event here.
(Videos by François Oosthuizen, Jonathan Ho and Allyson Klass)
(Main and featured images: Watches & Wonders/ Keystone/ Cyril Zingaro)
This story first appeared in Prestige Online Singapore
written by.
Sara Yap
Deputy Director, Digital Operations (Asia)
Sara Yap is passionate about all things dining and jewellery, and is constantly seeking out exciting restaurants and glittering trinkets. When she's not feasting in the name of work, chatting with talented chefs, or daydreaming about coloured diamonds, she's probably binge-watching the latest Netflix series or indulging in her guilty pleasure — Hollywood celebrity gossip. Sara is a journalism graduate from Nanyang Technological University and her work has appeared in The Business Times Lifestyle and Prestige Singapore magazine.