Bollywood Actor and fitness icon Hrithik Roshan set the internet on fire after dropping a selfie of his chiselled body on Instagram. Soon to celebrate his 49th birthday on 10 January, Hrithik Roshan's lifestyle is all about a healthy diet and staying motivated to pursue his fitness goals. We are definitely in awe of his appearance, commitment to fitness, and zeal "to live the best life possible come what may."
Are you too committed to fitness? If so, Hrithik Roshan must be pure #fitnessgoals for you! So, in light of the Fighter actor's recent Instagram selfie, we are discussing five simple hacks that'll help you achieve a toned body, reverse age, and prioritise your health and fitness like never before.
Hrithik Roshan's Instagram post: Why did his new selfie set the internet on fire?
Hrithik Roshan is a man on a 'fitness' mission
Hrithik Roshan is currently on a shooting schedule for his new film Fighter. His recent Instagram post is a testament to the intense fitness regime the film requires. No wonder then that the picture of Hrithik lifting his t-shirt and showing off his ripped physique created an online stir.
If you too want to flaunt a body like Hrithik's, we are here to help. We have shortlisted five hacks that'll help transform you into a Greek god.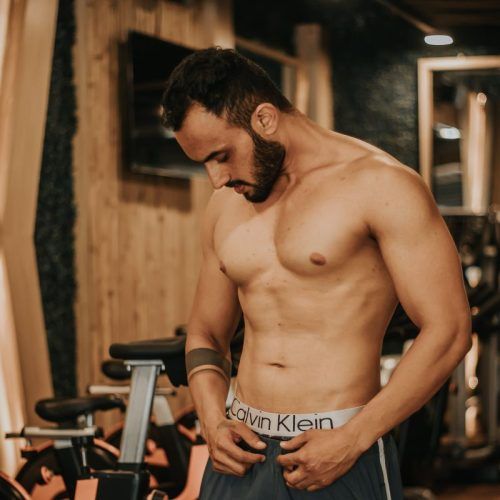 5 fitness hacks to follow to get a sculpted body as seen on Hrithik Roshan's Instagram
1. Be mindful of what you put on your plate
The nutritional value of your food plays an integral role in determining your calorie intake and, by extension, your body fat percentage. According to the National Health Portal, fat-free and low-fat dairy products, fresh fruits, vegetables, and protein foods amount to healthy foods. It seems like Hrithik agrees since his healthy diet includes a rich quantity of fruits and vegetables.
2. Eat your cheat meal
While we did stress the importance of being mindful of what you put on your plate, Hrithik doesn't shy away from enjoying his cheat days and you shouldn't either. After all, life is too short to entirely give up on the things we love. Besides, if Hrithik can enjoy his cheat meals and still maintain his physique, so can you.
Pro tip: A cheat meal is supposed to be once a week. Don't go overboard!
3. Ground yourself, as Hrithik does
Our mental health is just as important as our physical health, especially in today's day and age when there is so much clutter around us. In a conversation with Outlook India, Kris Gethin, Hrithik's coach, talks about how the actor meditates twice daily, takes ice baths, and ensures he recovers from all the hard work he puts in the day.
4. Rest well to recover
Speaking of recovering, fitness is not all about training and sweating it out. So make sure you rest well after all the hard work you put in the gym. According to the American Council of Excercise, it is of utmost importance that one recovers after all the gymming and hard training they indulge in. Staying hydrated and maintaining a healthy diet should be a priority as well.
5. Maintain regular intervals between meals
All fitness freaks would agree that it isn't the best idea to stuff yourself with food during one meal. According to Northwestern Medicine, it's important to maintain regular intervals between your meals. As for Bollywood's Greek God Hrithik Roshan, he too follows a definite time interval between his meals—a solid hack that will help you achieve that gym body you're manifesting.
Hero Image Credit: Instagram/Hrithik Roshan
Featured Image Credit: Instagram/Hrithik Roshan
Frequently Asked Questions (FAQs)
Question: How many hours does Hrithik Roshan spend working out?
Answer: As per Hrithik Roshan's trainer Kris Gethin, people shouldn't spend more than one hour at the gym.
Question: How to get abs like Hrithik Roshan?
Answer: Healthy diet, a strict workout regime and the right intention can help you flaunt abs like Hrithik Roshan.
Question: What is a healthy diet?
Answer: A healthy diet usually refers to a balanced diet that has a healthy proportion of vitamins, fats, carbohydrates, minerals, and proteins.