Remy Ishak fronts our October issues, and shares on how the pandemic has affected him, but how he's coming back full swing! Entertainment was without a doubt one of the industries which suffered the worst impact from the pandemic. With the prolonged shutdown of production activities and the closure of cinemas and studios, filmmakers and actors had no choice but to put their projects and releases on hold for up to nearly two years.
Fortunately, things have started to look up, and among the actors who are getting a head start on work is leading man and now two-time Augustman cover star Remy Ishak. As soon as restrictions eased, we took the first opportunity to check in with the acclaimed actor, asking him to share about his personal reflections on navigating the pandemic and the journey ahead.
The recently married Remy Ishak was slated to shoot for a HBO production and the highly-anticipated film Bakara, directed by our Men of the Year laureate Adrian Tah of Paskal fame, based on the historical events of the 1993 Battle of Mogadishu in Somalia, this time telling the actual, heroic involvement of Malaysia's military contingent in the rescue operation. Much to our disappointment, due to the lamentable increase of COVID-19 cases, both projects have since been put on hold.
Nevertheless, the star of Pulang and Sangkar, has recently gotten back into the full swing of things with a new role and a different approach, but the same deep commitment to his craft. Despite his busy schedule, Remy Ishak has graciously obliged us with the following interview.
How do you normally choose your roles?
I normally ask for the script. To be honest, most of the scripts that come to me are about the same. Storytelling in Malaysia generally lacks variety. Even in our action films, you can see that the narratives and dimensions are more or less the same. It has come to a point where I don't have much of a variety to choose from. My only resort is to discuss with the director, or producer, what we can change about the character to be different than previously similar roles.
How do you prepare for your roles and from where do you usually draw inspiration?
Sometimes I draw inspiration from characters in other films and other times I turn to the people in my surroundings and find inspiration in someone with a particularly unique or interesting set of characteristics that I can add to my role. I always observe my surroundings and the people I meet or come across, be they friends, associates or relatives.
Who has been the biggest influence in your career so far?
I have a close circle of friends like Bront Palarae, Khir Rahman, Osman Ali and a few other esteemed actors whom I look up to. I enjoy tuning in to them and listen to the way they talk about filming, acting, etc. They give me good vibes and make me feel good about being a part of a creative circle. They are very important to me, always talking about the good things that we can do to improve the future of filmmaking in Malaysia.
Apart from that, I always watch Korean films (laughs). I look up to the director of Parasite (Bong Joon-ho). I really like the Korean way of storytelling. When Parasite won the Oscars, it really made an impact on me and, to a greater extent, on the Asian film industry. If the Koreans can do it, so can we. In Malaysia, many like to put the blame on issues like budget, language barriers, et cetera, but if you look at films like Parasite, you'll notice that they don't always have elaborate special effects too. A lot of times they are realistic, but above all, inspiring.
What impact did the pandemic have on you as an actor and how did you cope with it?
Rescheduling has been a big challenge because every production follows a timeline. When you have a few projects that need to be rescheduled, the new timelines would overlap, making it difficult to fit everything nicely. On a more introspective level, actors are filled with creativity; when we don't have an outlet to release our creativity, we feel stuck. Office workers on the other hand are more accustomed to routine.
As with all actors, I'm used to moving from one location to another, meeting up with people, working outdoors, performing on sets, but during the lockdowns, all that had to stop. It was like that at first, but then I decided to keep the situation under control and started to schedule everything nicely, focusing on the basics. During this time, I also realised that I had missed out on a lot of things while I was busy with work. I had a lot of plans, but they were mostly stuck halfway. I had a side business, which I neglected because I was too busy. The pandemic gave me a chance to take a step back, find my centre and review my plans.
What new things did you explore?
After reviewing my past business, I decided to do something more closely related to my forte, so I've started my own production house and set up a new film project.
Here are some of the other looks Remy Ishak donned during our shoot: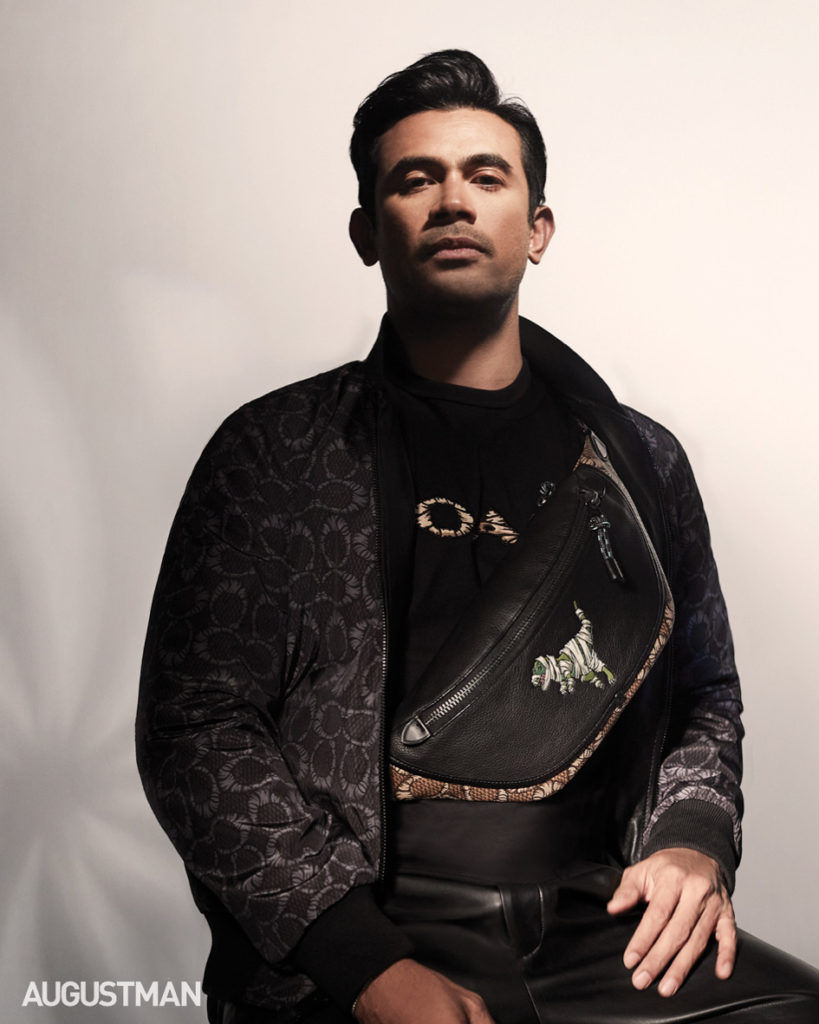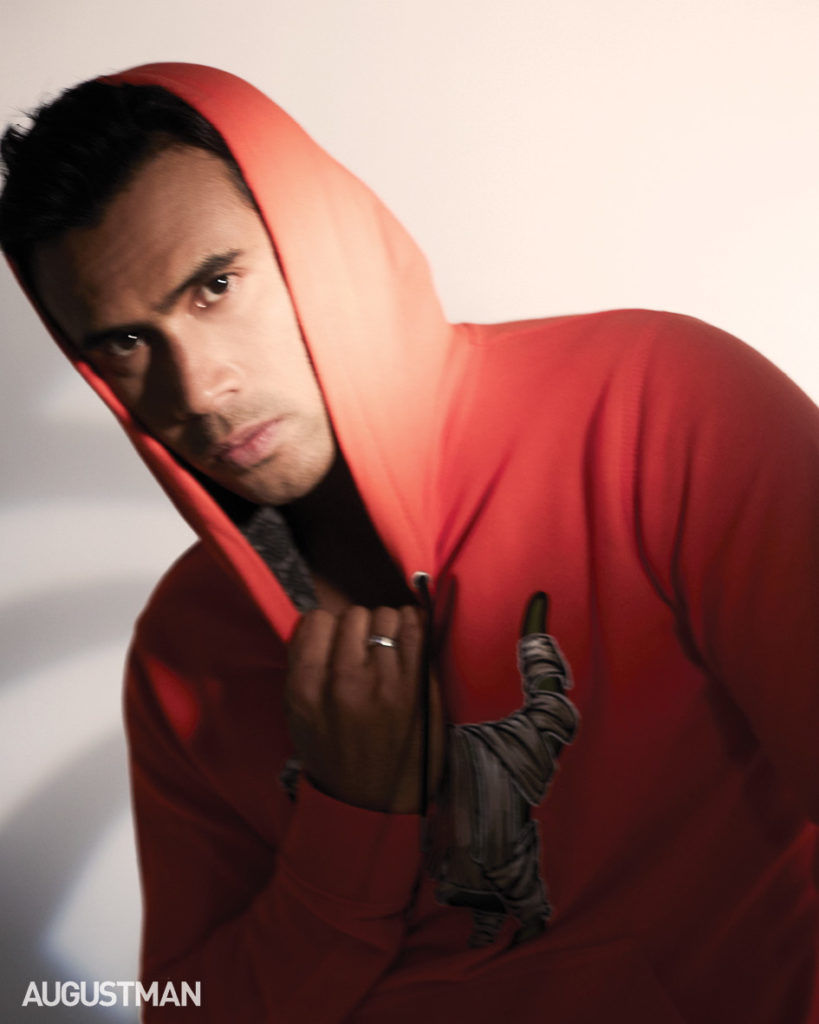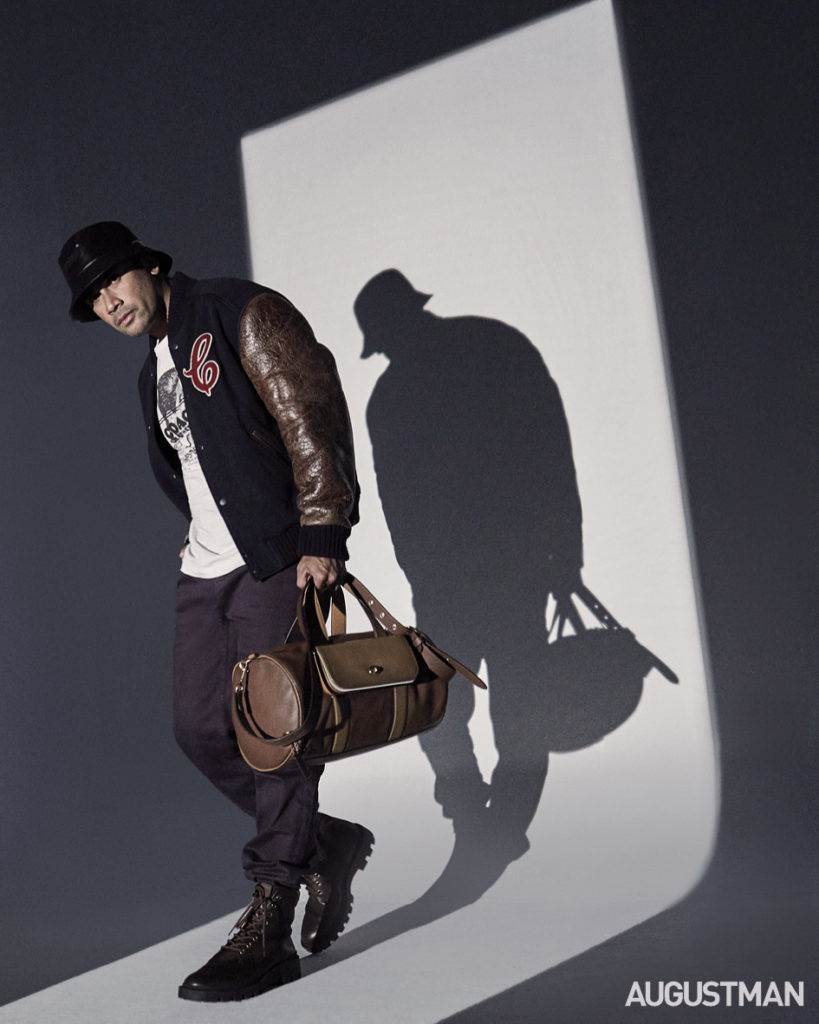 (Hero image: Turtleneck, oversized aviator jacket, navy pants and leather boots by Coach; Featured image: Coach x Michael B. Jordan mummified signature windbreaker and T-shirt in organic cotton with mummified Rexy)
Photography: Xerxes Lee/Awesome Image Studio; Art direction: Joyce Lim; Make-up: Joey Yap; Hair: Victor Ng/Ikairi Hairsalon
To read the full interview, pick up a copy of the October 2021 issue or check out our digital magazine.