Walk the Talk:
A new form of workshop to revitalise your mindset, specially brought to you by Augustman in collaboration with Lead Up Augustman partners with Lead Up Asia's founder, Elaine Daly to provide and all in one workshop that emphasizes on intrapersonal skills and help you manage emotions and cope with challenges you may face at different times in your life. These skills typically help you develop your emotional intelligence and how you communicate your wants and needs. They improve life and work because they often ensure that your inner processes support your actions. These skills also assist you with your leadership, collaboration, influence, and introspection abilities.
This workshop emphasizes on vitality in the workplace as they help you set and achieve goals, stay motivated, focus your attention, and use critical and purposeful thinking. The workshop will be two days long consisting of expert speakers from various industries to help nudge participants in the right direction they aspire to be. Augustman will also open doors to bring in A-lister, Daniel Woodroof to share his experiences navigating through his success in becoming the person he is today. Workshops within this module will be focusing on participants' wants and needs as well as their personal goals while setting the stepping stones to achieving them. Many young Malaysians find themselves lost in their fast-paced lives thus often feeling disappointment and lack of accomplishment where they feel they aren't understood or seen as they want to. Thus, this module workshop will help assess their key goals in life and understanding their key disruptions and motivating factors which allows them to be the person they want people to see them as.
Workshops Under this module includes :
Knowing Your Boundaries
Disrupting and Motivating
Stress and Conflict Management
Keynote Session Module 2 is focused on branding and defining yourself as an individual. Personal appearance and grooming are also taught in this module to help participants conquer the world around them in the right mindset while looking good. The goal of this module is to help participants find their personal style and the importance of self-grooming in building their self-image. Confidence is key, and when they feel good about themselves, they will radiate positivity in every aspect of their lives.
Workshops Under this module includes:
Personal Image branding
Dressing for success
Personal Grooming and Care With the newly attained knowledge of finding your goals and image, this module will fortify it further by focusing resilience and actualizing goals. This module will help you be prepared to face your battles realistically. Leaded by Elaine herself, several group activities will be held to allow you navigate through obstacles and struggles you may face in actualizing your dreams and goals.
Workshops Under this module includes:
Walk The Talk
Real Talk and Do the Work
Keynote Session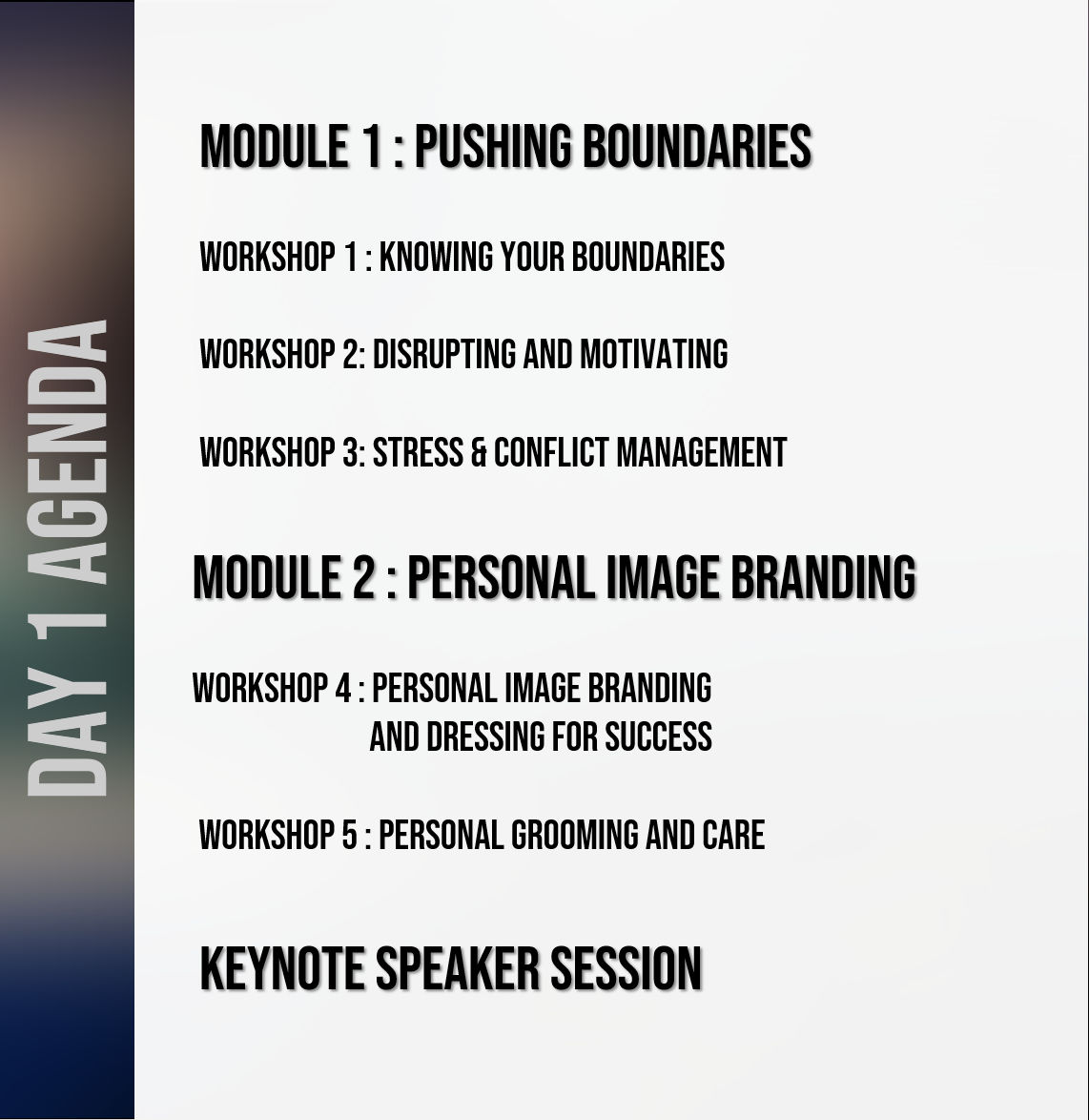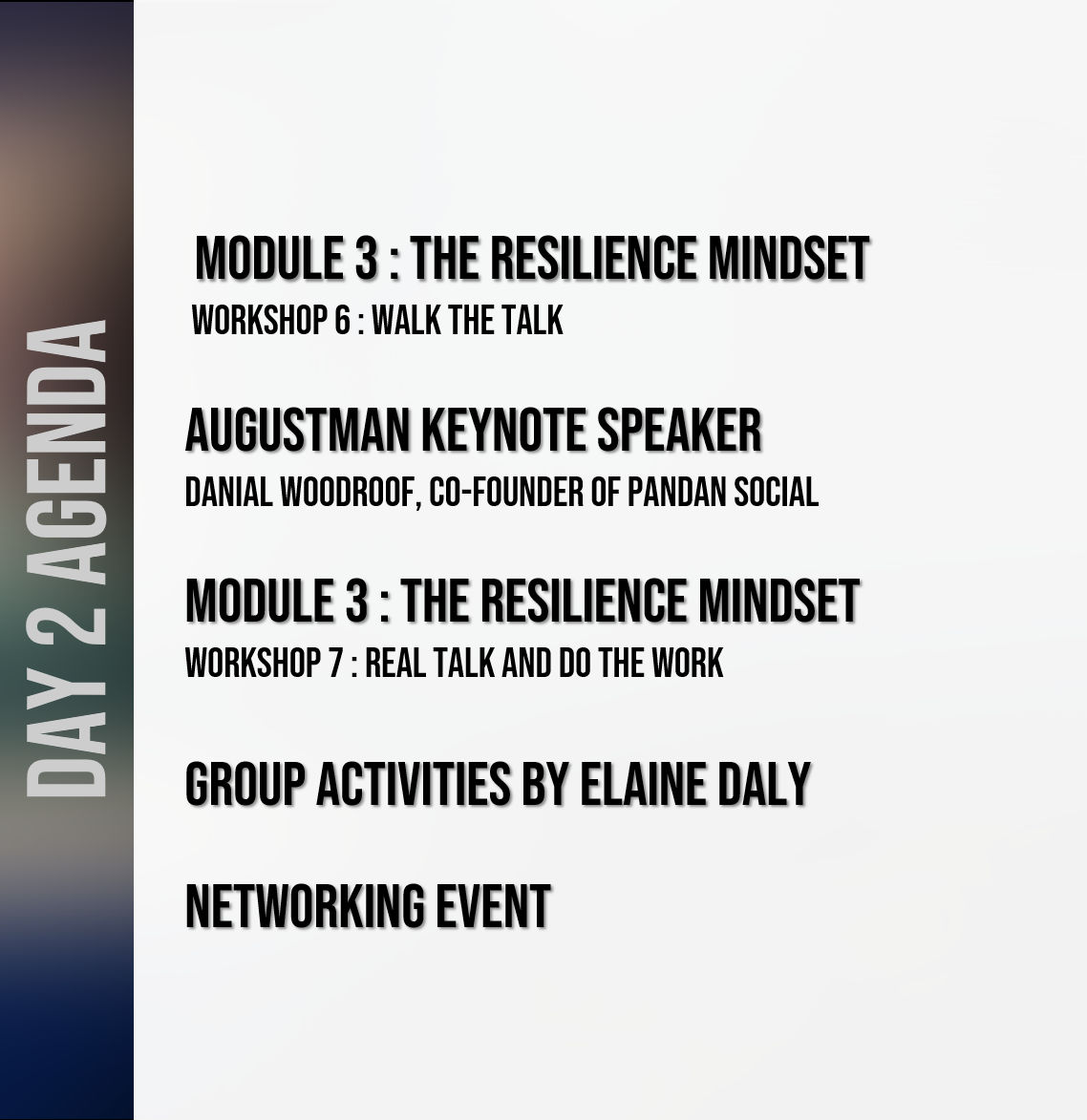 Walk the Talk will be held at JW Marriott Kuala Lumpur on the 16th and 17th of March 2023 from 9am to 5pm. Early Bird Pricing will be at RM 3,300 till February 15th for the full workshop experience and RM 15,000 for the workshop as well as a full-page feature in Augustman Magazine for further exposure and coverage.
For further enquiries, contact
SIMON JUSTIN
simon.justin@burdaluxury.com
0183154609