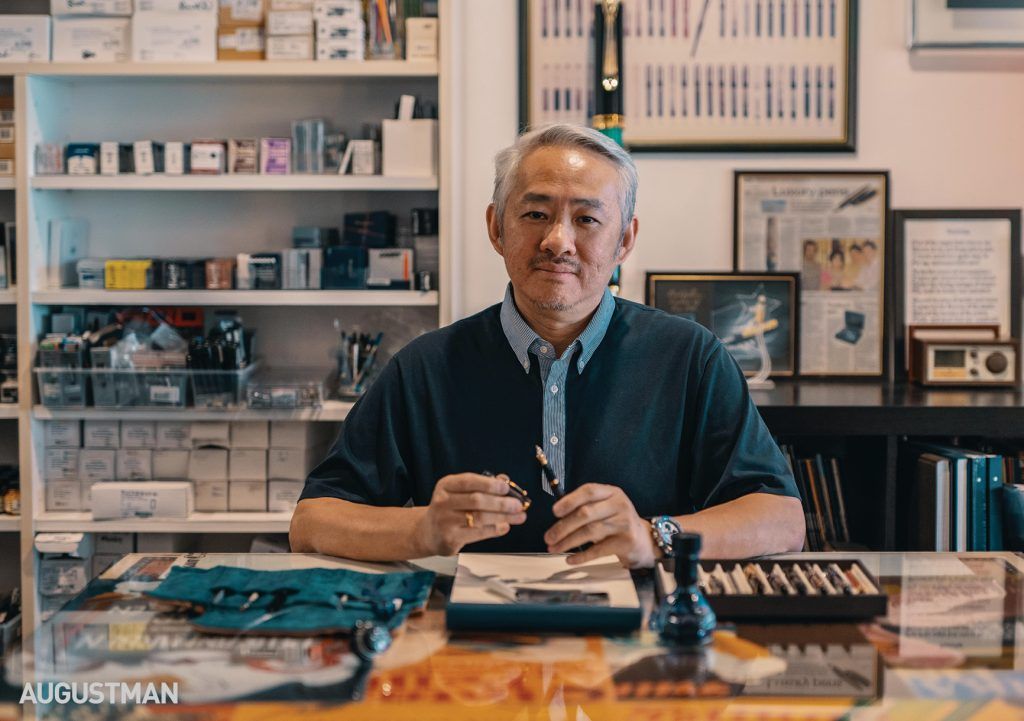 Lai Kim Hoong has been in the pen game for over 20 years now, and with that experience, he's built the fountain pen empire that is PenGallery. What started as a pen store now includes a host of products and services, one of that being fountain pen customisation and repair.
"It was a natural progression," Lai said. "When you have fountain pens, you'll need inks. Then paper. Then you learn to customise and repair pens. And that's how I got into the craft."
As someone who's cut his teeth in the fountain pen trade for this long, Lai has watched the interest wane over the decades, only to find a resurgence in recent years.
"Nowadays it's the younger crowd that enjoys this hobby," Lai says. "Fountain pens used to be the domain of the older demographic, but that's changed today." These younger customers can be pretty particular about how their instruments write too, which is where Lai comes in.
Where many people see one ordinary writing tool, Lai sees a fine-tuned instrument that has an error tolerance smaller than a strand of hair. Even the nib alone – the point where ink flows out the pen – requires a host of precision tools to shape and grind to the customer's expectations. And there are so many other parts to care for, like the body, converter, cap, or finial.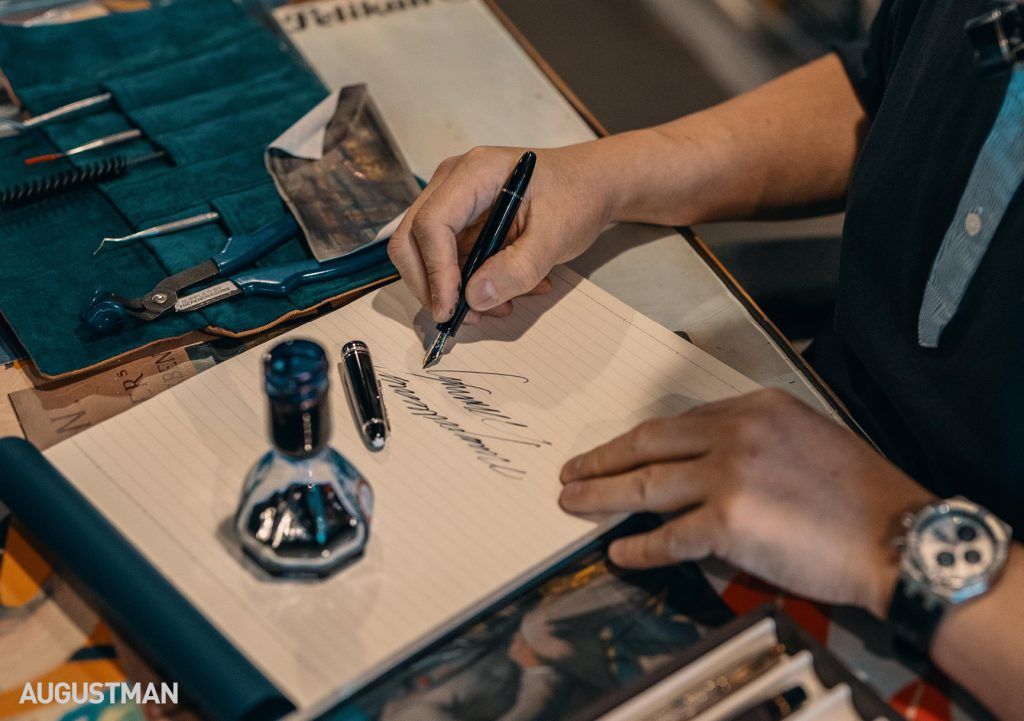 Donning his loupe, Lai shares his thought process that goes into customising or optimising a nib.
"I look at how the customer holds his pen, then based on that, along with their preference for ink flow, I begin servicing the nib. Sometimes I need to widen the tines to increase ink flow. Sometimes I grind the nib till it runs smooth. Other people prefer more feedback, which is the feeling of pen on paper, so I make the pen write rougher. It's all about understanding the entire spectrum of the writing experience so that you can provide the best for your customers."
And getting this experience wasn't easy. It's not something you can gain through a six-month masterclass. Lai himself learned everything on the job. He'd even irreversibly damaged an expensive pen – his own, fortunately – while practising his craft. But that's all part of the process, according to him.
It's not all retail work for Lai, though. He was also commissioned to restore important and antique pens, such as the one used to sign Malaya's Declaration of Independence. "That's one of the most momentous pens I've been tasked to repair," he says. "Unfortunately, the pen was glued shut, and I didn't want to alter the pen at all. It's a part of history, and we generally don't try to make big changes in historical items, even if it's in the name of making them functional again."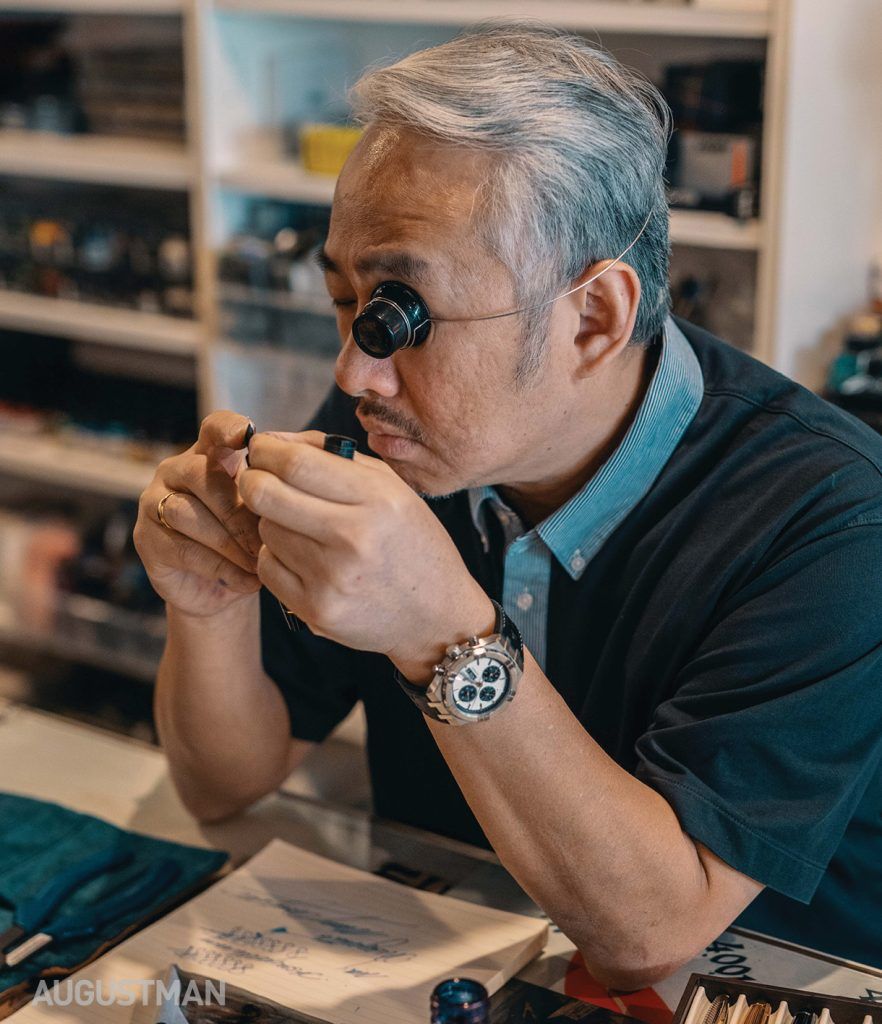 When it comes to running his business, Lai champions Malaysia's culture through and through. He's worked with international ink brand Diamine to create inks such as Jalur Gemilang, Manggis, and Kopi O Kaw, all of which showcase a part of Malaysia to the world.
He's also worked with renowned Japanese fountain pen brand Sailor in coming up with a limited edition range, called the Sailor Pro Gear Musang King, in homage to our local fruit.
"I love doing these projects because it gives the local fountain pen community a sense of individualism, and I get to educate other countries about the uniqueness of Malaysia. For instance, our Kopi O Kaw ink even smells like the real thing!"
Lai's fountain pen journey has taken him far, but he still holds the near close to his heart. Because as we understand it, he has many more projects in the pipeline to promote our local heritage on the international stage. And in that sense, the pen is mighty indeed.
written by.
Stuart Danker
Malaysian writer specialising in the no-niche niche. Trad-published author of the novel Tinhead City KL. Resident hobby-collector of AugustMan Malaysia.