It has been six years since Sheena Liam put Malaysia on the map of fashion modelling, when she came out top during the second cycle of Asia's Next Top Model in 2014. Since then, she has moved to London to further her modelling career, before a quick stint in Paris as well, never being in one place for more than three months.
While as an Asia's Next Top Model winner it has opened a lot of doors for Sheena, and propelling her to a whole new level in personal growth, one thing that is constant to her even till this day is embroidery, a kind of hobby she has revisited from time and time again as a means of self-expression between travelling and modelling. "I'm able to take an old medium and spin it with a life of its own, inspiring others while in turn be inspired."
Sheena Liam
"In a strange way, modelling parallels my art in the sense that I often have to use body language to express a certain sort of mood; it's no different from my embroideries," says Sheena, who learned how to embroider from her mother when she was just a kid. "With this medium also, I'm able to capture moments in time."
Sheena named her embroidery masterpieces Times New Romance, a pet project that sprung to life some time in 2017. Her works are immediately distinguishable: figurative pieces captured in moments of self-reflection, woven in dark green thread on an un-primed canvas, with an almost sculptural like twist on hair that leaps off the canvas.
The following year, she made her artistic debut with the self-titled solo exhibition, which took place at Item Gallery in Paris. That same year, Sheena even embroidered her wedding dress herself, for her wedding to Ernest Zacharevic, the graffiti artist whose claim to fame came about when he did a series of mural paintings around Georgetown, Penang.
She has recently participated in a group show at Item Gallery called Propositions inédites 3, where her new hand embroidered original artworks were on display, next to nine other artists, like director David Lynch, American contemporary artist Paul McCarthy, Canadian actress and model Charlotte Le Bon and French fashion designer Christian Lacroix – all of whom have previously held solo exhibitions at the gallery.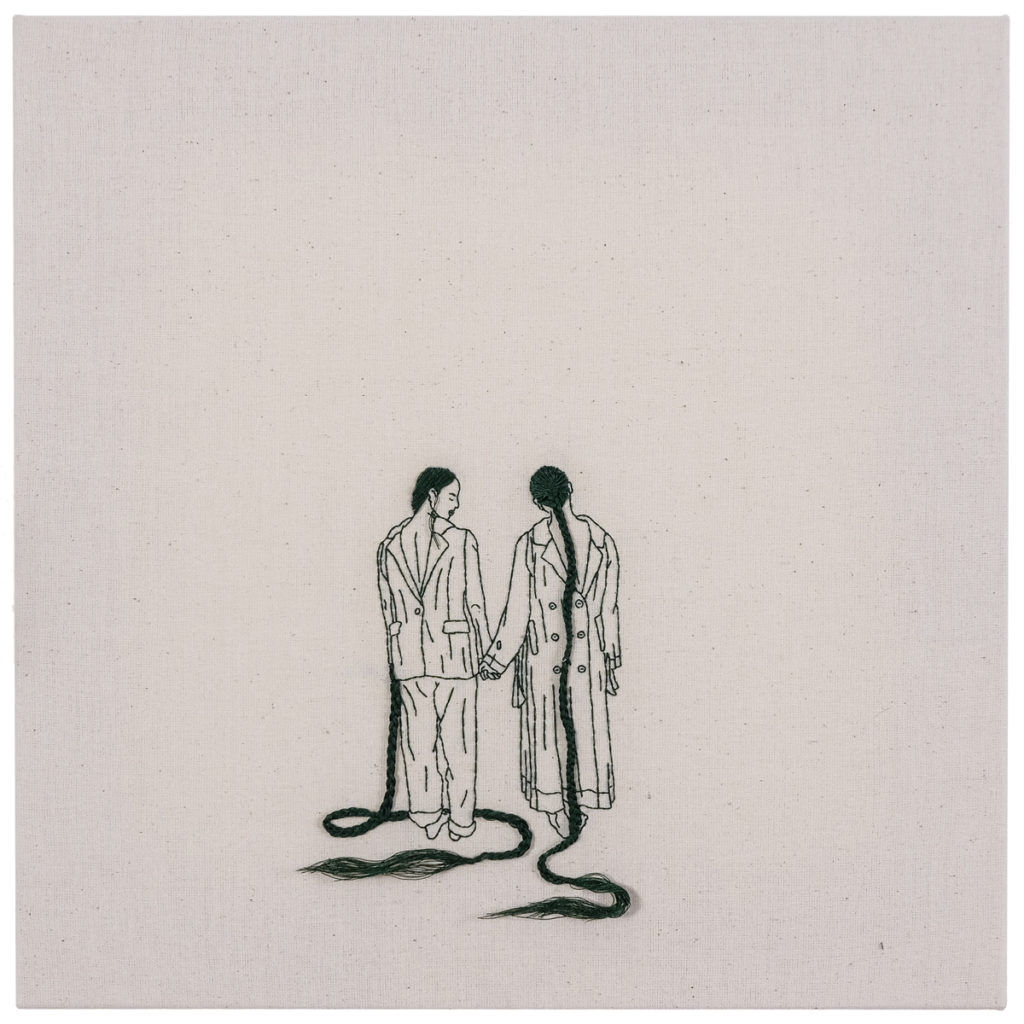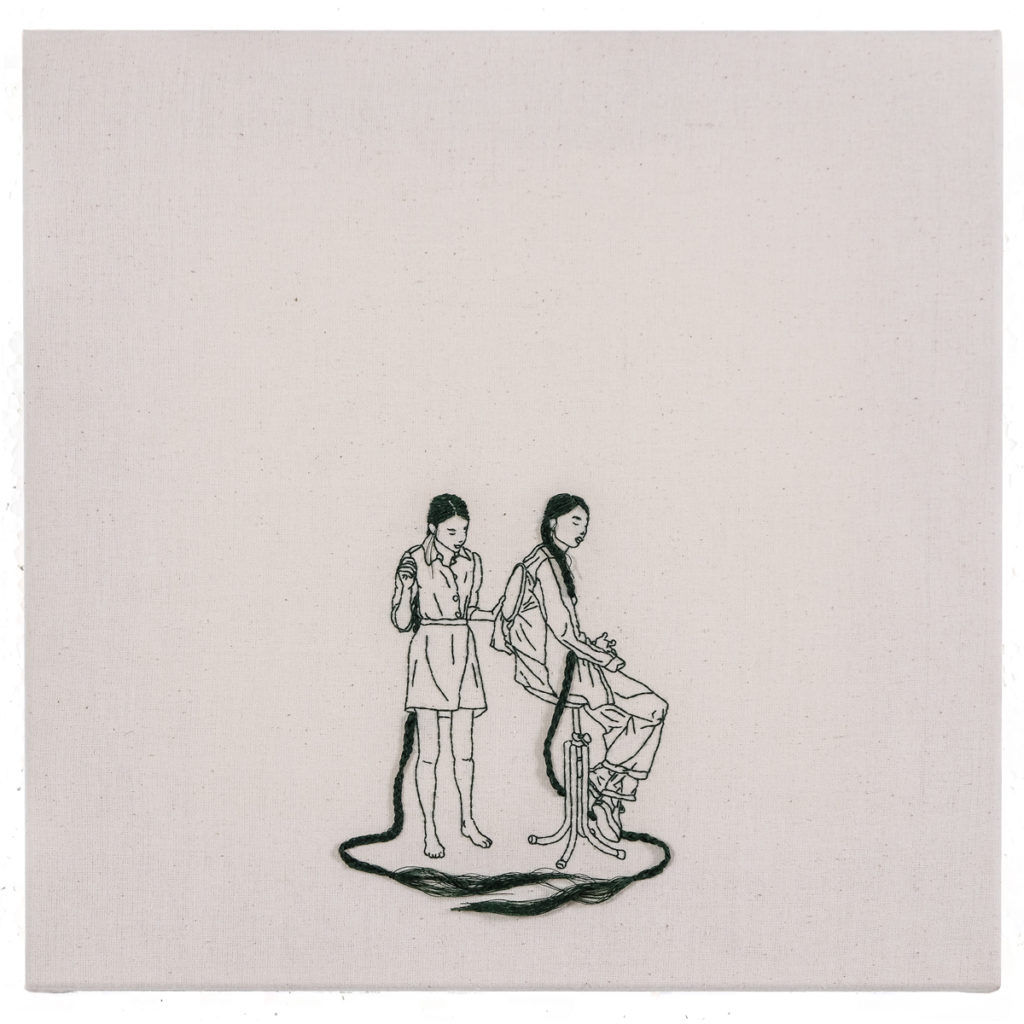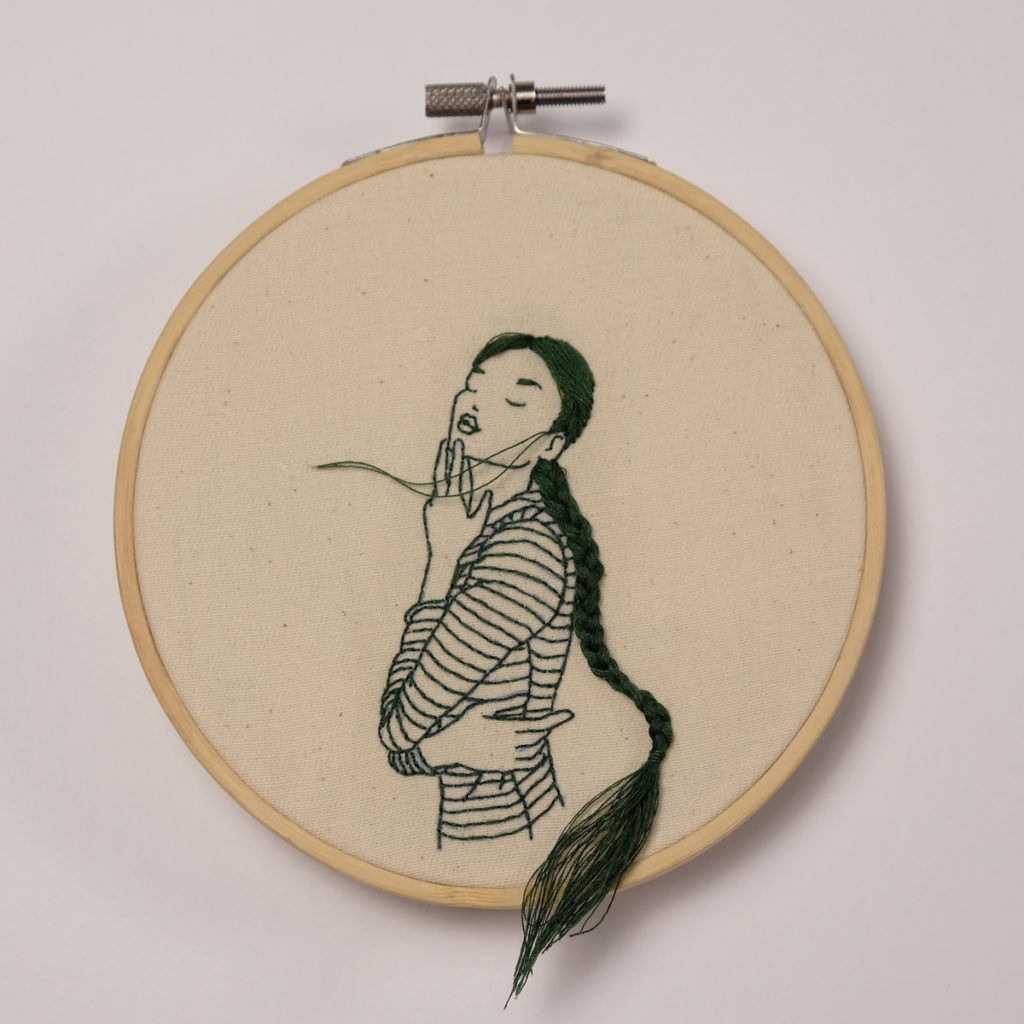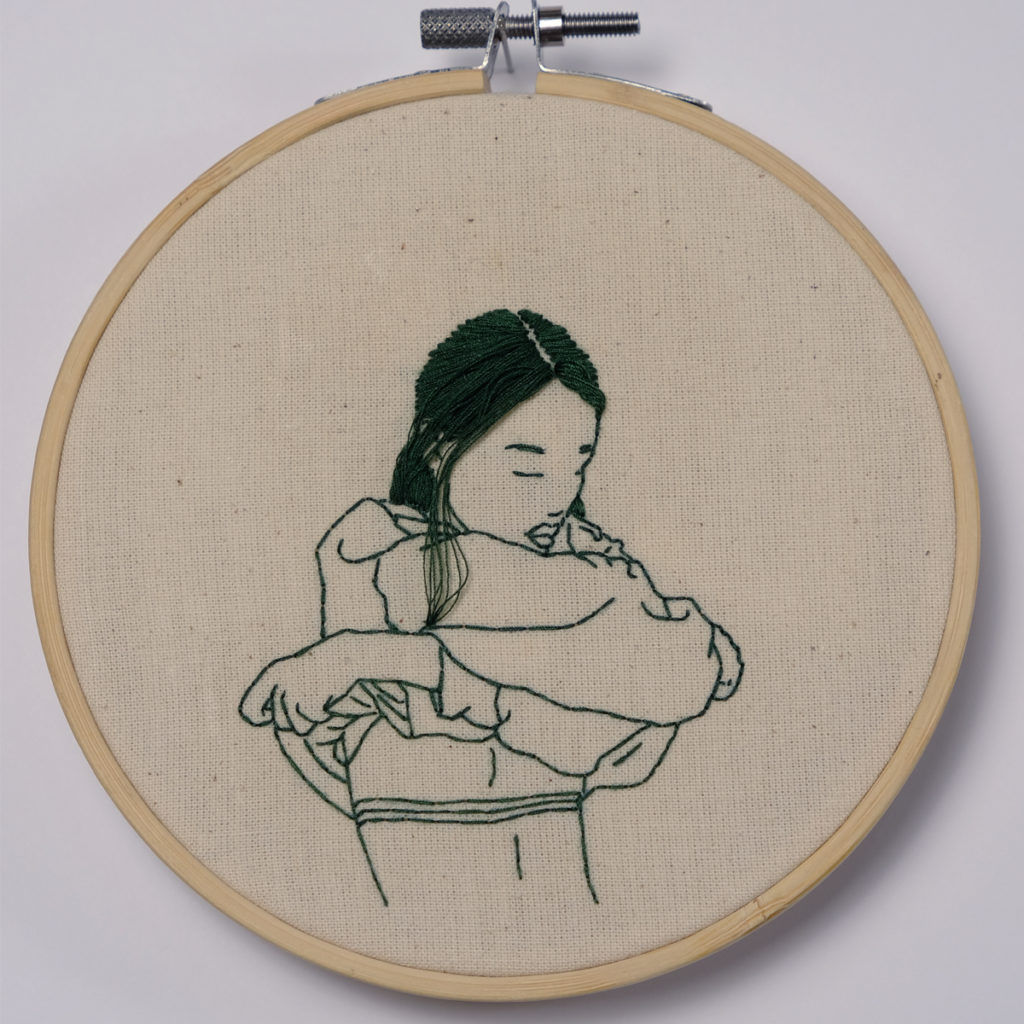 What would you say is the best thing about being an artist/model?
The best thing about being an artist is that I get to create something of my own, while being a model, I get to be a part of something. It's a great balance of having creative control for my own art, as well as being a canvas for someone else's art.
Considering embroidery is not a common medium in art, what would you say is your favourite thing about it?
Believe it or not, embroidery art is more common that one might think! There's definitely a whole movement now. It was the Internet that exposed me to all these young creatives that have taken embroidery to the next level and inspired me in turn to do what I'm doing now. Just the fact that I'm able to take an old medium and spin it with a life of its own, inspiring others while in turn be inspired… that's what I like about embroidery, and what it can achieve in this Internet age we live in. "For other women taking the plunge, I would say quite simply to do everything with purpose."
Sheena Liam
How can your art be a medium to empower women across the board?
My work is primarily women-focused and women-driven, and therefore, leading to a larger variety of women in art. With that, I hope my work can inspire and drive other women to create their own art in whichever medium they choose.
What advice would you give to your younger self, and other women wanting to take the plunge into the world of art/modelling?
I would tell my younger self to be a bit kinder to herself. I was definitely hard on myself when I was younger. For other women taking the plunge – not only in to art and modelling but anything else they aspire for, I would say quite simply to do everything with purpose. Never put fame, ego and success as the last goal. Your goal should always be strong work and strong ethics.