Borneo Heart KL brings together artists and collectives from Borneo and the Peninsula for a weekend of art, culture, craft, workshops and fun at:
TAMU TANAH & AIR
Saturday, 25 February (11am – 8pm)
Sunday, 26 February (11am – 6pm)
at The Godown Arts Centre, Kuala Lumpur From 25 to 26 February 2023, a Sabah-style Tamu with a difference comes to The Godown Arts Centre in Kuala Lumpur, organised as part of Borneo Heart in Kuala Lumpur. Bringing not only goods for sale but also a range of knowledges and creative practices from across the country as we wade into the 60th Malaysia Day, Tamu Tanah & Air will host organisations, artists, and collectives from Borneo and the Peninsula for selling rice, woven and beaded works, zines, albums, batik, art prints, conversations, workshops, presentations, and much more. Meet friends working in community-based projects, in hydro-electric technologies, in different modes of art-making, learning and play, local literatures, music and poetry, artisanal produce, and sustainable living. It will be a meeting and celebration of many cultures, ideas and stories from Borneo and Semenanjung! " 'Tamu' is what we call the traditional weekly market in Sabah, dating to before the colonial era. It means 'a meeting place' where the hill people, river people, jungle people, plains people, and sea people would meet to exchange rice for salt, woven cloth for woven ratan – for things they don't have that they need from each other. It is a celebration of the other, and diversity."

– artist, activist and thinker Yee I-Lann, Borneo Heart

There will be conversations and activations on the 4 x 5 metre Tikar Emoji, an artwork by Yee I-Lann with weaving by Bajau Sama DiLaut weavers Kak Kinnuhong, Kak Sanah, Kak Budi, Kak Roziah, Kak Goltiam, Kak Kuluk, Macik Rerah, Macik Appay, Adik Darwisa, Adik Alisya, Adik Enidah, Adik Dela, Adik Erna, Adik Norsaida, Adik Asima, Adik Aline, Adik Dayang, Adik Tasya, Kak Solbi, Kak Anjung as well as two other tikar works by the artist woven by collaborators from Pulau Omadal and Keningau. Yee I-Lann added, "The Godown Art Centre's geographical location, located near Masjid Jamek where the Gombak River and the Klang River meet, at the "muddy confluence" of "tanah dan air" that is Kuala Lumpur is just perfect for this event. And we are so glad that Tamu Tanah & Air follows the beautiful Bakul exhibition of baskets from across Sabah, with a rich programme organised by The Godown."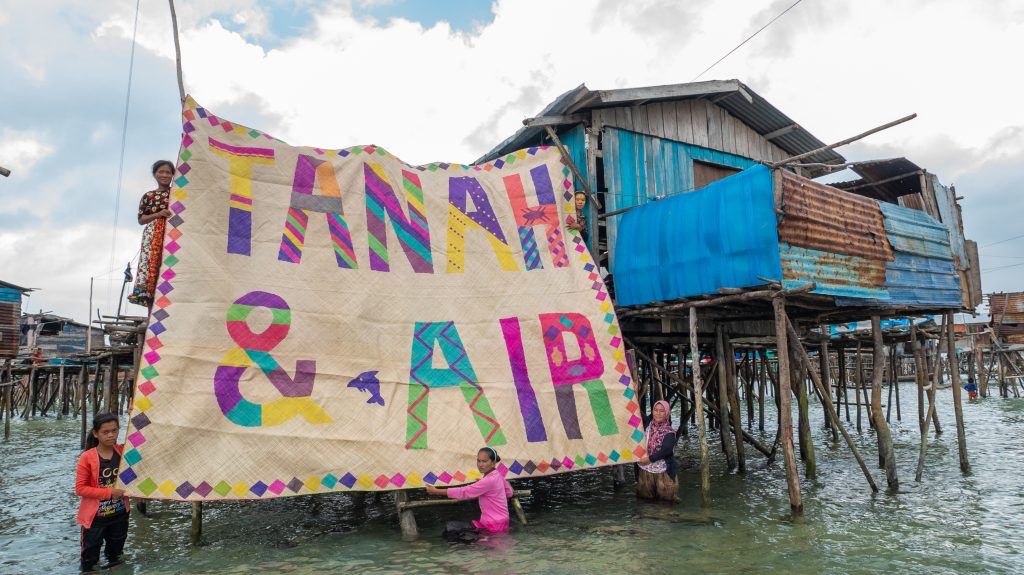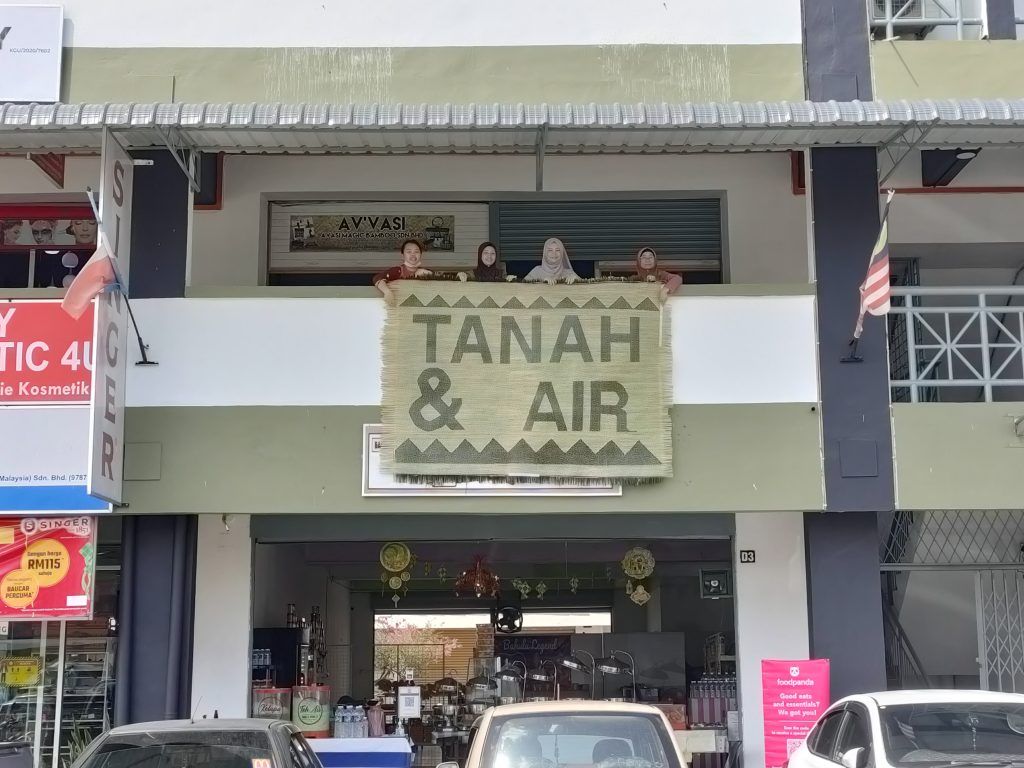 Tamu Tanah & Air is funded through ticket sales with venue support from The Godown Arts Centre, with Sabah participation supported by Sabah Tourism, and support from The British Council for bringing Borneo Bengkel's Making Noise, and Serumpun, organised by Borneo Laboratory – a discussion on traditional craft skills and a screening and sharing session on The Serumpun Journey, documenting the pan-Borneo research trip undertaken for the Serumpun project.
Borneo Bengkel co-curator Sonia Luhong Wan said, "We at Borneo Bengkel are delighted to be part of this hugely significant exhibition and Tamu event. We look forward to take up space to share the voices of contemporary Borneans and build a kinship with our friends in the mainland."
"Travelling from Sarawak, Sabah, Kalimantan and Brunei, our collaborators—who comprise creatives, cultural practitioners, activists, and researchers—are excited to trade knowledge, skills, stories, and art in Kuala Lumpur."

– Sonia Luhong Wan, co-curator of Borneo Bengkel
TAMU TANAH & AIR 〉 Participants
FROM BORNEO:
Arkitrek Camp – Architectural partnership sharing about their upcoming architecture camp at Pulau Omadal, and their Love Design Programmes
Borneo Bengkel – A pan-Borneo platform of cultural collectives, bringing "Making Noise", knowledge exchange, spoken word, traditional instrument demos, art & craft and merch from practitioners from Sarawak, Kalimantan, Brunei and Sabah
Borneo Laboratory and The Serumpun Project – Event 1: Traditional Craft Skills: How do we respectfully move forward, a participatory workshop; Event 2 – The Serumpun Journey, story-sharing from the Pan Borneo research roadtrip – involving 11 communities around Borneo.
Kadazan Dusun Language Foundation – Bringing books on language and culture, and a poster of names of the mat across Sabah!
KerbauWorks – Bringing Borneo Heart merchandise, Bajau Laut tepo mats, Kelarai Murut from Ulu Tomani Tenom, community weaves from Kg Dangulad Didy, Johin, Lili & Siat, traditional Dusun brain-twisters by Chelsea.
Magic Bamboo – Featuring contemporary weaves from Mami Julitah, Zai and Narty from Kg Lunguyan.
KeTAMU – Selling varieties of Wagas Dati heritage rice & Flores Gam pineapple salsa, sharing their amazing story of padi revitalisation in Kg Tenghilan.
Kota-K Art Gallery – Bringing kain dastar by Puan Hajjah Pandian, and highlighting Harold Egn Eswar, who will also be collecting stories from KL locals.
Mami Ita – Tapai Maker, bringing stories, wisdom and DIY tapai kits!
PACOS Trust – A community-based organization dedicated to supporting indigenous communities in Sabah, bringing beaded and woven works, and specialty dried goods.
Ruang Tamu Ekosistem – A collective of collectives represented here by Pangrok Sulap, who will be fundraising for their mini hydro-electric generator installation project, Kambai Record Store and Tuni Sundatang.
TONIBUNG (TObpinai NIngkokoton koBUruon kampung / Friends of Village Development) – An indigenous-lead non-profit group that develops sustainable alternatives for rural electrification while advocating for native rights and supporting local entrepreneurship and innovation around Southeast Asia, bringing beautiful hydro-electric turbines made of recycled materials.
WAPO (Persatuan Wanita Pulau Omadal) – Women's association of Pulau Omadal bringing woven items to support marine conservation and their local community.
Yee I-Lann – Showing three works from Borneo Heart: Tikar Emoji, TanahAirKu #002 and TanahAirKu #003.
FROM SEMENANJUNG:
Bundusan Books, by Sabah artist and researcher Jesse Joy – Featuring recent and rare books, journals and documents from Sabah, Sarawak and indigenous communities.
Free Tree Society – Holding a Native Plant Workshop – so visitors can plant and bring home a tree!
Lostgens – A veteran KL-based artist collective presenting Abjad & Gambar by the Lostprints community.
The Ricecooker Archives – By the legendary Joe Kidd
T.I.G.A.(Tindakan Gerak Asuh) – Sharing their practice of Act Move Nurture across projects and spaces they've created since 2007.
Projek Rabak – Multidisciplinary artist-friend collecitve since 2011, based between Ipoh, KL and Hiroshima, presents Rabak Godown for Tamu Tanah & Air, showcasing their work are artists Dhan Illiani Yusof, VIONA, Jack Malik and Meor Hailree, and Rabak will also be peddling books, CDs, t-shirts, and others.
Shaq Koyok – Sharing stories from the Orang Temuan in Kuala Lumpur, and bringing t-shirts and notebooks for sale with profits to Temiar people in Kelantan.
Teckwyn Lim – Forest researcher
Tikka Hun of Tak-Tik Visual Solutions – Visual harvester
The Zhongshan Building Community – Represented by Tandang Records, INKAA Studio, Bogus Merchandise, Poppy.
ANAK TAMU WORKSHOPS & MORE, FOR THE KIDS!

Poetry, storytelling and creative workshops by Ammi Leong, Uncle NAI (Nor Azar Ishak) and Elaine Foster (My Poetry School), learn about art advocacy, different forms of energy and build a DIY Hydro Wheel with Atom & The Dot (and Pangrok Sulap!), learn Mandarin through Chinese Picture Books with Ms. Au & Mr. Ng, Anak Tamu tours, paper weaving with Cikgu Huda and Friends, traditional games and other activities on the mat, kids reading corner and bookshop.
View this post on Instagram
TAMU TANAH & AIR 〉 Programme
SATURDAY, 25 FEBRUARY 2023
Anak Tamu (Mezzanine)
11am Ms. Au and Mr. Ng, Chinese picture book storytellers
1:30pm Anak Murid yang Memakai Cawat Storytelling, picturebook making workshop by Ammi Leong
3:30pm Build a DIY Hydro Wheel, Learn About Energy Forms & Art Advocacy by Atom & The Dot
Tikar Emoji
11am Dhan Illiani Yusof – Selamat Hari Kejadian
12pm Weaving on the Mat, demonstration by weavers from Keningau and Pulau Omadal
2pm Shaq Koyok, sharing stories of Orang Temuan in Kuala Lumpur
3pm Paper Weaving/Anyaman Kertas workshop with Cikgu Huda & Friends (for all ages)
5pm Projek Rabak presents Bongkar Tanah by Meor Hailree & Jack Malik
5:30pm Making Noise by Borneo Bengkel
7pm Tuni Sundatang Demo / Pangrok Sulap Fundraising
Ruang Tamu
Through the day: Harold Egn Eswar collecting stories from Kuala Lumpur
3-6pm Free Tree Society – Native Tree Workshop
SUNDAY, 26 FEBRUARY 2023
Anak Tamu (Mezzanine)
11am I belong to the Forest – Storytelling, picturebook-making workshop by Ammi Leong
1:30pm Build a DIY Hydro Wheel, Learn About Energy Forms & Art Advocacy by Atom & The Dot
3:30pm Indahnya Pulau Sipadan /O How Beautiful Sipadan Island Is – Storytelling and acrylic painting workshop by award-winning storyteller and author-illustrator Uncle Nai
Tikar Emoji
11am Tyger Tyger: A Poetry & Storytelling Workshop by Elaine Foster
12pm T.I.G.A. (Tindakan Gerak Asuh) Project Sharing
1pm Wagas Dati – Rice Revitalisation in Sabah Storytelling
1:30pm Weaving on the Mat, demonstration by weavers from Keningau and Pulau Omadal
Ruang Tamu
1pm VIONA – Melakar Godown
AiR LEVEL 2
3pm The Serumpun Project: Traditional Craft Skills – Critical Review by Jennifer P. Linggi
4:30pm The Serumpun Journey sharing from Pan Borneo Research Road Trip
TAMU TANAH & AIR 〉 Tickets & Contacts
TICKETS
Tickets RM10 earlybird online bookings and workshop, via https://mereka.io/
First 250 bookings will receive a RM5 COUPON to spend with participants/vendors.
RM15 at the door.
Free entry for kids & warga emas.
*There'll be fabulous food and drink and other stalls around The Godown, including laksa Sarawak, mee kolok, lihing, tuak, kek lapis, kombucha, coffee, Vietnamese food, etc.
CONTACTS
Event information, contact: beverly@rogueart.asia / 012-2011727.
Venue details, contact: info@thegodown.com.my.
Address: The Godown Arts Centre, 11, Lorong Ampang 7, 50250 Kuala Lumpur.