The Choo brothers, Brian and Mark have a live wire of a mum – a lady with so much Soul (pun intended) and zest for life who has helped shape her two sons to become the men they are today. With Brian taking on the reins of the family's renowned F&B business, while Mark has paved his own way in the realm of health and fitness, with Tribe Boxing Studio.
Here's a look at a couple of photos Brian Choo sent us from different years, but this family have amazing genes and don't really age as much!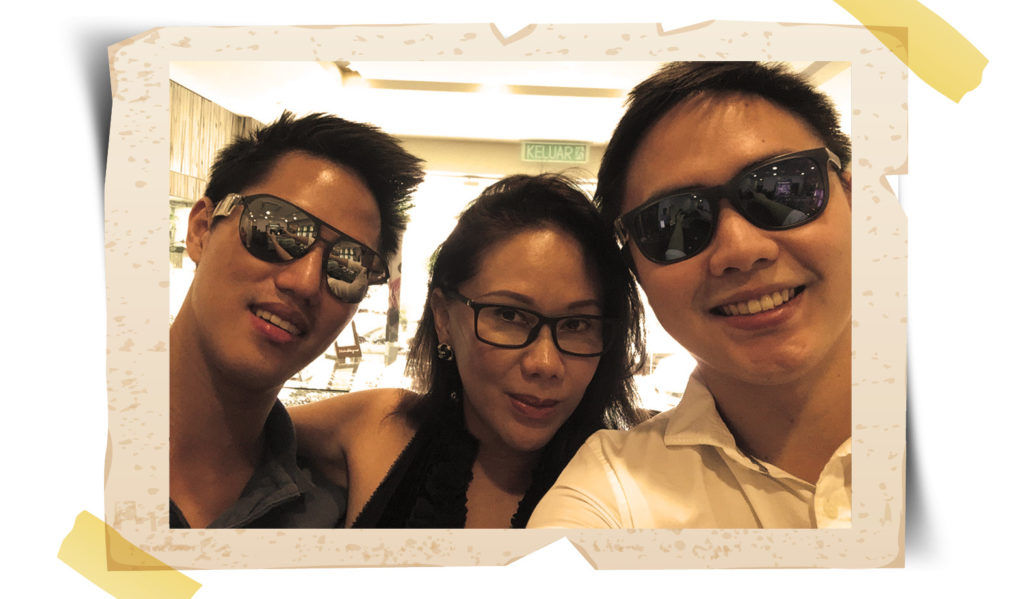 We speak to the Choo brothers and their lovely mum to get an insight into their fun-loving mother-son relationship.
Michele Kwok
What does motherhood mean to you?
Motherhood isn't all sunshine and rainbows, but I would never trade it for anything in this world.
Motherhood means patience, persistency, maturity and wisdom. It has definitely tested my patience and has 'forced' me to be on top of my own life – in terms of time, energy, health, mental wellbeing and more, so that I am able to always be there for my boys in terms of strength, stamina and presence of mind.
Being a mother has also shifted my own identity – initially as a responsible adult and now to being a confident, well-lived and fulfilled person; in a sense it has made my life feel more complete
What do you love most about your sons?
Does the fact they annoy me to no end count? Ok, I kid, I love that they like to hang out with me. And I'm proud of the fact that they are adamant to be independent, both financially and in their everyday lives. I cherish the fact that they too love and prioritise family. And I love that they love me loads and loads!
brian choo
What is your favourite activity or memory surrounding your mother?
Growing up with one of the coolest mums you could ask for, there are plenty to pick from – from clubbing nights together to the holiday trips we spent as a family. The one thing I truly cherish is seeing Mum spending time with my daughter Riley, her first grandchild. I guess in a way, being in the position I'm in now, seeing the one lady you look up to the most, interacting with the most precious bundle of joy in your life makes you realise the pure, raw love that your mother has for you and your family.
What is something unexpected your mother did?
Well, it's not exactly unexpected but the thing with our mother is that, she will always be the first person to extend a helping hand in any situation, big or small. She will go way beyond her means to help those she cares for and has sacrificed so much to ensure that we are well looked after.
What would you like to say to your mother?
Thank you for being you – the loving, caring, ever thoughtful mother who we can count on through good times and bad. It is always a joy being with you, spending time and just having our casual chats. Look forward to spending many more years with you, with many more grandchildren to come! Love you Mum.
mark choo
What is your favourite activity or memory surrounding your mother?
Trying out new cuisines or restaurants with my mum is something I look forward to, as she's quite adventurous with her food and teaches me how to appreciate certain tastes and flavours that I normally wouldn't try by myself!
What is something unexpected your mother did?
My mum used to send me food everyday while I was recovering from Covid-19 as I lived alone. I thought that was pretty sweet; then I found out later that she was sending food daily to my other friend in a different block under quarantine as well, and that showed just how generous and caring she was, not just as a mother but as a person.
What would you like to say to your mother?
Thanks mum for always supporting & believing in me – you're my biggest supporter since day one and I hope I'll continue to make you proud!
written by.
Aaron Pereira
Digital Editor
This fine chocolate man, (that is a connoisseur of fine chocolates) prefers real-life conversations and living off-screen, but is slowly and surely embracing the digital, search engine optimised life.