Mission: Impossible is one of the most successful franchises in cinema and is best known as the vehicle that turned Tom Cruise into a bona fide action superstar. Indeed, Cruise has headlined every film in the franchise so well that it might be difficult to pick the best Mission: Impossible movie. However, a few of them were not as well-received as the more recent ones at the time of their release.
The Mission: Impossible film franchise is based on the television series of the CBC show of the same name that aired from 1966 to 1973, and its namesake continuation on ABC ran for two seasons from 1988 to 1990.
One cannot deny Cruise's contribution to making the franchise a massive success. His character of Ethan Hunt of the Impossible Missions Force (IMF) has been so well-received that there are several comparisons on who could be a better movie spy between him and the famed, but fictional, MI6 agent who loves his vodka martini "shaken, not stirred."
However, a factor that makes Ethan so popular is certainly Cruise and his penchant for doing his own stunts. Mission: Impossible movies are particularly noted for the incredibly dangerous stunt scenes. Yet Cruise did most of them himself at great risk.
One such shot that has gone viral on social media is from the upcoming Mission: Impossible – Dead Reckoning Part One, popularly referred to as Mission: Impossible 7 — the seventh film in the franchise. In the scene, Cruise is seen leaping off a cliff by riding his motorcycle over it. Behind-the-scenes footage shows that the leap was real and Cruise did it himself.
While Tom Cruise is indeed the star of the franchise, other famous actors have essayed important recurring roles in Mission: Impossible films. Of which, Ving Rhames, who plays hacker Luther Stickell, is the only other actor to have appeared in all films of the franchise other than Cruise.
Among the others are Simon Pegg and Rebecca Ferguson, both of whom have become mainstays in recent films and will be seen in Dead Reckoning Part One and its sequel, Dead Reckoning Part Two.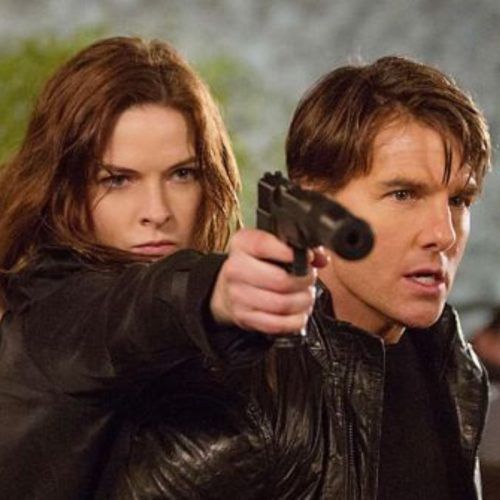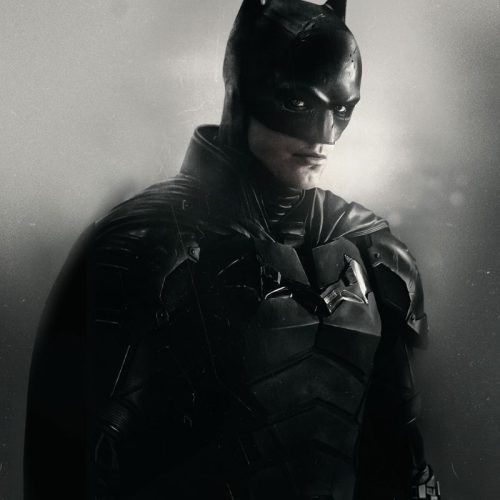 Mission: Impossible movies ranked as per RT ratings and IMDb scores
Jump To / Table of Contents
01
Mission: Impossible II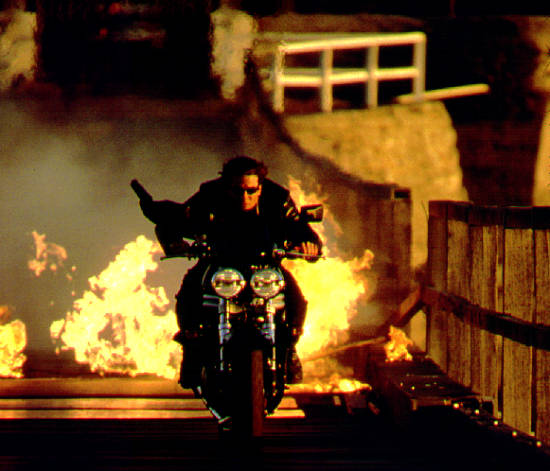 RT rating: 56 per cent
IMDb score: 6.1
Director: John Woo
Release date: 24 May 2000
Other cast: Dougray Scott, Thandiwe Newton, Richard Roxburgh, John Polson, Rade Šerbedžija, Brendan Gleeson
Synopsis: Ethan must save the world from a deadly virus; but he is up against a team led by a rogue IMF agent Sean Ambrose (Scott), who already has the cure. Sean wants to unleash the virus that would cause a deadly pandemic.
More about the film: The second instalment is the lowest-rated of all Mission: Impossible movies both on IMDb and Rotten Tomatoes. In fact, it is the only film in the franchise that is certified 'rotten' on the Tomatometer. This is despite it being helmed by John Woo, the Hong Kong legend who is hailed as one of the greatest action filmmakers of the contemporary period. Except for Newton's performance and the stylish action scenes, critics had nothing good to say about the movie. Particular criticism was directed towards Woo and the movie's dull, disjointed plot.
Why rewatch? Woo's trademark slow-motion action shots and gunplay would particularly appeal to fans of 1990s crime films. The climax scene where both Cruise and Ambrose are duelling on motorcycles is especially hailed as one of the best of the franchise.
Image credit: © 2000 – Paramount Pictures Corp. – All Rights Reserved/IMDb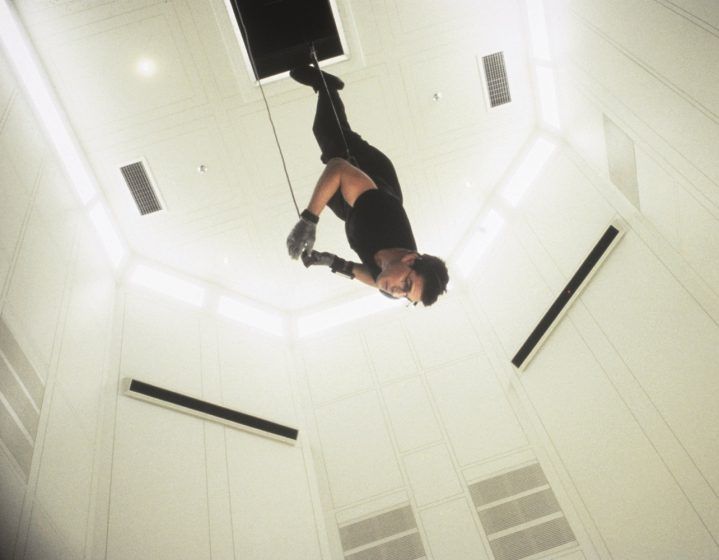 RT rating: 66 per cent
IMDb score: 7.1
Director: Brian De Palma
Release date: 22 May 1996
Other cast: Kristin Scott Thomas, Emmanuelle Béart, Vanessa Redgrave, Henry Czerny, Jean Reno, Jon Voight
Synopsis: When a mission goes wrong and his team leader, Jim Phelps (Voight) is killed, Ethan is suspected to be a mole and forced to go on the run from the IMF. The only way to prove his innocence and find the real mole is to retrieve a confidential computer file from the CIA headquarters with the help of Luther Stickell (Rhames) and pilot Franz Krieger (Reno).
More about the film: This is the first film of the franchise and was a major box-office success, despite receiving mixed reviews. De Palma used the material from the television series and moulded it in his own style to lay the foundation of the franchise. However, Peter Graves and Greg Morris, who played the lead characters in the original television series and the revival, respectively, were unhappy with the changes that the director introduced in the story, including turning a hero character from the show into a traitor in the film.
Why rewatch? The first film of the franchise is more like a taut thriller and is unlike the incredibly high-octane daredevilry fans see Cruise performing in the franchise now. This is why anyone watching this film today would be able to better appreciate the incredible level to which the franchise has risen in terms of budget, style, cinematography, action and performances.
Watching Mission: Impossible would also help brush up on earlier details about the character of Ethan and better understand Eugene Kittridge, the role played by Henry Czerny, which he is set to reprise in Mission: Impossible – Dead Reckoning Part One and Mission: Impossible – Dead Reckoning Part Two.
Image credit: IMDb
03
Mission: Impossible III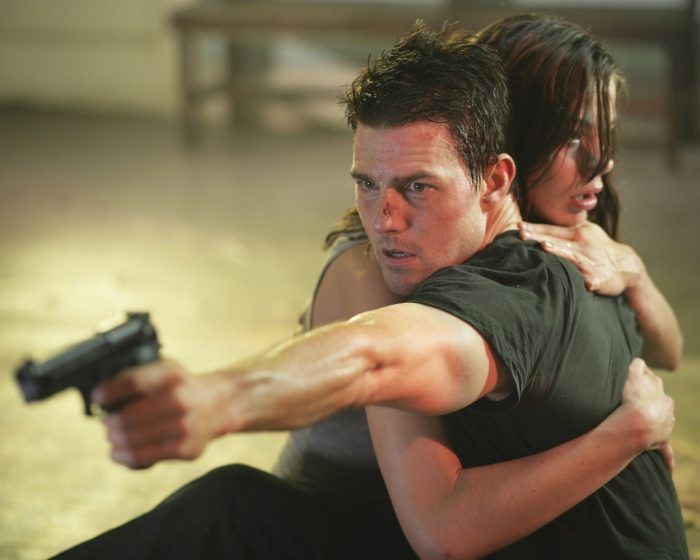 RT rating: 71 per cent
IMDb score: 6.9
Director: J.J. Abrams
Release date: 5 May 2006
Other cast: Philip Seymour Hoffman, Michelle Monaghan, Billy Crudup, Jonathan Rhys Meyers, Keri Russell, Maggie Q, Laurence Fishburne
Synopsis: Ethan has retired from the IMF and is planning to settle down with his fiancée Julia Meade (Monaghan) when he is called back to the force to help them nab a sadistic arms dealer named Owen Davian (Hoffman). When Ethan goes on the mission, it puts Julia's life in danger.
More about the film: Abrams salvaged the franchise at least in the views of critics following the debacle of the second instalment by paying greater attention to plot details. This is why many critics showered praise on Abrams for his direction. However, many were displeased with the action elements of the film. Despite a better critical reception and a higher budget than its predecessor, the film could not make as much as the second instalment.
Why rewatch? Fans would love to see the performance of Philip Seymour Hoffman as one of the best villains in the Mission: Impossible franchise. The movie also marks the first appearances of Michelle Monaghan and Simon Pegg in the film series. Pegg would go on to play his character of Benji Dunn in every Mission: Impossible movie.
Image credit: IMDb
04
Mission: Impossible – Ghost Protocol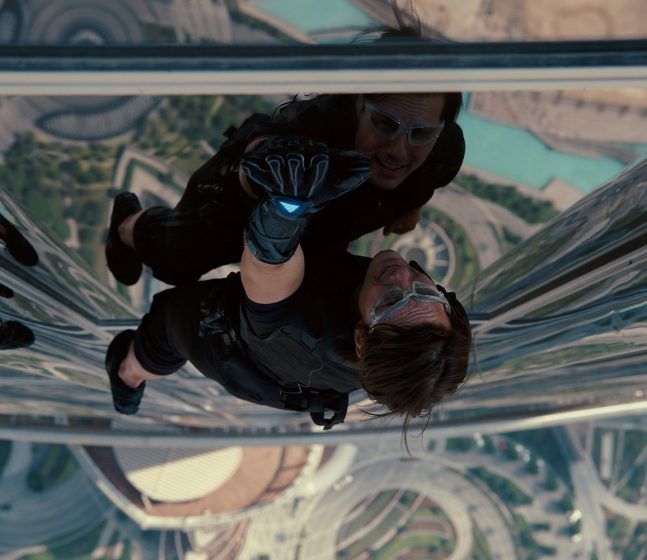 RT rating: 93 per cent
IMDb score: 7.4
Director: Brad Bird
Release date: 21 December 2011
Other cast: Simon Pegg, Paula Patton, Jeremy Renner, Michael Nyqvist, Vladimir Mashkov, Léa Seydoux, Anil Kapoor
Synopsis: When Ethan and his team are implicated in the bombing of the Kremlin, the US government shuts down the IMF. Now without official backing, Ethan gathers other IMF agents for a mission that would help the agency clear its name and find the one responsible for the Russian incident.
More about the film: Mission: Impossible – Ghost Protocol saw the franchise take a major leap across departments — from storytelling to stunts. Critics gave overwhelmingly positive reviews, and fans hailed it as a blockbuster. Ghost Protocol propelled the franchise into a box office titan as the film earned over USD 694 million worldwide.
Why rewatch? The movie is loaded with insane stunts that technically transformed Cruise's image into what we perceive it as today. But Ghost Protocol is best known for the Burj Khalifa sequence in which Cruise's character can be seen scaling the world's tallest building as a dust storm approaches.
Image credit: Industrial Light & Magic – © 2011 Paramount Pictures. All Rights Reserved./IMDb
05
Mission: Impossible – Rogue Nation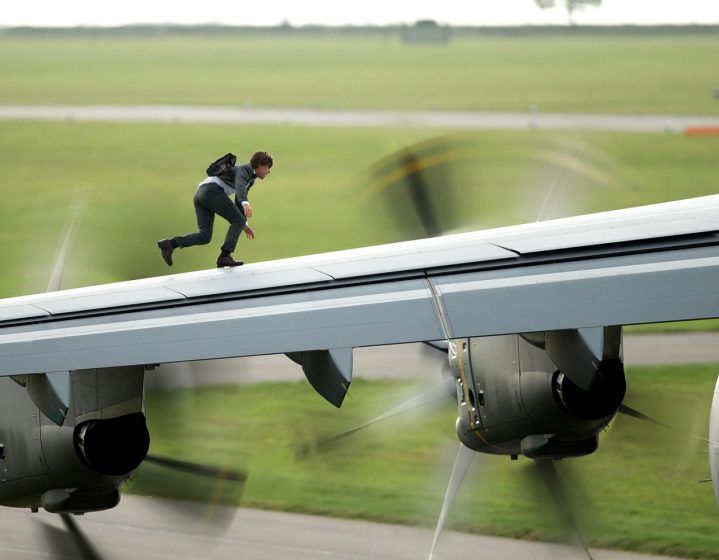 RT rating: 94 per cent
IMDb score: 7.4
Director: Christopher McQuarrie
Release date: 31 July 2015
Other cast:  Simon Pegg, Rebecca Ferguson, Jeremy Renner, Sean Harris, Alec Baldwin
Synopsis: A team of international rouge agents under a mysterious organisation called Syndicate carry out terrorist activities. Meanwhile, the IMF has been disbanded and Ethan is without proper backup to prevent the Syndicate in its mission. However, he finds a disavowed British agent named Ilsa Faust (Ferguson) who could help him.
More about the film: Rogue Nation introduces Ferguson to the franchise, who would go on to appear in all subsequent films. McQuarrie began making Mission: Impossible films with Rogue Nation and wrote its screenplay, too. Critics and fans hailed it as universally as they did the previous instalment.
Why rewatch? Besides the action elements, the film is a must-watch for Ferguson's performance as Ilsa. A fan favourite, the character is seen as an equal to Ethan. Since this film marks her first appearance, anyone watching Dead Reckoning would be able to better understand Ilsa, her style of working and her motives.
Additionally, in one of the scenes, McQuarrie subtly explains the legendary attributes of Ethan through Baldwin's character of CIA director Alan Hunley, who goes on to tell the UK Prime Minister what makes Ethan so special. And who can forget that iconic scene where Cruise is seen hanging onto an Airbus A400 M military aircraft as it takes off? No special effects were used for that scene; it was actually Cruise hanging on the outside of a flying aircraft.
Image credit: Christian Black – © 2015 – Paramount Pictures/IMDb
06
Mission: Impossible – Fallout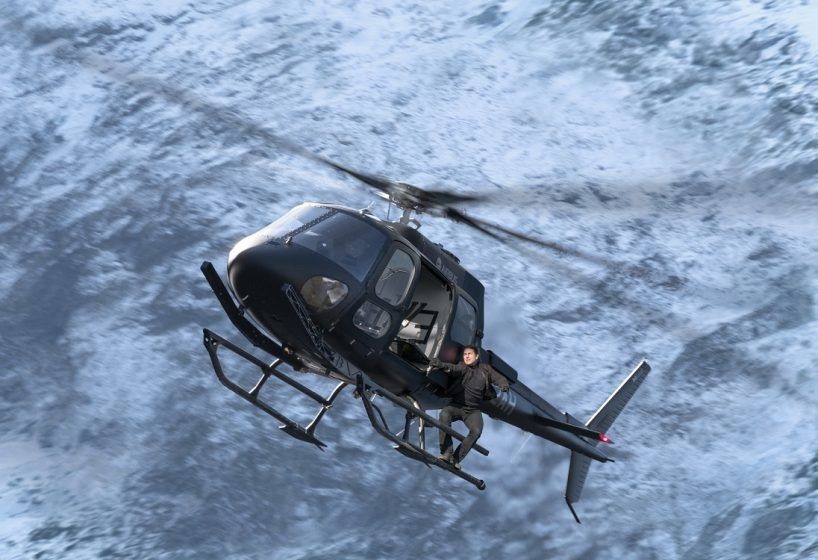 RT rating: 97 per cent
IMDb score: 7.7
Director: Christopher McQuarrie
Release date: 27 July 2018
Other cast: Simon Pegg, Rebecca Ferguson, Sean Harris, Henry Cavill, Angela Bassett, Michelle Monaghan, Alec Baldwin
Synopsis: CIA assassin August Walker (Cavill) joins Ethan and the IMF team to prevent an arms dealer and a terrorist group from carrying out a major catastrophe that would end a third of humanity.
More about the film: Fallout has the highest rating of all movies in the franchise and is thus considered the best Mission: Impossible movie. With a worldwide box office gross of over USD 791 million, it is also the highest-grossing film in the franchise and the second-highest-grossing film in Cruise's career after Top Gun: Maverick (2022).
Why rewatch? From action to performances and plot to filming locations, Fallout went over and beyond to present a perfect blockbuster. Its most famous sequence is the climax where Cruise is seen flying a helicopter and chasing the main antagonist who is in another chopper. Cruise actually flew the helicopter and performed the extremely dangerous stunt of him falling on a dangling payload from the chopper while it was flying at a high altitude.
Image credit: © 2018 – Paramount Pictures/IMDb
(Hero and Featured image credits: © 2011 – Paramount Pictures/IMDb)
Frequently Asked Questions (FAQs)
Question: Which is the best 'Mission: Impossible' movie?
Answer: The best 'Mission: Impossible' movie as rated by critics and fans alike on both Rotten Tomatoes and IMDb is 'Mission: Impossible – Fallout' (2018).
written by.
Manas Sen Gupta
Manas enjoys reading detective fiction and writing about anything that interests him. When not doing either of the two, he checks Instagram for the latest posts by travellers. Winter is his favourite season and he can happily eat a bowl of noodles any time of the day.