Marvel's Shang-Chi and The Legend of the 10 Rings looks to be a film of many firsts. It will be the studios' first Asian-represented superhero film, starring Kim Convenience's Simu Liu, Tony Leung and Awakfina (Rachel's bff in Crazy Rich Asians). The film's protagonist, Simu Liu, is also the first Chinese-Canadian actor to spearhead a film that is part of the Marvel Cinematic Universe. So far, we've covered several titles announced in Marvel's Phase 4 — from the familiar Doctor Strange to the all-new Eternals. Let's head into Shang-Chi and The Legend of the 10 Rings to see what's happening there.
the real mandarin One memorable moment in Iron Man 3 was Ben Kingsley's comedic portrayal of the Mandarin. Curiously, this counterfeit Mandarin boded the prevalence of terrorism in modern America and possible sabotage and the downfall of democracy. How's that for clairvoyant power?
With Shang-Chi, Marvel fans can look forward to the development of the real Mandarin and his connection to the Ten Rings organisation (as teased in 2015's Ant-Man) and his desire for world domination like his 2013's charlatan.
asian representation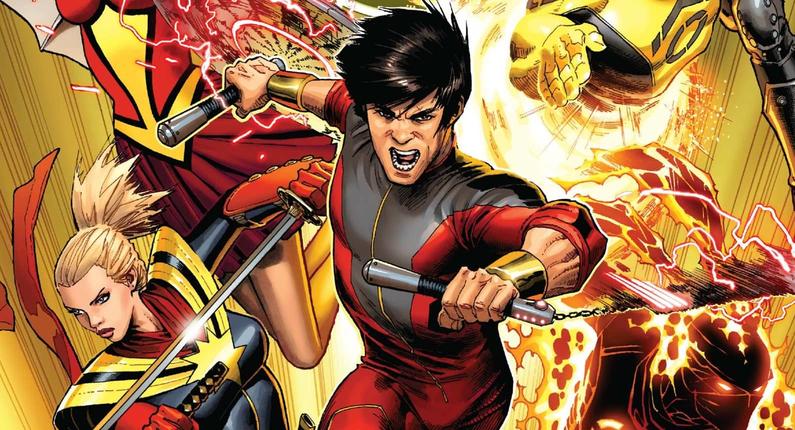 So far, Asians have hardly had a superhero we could relate to. Even the most Asian-looking Power Ranger failed to bring any excitement. Well, that's going to change with Shang-Chi.
Perhaps this had been the plan because it isn't the first time Marvel has opened its doors for inclusivity. From Valkyrie in Thor: Ragnorak being Marvel's first LGBT-superhero, to an all-female team in Captain Marvel, Marvel Studios has been broadening its universe, one community at a time. For Shang-Chi, Marvel and Director Daniel Cretton have picked an all-Asian cast. Thus, this could be heartwarming for Hollywood's Asian celebrities as they become part of something bigger in the industry as well as in the MCU; especially when their ancestors had had a tough start to life in America due to the country's 1882 Chinese Exclusion Act and the 1892 Geary Act.
an uphill task You can't say Marvel hadn't tried earlier. Its most Asian-ish production Iron Fist, however, failed to establish itself on Netflix, as netizens found it poor because of the insufficient character development and bad fighting sequences. Surprisingly, fans have also voiced their displeasure over the casting choice of Simu Liu. Their quibble: they don't think he is attractive enough for the role.
As we've already seen though, Marvel has never had the habit of yielding to popular opinion. Like how Kevin Feige raised a few eyebrows when he brought the Russo brothers into the Marvel Universe after their limited experience in producing comedy series Arrested Development and Community.
It's early to know if Shang-Chi will succeed artistically or commercially. We'll just have to wait and see if Simu Liu will deliver and if Daniel Cretton can craft something that will fit seamlessly into the Marvel sphere despite its bold departures.
Marvel's Shang-Chi and the Legend of the Ten Rings will be released on 12 February 2021
written by.
Lester Tan
Lester is into films, food and basically anything culture related under the sun.