Had your fill of new shows to catch? Well, these most anticipated returning series will no doubt satisfy that desperate crave for entertainment. It must be said, the importance of streaming platforms increased when the world went into lockdown.
Forced to stay indoors, binge-watching shows became a regular practice as we manoeuvred our way through the new normal. For many of us, these shows provided a practical escape from our new predicament. The extra time provided when we were all stuck at home, presented the opportunity to discover new shows to watch.
In the past year, some shows resonated better than others. Some, we dare say, stuck on in our minds, forcing us to desperately await their return. From Netflix's Stranger Things to Amazon's The Boys, here some of the most anticipated returning series we eagerly await. (Spoilers ahead if you haven't had a chance to watch any of them)
Stranger Things Oh, aren't we all eager to know how Jim Hopper (David Harbour) is alive and what is he doing in that Soviet gulag after what we witnessed at the end of Season 3? The teaser of the new season was enough to make us freak out. And there are those leftover questions on what exactly the Soviets are planning with the Demogorgon in their captivity. What will be the role of our favourite Hawkins residents? Production of season 4 had started in March 2020 but it got delayed because of the pandemic. Stranger Things is expected to return this year but there is no announcement of a premiere date yet.
Watch here.
Westworld The third season of the hit sci-fi series ended with closure for a main character, but it also raised several new questions. But then again, that has always been Westworld's modus operandi. Delores' (Evan Rachel Wood) story arc may have run its course, but it looks like a new one is about to begin with Bernard (Jeffrey Wright). The series' finale teases a significant time jump following a revelation that Charlotte Hale (Tessa Thompson) is in possession of host-making machines. She also has a robot version of the Man in Black (Ed Harris) who promptly murders its human character. Our interest is nonetheless piqued, which is why we are counting the days until Westworld season 4 return mid next year.
Watch it here.
The Boys The last season of The Boys was a ride into mega mayhem. Outstanding in every department, Season 2 continues to be the most-watched global launch for any Amazon Prime original series. Shooting for Season 3 started in February 2021. There is no information on when the show is expected to come back. But we cannot wait to see what is going on in that cunning head of Billy (Karl Urban), as well as Hughie's (Jack Quaid) fate now that we know he would be working for Victoria Neuman (Claudia Doumit) without knowing the mind-blowing power she hides.
Watch both seasons here.
The Witcher Based on the acclaimed book series of the same name, the high-fantasy story set in a medieval world is about monster hunter Geralt of Rivia (Henry Cavill), known in his world as the witcher. Filming for Season 2 is over and it is set to premiere any time this year. Only that Netflix hasn't yet made an official announcement about the date. The first season followed the story of the world building around Geralt, ending with his predestined meeting with crown princess Ciri (Freya Allan).
Watch it here.
Hanna The last two seasons of the fast-paced Amazon Prime thriller were very well-received. The titular character, Hanna (Esme Creed-Miles), is a product of a CIA rogue programme to create super soldiers. She attempts to find out who she actually is all the while trying to keep her CIA pursuers at bay. The third season is expected to release some time this year.
Watch it here.
Modern Love The first season of this romantic anthology series released back in 2019. Based on the New York Times column of the same name, the Amazon Prime series explores love, life, and relationships of different sets of characters over eight episodes. A hit with the viewers, it starred some of the biggest names in Hollywood in key roles including Anne Hathaway, Tina Fey, Dev Patel, and Sofia Boutella. Season 2 will premiere later this year and will narrate the stories of new characters. Prominent names who will appear in the next season are Anna Paquin, Dominique Fishback and Kit Harrington.
Watch season one here.
Hunters A story of Nazi hunters in New York City of 1977 is set for a second season. Meyer Offerman (Al Pacino) leads a diverse band of Holocaust survivors, their kin, and sympathisers to hunt down Nazi war criminals who have entered the US and trying to form the Fourth Reich. Jennifer Jason Leigh will be seen in a lead role in Season 2. It is not clear whether Pacino's character will be back.
Watch the first season here.
Lucifer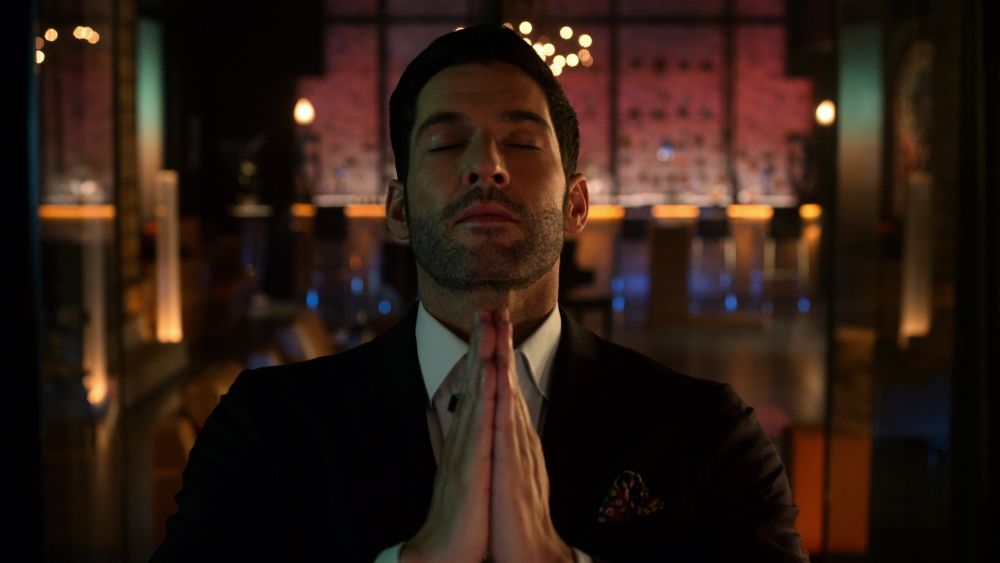 Part 2 of the fifth season of the phenomenally popular Netflix series will premiere on May 28, 2021. And that is not all; season 6, the final season, is also speculated to be released later this year. This means fans will have to bid goodbye to Lucifer Morningstar (Tom Ellis), the Devil himself, and the beautiful relationship he developed with human LAPD detective Chloe Decker (Lauren German). /
Watch all five seasons here.
You The psychological thriller follows the story of New York bookstore manager and serial killer Joe (Penn Badgley) whose sociopathic tendencies lead to disaster for those who get close to him. Based on a series of novels by Caroline Kepnes, there have been two successful seasons already and a third is set to air on Netflix later this year.
Watch it here.