Rooftop bars have been a stalwart feature of global cosmopolises since the literal dawn of high society living amid the glittering sheen of skyscraper spires. And that comes as no surprise, given how these Dionysian destinations are quite literally, a cut above their ground-level brethren in one singular aspect: unobstructed, panoramic views from dizzying, stratospheric heights.
By that measure, Malaysia's capital of Kuala Lumpur and the surrounding greater Klang Valley area offers a truly majestic backdrop that is privy only to establishments fortunate enough to operate amid the clouds. But with a new architectural marvel being announced every other month, one can expect rooftop bars in KL to be an increasingly common sight.
Whether if you're looking to forge new memories with that special someone, or need an excuse to play the role of an intrepid tourist in your own city, here is a list of our ten favourite rooftop bars in KL and the Klang Valley area that strike the ideal balance between chic-cred, choice cocktails, and covetable cityscapes.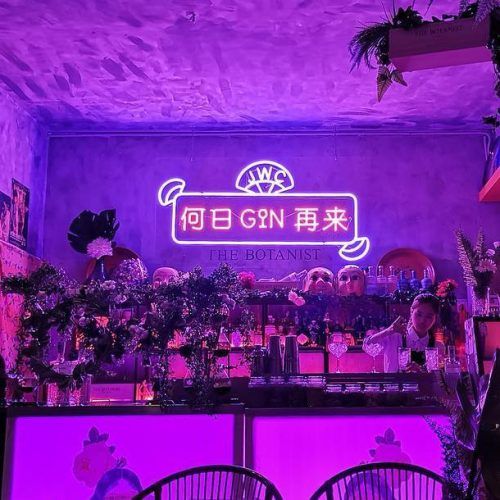 Top 10 rooftop bars in KL and the Klang Valley
Feature and hero image credits: @eqkualalumpur/Instagram, @vertigokualalumpur/Instagram
Jump To / Table of Contents 34 Menara KH, Jalan Sultan Ismail, Bukit Bintang, 50450, Wilayah Persekutuan Kuala Lumpur
If it's a relatively no-frills, all view experience you're looking for, then Helipad Bar is the place to be. Previously known as Heli Lounge Bar, they are perched on the 34th floor of Menara KH with a relatively simple setup consisting of a smattering of tables, chairs, and select pieces of designer furniture. And that is likely by intention, to avoid taking away from the novelty of enjoying a drink on a functioning helipad. Yes, during the day, this actually does cater to helicopters in the vicinity.
While patrons are safely ensconced within a buffer zone cordoned off by barriers, the adrenalin rush that comes from feeling the wind against your cheeks and hair is almost second-to-none, making Helipad Bar worthy of a look.
Operating hours: 5PM – 11:30PM (Opens daily) Traders Hotel Kuala Lumpur, Kuala Lumpur City Centre, 50088 Kuala Lumpur, Federal Territory of Kuala Lumpur
The name is pretty self-explanatory, we'd say. The appropriately named SkyBar can be found on the 33rd floor of Trader's Hotel Kuala Lumpur, along the city's bustling downtown district. But fear not of the clamour and smog of Kuala Lumpur's lethargic traffic, as this sophisticated hotspot beckons to let your hair down the very moment you step out from the elevator and into their interpretation of contemporary nonchalance.
Pick any one alcove encircling the length of SkyBar's centrepiece pool, and let your sights trail beyond the windows out into the vast expanse of a twinkling city against smooth beats, courtesy of their resident DJ on deck.
Operating hours: 5PM – 12AM (Sundays to Thursdays),  5PM – 1AM (Fridays to Saturdays) 25, Jalan Kamunting, Chow Kit, 50300 Kuala Lumpur, Wilayah Persekutuan Kuala Lumpur
One of the newer rooftop bars in KL to join the handful of names purveying drinks with a side of panoramas, Man Tao Bar is an effort established by Hotel Stripes, where it is housed on the 21st floor. Billed as a rooftop bar inspired by the homely intimacy of a 'neighbourhood nook', its close proximity to KL Tower translates to surprisingly bucolic vistas of the nearby Bukit Nanas Forest Reserve contrasting vividly against the city's urban aspirations from its terrace.
Named after a variety of Chinese buns, their cocktail menu serves up Tsingtao (Chinese beer) infused cocktails, alongside tapas with their namesake man tao buns to pair with. If it's a brief respite at dusk that you're looking for, this is the perfect place for it.
Operating hours: 3PM – 12AM (Opens daily)
04
Canopy Lounge Rooftop Bar 183, Jln Mayang, Kampung Baru, 50450 Kuala Lumpur, Wilayah Persekutuan Kuala Lumpur
UK-based Tiger Bay Bar bills itself as the 'Ultimate Shisha Experience' in London city. And they look to bring some of that flair to Kuala Lumpur with their very first international outpost, dubbed the Canopy Lounge Rooftop Bar. You'll be glad to know that the establishment easily lives up to its namesake, with real estate divvied up between a cocktail bar, lounge, and rooftop canopy terrace.
While it is by no means the highest rooftop bar on this list, it does offer some Instagram-worthy opportunities overlooking the Jalan Ampang stretch, including the obligatory KLCC cameo.
Operating hours: 3PM – 3AM (Opens daily) Petronas, Level 57, Menara 3, Persiaran KLCC, 50088 Kuala Lumpur
An established name in the realm of rooftop splendours, the crown jewel of The Marini's Group continues to remain a prime contender in this particular niche. And that's not by some fortuitous happenstance either, as Marini's on 57 is arguably one of the pioneering names to offer a triumvirate of delectations — restaurant, bar, and whiskey lounge, from 267m above sea level.
Seated on the 57th floor of Petronas Menara 3, patrons are rewarded with some of the most impressive vantages of the iconic Twin Towers in close proximity, looming overhead in striking clarity. Keep a close eye and you may even spot a few stars among your midst, what with their reputation for being a global celebrity address since opening their doors in 2012. Marini's still remains as one of the most coveted rooftop bars in KL for good reason.
Operating hours: 5PM – 2AM (Sundays to Thursdays), 5PM – 3AM (Fridays to Saturdays) 5, Jalan Stesen Sentral, Kuala Lumpur Sentral, 50470 Kuala Lumpur, Wilayah Persekutuan Kuala Lumpur
Sleek lines and tiki themes don't typically mesh, but the combination appears to have been able to find tasteful accord at Mai Bar in Aloft Kuala Lumpur Sentral. While the kitsch factor is apparent in their tiki motifs, the ambiance is tempered by an explosive and modern combination of Aloft's corporate colours in shades of pink, purple, and white across the bar's interior.
Step outside, and the same motif spills out across the open terrace with seats aplenty. Feeling like pulling a Tanya ala White Lotus Season 2? Then take up a chaise lounge by the infinity pool and watch as the city goes by underneath.
Operating hours: 2PM – 12AM (Opens daily) Level 38, Menara SuezCap 1, KL Gateway, Jalan Kerinchi, 59200 Kuala Lumpur
Fashion trendsetters, take note. Vogue Lounge in Menara Suezcap distills the most salient qualities of the very same Fashion Bible that they take their name after by translating them into a haven of peerless style, 38-floors above the city. A long hallway, almost evocative of a Parisian fashion week catwalk, leads you along walls lined with glossy portraitures not unlike those on magazine covers, before you arrive at the hostess' station. Cue the Devil Wears Prada references!
After briefly living the life of a supermodel-cum-editor-cum-assistant to Meryl Streep, head on over to their rooftop bar to take in the sights of midtown Petaling Jaya by the lilting glow of an evening sun with any of their designer cocktails. Pun intended.
Operating hours: 6PM – 1AM (Tuesdays to Fridays), 3PM – 5PM and 6:30PM –1AM (Saturdays), 3PM – 5PM and 6:30PM –11PM (Sundays). Closed on Mondays. 23-01, 1D, Vida, 1D, Jalan Ceylon, Bukit Ceylon, 50200 Kuala Lumpur
Yearning for a contemporary Spanish twist to your date-night itinerary? Then dare we suggest giving Cielo KL a gander? Merely a stone's throw away from the Changkat bar district, but effectively cosseted from the raucous din by the lush greenery of the Bukit Ceylon enclave, this latest brainchild by notable German restauranteur Werner Kuhn adds even more lustre to his already considerable repertoire under the Werner Group, which includes the likes of The Whiskey Bar and Dining in The Dark.
A two-storey affair housed on the 27th floor of VIDA office suites, the space is split into two zones; indoor and al-fresco affairs. This being a list of rooftop bars, we'd recommend taking your drinks out to their open terrace, where a wooden deck and retractable roof make for an almost completely open-air experience.
Operating hours: 6PM – 12AM (Sundays to Thursdays), 6PM – 1AM (Fridays to Saturdays) Level 51, EQ, Equatorial Plaza, Jln Sultan Ismail, 50250 Kuala Lumpur
The name Hotel Equatorial is a storied one among local city-folk in Kuala Lumpur, especially those hailing from a bygone generation characterised by Lim Seng minibuses and Rediffusion radio dramas. Founded in 1971, the hotel quickly rose to prominence as the de-facto location of choice for the who's who in the society circuit, both locally and globally.
As famous faces tend to do, it underwent an extensive overhaul in 2012 and was redeveloped and introduced under the name of EQ. Blue is a part of this new chapter that was introduced back in 2019, located on its 51st floor. 'Hidden' behind a false elevator door indicated by a discreet button marked with a martini glass, this 'speakeasy' is a sumptuous feast for the senses, with high gloss and sparkle to add dazzle to every evening.
The outdoor terrace on the other hand is personified by deep washes of mood lighting and lounge furniture, suffusing Park Avenue-levels of easy elegance come nightfall with arresting views of the city.
Operating hours: 5PM – 12AM (Opens daily)
10
Vertigo TOO @ Banyan Tree Level 60, Banyan Tree, 2, Jalan Conlay, Kuala Lumpur, 50450 Kuala Lumpur, Wilayah Persekutuan Kuala Lumpur
Rounding off our list, the ultimate rooftop bar experience comes from none other than Banyan Tree's Vertigo TOO. Previously best known for Vertigo bar, which is located just a floor below, the hotel has since decided to take things up by just a hair with the launch of a brand-new experience quite literally on the very top of the Banyan Tree building.
At 60 floors over the city, this is the tallest rooftop bar by a pretty considerable margin, with glass walls granting patrons truly unobstructed vistas of the surrounding Golden Triangle area. But do make a point of consulting the weather beforehand, as this parade will not withstand even the weakest of tropical rain showers. Unless of course, you're looking to recreate a romcom Kodak moment. Either way, this is definitely one of the best rooftop bars in KL you'll be able to land a seat in.
Operating hours: 6PM – 12AM (Opens daily)