The New Year always gets new energies, hopes and new beginnings, and most importantly lessons from the past. 2023 is little different from the previous new year as the planet Saturn will change house from earthy Capricorn to airy Aquarius both being its own signs and bring big changes for all the sun signs. No horoscope is good or bad, it is the sum total of our past deeds that defines our lives. Life is always a mixed bag. Brace yourself to make the best of all situations and accept what comes your way positively. On that note, let's check what January horoscope 2023 says for all the 12 zodiac signs.
The Sun changes the zodiac sign every month, and the sign it inhabits at the time of birth is your star sign, zodiac sign or sun sign. The placement of various planets at birth defines your personality, aptitude and occurrence of events in your life based on the transit of these planets. Here's taking a look at this month's horoscope. While Aries and Scorpion natives will remain financially secure, Aquarians need to be careful with their money matters. In the matters of the heart, Taureans and Pisceans will find themselves lucky. Romance is in the air for both the Taurus and Pisces natives.
Read your sun sign horoscope to know what the month of January 2023 has in store for you.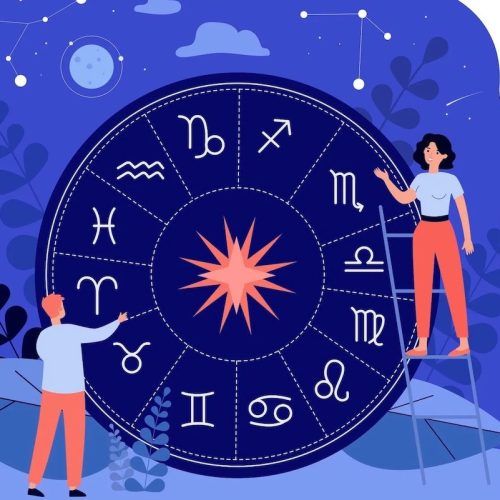 January horoscope 2023 for all the 12 zodiac signs
Jump To / Table of Contents
01
Aries January horoscope Career and Finance
January 2023 might start with certain anxieties and uncertainties, but as the month progresses things will settle down. Work wise there will be lots to do. Your colleagues might not be very cooperative. You need to plan your course of action and stay focused. A work trip abroad in the later part of the month will be successful. It's a good month financially, especially the later half.
Health
Aries natives will have to take care of their health. Eat healthy and concentrate on good exercise regime. Later in the month, you'd be healthy.
Relationships
Relationships will improve and any misunderstandings will get cleared. Keep your communication clear and make an effort to maintain cordiality. Try to spend some quality time with your loved ones.
02
Taurus January horoscope Career and finance
Lady luck favours you this month and, you will have a Midas touch. You will be happy and successful in your work. Expect out of turn promotion and increment. Your hard work of the past will yield rich dividends. Your bosses and seniors will be understanding and generous.
Health
Health will be good after mid of the month. You need to be careful about your eating habits and concentrate on exercising. You might suffer from insomnia. Eating healthy and exercising is advised.
Relationships
You might meet the partner of your choice this month. Good time to propose and get married. Couples will enjoy marital bliss. The stars foretell a romantic holiday together which will get couples closer. Relationships in general with family and friends will be good.
03
Gemini January horoscope Career and finance
Make sure you channelise your energies and innovative ideas in the right direction and success will come.  Be mindful of wasteful expenses and do not indulge in loose talk with colleagues. Investment of any kind should be postponed for some time. Towards end of the month, financial growth and profits are expected.
Health
Health will be status quo, towards end of the month you will feel positive and energetic.
Relationships 
Romance and love might take a back seat in the beginning of 2023, but as the month progresses there are chances of rekindling and renewing your liaison with an old flame. Do not try to impose any of your emotions on others. Family will be loving and supportive towards the end of the month.
04
Cancer January horoscope Career and finance
If you maintain your focus, you will be able to accomplish your goals. Some external circumstances may interfere with your responsibilities and stress you mentally. Try to maintain calm and focus. Your finances will remain good.
Health
You will feel very energetic. Try to direct all the energies towards workouts. Schedule some alone time to refresh and recharge yourself.
Relationships
It is not the best time for love and romance. Towards the middle of the month, some domestic problems may crop up – deal them with calm and peace. Do not overreact and give space in all relationships. Career and finance
Everything seems to be perfectly smooth in your work life. Colleagues will be cooperative, and opponents will not dare to confront you in any way. Do not be inflexible and egoistic but be open to new ideas and change. You are likely to get financial gains and a new source of income is most likely to start.
Health
Health will be good, but control the urge to overindulge. Keep your body hydrated and exercise. Exercising is a must for Leo sun sign people.
Relationships
You might find your soul mate this month. Be open and clear with your partner. After the first fortnight of the month, relationship with friends and family will be good. Any misunderstanding from the past will become clear. You will get happiness from children and youngsters in the family.
06
Virgo January horoscope Career and finance
The Virgo natives will have an average January 2023 career wise. The movement of the Sun in Aquarius will get success to students and strengthen position at the workplace. A positive attitude along with a good camaraderie with colleagues should be maintained at your workplace this month.
Health
You are prone to experiencing emotionally high moments this month. Keep your emotions under control and react less.
Relationships
Devote this month to develop and nourishing your spiritual energy. Do not let your thoughts wander too much and remain as far away from the turmoil as possible. Do not interfere too much in your partner's and family's affairs.
07
Libra January horoscope Career and finance
Work will be very challenging but you are up for the challenge. Your meticulous preparation and long hours of working will yield good results. You will win accolades for your work. A successful trip abroad is a big possibility.
Health
Make time for yourself and pay heed to mental health. Indulge in hobbies and relax your mind. Take extra care of yourself.
Relationships
You will be over emotional this month. Hence avoid arguments with loved ones, respect them, and do not say harsh words to hurt them. Respect their opinions and stay away from arguments.
08
Scorpio January horoscope Career and Finance
January 2023 is going to prove lucky for you. If you are planning on taking risks while investing, go for it. This month will be full of opportunities. You can be more daring. The risks you take in your career will pay off. You are likely to be successful in your endeavours. Financial gains and increase in income are indicated.
Health
This month's planetary alignment will keep very energetic. It is advised to spend your energy positively and take the opportunity to indulge in physical activities.
Relationships
You will have good bonding with your partner. Try to be open and frank. It's a good time for marriage and romance. Relationship with the family and friends will flourish and blossom.
09
Sagittarius January horoscope Career and finance
You may find yourself in a few tough situations this month. Try to be more creative and open minded regarding your work. Try to work harmoniously with your colleagues. Do not be egoistic and be open to change.
Health
January 2023 will not start too well for you wherein health is concerned. Small ailments like cold and cough might bother you but as the month progresses, you will feel energetic and healthy.
Relationships
You will be very sentimental and emotional this month. Be honest in your relationship. Hiding your emotions is never a good option. You might act strangely and be awkward in handling your family and friends; therefore it is advised to keep calm.
10
Capricorn January horoscope Career and finance
Bear no ill will towards anybody at your place of work. You might have some misunderstanding with your colleagues, and might be unduly stressed. Use your interpersonal skills to achieve a harmonious work environment. Stay calm and controlled. As the month progresses, things will settle down.
Health
Try not to let stress affect your health. Exercising, eating healthy, and keeping yourself well hydrated is the mantra for the month.
Relationships
Some ups and downs are expected with your partner this month. Believe in yourself to do the right thing and stay calm. Do not use harsh and abusive words. Engage yourself in activities to keep your mind occupied and relaxed. Family will be supportive.
11
Aquarius January horoscope Career and finance
The combination of patience and consistency is the key to success. You must realise this and work progressively for the best. This is the time for action. Have faith in yourself and you will achieve success. Be careful regarding your finances as this month might not be favourable concerning money matters.
Health
Take special care of your well-being this month. A health check-up might be a good idea. Take special care to avoid all kind of accidents.
Relationships
You might not enjoy the best of relationship with your partner this month. Misunderstandings might dampen your love life. Speak to your partner and spend some time together to increase the communication and bonding. Try to interact more with family and friends.
12
Pisces January horoscope Career and finance
January 2023 will be good career wise for Pisceans. You will be in the lime light and in the good books of your bosses. Your colleagues will look up to you and be cooperative. Financial gains and increments are expected. You will need to control your expenses.
Health
The health of the Pisces natives will be good early this month, but towards the end, some stomach-related issues might bother you. Eat healthy and maintain a healthy exercise regime.
Relationship
This month will be favourable for love and romance. Singles might even tie the knot. Family events and functions will keep you in high spirits.