One of the most recommended genres currently is K-dramas. Everyone is hooked onto Korean shows and films that explore different genres in the best way possible. However, if you have exhausted all your K-drama options, we have an amazing alternative for these cinematic masterpieces. Romantic Thai dramas are equally enthralling to watch. The best Thai dramas take you on an emotional and addictive ride, giving you a great watching experience.
Thai dramas are the next big thing, and if you are already a fan of Asian shows, you'd probably like these shows as well. Much like their Korean counterparts, the best shows in this language have been created to offer stimulating storylines about life, tragedies, and love. These shows have amazing casts with stars who are very good at portraying their roles. The brownie point – they are particularly attractive, which certainly adds another reason as to why you should be watching these shows.
Thai dramas have been around for quite some time now, but have been explored very rarely by cinema lovers. Hence, now is your chance to be introduced to these shows that stand out from the rest. From tear-jerking romances to emotional roller coasters, here are the best Thai romantic dramas to watch.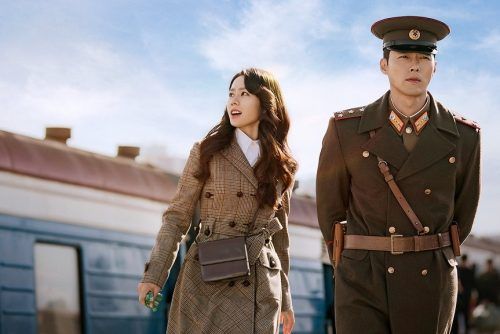 10 best romantic Thai dramas to add to your list
Jump To / Table of Contents
01
Payakorn Sorn Ruk/Prophecy of Love Directed by: Paajaew Yuthana Lorphanpaibul
Cast: James Jirayu Tangsrisuk, Ice Preechaya Pongthananikorn, Mai Warit Sirisantana, Pear Pitchapa Phanthumchinda
Release date: 15 June 2020
No. of episodes: 13 episodes
Synopsis: The story revolves around a girl named Rosita, who gets into an accident and gains special powers. Rosita is able to tell people's fortune by touching a rose. She gets really famous and makes an odd prediction about a famous actor named Theeruth. This creates a difference between Rosita and Theeruth. However, a certain incident brings the two close and they end up falling in love with each other. Directed by: Nine Sarasawadee Wongsompetch
Cast: Pon Nawasch Phupantachsee, Bua Nalinthip Sakulongumpai, Krating Khunnarong Pratesrat, Mint Ranchrawee Uakoolwarawat
Release date: 24 June 2021
No. of episodes: 15 episodes
Synopsis: Praomook is one of the most entertaining romantic Thai dramas to watch. The story revolves around Praomook and Chalantorn, who get temporarily married to help Chalantorn's luck. Since Chalantorn considers Praomook as an ugly duckling, he decides to leave her while she falls in love with him. The two meet years later and Chalantorn's parents suggest that he gets married to Praomook again so that he is safe. The duo agrees but this time their feelings have changed a lot. Directed by: Chudapa Chantakett
Cast: Mark Prin Suparat, Kao Supassara Thanachart, Punjan Prama Imanothai, Lingling Sirilak Kwong
Release date: 19 November 2020
No. of episodes: 19 episodes
Synopsis: The story follows the life of Paeng, who leads a very tragic life after her parents die. To be able to survive, she has to live with Artit in his house. But her careless behaviour costs Artit his life. This makes him kick her out of her house for good. The duo meets each other after six years and Artit has still not forgiven her. The story of how they fall in love eventually is what makes this one of the best romantic Thai dramas. Directed by: Thanapol Phangdee
Cast: Mik Thongraya, Min Pechaya Wattanamontree, Aun Akrabhaj Bunnag, Jaibua Hidding
Release date: 28 January 2020
No. of episodes: 17 episodes
Synopsis: The story revolves around Lisa, who is a rich, spoiled girl. She returns home to realise that her parents are in debt. She starts working to pay the debt when Don's mother helps her with some money as well. Impressed by Lisa, Don's mother proposes that Lisa and Don get married. The two oppose the idea but when Don's mother fakes being ill, the two pretend to be married for six months. Directed by: Anuwat Thanomrod
Cast: Porshe Saran Sirilak, Now Tisanart Sornsuek, Tyfoon Takphet Lekawijit, Ploy Randapa Muntalumpa
Release date: 21 January 2021
No. of episodes: 18 episodes
Synopsis: After being cheated on by her boyfriend Pong, Bow decides to drink her pain away. Her boyfriend has impregnated Vithinee and is now going to marry her. Bow drinks to forget this fact to the extent that she lands herself in trouble. She is, however, saved by Vithinee's elder brother Tos. Tos knows how much Bow hates Vithinee so to keep his sister safe, Tos decides to marry Bow. Directed by: Nine Sarasawadee Wongsompetch
Cast: Aom Sushar Manaying, Mike Angelo, Utt Uttsada Panichkul, Janesuda Parnto
Release date: 11 January 2014
No. of episodes: 20 episodes
Synopsis: The story revolves around Aom, who gets swindled out of her house during her trip to Korea. Her house gets sold to Mike and in an attempt to get her house back, she enters a contract marriage with him. What starts out as a contract relationship becomes personal as they start to fall for each other. Directed by: Aew Ampaiporn Jitmaingong
Cast: Mark Prin Suparat, Mew Nittha Jirayungyurn, Koy Rachwin Wongviriya, Nut Devahastin Na Ayutthaya, Yong Armchair
Release date: 21 April 2020
No. of episodes: 15 episodes
Synopsis: Thien is a promiscuous man and he lands himself in trouble when he sleeps with the wife of a dangerous criminal. Thien's mother suggests that he gets married to Muey, who has a crush on him since childhood, to protect himself. Muey agrees to marry Thien for his own safety and to get close to him.
08
Marn Bang Jai/Hearts in Veil Directed by: Ott Teerasak Promngern
Cast: Weir Sukollawat Kanarot, Mook Mookda Narinrak, Euro Yotsawat Tawapee, Noey Paphada Klinsuman
Release date: 26 May 2020
No. of episodes: 15 episodes
Synopsis: Taen, a rich widower with a daughter, accidentally kills Fuenglada's father in a car accident. Feunglada's stepmother, Soithong, decides to then use her as a mode of payment for the debts she owes to a wicked man. In order to save Fuenglada from this, Taen offers to marry her.
09
Rahut Rissaya/Jealousy Code Directed by: Lon Kanawat Sungvaributr
Cast: Bank Artit Tangwiboonpanit, Pinkploy Paparwadee Chansamorn, Great Sapol Assawamunkong, Praew Chermawee Suwanpanuchoke
Release date: 16 November 2020
No. of episodes: 17 episodes
Synopsis: Pa, the heiress of a billionaire family, loses everything after her parents are murdered. All her wealth is taken by her aunt and cousin and all Pa seeks now is revenge. To teach her cousin a lesson, she decides to blackmail Siwa Ratthanarith, the man her cousin is in love with. However, over time the two fall in love with each other. Directed by: Kaew Chatkaew Susiwa
Cast: JJ Krissanapoom Pibulsonggram, Jane Ramida Jiranorraphat, Pop Pongkool Suebsung, Joke Gornpop Janjaroen
Release date: 18 January 2020
No. of episodes: 12 episodes
Synopsis: The story revolves around Lin, who has given up on life. She is almost on the verge of suicide when she is interrupted by a loud crash. She notices an angel known as Michael Lansaladon in her room. He has fallen from heaven to save Lin from her troubled life.
Frequently Asked Questions (FAQs)
Question: Which is the most romantic Thai drama?
Answer: Full House is considered to be the most romantic Thai drama.
Question: Which Thai drama has most kisses?
Answer: Wong Wien Hua Jai has a few amazing kissing scenes.
Question: What is the best Thai drama?
Answer: F4 Thailand: Boys Over Flowers, Girl from Nowhere, Hua Jua Sila are some of the best Thai dramas to watch.
Question: Is Hua Jai Sila worth watching?
Answer: Yes, it is a very interesting show.
Question: What are Thai dramas famous for?
Answer: Thai dramas are popular for their melodramatic plots. Also, most of them are adapted from novels.