Comfort Republic offers men comfortable underwear options that doesn't chafe, with sizes starting from S all the way to 6XL!
You read that right, the brand which is designed locally wants you to feel good and comfortable with your own body, whether you're skinny or thicc. And, what's not to love when you see the local flavour Comfort Republic injects into the brand, by naming its colour options after things Malaysians are familiar with – like Kopi 'O' for its black boxers, and Tandoori Red, which is self-explanatory. Plus, more recently, Comfort Republic launched its Malaysia collection, which features two designs, one of our favourite breakfast and another of the king and queen of fruits.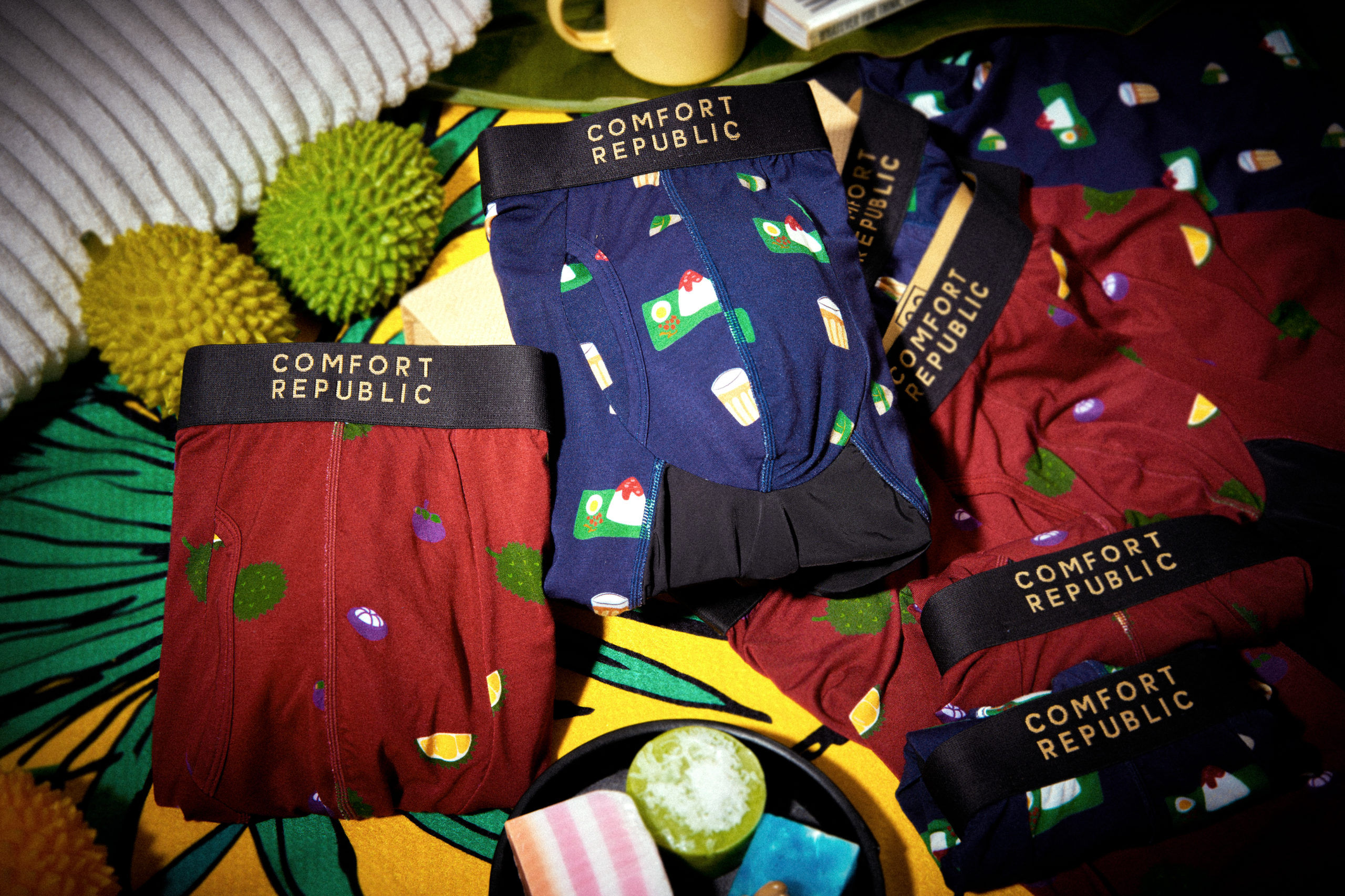 Design isn't their only allure however, functionality is another reason you'd want to envelop your junk in a pair of their underwear. First off, the anti-bacterial material of choice is bamboo, that is paired with a lycra panel for your inner thighs to avoid chaffing. It's waistband, termed the Love Handler, is designed for a snug and comfy fit, while they also promise to make it feel like your "Ballz (are) in Cloudz."
We spoke to Serene Ho, Comfort Republic's brand manager to find out more about the brand:
1. Give us some background info on Comfort Republic.
Comfort Republic launched in 2020 and is on a mission to solve mens' struggle in finding the perfect pair of high-quality underwear that fits well, looks good and is anti-chafe. And, we value body diversity and inclusion; we want our customers to feel accepted for who they are by providing them with an avenue to truly express themselves. We recognise that everyone's body is built differently, and thus, requires a certain size and fit to allow our customers to feel confident in their own skin.
For a long time, the stereotypical chiseled men is seen as models on billboards, brand commercials, magazines, and storefront displays. The presence of such ideals complicates the reality of what we see daily. This is why Comfort Republic aspires to make men of any shape and size feel equal, stay true to their bodies, and be confident by wearing quality underwear that fits perfectly to their body sizes.
2. What is the brand looking to achieve?
Comfort Republic is still pretty young, we are just above the 1-year mark. Our main goal is to make Comfort Republic the top choice for men's underwear, and for men to be aware that we're able to solve most of their problems with our anti-chafing and diverse size offerings.
On top of that, we want to take the lead to promote body positivity in the Malaysian men's apparel industry. Our product images are shot with 'unconventional' male models with dad bods and such. Among people we have worked with in the past which include Papi Zak, Ziaf Mihar, Terry Ong, Hairul Hellas, Maxwell Mark, and Joseph Yew, all of whom do not fall under one specific body type.
View this post on Instagram
3. What differentiates Comfort Republic to other brands in the market?
First of all – we offer a diverse range of sizes, from size S, all the way to 6XL. Most men's undergarment brands usually offer a standard range of sizes from an XS to XL, anything beyond is considered as plus size. And 50% of our customers actually fall under the Big & Tall category and we are glad that they are able to find the right fit at Comfort Republic!
Our undergarments are also made with sustainable bamboo that is not only anti-odour, antibacterial, and moisture-wicking, it is also proven to be suitable for men with sensitive skin. Not to mention it is more cooling, comfortable, and it has a lower environmental impact compared to other kinds of fibres. It is wildly soft and its material will not irritate your skin, plus being 40% more absorbent than even the finest organic cotton, so Comfort Republic will keep you dry and comfortable throughout the day.
View this post on Instagram
Then while developing our product, we realised that a major pain point of customers was the problem of chafing on the thigh area. Therefore, one of our main features is the anti-chafing lycra panels positioned around the inner thighs, which helps end that irritation.
All our underwear are proudly designed in Malaysia and we work closely with our R&D hub for the production. Comfort Republic is currently available in Malaysia, United States, Canada, and soon to reach Europe as well.
4. What is the company proud of so far?
We have achieved some remarkable milestones despite the pandemic. To date, we have sold to more than 20,000 men, and we have received many comments from our customers that our underwear has been life-changing and helped them to regain confidence.
We also ran a couple of campaigns to promote body positivity and men's health, and most recently, we partnered with Papi Zak as our ambassador. Then locally, we also launched on Shopee Mall in May to bring the best deals to our Malaysian customers.
5. What are some of the future plans in store for Comfort Republic?
Since we received good responses from our debut locally, we are currently adding newer colours and prints to our existing collection. We also plan to continue to develop our existing men's range by venturing into other specialty undergarments. And we have also received queries from our customers' partners on a women's range from Comfort Republic, which is definitely something we have planned out in our product roadmap! After all, comfortable underwear should be for everyone!
We also plan to continue our global expansion through partnerships with different players across the regions, aiming to be a globally renowned underwear brand.
For more info and to purchase Comfort Republic underwear, visit its website.
or shop here:
written by.
Aaron Pereira
Digital Editor
This fine chocolate man, (that is a connoisseur of fine chocolates) prefers real-life conversations and living off-screen, but is slowly and surely embracing the digital, search engine optimised life.