Malaysians really love their food, and eagerly await seasonal hotel buffets – with buka puasa offerings being among the most highly anticipated ones. Imagine having all your favourite dishes in one place, as you break fast with loved ones. Sadly, this year is slightly different, with social distancing getting in the way, as we're advised not to leave our homes unnecessarily, due to the corona virus pandemic. Thankfully however, these hotels are able to still serve its mouthwatering delicacies, which you and your family get to enjoy the food in the comforts of your own home.
So stay safe and enjoy your favourite rendang, roast lamb and even kuih-muih via delivery or self-pickup this Ramadan season. The Ritz-Carlton KL is putting on a kampung feast for you this Ramadan with a delectable culinary journey featuring quintessential kampung specialties that reminisce generational recipes from the heydays. Enjoy everything from your favourite Nasi Bukhari Ayam Tradisional and Ikan Bakar Asam Pedas to go with a bouquet of herbaceous ulam leaves. Finish off with a selection of traditional cakes to satisfy your sweet tooth.
Available for delivery only. Order here. Nipah at EQ has prepared a festive menu for you to experience the timeless heritage of Malaysian flavours in the comfort of home. There are four different sets of individual meals priced at only RM35 each, with the likes of crowd favourites like briyani gam Johor as well as Hainanese chicken rice. If you have a big family at home, there's also a family set that serves up to six persons. The Citarasa Nipah Family Set comes with succulent Kambing Bakar Ala Nipah, Ayam Golek with percik sauce, as well as Ayam Kurma Berkentang.
Available for pick-up and delivery. Order here. Four Seasons launches its new delivery and takeaway services in time for the Ramadan month with comforting festive menus to for the holy season. Chef Muhd Mujtahid Lukman has prepared classic dishes including ayam masak merah, beef short rib rendang and udang sambal petai as part of a four-course set menu.
Available for pick-up (at Concierge counter on Level G) and delivery (within 10km of the hotel). Order here. Enjoy the beautiful spread of 'Santapan Muhibbah' in the comfort of your home delivered from Le Meridien's Latest Recipe to your doorstep. There are six curated set menus from RM50 nett each to choose from with each set comprising appetisers, mains and desserts. Some highlights include bubur lambuk (Malay spiced rice porridge), ghee rice with rose water, saffron rice, specialty biryani rice, lamb vindaloo, beed rending with coconut flakes and more. These sets also come with Tunisian dates to complete your buka puasa meal. Each order permits you a RM 50 voucher for future sit-in bookings at all restaurants in Le Meridien KL.
Available for pick-up and delivery. Order here. 5. The Majestic Hotel Kuala Lumpur
Stay home and enjoy your favourite classic Malay recipes from around Malaysia prepared specially from the Contango Kitchen delivered to your doorstep. Whether you're staying by yourself or with the company of the entire family, there are three festive menu to choose from. Sample a bevy of starters like Tunisian dates, fresh ulams, fiery sambal belacan, salted egg and chicken or beef satay. As for mains, there's a selection of rice dishes and traditional dishes like Udang Masak Lemak Tempoyak, Sambal Tumis Udang, Sotong Goreng Kunyit, and more. And a must-have for dessert is the Bubur Kacang Durian that's perfect for durian lovers out there.
Available for delivery only. Order here. The festive Nostalgic Feast by Dato' Chef Hj Ismail Ahmad at Kwee Zeen may have been cancelled but the hotel's specialty menu is now made available via takeaway for the fasting month. Enjoy popular dishes from various states for buka puasa, alongside sweet treats like Malay kuih-muih and dates.
Available for pick-up only. Call 03-27206688 to order. Whether it's for breaking fast or sahur, there are various set menus to choose from at InterContinental Kuala Lumpur. Variety is the keyword, with items that you'd normally get from the Ramadhan bazaars — murtabak, ayam bakar, roti john, sup kawah gear box, ketupat palas, lemang and rendang. There's also the meal box set that serves one — perfect for those living alone. Kindly note that while orders can be made from 9.00am till 7.00pm, collection and delivery will take place from 4.00pm to 7.00pm.
Available for pick-up and delivery. Order here. Indulge in authentic Malay cuisine and specialties with the Stripes Festive Delivery comprising three festive menu that will surely be satisfying for buka puasa. There are plenty of vegetable dishes here, including the Pucuk Ubi Masak Cili Padi, Sayur Tumis Belacan, and Pajeri Terung. Complimentary delivery is also available for orders of four persons and more.
Available for delivery only. Order here. TRACE's special Iftar menu "Selera Malaysia" encapsulates iconic Malaysian favourites in three takeaway menu options. Local Ramadan dishes like Daging Bakar Air Asam & Chili Kicap, Ayam Golek Berempah, Daging Salai Masak Lemak Chili api and more are on rotation each day — so make your reservations early to avoid being denied your preferred dishes.
Available for pick-up and delivery (complimentary if within 5km of the hotel with minimum spend.) Order here. Experience the enticing array of an Indonesian-themed menu courtesy of the chefs behind Nook at Aloft KL Sentral. From Daging Sapi Gongso to Kambing Bakar Bumbu and Ayam Bakar Ingkung, these eclectic island-style dishes are best enjoyed with warm white rice. There are several sets to choose from, with each set serving up to five pax.
Available for pick-up and delivery (complimentary if within 1km of the hotel.) Call 03-27231188 to order. Hilton Hotels in Malaysia including Hilton Kuala Lumpur will be introducing the 'Chup! Makan Dulu' take-home menu for you to enjoy all-time favourite dishes in the comfort of your home. There's a wide variety of dishes to indulge in, from the nourishing Bubuk Lambuk Pak Pander — a porridge of chicken with cumin, ginger, lemongrass, coconut milk and fried shallots, to umami Daging Masak Hitam Berempah — braised beef in soya sauce, star anise, cinnamon, cumin, fennel and poppy seed, treat yourself to a delicious feast to cure the blues of self-isolation. If you're out of Klang Valley, check out any Hilton Hotels near you for similar deals.
Available for pick-up and delivery. Order here. 12. Sheraton Petaling Jaya Hotel
Sheraton PJ recreate the vibrant dishes from your favourite Ramadan Bazaar with an exciting spread comprising four types of set menus and ala carte items. Enjoy both sweet, savoury and more as you pick from an extensive list of local favourites for buka puasa.
Available for pick-up and delivery. Call 03-76228888 to order. Enjoy the flavours of Fiesta Rasa Muhibah in the comfort of your home with must-have dishes that fit every palate. Each Set Rasa Muhibah consists of signature dishes like Sup Daging Berempah, Satay Nusantara, Kambing Bakar and Pengat Durian. You can also enjoy the additional sides of roti john, ulam leaves, pickles, and more.
Available for pick-up and delivery. Order here. Journey through the 14 states of Malaysia at home with 14 signature dishes such as Pahang "Kerabu Daging Daun Kadok", Johor "Otak-Otak Jeruk Mangga", Perak "Rendang Tok", Melaka "Simpang Empat Asam Pedas", Kelantan "Pucuk Paku Tumis Udang Harimau" and more. There are two sets available — one for four persons and the other for eight persons, which would be ideal for large households.
Available for pick-up and delivery. Order here. Discover Marriott Putrajaya's signature dishes sent straight to your doorstep, with the likes of aromatic Briyani Rice served with charcoal-grilled Ayam and Kambing Golek, Itik Salai Lemak Cili api, Nasi Kukus Ayam Berempah and more. The takeaway menu starts from RM19 nett, and it is a bargain not to be missed especially if you're staying in the Putrajaya vicinity.
Available for pick-up and delivery. Order here.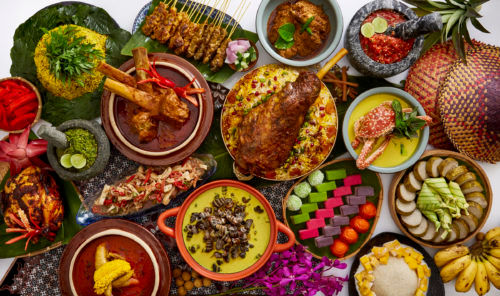 Enjoy Mandarin Oriental Ramadan delights in the comfort of home with three specialty sets catering to two persons to a bulk order for 12 persons (if you're planning to show some love to the front-liners). These three sets — Kompang, Rebana and Gamelan — comprise a tantalising array of classic dishes and traditional recipes that will surely tickle your tastebuds. From meats to seafood, there are plenty to enjoy here. While you're at it, browse through Hari Raya goodies and other offerings from Mandarin Oriental Shop for gifting during the festivity.
Available for pick-up and delivery. Order here. Stay home and enjoy Tok Wan's Traditional Recipes delivered to your doorstep just in time for Iftar. AC Hotel Kuala Lumpur is taking it up a notch with delightful recipes that entice and delight. You can have these complete set menus for buka puasa or keep them for early morning sahur.
Available for delivery only. Order here. Pullman KLCC has prepared a variety of delicious takeaway Kampung Set for two persons and Sedap Set for three persons — perfect for you and your family to break fast with. You can also add on additional portions for only RM45 per person. Like any restaurant menu, you can choose from a list of dishes according to your liking to curate the perfect menu for Iftar. There's also chilled and packed food available for takeaway so that you can have them for sahur.
Available for pick-up and delivery. Order here. Shangri-La Hotel Kuala Lumpur is offering its delivery and takeaway services especially for the month of Ramadan with a bevy of delicious Iftar sets comprising traditional dishes and sweet treats. There are three sets to choose from, depending on how lavish you want your buka puasa meal for the day to be, with a minimum purchase of three persons per order. There are also festive hampers as well to peruse for gifting.
Available for delivery and pick-up. Order here. Chef Hasbullah and his kitchen team are sending a little comfort to your home with a spread of traditional Malay cuisine for the sacred month of fasting. He has created a special menu featuring some of his personal favourites including four set meals comprising Nasi Tomato with Ayam Masak Merah, Nasi Kerabu with Ayam Goreng Berempah, Kari Ikan Tenggiri, as well as Kari Ayam Nyonya. For a minimum spend, you can also enjoy free delivery within 5km radius (minimum spend of RM60) and within 10km (minimum spend of RM80). There are also other ala carte dishes like Japanese food, vegan items and gluten free options to add on to your order.
Available for pick-up and deliver. Order here. Let's Buka Puasa with Concorde Hotel Kuala Lumpur's takeaway or delivery sets and ala carte dishes that are specially prepared by Melting Pot's culinary team. There's a different set menu every week starting with the Set Briyani Ayam from 4 to 10 May, Set Nasi Salai from 11 to 17 May, and Set Nasi Tomato from 18 to 23 May. Each set comes with delicious generational dishes as well as a variety of sides.
Available for pick-up. Order here.
This story first appeared on Lifestyle Asia KL.