For your at-home 2021 Christmas feast, consider delivery or takeaway.
Are you planning for an office 2021 Christmas feast? Make your life so much easier by rejecting potlucks and consenting to delivery. With numerous hotels and restaurants in KL offering curated month-long festive menus for intimate or large groups, you will find something that caters to your preference.
For families who wish to spend the sacred day at home in the cherished company of loved ones, you can also skip the chores of grocery shopping, preparing the feast and washing up by simply opting for Christmas dinner delivery. Choices abound with traditional roast poultry and pudding to contemporary dishes with inspiration drawn from anywhere in the world. Make up your mind swiftly, however, as some businesses require orders be made several days prior to the date of delivery.
If you fancy doubling up as Santa and delivering the meal yourself, some of these places encourage takeaway.
Christmas feast takeaway and delivery guide 2021:
Jump To / Table of Contents
01
Botanica+Co, Alila Bangsar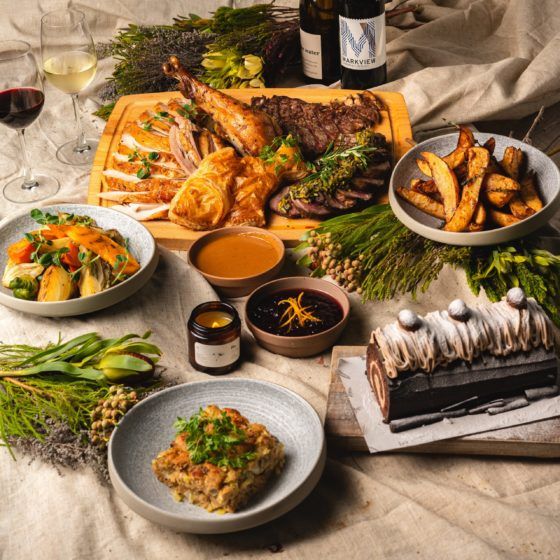 Botanica+Co is making Christmas extra-special with hearty dishes ready for self-collect.
Using American turkey, brined for 24 hours and marinated with a superb blend of Christmas spices and sage butter prior to roasting to perfection, the Whole Turkey Roast Set is priced at RM780. Sufficient to feed 7-8 pax, the poultry weighs 9kg pre-cook and requires 48 hours of advance order.
On the other hand, the Bo+Co Christmas Roast Set is priced at RM590. Serving 5-6 pax, it features festive favourites: Roasted USA turkey (half), T-bone roast beef, salmon and leek pie, and lamb roulade with salsa verde. Order 48 hours in advance.
Both set are delivered with sides and sauces. They include Pan-Roasted Vegetables in Dijon Butter (Brussels sprouts, pumpkin, fennel, onion, and carrot), Baked Idaho Potato Wedges in Garlic Herbed Butter,  Chestnut and Chicken Sausage Stuffing, Turkey Gravy, and Cranberry Sauce.
Order taking ends 21 December 2021.
02
Oro Café, Hilton Kuala Lumpur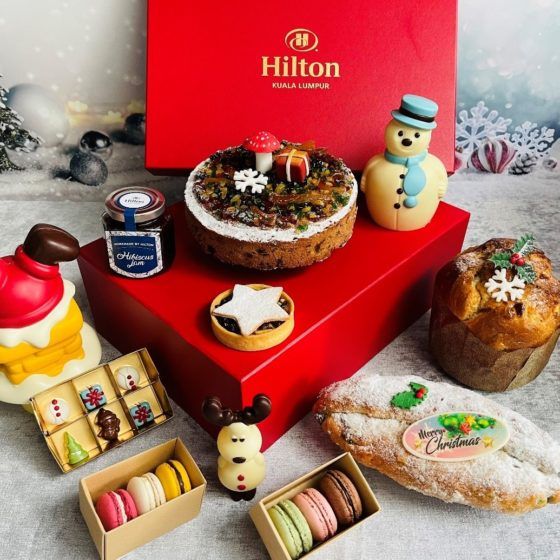 Available in 3 selections, (turkey, beef or lamb) each festive box comprises generous servings of Festive Salads, Vegetables and Trimmings, and Desserts from Hilton's Patisserie. In addition, you will discover a range of festive hampers, goodies box and sweet treats with over 30 à la carte items to choose from, starting from RM5 nett. Highlights include Christmas Fruitcake, Christmas-inspired Praline, Christmas Mince Pie and Stollen Bread, Modern Festive Banoffee Cake, Modern Festive Banoffee Log Cake, Modern Festive Berries Classico Cake and Traditional Yule Log Cake. 
Santa's Turkey Box: Brined Whole Turkey Slow Roasted with Honey Orange Glaze (4 to 5kg), RM500 nett 
Santa's Beef Box: Wholegrain Mustard Marinated Slow Roasted Grass Fed Beef Prime Rib (1.5kg), RM450 nett 
Santa's Australian Lamb Box: Italian Style Slow Braised Lamb Shoulder (2kg), RM380 nett 
Sweet Boxes: Festive Platinum Box, RM480 nett; Festive Gold Box, RM280 nett; 
Festive Cakes: Dine-in or takeaway, 25 November 2021-2 January 2022, from RM26 nett
Call 03-2264 2264
03
Maria's Signature KLCC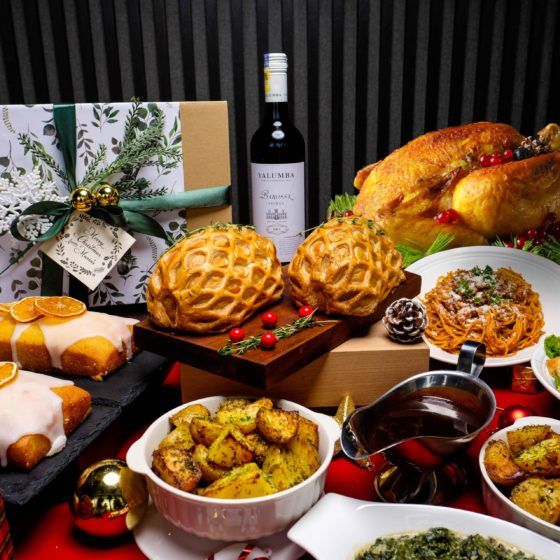 Christmas delivery, a la carte, 25 November 2021-2 January 2022:
Priced at RM230+ (2 pax) and at RM390+ (4 pax), Maria's succulent Beef Wellington is prepared from corn-fed Angus short ribs cooked in excess of 48 hours and served in truffle mushroom duxelles and butter puff pastry. Get into the spirit of Christmas by ordering the whole roast turkey at RM390+ (small, 3.5-4.5kg) and RM490+ (large, 5-6kg). It is served with homemade chestnut stuffing, classic turkey gravy and cranberry compote. 
Christmas home delivery set, 25 November 2021-2 January 2022, order one week in advance:
Available in a set of 5 pax (RM620+) and another of 10-12 pax (RM1,180+), start off with a classic Caesar salad before the main course selection of either the Christmas Whole Roast Turkey or Beef Wellington. The larger set includes both main courses. Each set comes with Spaghetti Bolognese (chicken or beef) with meat sauce and sides of roasted potatoes and creamed spinach. End your perfect Christmas meal on a sweet note with a fresh lemon loaf with icing glaze.
Call 010-902 0386
04
Four Points by Sheraton Kuala Lumpur, Chinatown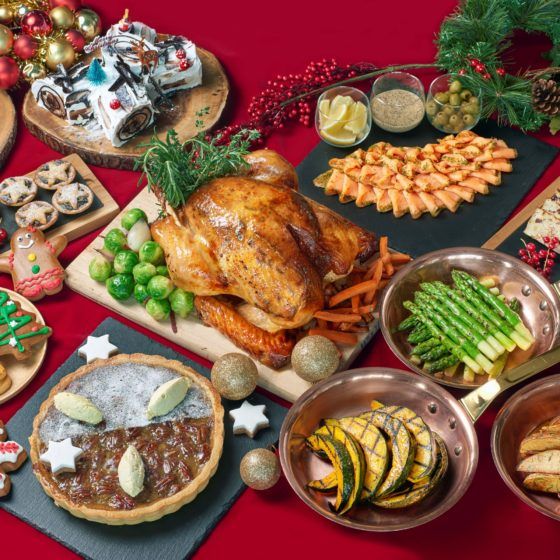 Tuck into the Christmas feast with an Asian twist thanks to Quan's Kitchen's Roasted in Chinatown Turkey Takeaway (RM478 for 5kg). This year, the succulent Chinese BBQ Spiced Tom Turkey is brined for 24 hours with preserved mandarin peel and roasted to an explosion of tangy sweetness. The set is complete with Garlic Sesame Potatoes, Wok Fried Broccolini, Hoisin Roasted Brussel Sprouts along with Pumpkin and Chestnut Stuffing, and a 500g Mandarin and Cherry Almond Cake.
Available 1-25 December 2021
Call 012-507 3327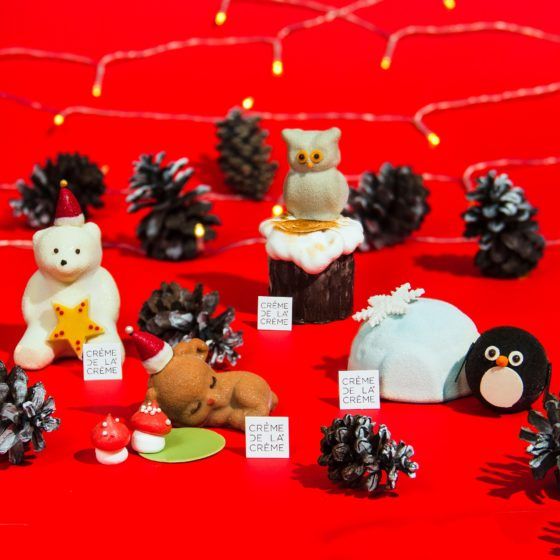 Arguably the top ice cream purveyor in town, Crème De La Crème heralds in a seasonal offering with some of its best flavours moulded into fantastical animals. Priced at RM128 for a box of 4, it includes a metallic cooler bag. Collection starts November 25. Call: 017-394 0735
Boo: Coffee ice cream, Matcha ice cream, Mascarpone & Coffee spice crumble
Star: Brown butter ice cream, Salted caramel ice cream, Butterscotch, Candied pecan & Almond crumble
Igloo: Chocolate ice cream, Raspberry sorbet, Chocolate biscuit sponge, Raspberry jam & Chocolate dip
Penguin: Mint ice cream, Dark chocolate ganache & Dark chocolate dip
PIN: Madagascar vanilla ice cream swirled with homemade Orange crumble & Orange rosemary sorbet
06
The RuMa Hotel and Residences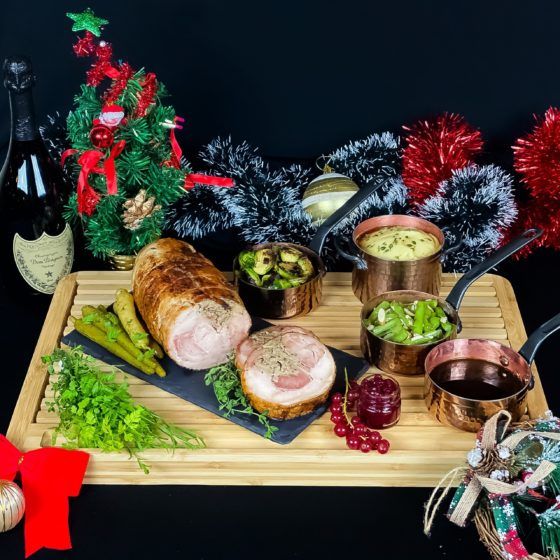 Planning for a Christmas party at home? Why not drop by the aptly named RuMa for some takeaway? Slow roasted to perfection, the whole boneless turkey is complemented with healthy sides of baby carrots, Brussel sprouts and roast mashed potato. After the savoury indulgence, comes the Christmas pudding prepared in the most traditional way for gatherers to end the feast in the sweetest of manners.
Priced at RM548+, the Slow Roasted Whole Boneless Turkey is available in a limited quantity. Reserve at least 48 hours prior to picking up.
Call 03-2778 0888
07
The Patisserie, The Ritz-Carlton, Kuala Lumpur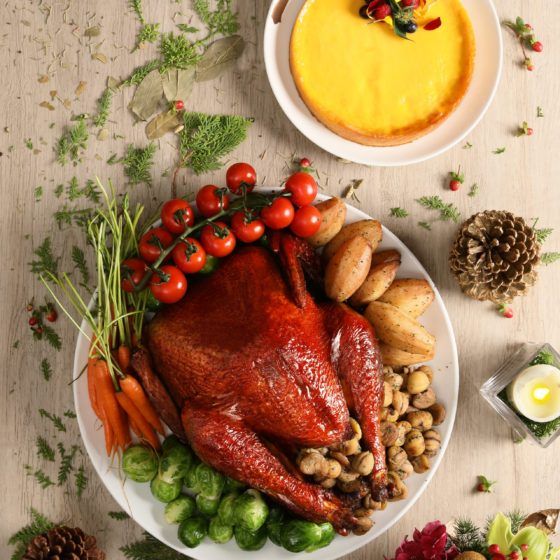 Treat yourself to a Classic Roast Turkey in the comfort of your own home with Ritz-Carlton's festive Turkey Delight Home Delivery & Takeaway Service, which comes with delicious homemade accompaniments.
1-31 December 2021, RM500 per package
Call 018-306 3188
(Picture showing Christmas Brunch at The Cobalt Room)
08
Sheraton Petaling Jaya Hotel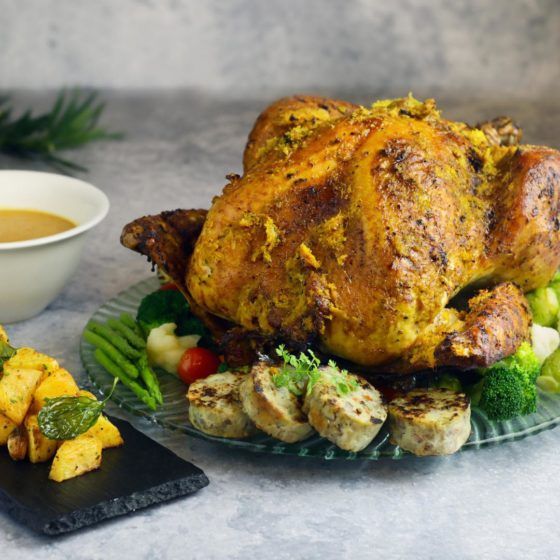 Have you been wishing for a Christmas roast turkey of a different sort? Sheraton is answering your prayer with one marinated in spices and slow roasted for 3 hours. The poultry with a Malaysian spin is served with delectable sides including roast potatoes, buttered vegetables, brussel sprouts, mildly spiced percik sauce and chestnut and apple stuffing.
Weighing around 4-5kg, the whole roast turkey is priced at RM468. Takeaway and delivery are available daily from 1 December 2021, 11am-10pm. Surcharges apply for delivery.
09
The Courtyard, Pavilion Hotel Kuala Lumpur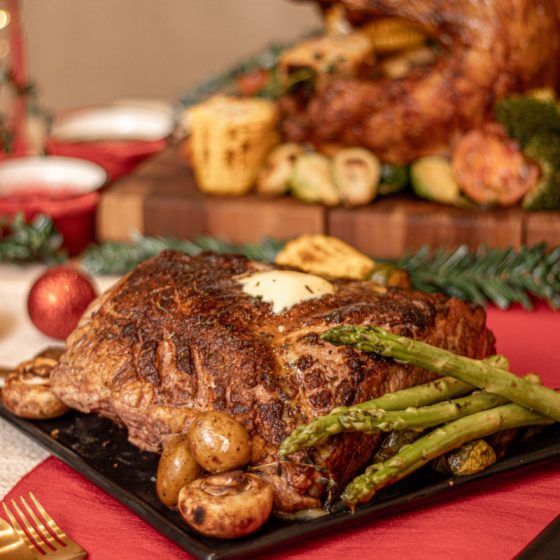 Pavilion Hotel Kuala Lumpur is showcasing a mouthwatering array of festive buffet offerings to take home or be delivered. They include Whole Roast Turkey and complimentary sides that pair exceedingly well with the bird. Each set comes with Roasted Herb Potatoes, Grilled Corn on the Corb, Roasted Root Vegetables, Christmas Stuffing and Brussels Sprout. In addition to Fresh Fruit Plate and Christmas Pudding with Vanilla Sauce. As for the turkey, you get choose one of the sauces available: Giblet, Cranberry, Mushroom Cream, Black Pepper, Rosemary or Mint Brown.
Priced at RM488+. Delivery or self-collection between 25 November and 25 December 2021. Order 3 days in advance. Self-collect from 12pm till 3pm.
Call 03-2117 2888