In the mood to explore the city's latest eateries? Head over to these new cafes in KL and Selangor in February 2023.
Start the new year with a brand new list of the latest must-visit cafes and stalls in KL. Here we bring you the best of the best that you need on your radar for 2023. From the newest brunch spots to coffee spaces worth exploring this month, it's guaranteed to be another exciting year filled with the most delicious cuisines and decadent treats. Be sure to bookmark our guide as we update monthly with the ins and outs of the dining scene in KL and Selangor.
New cafes in KL and Selangor to explore in February 2023:
Oddday On the hunt for a quick pick-me-up? For those living in Petaling Jaya, head over to Oddday for a cuppa. Located beside Atria Shopping Gallery, the quaint space is situated in Stall 18 at Damansara Jaya's MBPJ Hawker Center. Yes, you can order a hearty plate of roti canai or vegetarian dishes from other stalls to go with your Oddday coffee. Here you will find aromatic brews and non-coffee options such as the signature espresso, latte, cappuccino, matcha latte, houjicha latte and more.
Address: Pusat Penjaja MBPJ, Jalan SS 22/23, Damansara Jaya, 47400 Petaling Jaya, Selangor
Operating hours: 8 AM – 4.30 PM (Monday – Saturday)
Sundaze Coffee If you're heading to Klang this weekend, make a pit stop at Sundaze Coffee. Previously known as Nom Nom Cafe, the establishment boasts delicious brunch options with hearty mains. Step inside, and be prepared to be awestruck with the calming wooden and rattan interior amidst a refreshing touch of greenery. For those planning to drop by for brunch, we recommend the Bacon, Avocado & Egg, Wild Shrooms & Eggs Toast, and The Honey Butter French Toast. Not forgetting the rice lovers, the cafe also offers hearty rice bowls such as salmon rice bowl, honey-glazed chicken rice bowl and braised pork rice bowl. In the drinks section, you can find cold-pressed juices, non-coffee options, teas and coffees to order. Try the Salted Caramel Matcha.
Address: 18, Jalan Ramin 3/KS7, Bandar Botanik, 41200 Klang, Selangor
Operating hours: 9 AM – 5 PM (Tuesday – Sunday)
Contact: 017-318-1891
(written by staff writer)
Folk Kofii Nasi lemak and a satisfying cuppa in the morning? Count us in. Situated in Taman Melawati, Folk Kofii is the latest It spot in the neighbourhood to enjoy the best of both worlds. As you enter, you will be thrilled to see ample space to enjoy your morning cuppa indoors and outdoors. However, if you're not into nasi lemak, don't worry about it, as the cafe also offers buttery pastries from savoury to sweet. Apart from the signature nasi lemak, you can find other dishes like the Folk's Croissants with a choice of tuna, chicken ham, beef strips or scrambled eggs. To accompany your meals, the drinks menu comprises an array of espresso drinks, non-espresso options, mocktails, teas and more. You can even request to try out their bean of the month – don't be shy to ask the barista.
Address: 9170, Jalan Negara, Taman Melawati, 53100 Kuala Lumpur.
Operating hours: 8 AM – 6 PM (Tuesdays – Sundays)
New cafes in KL and Selangor 2023 – January edition
Duwa Whether you're visiting Melawati or are living in the neighbourhood, add Duwa to your wishlist soon. To spot the cafe, keep a lookout for the signature blue-and-white striped roof above the entrance. Specialising in buttery pastries and artisanal sourdough pizzas, Duwa also offers hearty mains, such as grilled cheeses and toasts. From 12 PM onwards, you can order their pizzas consisting of five delicious flavours: Margherita pizza, cheese pizza, chicken or beef pepperoni pizza, 'Bianca' pizza and beef bacon pizza. Ideal for sharing, order the bruschetta or truffle fries to go with your heavenly slices. In the drinks section, coffees and teas are available.
Address: No 7-0, Jalan 3/4c, Desa Melawati, 53100 Kuala Lumpur, Wilayah Persekutuan Kuala Lumpur
Operation hours: 8.30 AM – 8 PM (Monday to Saturday)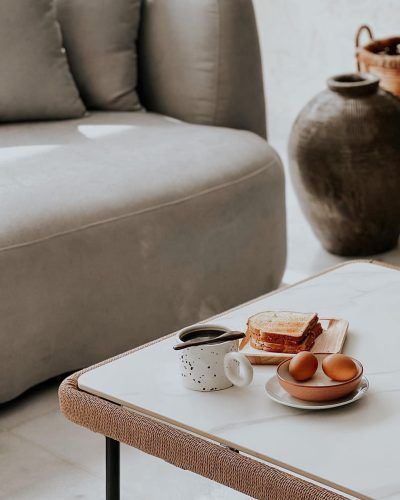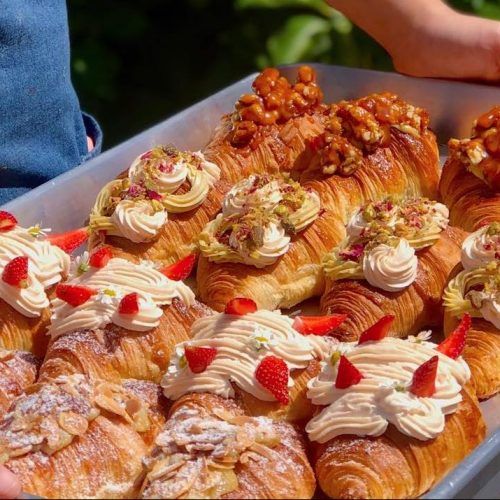 Limone Adding to our 'Best new cafes in KL' list in 2023 is Limone. Taking inspiration from the beauty of an Italian garden, Limone is a European-inspired cafe located in Plaza Zurich, Bukit Damansara. Splashed in vivid yellow tones with earthy green touches, the cafe offers a lovely setting for that perfect Instagram-worthy shot, thanks to its lush greenery and beautiful lemon tree as the eatery's centrepiece. Baked with love by co-founder/head chef Tee Jiunn Hoong, the menu offers artisanal french desserts ranging from petit gateau cakes to appetising pastries. Highlights include the signature Tokyo Garden (yuzu tart), Daisy Cake (lychee raspberry cake) and Fromage Frais (cheesecake with fresh berries). Remember to order their aromatic brews on the side to go with their heavenly treats. For mains, the cafe also serves delicious brunch favourites and hot foods, like smoked salmon eggs benedict, chicken percik poke bowl and a spicy Aglio olio pasta.
Address: Lot G01-03, Plaza Zúrich, Bukit Damansara
Operation hours: 9 AM – 6 PM (closed on Mondays)
Ra Ra Coffee For those who are craving a coffee fix in Bandar Utama, head to Ra Ra Coffee. Upon entering, the cafe offers a relaxed atmosphere with ample natural light peeping through the window walls. Thanks to its spacious outdoor and indoor seating areas, you will have plenty of space with your loved ones to enjoy a slow afternoon while unwinding with a good cuppa. Their signature dishes include the salmon blu blu burger, crispy chicken burger and waffle chicken sandwich. On the side, order the truffle fries and mentai fries. Brews such as classic lattes, cappuccinos and flat whites are available. However, if you're feeling adventurous, try their trio latte (matcha, chocolate and espresso with milk) and vit-c espresso (orange and espresso with milk).
Address: 1-1, BU4 Oasis, Jalan Changkat Bandar Utama, Bandar Utama, 47800 Petaling Jaya, Selangor
Operation hours: 11 AM – 10 PM (closed on Mondays)
Hero image credit: Unsplash/Rizky Subagja; featured image credit: Instagram/@sundazecoffee_
This story first appeared in Lifestyle Asia Kuala Lumpur
Frequently Asked Questions (FAQs)
Question: Are there any Michelin starred restaurants in Malaysia?
Answer: There are four One Star restaurants in Malaysia: Dewakan (KL), DC by Darren Chin (KL), Auntie Gaik Lean's Old School Eatery (Penang) and Restaurant Au Jardin (Penang).
Question: What are the best brunch restaurants in Malaysia?
Answer: Feeka Coffee Roasters, VCR, RGB Coffee at the Bean Hive, Lisette's Cafe, Breakfast Thieves and more.