JBL's products span the gamut from professional grade audio systems to casual lifestyle gadgets. The former is important: the technical expertise behind products like the LSR305, which remains my personal recommendation for near field monitors below S$500, is what informs the development of the company's other lines.
A new contender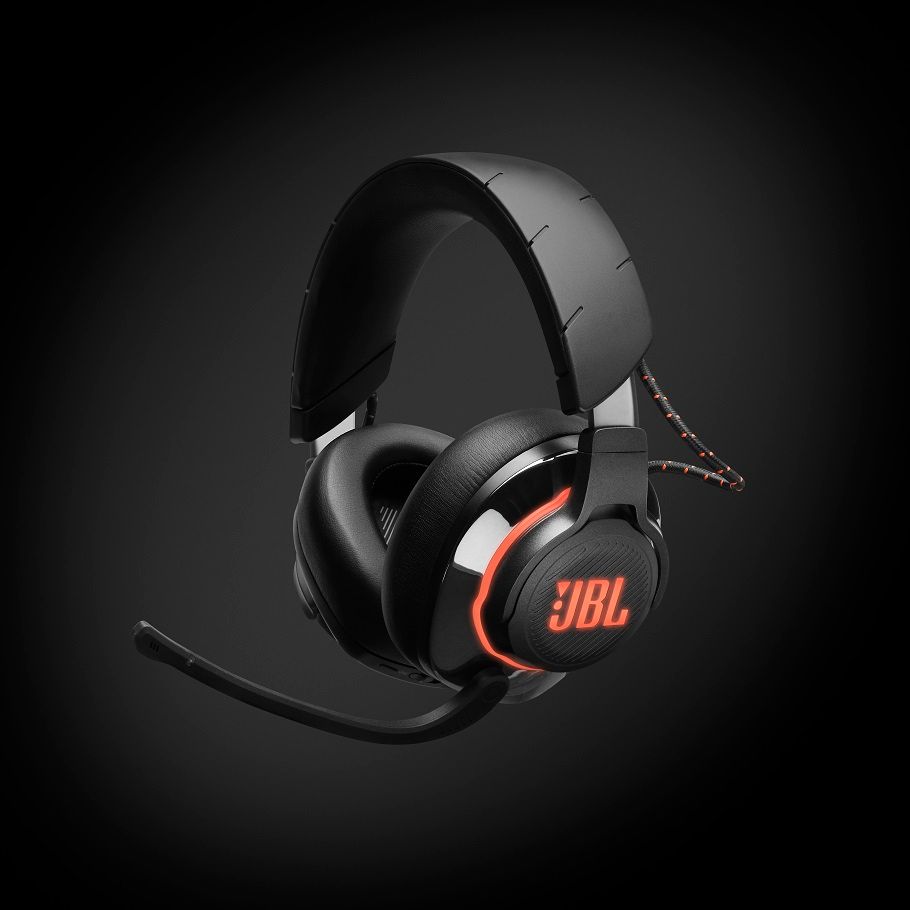 The brand has recently made its first foray into the gaming headset market with the JBL Quantum series. It comprises seven different models – all closed-back, circumaural (i.e. over-ear) headphones with microphoness – that are priced from S$59 to S$369. At S$299, the Quantum 800 that we tested sits second from the top, just beneath the flagship Quantum One headset.
Features wise, there's a lot to unpack for this model, beginning with active noise cancellation that works well to shut the world out. The headset also has a garish RGB lighting system that's par for the course for gaming peripherals. Thankfully, it can be turned off for an understated, all-black look that's office-appropriate. Three different connectivity options are available; you can route your audio signals via the detachable 3.5mm cable, Bluetooth 5.0, or 2.4GHz WiFi using the included USB dongle. Finally, there's the integrated microphone, which is deactivated by simply flipping it up.
How it sounds The archetypal gaming-centric headset has a V-shaped frequency response – boosted bass to give more oomph to gunshots and explosions, and enhanced highs to give the impression of greater detail. JBL has taken a different route with the Quantum 800 by giving it a fairly flat frequency response. In its "stock" form, however, sub-bass extension is poor, and mid-bass impact is fairly weak.
The Quantum 800 responds well to equalisation though, whether via the included QuantumEngine program or an external program, so feel free to apply EQ to your heart's content. For gamers who prefer to simulate a surround sound system, QuantumEngine also offers two options: the brand's proprietary QuantumSurround software, and DTS's Headphone:X 2.0.
Top pick While the Quantum 800 isn't the series' flagship, it is arguably the best option for most people. For a start, it offers several enhancements over its less expensive siblings, from the plush leather ear cups to the multiple connection options, as well as active noise cancellation. Surprisingly, its wireless connection options are also a step up compared to the top-of-the-line Quantum One, which requires a permanent USB connection to work. The Quantum One does have an integrated head tracking sensor that ostensibly offers further immersion when gaming, but it's of limited utility if you're looking at your monitor, since you'll "turn your head" in-game with your mouse anyway.
For a first attempt, JBL has accomplished much. Despite being new to the market, the Quantum 800 is definitely worth a shot if you're looking for a gaming headset.