Few watchmakers can comfortably walk the line between simplicity and functionality with outright technical expertise. And OMEGA has spent many years since 1969 – when they followed Neil Armstrong and Buzz Aldrin to the moon – to draw better blueprints for balancing bold engineering and artistic flair. Earlier in January this year, they delighted movement collectors and complication lovers when they announced a reissue of the legendary calibre 321. So well designed and manufactured, even venerated brands like Breguet, Vacheron Constantin and Patek Philippe licensed the 321 back in 1950s. These were also the movements sourced by NASA for their Apollo missions, and issued to astronauts as a fail-safe time keeper. Remember the near-disaster of Apollo 13? After a crippling explosion knocked-out half the spacecraft and sent the crew wildly off-course, commander Jack Swigert used his Speedmaster to time the crucial engine burst that would slingshot the crew back to earth. Then later in March 2019, OMEGA unveiled the golden Apollo 11 50th Anniversary Speedmaster. Featuring a manually wound calibre 3861 and a case made of a proprietary gold-silver-palladium alloy called Moonshine, this release only comprised of 1,014 pieces. Snapped up almost instantly, the majority of fans had to wait with bated breath for this model to be launched in stainless steel.
And what a way to reward their patience.
The watch you see here is the brilliant LE 6969, a Speedmaster Apollo 11 50th Anniversary watch that's limited to 6,969 pieces worldwide. This commemorative wristwatch features hardly-believable attention to detail, and a high unit count that should afford genuine aficionados the opportunity to own a piece of history. First impressions see a polished bezel made of the Moonshine material. This compound is also notable for its high-resistance to colour fading, reportedly maintaining its lustre for ages to come. The Ceragold tachymeter sits on the bezel and feels perfectly smooth, thanks to the alchemists at OMEGA who've managed to meld 18-carat gold and polished black ceramic.
You'll find not one but two celebrated images of the moonlanding on the LE 6969. Neil Armstrong's photograph of Edwin "Buzz" Aldrin exiting the Lunar Module on the nine o'clock sub-dial, and Aldrin's shot of his own foot-print on the case-back. Get a loupe or a quality magnifying class and just marvel at the shimmering textures of that laser etch.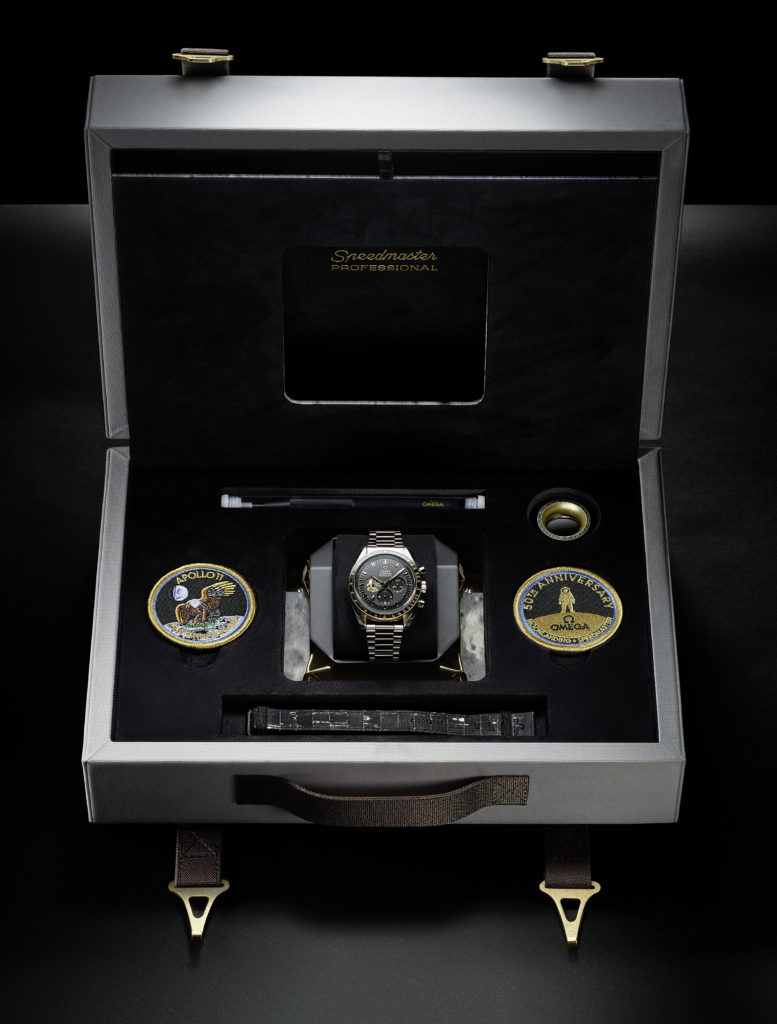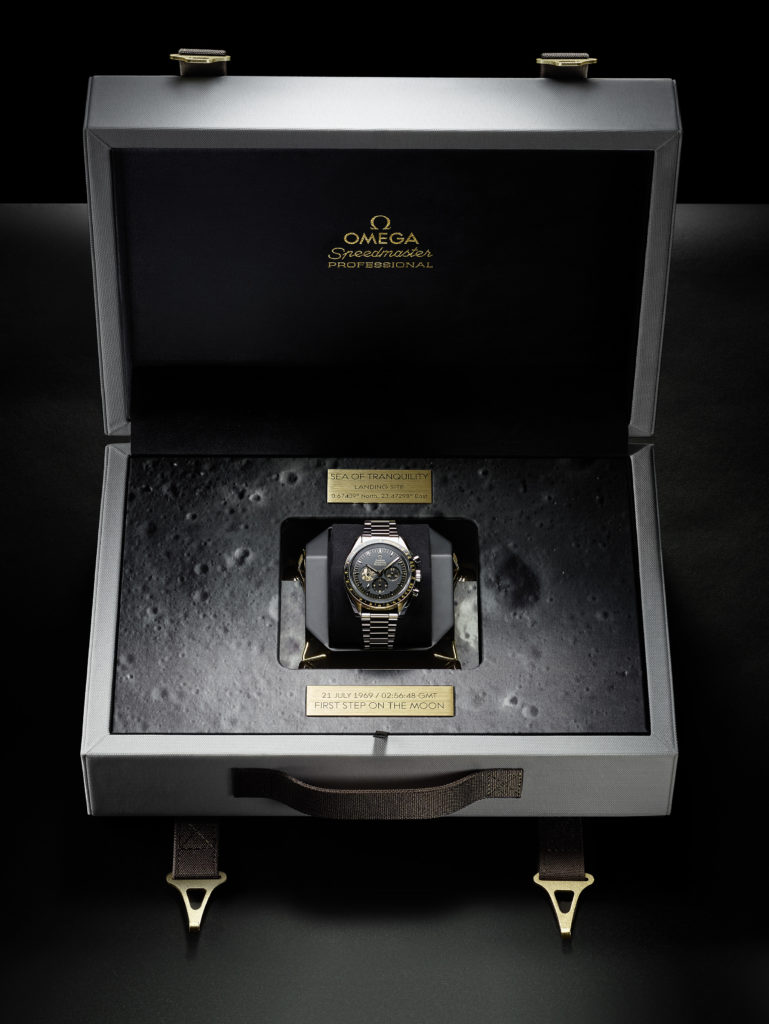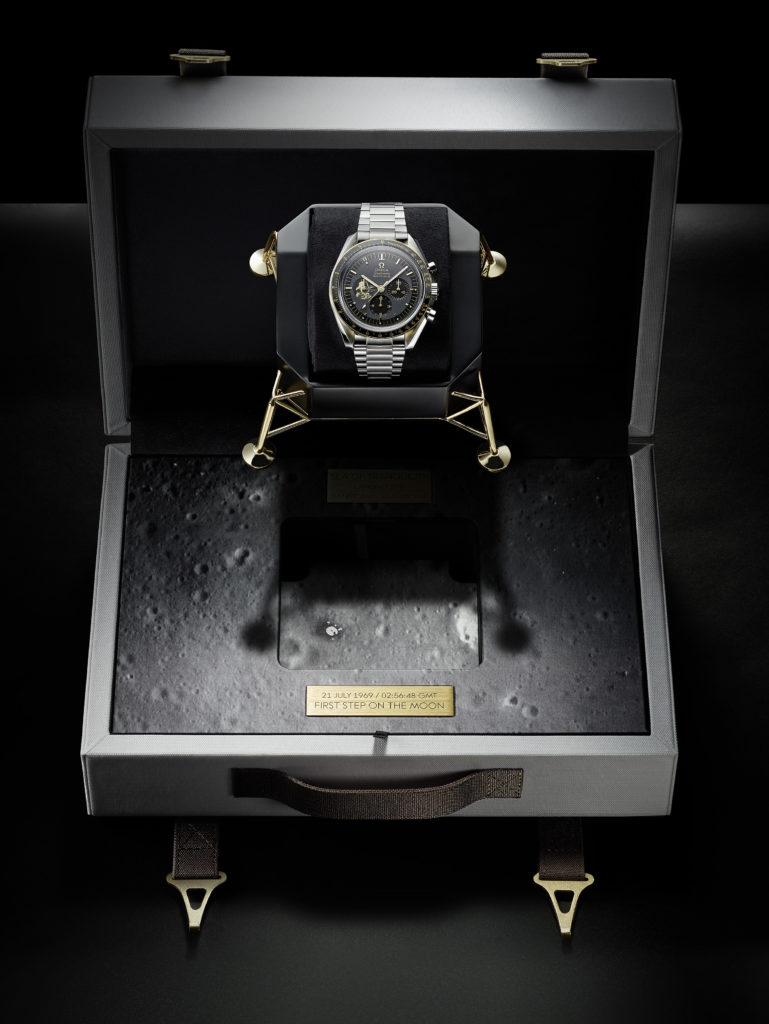 Peering closely enough, you'll realise both photographs are meticulous recreations, as OMEGA has seen it fit to include the incredibly fine crosshairs from the astronauts' 500 EL Hasselblad cameras.
Then there's the immortal phrase, "That's one small step for a man, one giant leap for mankind" on the case- back's perimeter. While it might seem a trifling issue, this utterance has been a source of controversy. On one side, posterity claims Armstrong didn't say "… a man". While on the other, Armstrong insists he did. Back and forth the debate raged until a 2006 computer analysis revealed a 35 millisecond-long bump of sound that finally laid the issue to rest. Armstrong was grammatically correct, and so is the LE 6969. Lastly, instead of an index marker at 11 o'clock, the numbers "11" has been laid out as an additional, stylish touch.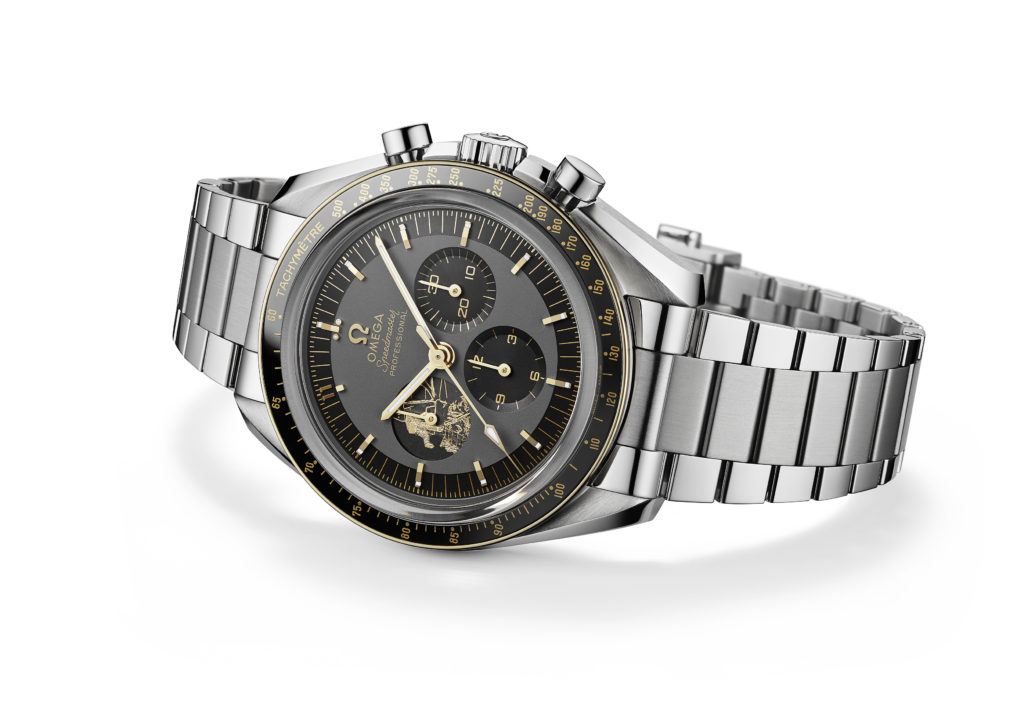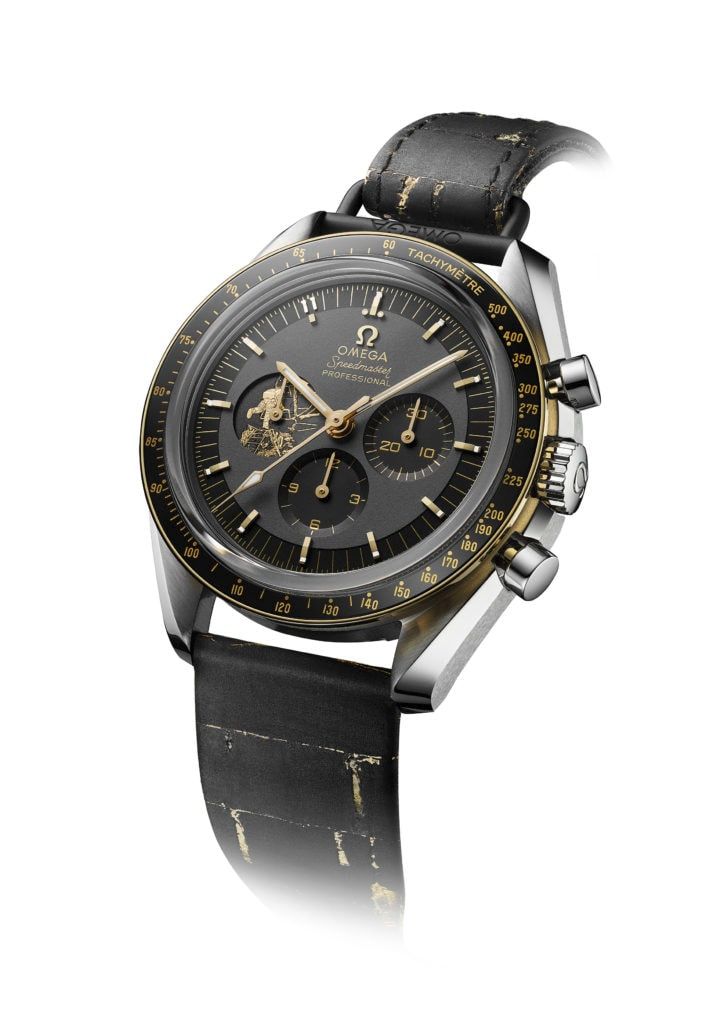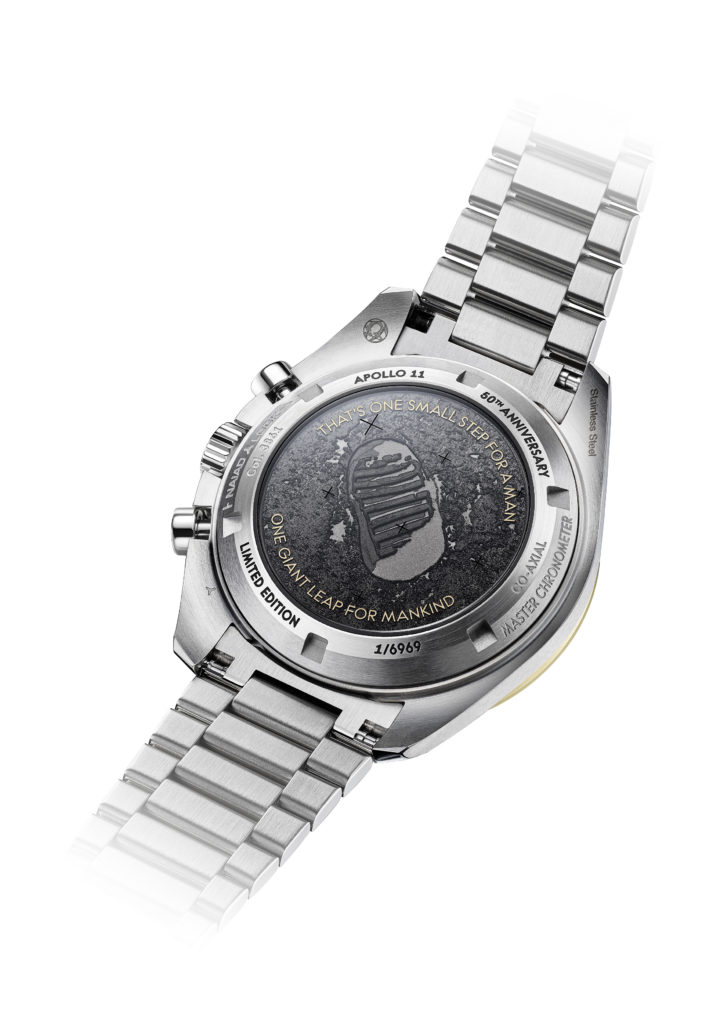 Movement wise, this Speedmaster model uses the same calibre 3861 as its all-gold sibling. Taking over four years to develop, is it a METAS-approved mechanism that goes above and beyond the already super-stringent COSC certification. This means greater levels of precision, performance and anti-magnetic resistance in real-life conditions that no other maker can brag about.