WHETHER it's New York, London, Milan or Paris, when it comes to fashion, diversity and the inclusivity of race, age, gender, and size is the new industry norm. More so than before, millennials who are more attuned to the acceptance of diversity also favour brands who express the same sentiment. And since they represent an estimated US$2.45 trillion in spending power (huffingtonpost.ca), they are officially the most influential group, and the fashion industry is quick to react. Ermenegildo Zegna's Fall/Winter 2019 show, themed ""Walks of Life"" and presented at the Milano Centrale station, reminisced migrants who arrived by sea in the south making their way to northern Europe from 2013 to 2015. According to its creative director, Alessandro Sartori, it's a "place of arrivals and departures, but also integration and acceptance of diversity."
So, it's no surprise some of the biggest fashion labels are also voicing out through their latest campaign messages. Here are some of the season's most celebrated campaigns.
Gucci – Chime For Change
In the latest edition of Chime for Change, "To Gather Together," a call for the global community to unite in support of gender equality. The initiative that was founded by Gucci and co-founded by Beyoncé Knowles-Carter and Salma Hayek Pinault in 2013, has since funded more than 425 non-profit projects with 156 partners in 89 countries. The funds had directly benefited more than 570,000 girls and women globally and reached more than 3 million family and community members. "Every person is created equal. We all have the power to use our voices to stand up for what we believe in. When we gather together across generations and communities, we have the opportunity to create real change. The fearlessness of this generation to express themselves gives me hope that a future of freedom and equality is possible," Gucci creative director Alessandro Michele quipped.
For the new campaign, Michele collaborated with Italian visual artist MP5 to create the new Chime For Change campaign identity that will be revealed on Gucci's ArtWalls in London, Milan, New York, Taiwan, and Hong Kong. The new identity features silhouettes of human figures, unidentifiable by gender or other labels, standing together.
To coincide with this next chapter, Chime for Change is proud to present The Future is Fluid, a short film by Jade Jackman and Irregular Labs, which premiered yesterday at an event during the Sundance Film Festival. The film explores what "gender" means to Gen Z, featuring individuals from Brazil, Canada, India, Italy, Singapore, South Africa, the UAE, the United Kingdom, and the United States.
Louis Vuitton Spring Summer 2019 Campaign
Virgil Abloh's first campaign for Louis Vuitton Spring Summer 2019 collection explores the idea of individual perception and his inclusivity and how it has shaped a man and his identity. There are three parts to the campaign – Infancy, Childhood and Adolescence; The Painter's Studio; and School Teens. In Infancy, Childhood and Adolescence, the first phase looks at the growth of boyhood that forms his identity and his wardrobe. From the innocence of infants to the dreams of a teenager, the development is expressed through the main characters Alieyth, Jack, Leo Jamese Davis, Evan Rosado, and Luke Prael, bathed in poppy and rainbow motifs that are allusion to The Wizard of Oz inspiration for the Spring Summer 2019 collection.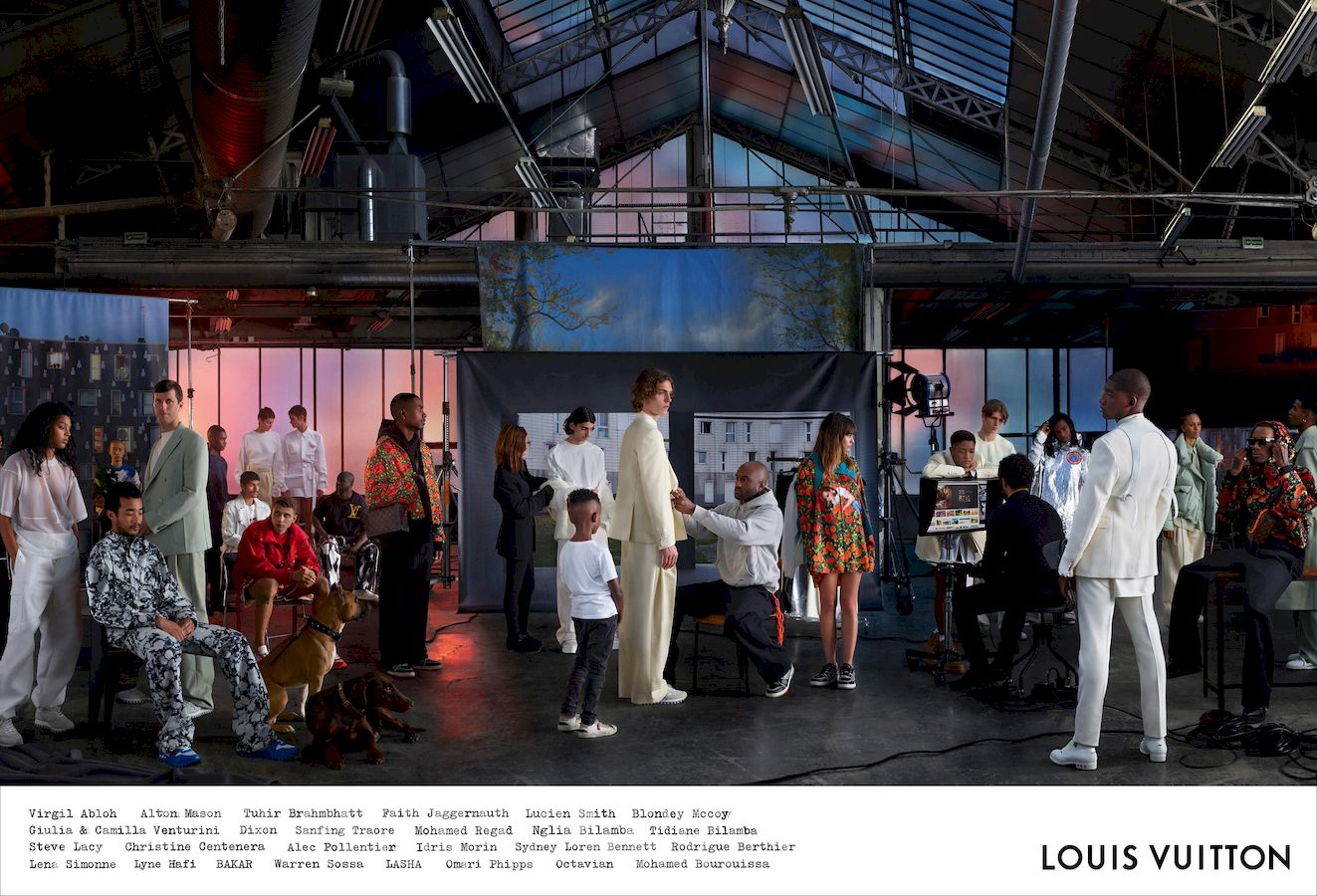 The Painter's Studio is Abloh's modern take on the painting by Mohamed Bourouissa which depicts French realist Gustave Courbet working on a painting flanked by people from all levels of French society. Instead of a painting, Abloh is photographed working with members from his team, social circle, and models, all clad in the collection – a reference to his vision for Louis Vuitton: diversity, inclusivity, and unity. The final installment, School Teens, which will be unveiled on March 22nd, explores the communication between teenagers in social settings that transform him from boyhood to adulthood. The struggle to fit in and the desire for individuality. The conflicting feeling between uniformity and diversity set him on a path to understanding his own identity, dressing, and the underlying meaning.
Bottega Veneta Spring 2019 Campaign
Daniel Lee's first campaign as the creative director of Bottega Veneta focused on the notion of time as the ultimate luxury. Lee examines the heritage of the brand on what it represents in today's fashion landscape. Photographed by Tyrone Lebon, the images as reimagined by Lee offers a more diverse and inclusive take on the current fashion landscape. The unself-conscious photos of men and women span over generations and diverse backgrounds illustrate a universal theme – the interrelationship between people of diverse background united to form a new community, family. The project was shot in a private house on the Neapolitan island of Ischia. The photos depict fashion at its purest form reminiscing the essential elements of Bottega Veneta: a fine knit, a coat, the intrecciato leather. The clothes and accessories become part of a whole – part of the context, part of life. Expressing a sense of intimacy, a heightened reality, these images delineate the spirit of Bottega Veneta.