Dior has always been one fashion house to embrace its spirit of adventure in its willingness to try something new, more so under the artistic direction of Kim Jones.
For the latest fall 2020 collection that is made ready for a new dawning era in the 2000s, Jones found inspiration in Christian Dior's taste for the post-war renaissance fashion, paired with his exquisite vision to incorporate various cultural styles into his designs.
Set in a hip-hop motif and dimensional show space in Miami, Florida, on the eve of the inaugural Art Basel Miami Fair, the Dior men fashion show presented a collection of over 40 looks, infused with the classic Art Nouveau motif.
Together with detailing of beadings, embroideries and tailoring savoir-faire, the pieces exuded a psychedelic aesthetic that hints the iconic fashions from the 1970s.
In collaboration with designer Shawn Stussy, graffiti patterns were also introduced in the collection to complement and embrace the beach culture in which surfing plays a heavy influence.
Besides that, floral, checkers, stripes, python prints, as well as Dior's oblique pattern is featured in this recent collection, with touches of bright and playful colours, such as hibiscus red, pastel shades and pacific blue.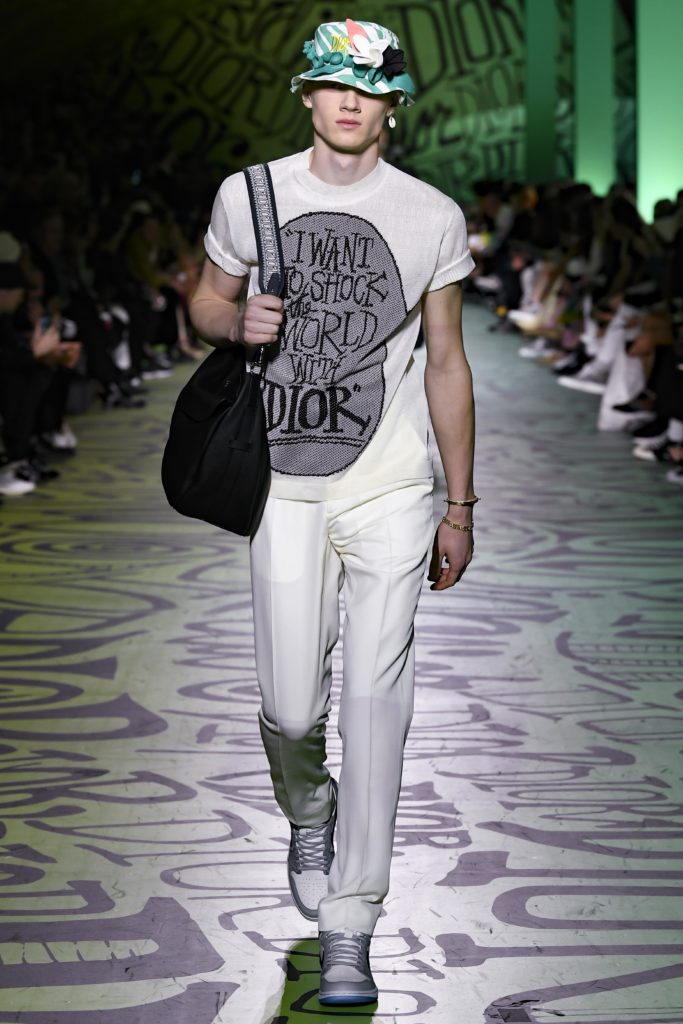 To enhance the spirit of joy, the collection played with various colours and introduced a tropical theme for its accessories: sailor-inspired hats paired with the modern looks; designed by Dior milliner Stephen Jones, the head accessories were adorned with flamboyant sprigs of flowers, adding a touch of femininity in the quintessentially elegant line; and finally, pieces of jewellery within the collection were reinvented and designed by Yoon Ahn to reveal the finishing touches.
A groundbreaking moment also took place during the Dior men pre-fall 2020 fashion show, as models strut down the runway in the new Air Dior sneakers – a collaboration with the Nike subsidiary brand Jordan that Dior men is strengthening its authentic cultural bonds with. The shoes carried the classic Nike emblem with Dior's oblique motif around it.