No matter how many films we have watched that Hollywood has churned out in regards to global pandemics, they can never prepare us for what we are going through right now in the real world with the Coronavirus disease (COVID-19).
First detected in December last year in the capital of China's Hubei province, Wuhan, the World Health Organisation (WHO) has declared COVID-19 a pandemic three months later; about a month after that, the world passed the 1 million threshold of reported cases, with confirmed deaths reaching 70,000.
Rather helplessly, as we self-quarantine to flatten the curve, we witness through our screens the domino effects that the virus has caused in the last few months, not only in terms of the world's growing mortality rate, but also the socio-economic disruptions each nation is put through, namely in the medical sector.
Respect to the frontliners! Thank you to the person who drew this. Please tag if anybody knows the person. Stay strong friends! #COVIDー19 #SocialDistancing #healthcareheroes pic.twitter.com/lmkTFdik8E

— Dr. Zainal Adwin (@zainaladwin) March 16, 2020

While a unison applause throughout the nation might help with their morale, these medical frontliners – including voluntary and retired medical personnel called in to assist with the fluctuated cases coming in every day – are thrown to the front as soldiers once were during the past World Wars, but this time, fighting the good fight unarmed, due to the shortage of Personal Protective Equipment (PPE) worldwide.
According to WHO: "an estimated 89 million medical masks are required for the COVID-19 response each month. For examination gloves, that figure goes up to 76 million, while international demand for goggles stands at 1.6 million per month. To meet rising global demand, WHO estimates that industry must increase manufacturing by 40%."
While celebrities out there are donating large sums to their respective medical frontliners, it is also good to know that some of our favourite fashion brands out there are helping out in whatever ways they can, doing what they do best – producing wearables.
Dior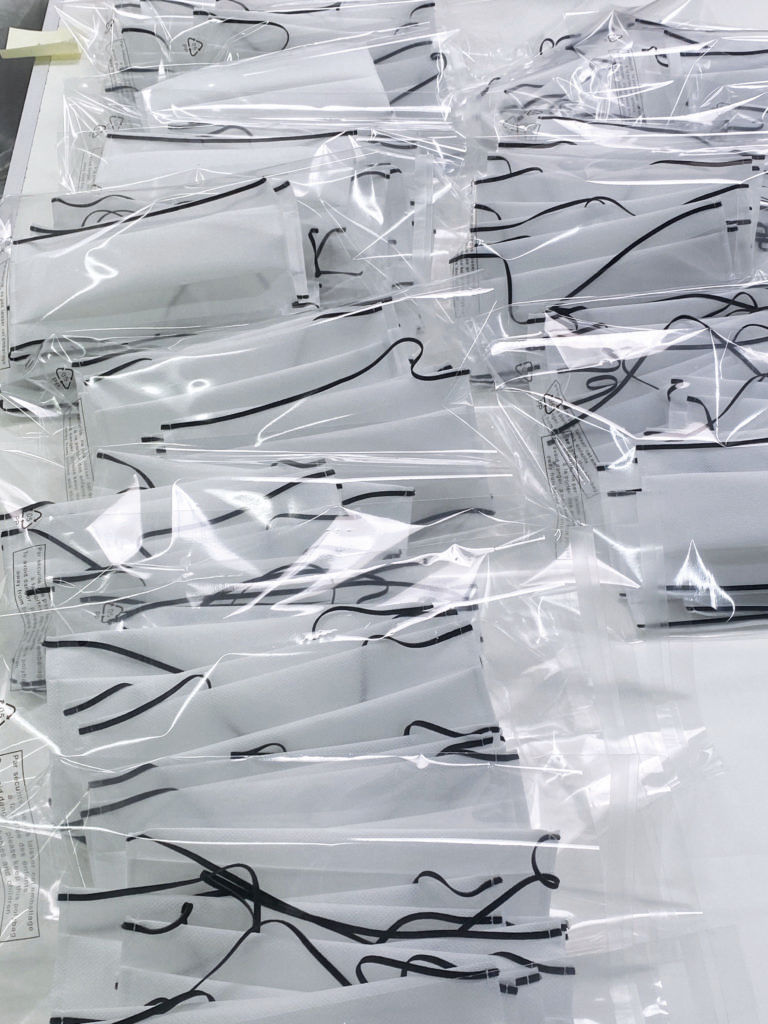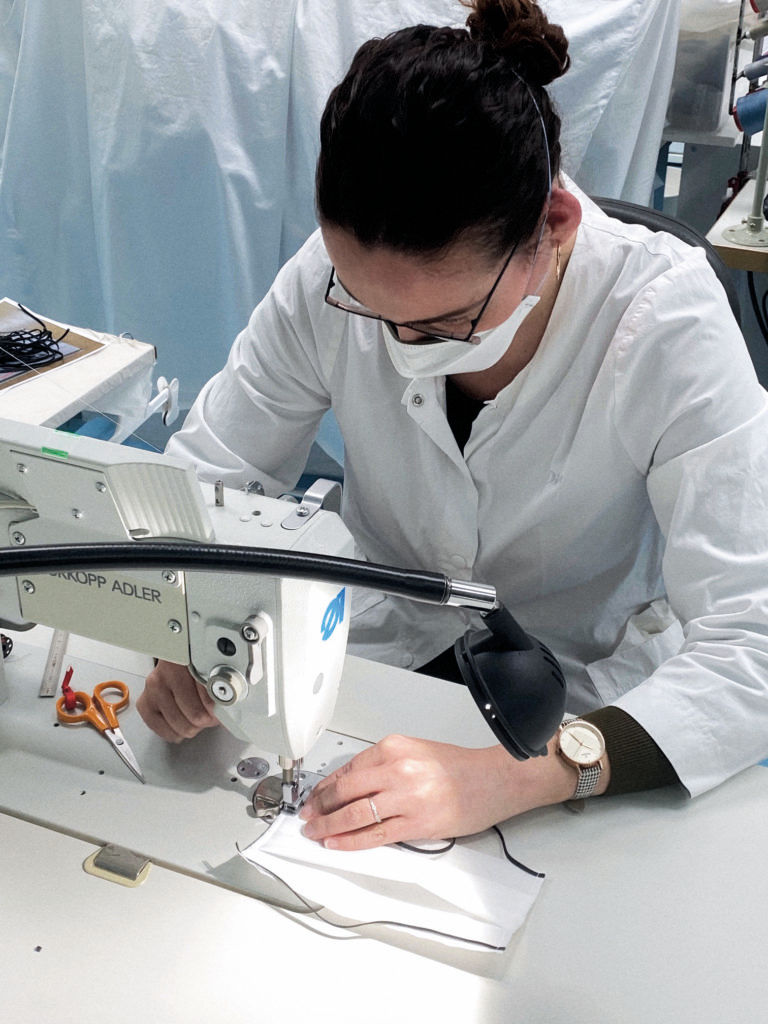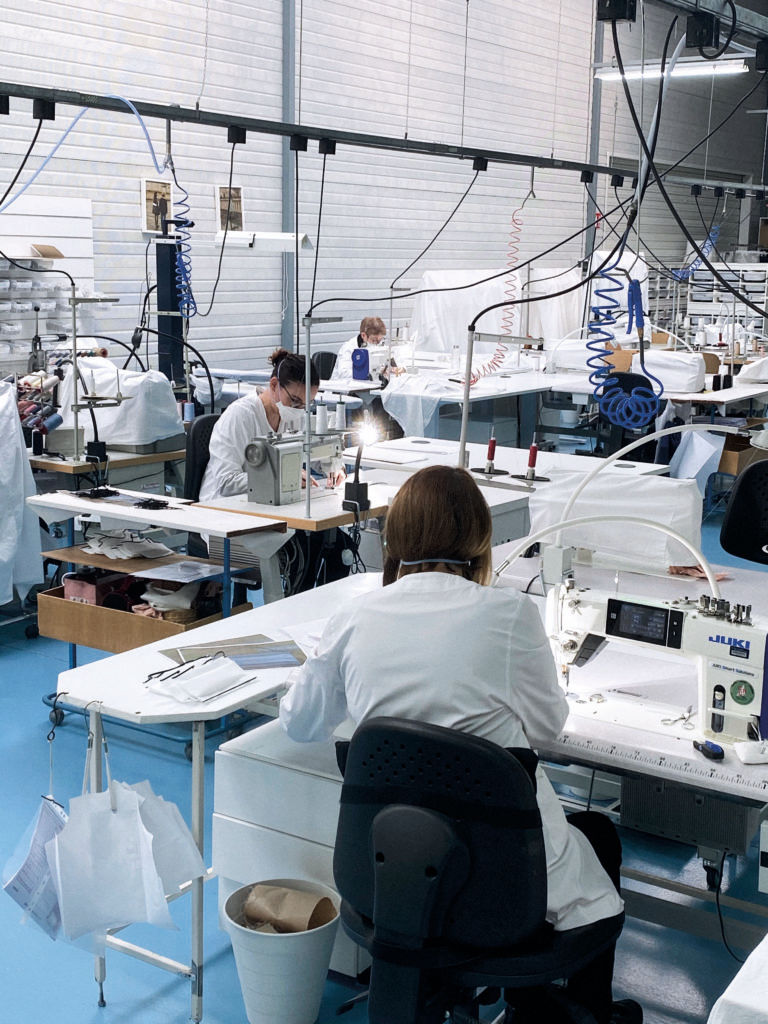 In France, the death toll for COVID-19 cases has surpassed its 8,000 mark just yesterday, out of the 70,000 plus confirmed cases. French President Emmanuel Macron has also mentioned that the country should produce 10 million masks every week, three times the capacity before the pandemic took place.
One of the fashion brands that has answered to its President's call to arms is Dior, which has reopened its Baby Dior ateliers in Redon, in France's Brittany region since the beginning of the month. Not only has the brand begun its voluntary production of face masks to aid and protect the frontliners in France, we have to say, they are pretty fashionable PPE masks too!
Armani Group
Over in Italy, where it is currently one of the top three countries worst hit by the COVID-19 pandemic (there are close to 129,000 confirmed cases, with almost 16,000 deaths), the sons and daughters of this fashion capital have also answered their nations' plea.
The Armani Group (Emporio Armani, Giorgio Armani and A/X Armani Exchange) has converted all of its Italian production plants to manufacture single use medical overalls for healthcare workers engaged in the fight against the Coronavirus disease.
Besides that, the fashion designer has also contributed a total of €2 million to the National Civil Protection Department (Protezione Civile), as well as hospitals in Milan (Luigi Sacco, San Raffaele and Istituto dei Tumori), Rome (Istituto Spallanzani), and those in Bergamo, Piacenza and Versilia in the Tuscany region.
Prada Since mid-March, Prada has started producing medical overalls and masks at the Prada factory in Montone in the Province of Perugia. The brand has delivered 80,000 medical overalls and 110,000 masks daily to healthcare personnels, following a request from the Tuscany region.
Zegna Group For the Trivero-founded luxury fashion brand, the current CEO of Ermenegildo Zegna Gildo Zegna, alongside his family members and his top management have all personally donated a total of €3 million to Protezione Civile, in support of the nurses, doctors, scientists and volunteers across Italy, working tirelessly in fighting against the global pandemic.
In the meantime, a part of the Zegna Group's production facilities in Italy and Switzerland is also manufacturing medical masks for its employees and to the wider needs across Italy and Switzerland. Besides that, the Group has also made a direct financial contribution to provide several hospitals with ventilators and medical masks.
Gucci
Following the footsteps of its parent company Kering, which has made donations in China, Italy and France, as well as produced over 1 million masks and gowns for healthcare personnel, Gucci has offered its helping hand locally in Italy, and internationally. The fashion brand helmed by Alessandro Michele has donated €1 million to Protezione Civile through the Italian banking group Intesa Sanpaolo's ForFunding crowd-funding platform, where its friends and followers from its global community #GucciCommunity can also make donations to reinforce Italy's health services and organisations in managing the current emergency.
On a global scale, Gucci has contributed €1 million to the United Nations Foundation's COVID-19 Solidarity Response Fund, in support of WHO's lifesaving work across countries: helping to track and understand the spread of the virus, strengthening patient care and ICUs, improving PPE supplies for health personnel, and to accelerating the development of vaccines and therapies.
Capri Holdings
For this multinational fashion company founded by American designer Michael Kors, its collective brands (Michael Kors, Versace and Jimmy Choo) and their founders have donated more than USD3 million in support of the COVID-19 relief efforts.

In Italy, Versace has donated a total of USD500,000 to the San Raffaele Hospital in Segrate, and the National Chamber of Italian Fashion (Camera nazionale della moda italiana). This is on top of the ¥1 million Versace has donated to the Chinese Red Cross Foundation in February, and the personal donation of €200,000 from Donatella Versace and Allegra Versace Beck to the intensive care unit of the San Raffaele hospital.
In the United Kingdom, where there are over 47,000 confirmed cases and close to 5,000 deaths, Jimmy Choo has donated USD500,000 to the National Health Service's COVID-19 Urgent Appeal by NHS Charities Together, and WHO's COVID-19 Solidarity Response Fund.

Across the pond in New York City, where it is the epicentre of the country's COVID-19 outbreak – almost 50,000 confirmed cases, including 1,562 deaths in the city alone, Michael Kors has donated USD1 million, on top of another USD1 million personal contribution by the heads of Capri Holdings, Michael Kors and John Idol.
The donation is distributed among the NYU Langone Health and New York-Presbyterian Hospital – two of New York City's largest hospital systems; the non-profit organisation God's Love We Deliver that has been delivering meals to some of the most vulnerable individuals especially at risk during this time across all five boroughs; and A Common Thread, the CFDA/Vogue Fashion Fund for COVID-19 Relief that is providing financial relief for small businesses in the fashion community affected by the pandemic.
Burberry
For the fashion label that has prided itself to be the iconic British luxury brand, Burberry has converted its trench coat factory in Castleford, Yorkshire, to make non-surgical gowns and masks for patients subject to approval from the Medicines and Healthcare Products Regulatory Agency (MHRA). The brand is also fast-tracking the delivery of over 100,000 surgical masks to the National Health Service (NHS) via its global supply chain network.

While the amount is not disclosed, Burberry has also provided funding to the University of Oxford in developing single-dose vaccines for COVID-19 that are on course to begin human trials this month. Besides that, the brand has donated to charities like FareShare and The Felix Project, which are dedicated to tackling food poverty across the UK at the best of times.
Currently, the charities are further expanding efforts to help those struggling due to the outbreak: setting up community produce hubs, delivering food to young people who rely on free school meals, and increasing pre-packed food parcels to help food banks cope with demand and maintain social distancing policies.
Under Armour Another brand that has been using its designing and innovation know-hows to chip in to its local community during the recent crisis is the Maryland-based sports apparel brand Under Armour. Swift response is key when it comes to providing PPE support to the 28,000 health care providers and staff at the University of Maryland Medical System (UMMS) currently battling against the 4,000 plus confirmed cases in the state, having already delivered 1,300 of face shields to UMMS.
Under Armour has come up with a one-piece mask design with origami-style folds that does not require sewing, which can be produced very quickly and in high numbers, and thus provide an additional barrier against the virus to shield health care workers.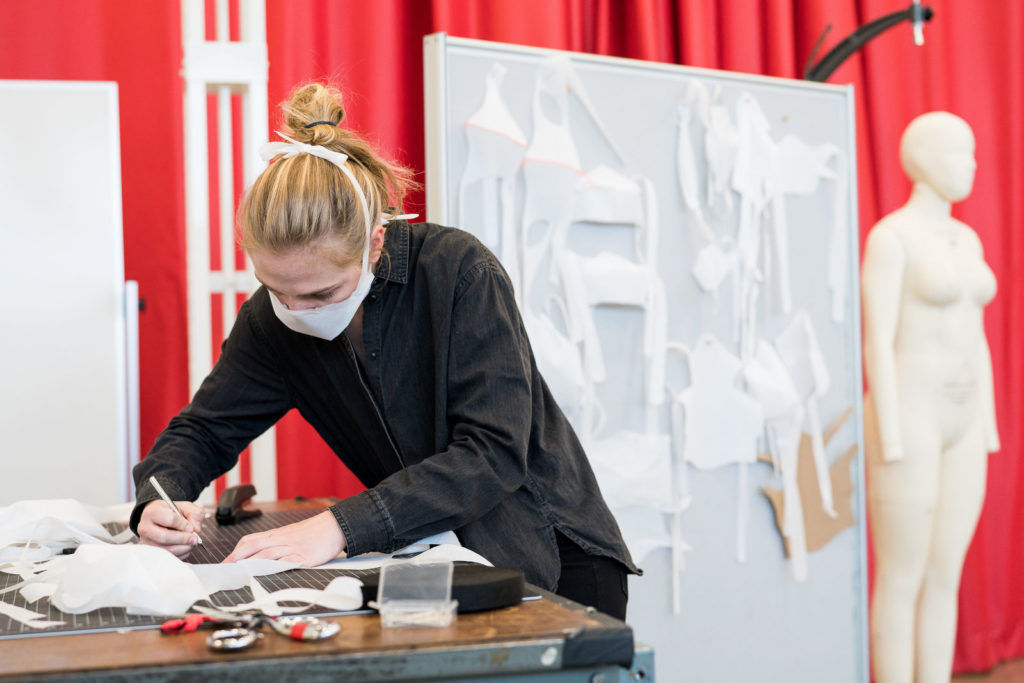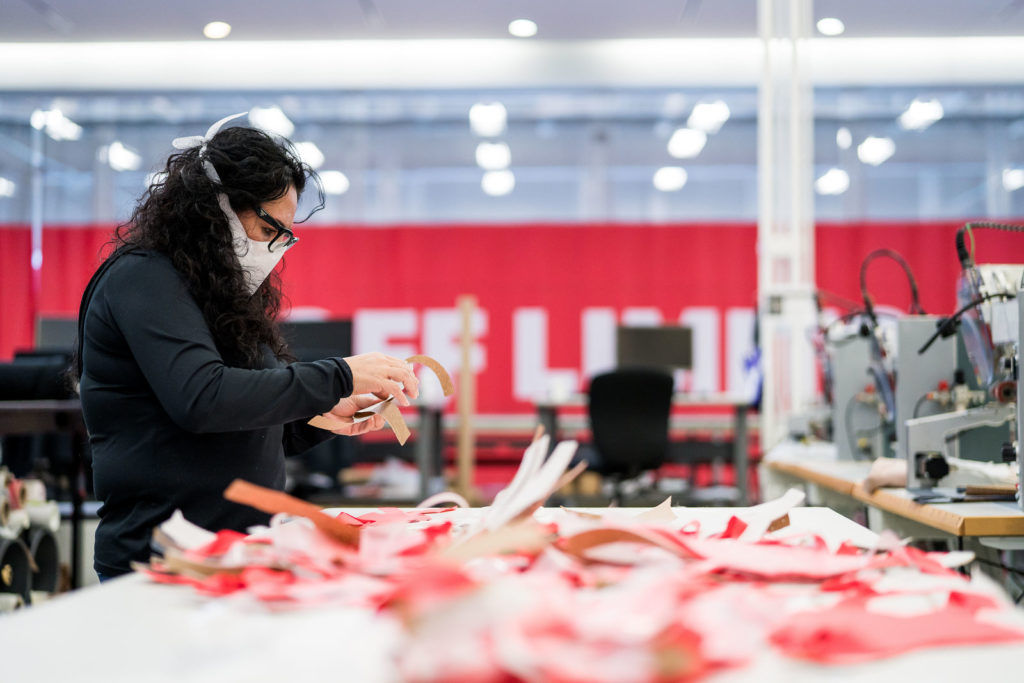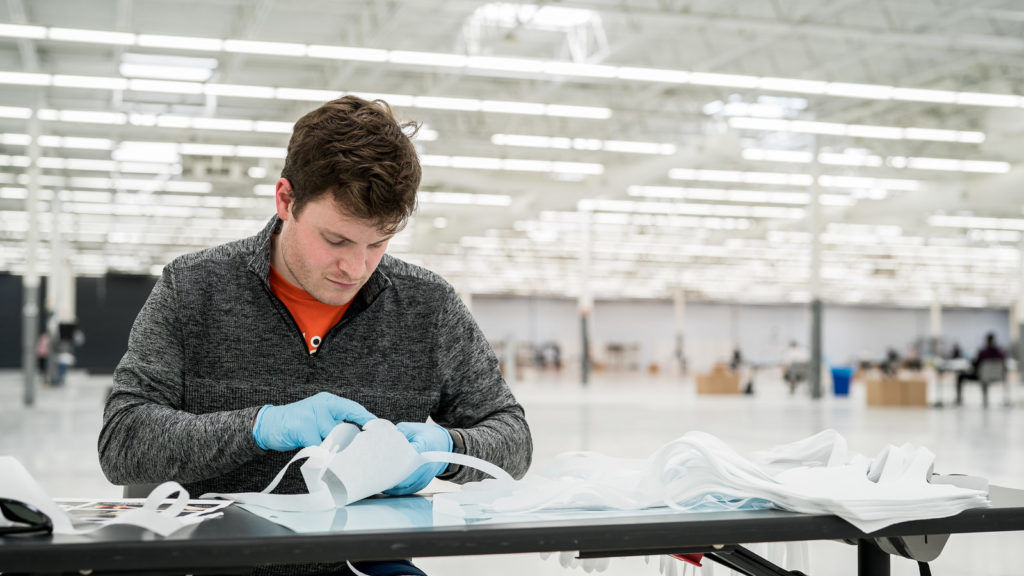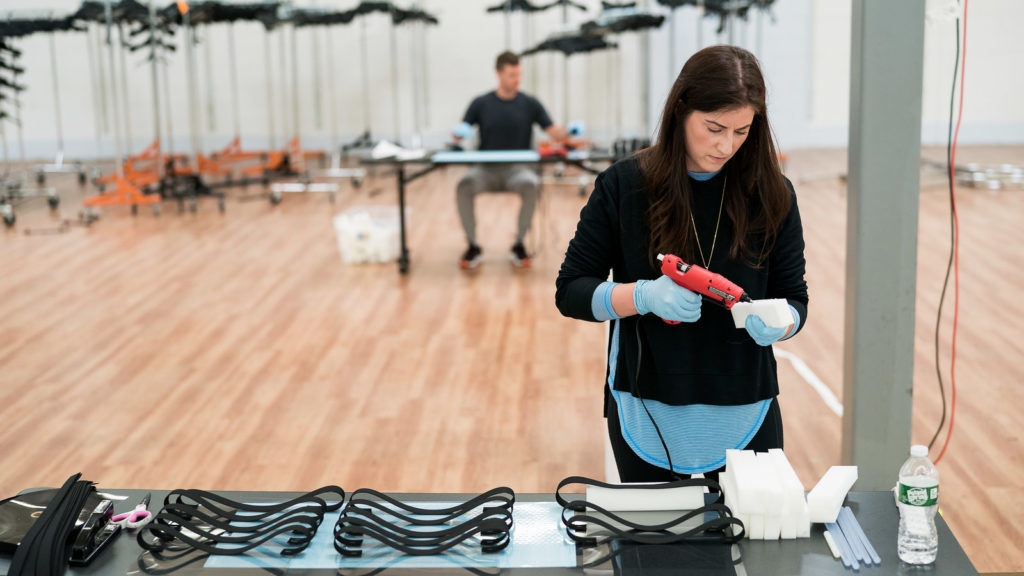 Utilising the knife cutter from its innovation hub in Baltimore called Lighthouse, which is one of the world's most efficient and high-speed fabric cutting machines, Under Armour is able to carve nearly 100 pieces of fabric at once, in hopes to generate as many as 100,000 of the breathable yet moisture-resistant fabric masks per week.
Under Armour anticipates to manufacture and distribute more than 500,000 fabric face masks, and assemble 50,000 specially equipped fanny packs with much needed supplies for personal preparedness kits. On top of that, the brand is also exploring 3-D printing N95 and N80 masks for medical professionals!
Malaysian Official Designers' Association (MODA)
Back on the home front, where Malaysia is about to round up its confirmed cases to 3,800, the Malaysian Official Designers' Association (MODA) has launched the PPE for Frontliners fundraiser, to provide funding to the fashion designing and the creative community in their collective effort to sew PPE articles for the country's frontliners.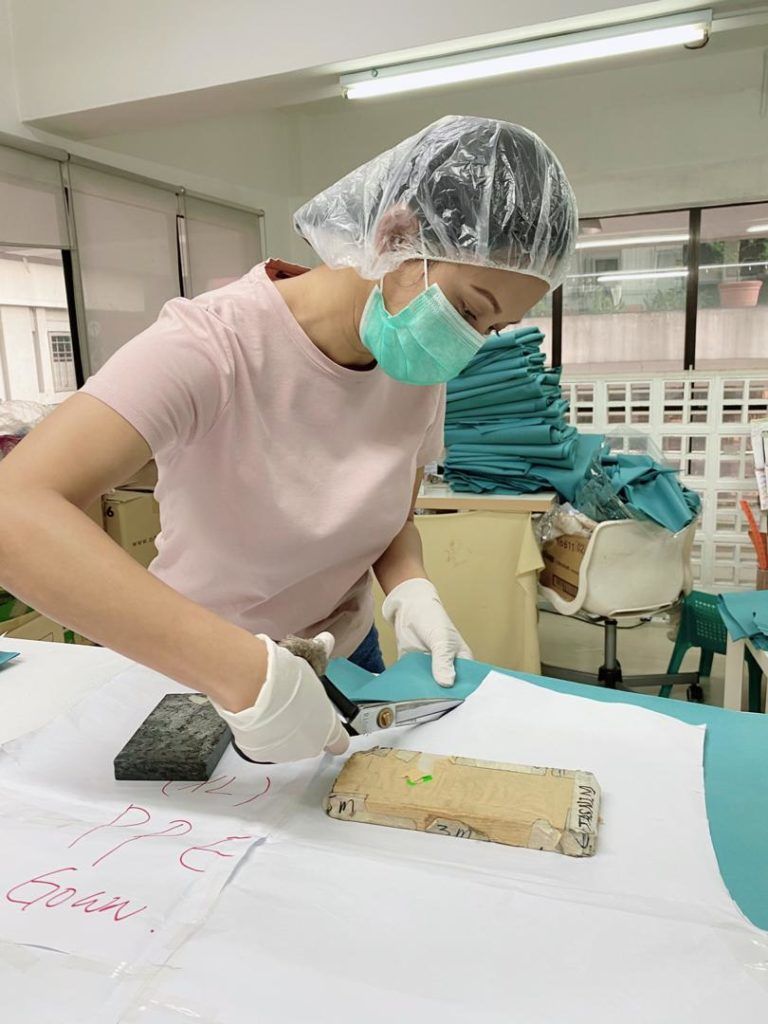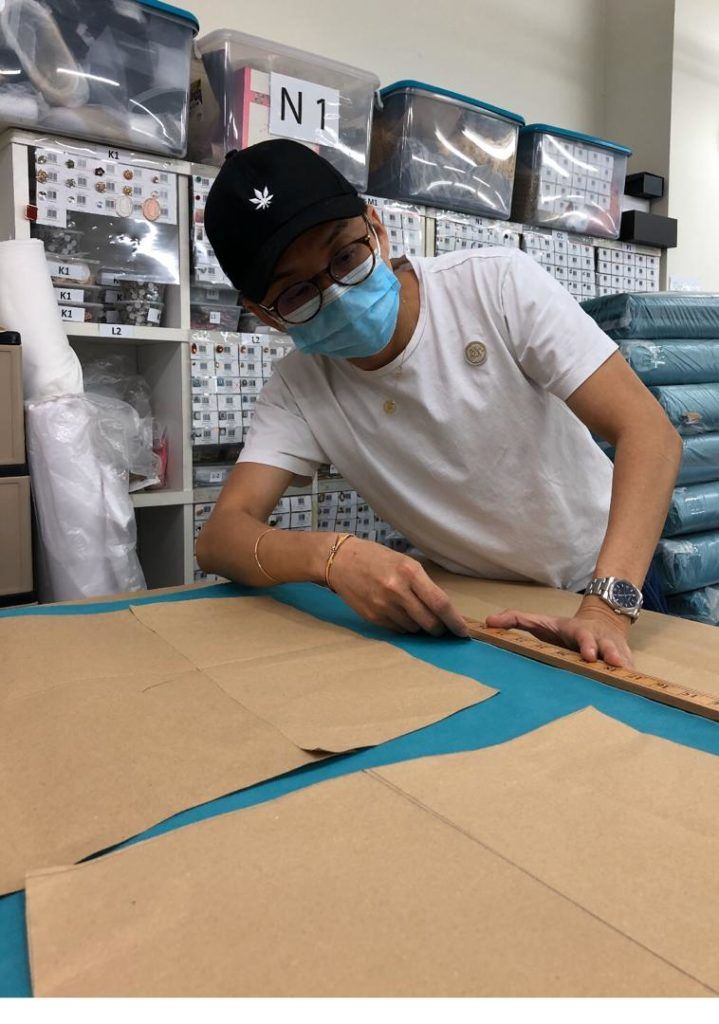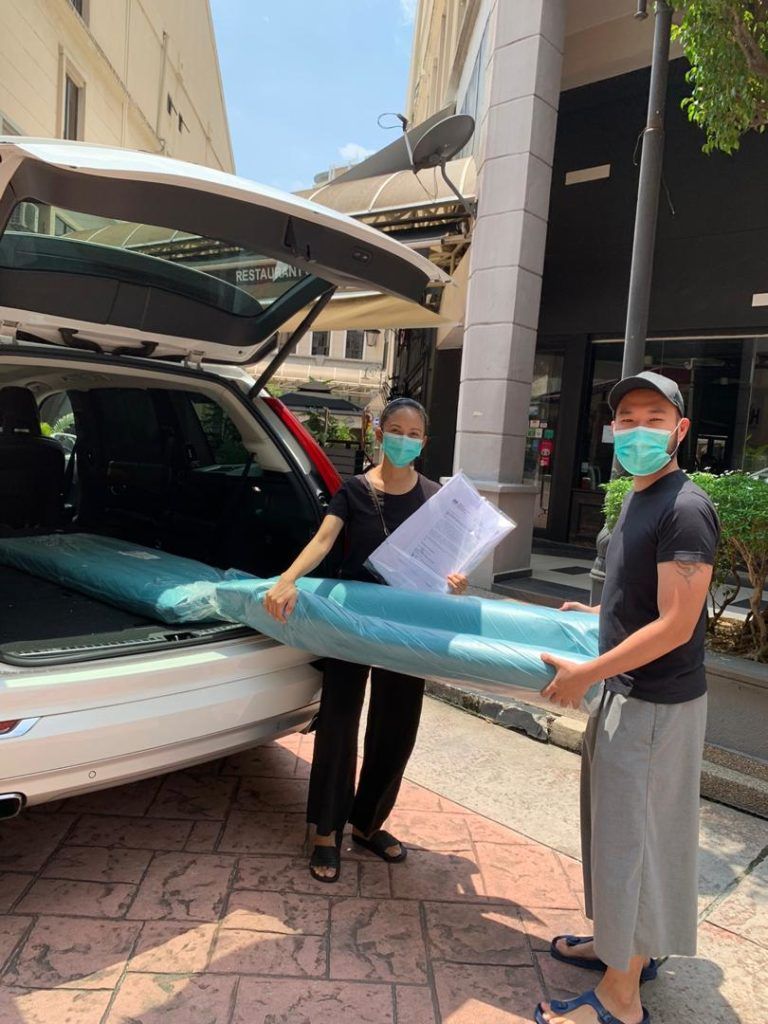 In partnership with FashionValet and IMARET, MODA initiated the fundraiser almost a month ago, with a target to raise RM300,000, which is used to buy the hospital gown fabric and other protective gear – made from water-resistant non-woven material or sterile SMS non-woven material with a minimum thickness of 50gsm, to sew and send to the Kementerian Kesihatan Malaysia (KKM) frontliners at KKM facilities, health clinics and hospitals across Klang Valley – for the time being.
The local fashion designers that are helping with the fundraiser under MODA's moniker include: Dato Radzuan Radziwill, Khoon Hooi, Alia Bastamam, InnaiRed, Melinda Looi, Celest Thoi, Jimmy Lim, Key Ng, You Sheng, Keith Kee, Kit Woo, Fizi Woo, Mimpikita, Nurita Harith, Brian Khoo, Justin Yap, Michael Ooi, SML Fashion School, Dwen Raha and Eleusis Bridal.