It's the year 2020.
If you are one of those guys who is still washing his face with the same cleanser meant for his body – stop. If you are currently one of them achieving the bare minimum by picking up the first facial cleanser you stumble upon in Guardian or Watsons, and calling it a day – stop. If you think having a skincare regimen with more than one step is only meant for women – stop.
What you shouldn't stop doing is to continue reading this piece on Aesop's Parsley Seed Anti-Oxidant range, consisting of 10 products ideally suited to those residing in urban environments. It may sound exhaustive already, but we are here to guide you through the skincare range for skin that is more clarified, balanced, and lightly yet thoroughly hydrated. Why Aesop, you ask?
Granted, there are many skincare products out there that may confuse one's mind if one has never built a skincare regimen for himself before. To start things off on a less complicated note, we focus on just the products by Aesop, particularly those of the Parsley Seed Skin Care range.
Why parsley seed, you may ask? Its extract has significant protective and restorative benefits for the skin, and it is crafted for optimum efficacy to fortify skin against the urban environment, such as Klang Valley. Why this skincare range by Aesop in particular, you may ask? The Parsley Seed Skin Care formulations contain a blend of potent anti-oxidants and vitamins, such as white tea, witch hazel and jojoba oil – all to protect your skin against damage resulting from lifestyle and environmental factors.
And the bonus to all of this? The Parsley Seed Skin Care range is suitable for both genders and different skin types. So, while you may have expanded your skincare products on the shelf, a trip to Ikea for more shelving space is not necessary, when your significant other can have a go with the same skincare regimen as well.
Regimen Level: Beginner
Now, at this point of the article, you may still feel slightly iffy about going all the way with something that until just a minute ago, you have not even considered beyond "the first facial cleanser you reach for at Guardian or Watsons".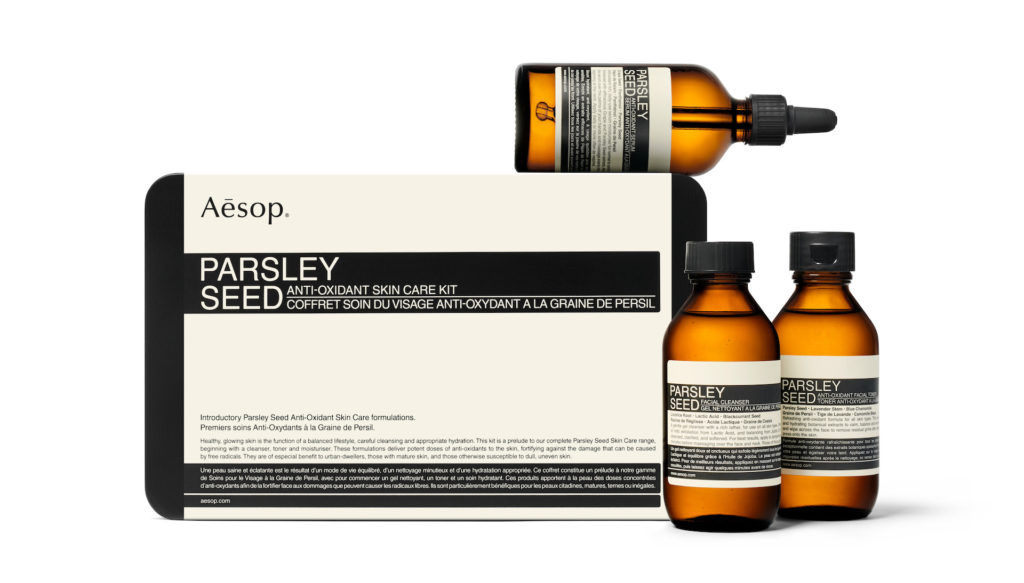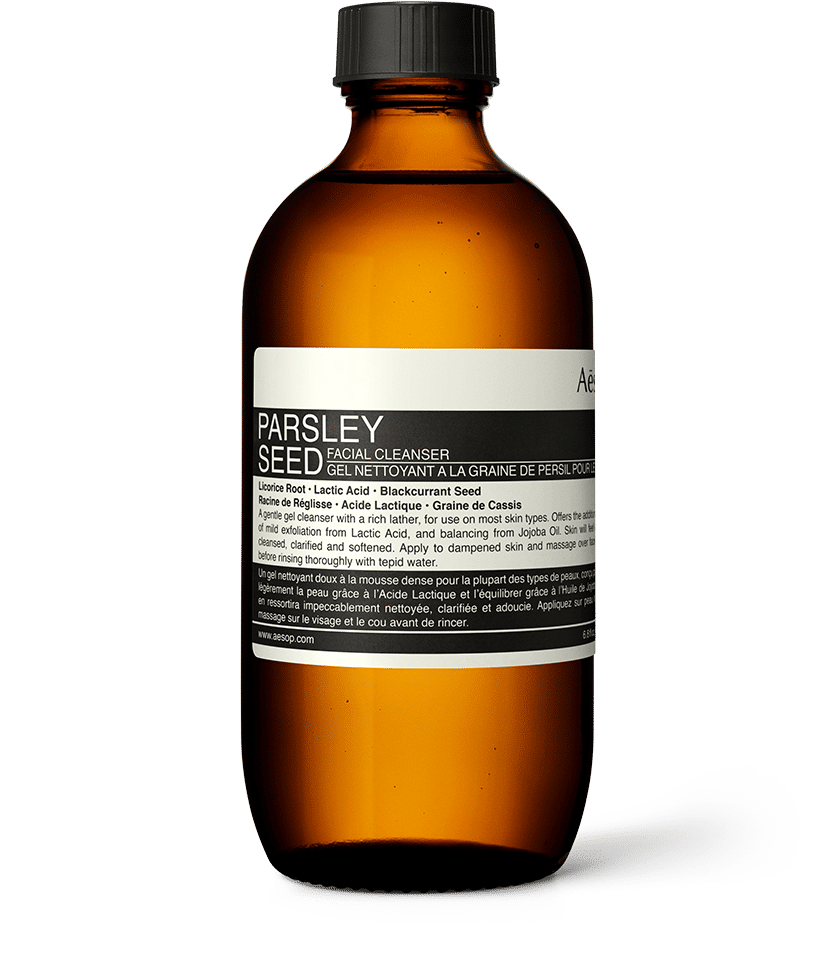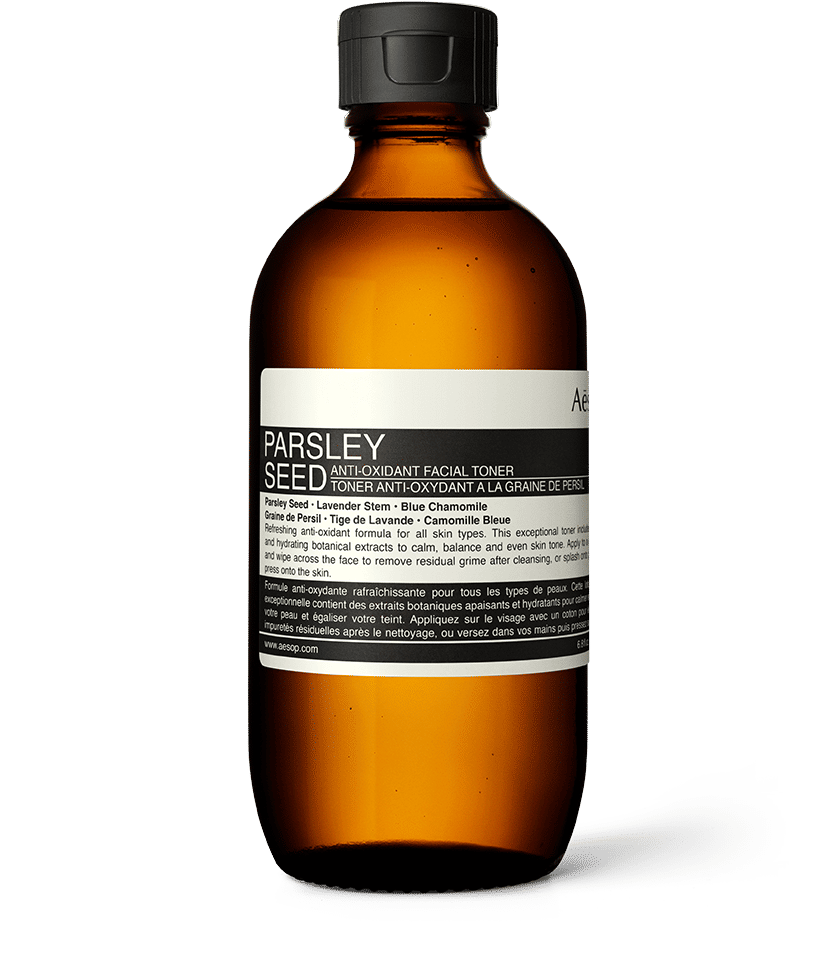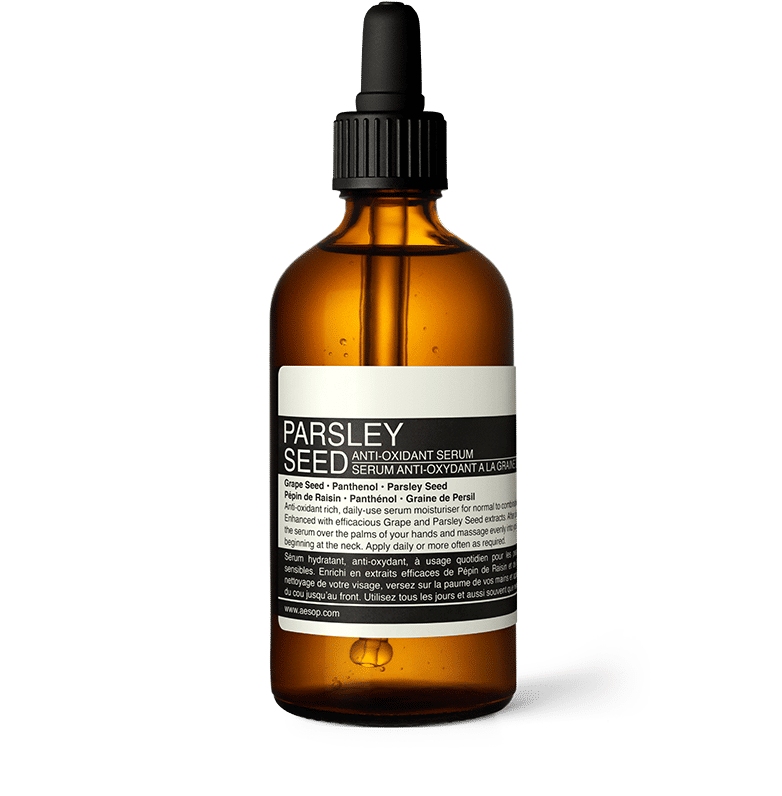 So, to ease into things Aesop has the perfect introductory regimen to its much-loved staples from the Parsley Seed Skin Care range. The Parsley Seed Anti-Oxidant Skin Care Kit consists of a facial cleanser, an anti-oxidant facial toner and an anti-oxidant serum. Used in complement with one another, these formulations leave the skin feeling clarified, balanced, and lightly yet thoroughly hydrated.
Intended for daily use, the Parsley Seed Facial Cleanser is a clarifying gel cleanser with light exfoliating properties that thoroughly removes surface impurities to leave skin clarified and refreshed. Whereas the refreshing Parsley Seed Anti-Oxidant Facial Toner helps clarify the skin and imparts light hydration, before the Aloe Vera-based Parsley Seed Anti-Oxidant Serum is applied to hydrate, soften and fortify the skin with its complex blend of ingredients.
Regimen Level: Intermediate Now that you have nailed the basic 1-2-3 of skincare, expand your horizon just a smidge, with these next-level products from the Aesop Parsley Seed Skin Care range.
The mild, oil-based Parsley Seed Facial Cleansing Oil may be a great alternative to the facial cleanser, particularly for those of dry and sensitive skin types. Enhanced with skin-conditioning macadamia seed, bisabolol and chamomile, the cleansing oil lifts surface oil to thoroughly cleanse the skin with minimal disturbance to its natural equilibrium, leaving the skin feeling comforted and supple. If the potent serum texture is a little too heavy for you, the non-greasy finish of the nourishing Parsley Seed Anti-Oxidant Facial Hydrating Cream may be more suitable for you instead. Key ingredients of Parsley Seed, White Tea and Rock Rose extracts are combined with the perfected blend of Tocopherol and Tocopheryl Acetate for exceptional fortification against free radicals.
Lastly, the carefully balanced mixture of botanical emollients, including sweet almond oil and shea butter, alongside the skin-conditioning Vitamin E make the hydrating cream an ideal overnight moisturiser in warmer climates, and a perfect winter option for those with normal to combination skin. Protection of the skin around the eye area is just as crucial, and the Parsley Seed Skin Care range has two products that focus on that in particular.
The highly concentrated Parsley Seed Anti-Oxidant Eye Cream works to nourish and protect the delicate skin area with its rich and rapidly absorbing cream texture. The potent doses of vitamins and anti-oxidant ingredients – Sodium Ascorbyl Phosphate, Tocopherol and Sodium Lactate – hydrate, balance and fortify the skin to leave it feeling soft, supple and refreshed.
The potent lightweight hydration of the Parsley Seed Anti-Oxidant Eye Serum, on the other hand, hydrate and soothe the skin around the eyes with its vitamin-rich and fast-acting formulation: concentrated doses of Provitamin A, and Vitamins B, C and E; and botanical extracts of parsley seed and blue chamomile.
Regimen Level: Advanced Still reading? We're just as surprised as you are! That in itself calls for the #TreatYoSelf enhancing products available in the Aesop Parsley Seed Skin Care range.
The exceptionally moisturising Parsley Seed Anti-Oxidant Hydrator offers rich and fortifying hydration with a light texture. It delivers a generous serving of botanicals (parsley seed, white tea and willow herb), Panthenol (Provitamin B5) and seven essential oils, ideal for inhabitants of polluted urban environments, as well as those in warm, humid climates.
For a more concentrated anti-oxidant skincare, the Parsley Seed Anti-Oxidant Facial Treatment will offer just the superb anti-oxidant boost needed. Suitable for most skin types, the high-potency blend of nine anti-oxidant and fatty-acid rich ingredients hydrate the skin deeply and leave it feeling smooth, supple and replenished. The Parsley Seed Cleansing Masque rounds up the pack with its gentle, refreshing yet thoroughly deep-cleansing formulation. Ideal for frequent use of up to twice a week, it employs fine, non-drying Kaolin Clay and Bentonite to draw out impurities that clog pores, while absorbing excess sebum, as the evening primrose oil nourishes and softens the skin, before the parsley seed and rosehip seed extracts combat the effects of pollution, lack of sleep, and other stressors.
Still a little confused? Don't worry, drop by any of the Aesop boutiques located at Suria KLCC, Pavilion KL, The Gardens Mall, Bangsar Village II, One Utama and Gurney Plaza, where top notch assistance from the store's trained consultants are also always at the ready to offer advice about products that are best suited to each individual's needs