As the world moves rapidly towards modernisation and globalisation, we witness
a countertrend spurting, especially in fashion. While they welcome the modernity, fashion designers are also constantly turning to their culture, embracing the long forgotten silhouette and craftsmanship and fortunate to say that the Malaysian talents are thriving and forging this practice among their international peers, finding every possible way to navigate and incorporate our roots in this ever-changing world. A name that is very hard to miss is Maariamaia – a label that offers both ready-to-wear and made-to-order pieces, specialising in making modernised Qipao.

Without a doubt, the vivid and nostalgic colour palatte captivates me, but what leaves me aghast is the amount of effort devoted in the process of fabrication, the beads and bobs, the embroideries, beguiling. May Tan, the mind behind the label, has a knack in turning a classic and traditional Qipao silhouette into contemporary and refined pieces that stand the test of time.
Please enlighten us on the pronunciation since it's quite a mouthful and why do you pick this as the brand's name.
It is pronounced Maa- ri – ma -ya. Everyone always wonder about the origin and meaning, but the story is not as mysterious as the name itself. It's my name May reinterpreted in various languages . Maia has strong connotations to spring, the Roman earth goddess, rebirth , strength, power – all of which I aspire or identify with in design. I also wanted a memorable name that rolled off the
tongue, so Maarimaia it is.
Tell us a bit about your background. I read that you were in retail marketing before you started your own label. Did that piece of experience affect your decision on how you run your label?
After graduating in the UK I worked in a local PR agency for short period of time before I joined retail. It's very insightful and I gained a lot, but it also drove me to starting my own brand. It definitely is very different, running my own business and building a brand from ground up, compared to managing a well-known designer brand that has a huge marketing spend. I entered the industry wide eyed and naive, but it was a blessing in disguise, if I knew how difficult it was I probably might have reconsidered! Being an independent designer is often challenging, especially when pandemic happens, I'm sure it's harder – how was it to you? How did you manage to cope and overcome that?
We launched in Dec 2016, so we had a good few years before COVID hit. But it was tough, both for the business and also mentally. Since we weren't able to operate the brick and mortar, we quickly strategised to create products that were in demand for our online stores to sustain. The good part of the experience is that we manage to grow and improve our online business during COVID. We also started designing and producing homeware, and that helped us pull through as well. I think it was a survival mode back then, constantly pivoting and evolving with the market needs.
We are seeing people wearing cultural clothing like Qipao more often even when it's not Chinese New Year, what is your thought on the growing interest?
It definitely is way more popular now than when we first started. Post COVID
celebratory season helps too, people are keen to get out, meet friends and family, dress up, take pictures and be social. So now we get a huge demand for traditional qipao and suddenly I find it being one of the brand's core identity – not the intention when we first started Maarimaia. In the beginning, I just wanted to reinvent the traditional qipao into something more up-to-date that fits a modern woman's lifestyle because there were only classic qipaos available in the market
at that time. Adding a modern interpretation but also keeping the Chinese tradition, this appeals to our clientele, which is why we see and uptake in the trend especially during CNY. I realised you uses the word 'modern' a lot while introducing a new collection, like 'modern Orient', 'modern bride', how would you define 'modern' in fashion? How would you envision a 'modern woman' wearing Maarimaia?
I always look to my friends, family, customers. Putting myself in their shoes, seeing it from a female perspective, that helps. I'd ponder on how we feel in certain outfits, different cuts, and think what fits seamlessly into our
lifestyle.
Fashion trends come and go throughout the years, evolving around the needs of the people at that particular time. For example, women 50 years ago and women now lead a vastly different lifestyle. As a modern woman we wear many hats, career women, mothers, students, some are all three of the above! For me, clothes need to, first and foremost, make the wearer feel good. Functionality is important as well, not forgetting the fit, especially since as an Asian, we have different proportions to the Westerners, so it's always a challenge for us to find the perfectly fitted clothing from international brands. When I design and fit our samples, I keep these in mind, and always ask what would us, a woman want from an outfit.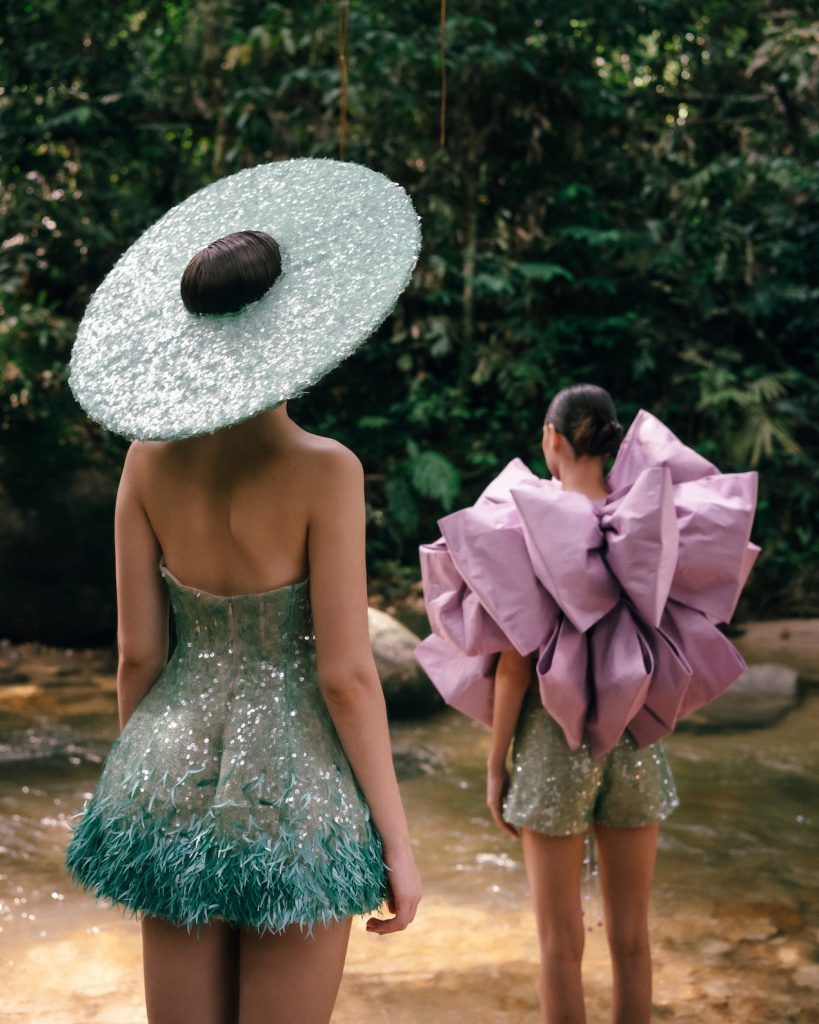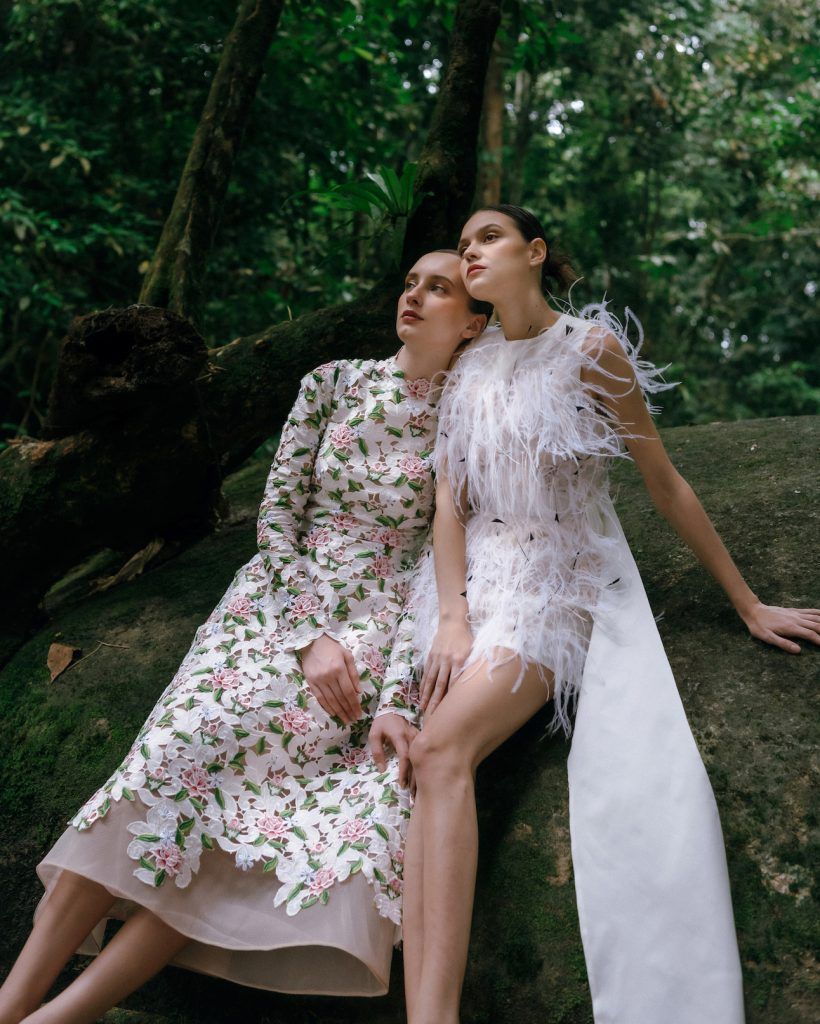 What is your personal favourite among all the designs you created?
Some of the pieces from my previous Privé collection NYMPHÉAS, they are very precious to me because I took care of them from the beginning to final stage myself. It's literally blood sweat and tears, but the outcome is worth it as I got the chance to realise my vision exactly like how I envision it and I think these contented emotions elevated my work. I'm utterly proud of these pieces.
In some of your recent collections, the pieces are more daring and statement compared to your previous work. Why the shift, or is it just a coincidence?
It's been a conscious shift, I've been working on the designs with a more focused pair of eyes. I'm constantly doing my best to refine my craft and designs, I want to bring the collectionto the next level. Every season is a learning curve for me, and I try to always improve the collection from season to season.

A lot of effort was put into creating the fabric, meticulous and tedious. In the age of 3D printing, what motivates you to proceed with handcrafted patterns and textiles instead?
I feel like I don't understand 3D printing enough to comment on how feasible it is,
in terms of every aspect, to produce good designs and if it's viable for the business. Is it fluid enough? Can it produce a perfect fit? Can it be manipulated and altered? What's the price point and cost outlay? I do think creating clothing is a very organic, creative yet meticulous set of craft that cannot be replicated merely with a formula. For me at least, the design for a piece may evolve as I work on it, and the final outcome may differ from the original idea. This, for me is the beauty of designing, you never know where the process leads you to.
Any designer you wish to work with, if given the chance?
I admire Rei Kawakubo, especially how she can manipulate shapes and patterns to that extent, so I'd love to explore that part of fashion designing. Sure, it's not the most commercial or easy to sell, since not everyone can pull it off, but one thing that is undeniable is that everyone will appreciate the artisanship that goes into producing that level of work.
Any thoughts on venturing into menswear?
Yes! We have been doing bespoke shirts for our male clientele all this while especially as matching sets with our female clients; but it's been on my mind to do a capsule RTW collection of our signature prints as we do get a lot of requests for it, so perhaps a capsule collection this year!