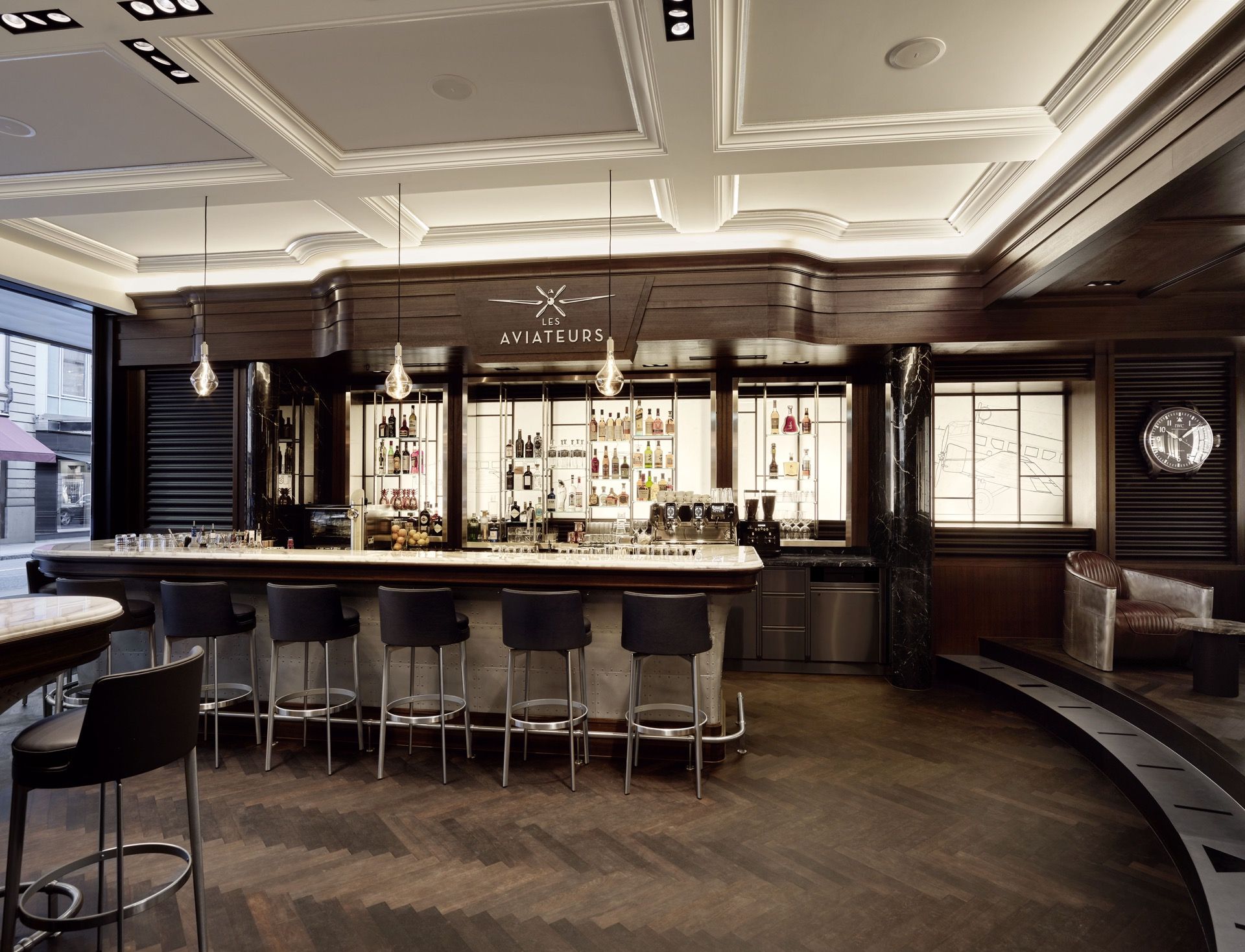 In anticipation of the New Year's countless events and atmospheric presentations of its product universe, such as the Salon International de la Haute Horlogerie (SIHH), which will take place from January 15 till 19 in Geneva next year, IWC Schaffhausen has partnered with Globus, the Geneva-based high end department store to achieve another coup in the capital of Haute Horlogerie: the pilot's bar "Les Aviateurs".
Situated right next door to IWC's newest boutique at Rue du Rhône that opened in the summer, the pilot's bar "Les Aviateurs" is reminiscent of the legendary gentlemen's clubs from the 1920s and 1930s, where pilots spoke of their experiences in the air over a drink or two.
Characterised by dark wood and leather furnishings, original photos or maps hung on the wall transport guests back to the thrilling era of aviation pioneers such as the Wright Brothers, Charles Lindbergh, Antoine de Saint-Exupéry – the author of The Little Prince, a beloved story that has inspired many of the IWC Schauffsen timepieces, and even Amelia Earhart, the first female pilot to attempt an transatlantic flight.
The pilot's bar "Les Aviateurs" is established in hopes to become a meeting place for the style-conscious gourmets from around the world, with highlighted cocktail creations from Globus dedicated to the iconic IWC Pilot's Watches: the "R.J Mitchell" is named after the designer of the Supermarine Spitfire, whereas the "Rose" is inspired by the rose motif from The Little Prince. After a taste of the signature cocktails, and exchanging aviation stories from yesteryear, patrons may only step right next door to the directly linked IWC boutique, where one may admire the legendary Schaffhausen-manufactured Pilot's Watches with their high functionality and purist design the brand has been bringing to the wearer for over 80 years.
The icons available include the Pilot's Watch Mark XVIII, which harks back to the Mark 11 produced for the Royal Air Force in 1948, and the Big Pilot's Watch inspired by the historic Big Pilot's Watch Calibre 52 T.S.C. Other popular timepieces are the Spitfire Pilot's Watches with their slate-coloured dials, and the Top Gun models with their cockpit-like design and black ceramic cases. Not to mention, the special editions in honour of the French author and pilot Antoine de Saint-Exupéry and his story The Little Prince that feature tobacco brown or midnight blue dials.
The IWC Schaffhausen Pilot's Bar "Les Aviateurs" is located at Rue du Rhône 48 in Geneva, Switzerland, and is open from Mondays to Wednesdays from 7AM till 7PM, Thursdays from 7AM till 9PM, Fridays from 7AM till 7:30PM, Saturdays from 8:30AM till 6PM, and is closed on Sundays.