Unlike most watchmakers, Hermès has a curious, playful approach to horology. The manufacture makes everyday life its playground, and each instant a uniquely special moment, creating artistic to poetic instruments and concepts that, in addition to measuring time, arouse emotions, pique the senses, open up interludes and create spaces for spontaneity, recreation and imagination, while remaining practical, functional and classy, always.
The Slim d'Hermès L'Heure Impatiente that was released earlier this year, for example, came in the wake of the Arceau Le Temps Suspendu, which has the ability to bring timekeeping to a hiatus and momentarily relief the wearer from being reminded of the time. L'Heure Impatiente enables the wearer to stop time before allowing it to resume its onward march once the moment has been savoured. The impatient hour offers an equally personal relationship with time. In anticipation of an event taking place in less than twelve hours, the counter can be set to the eagerly awaited moment. One hour before the appointed time, a mechanical hourglass is set in motion. Time is erased. All that matters is the jubilation of the wait, until the moment arrives, marked by a short and private note that only the wearer perceives.
Humour and art are often central to the Hermès portfolio, expressed in fine craftsmanship. This year, we see the Silm d'Hermès and Arceau brought to life in picturesque and amusing forms by master artisans of miniature enamelling and the age-old Persian miniature discipline. More recently, the maison has launched a digital campaign that allows viewers to experience time from the perspectives of various creative individuals from across the world.
Slim d'Hermès Grrrrr!
With the notion that time is a game and watchmaking is mischievous for those capable of looking beyond the outdated use of amazing expertise, Hermès adopted a special mindset to imagine this unusual encounter between a gruff bear and the delicate technique of miniature enamel painting. As a result, the design originating from a Hermès silk scarf designed by the artist Alice Shirley is tamed by the brush. The protocol is followed to the letter. With each pigment applied to the white gold dial, the animal's expression becomes more daunting. Between each layer, it must not weaken during the drying and firing stages calling for faultless precision. It even gains intensity during the process. Once the portrait of the bear is complete and duly protected by a translucent enamel, and fitted with a burgundy strap, the 39.5mm watch takes on a life of its own.
Arceau Tyger Tyger
For the Tyger Tyger motif, everything began in 2015 with a silk scarf created by Alice Shirley, a designer and illustrator closely attuned to the spirit of the maison. The lush vegetation surrounding the tiger is transformed into glass powder in order to give life, after various skilfully elaborated firings, to a miniature enamel painted dial. Illuminated by the chiaroscuro of a full moon night, the majestic feline takes shape with the placing of tiny gold wires marking off the surfaces to be enamelled. It is then that the cloisonné enamel technique comes into play, culminating in the vivid appeal of what can truly be described as a work of art. The 41mm one-of-a-kind masterpiece is elegantly framed in white gold, attached with matt indigo alligator strap.
Slim d'Hermès Dans un Jardin Anglais & Promenade de Longchamp
The application of Persian miniature painting on camel bone dial marks Hermès' venture into uncharted watchmaking territory. This age-old oriental technique is all about subtle alchemy. Firstly, between the bone powder and a mysterious resin forming the dial base; a porous surface that absorbs the colours, entirely made of natural pigments: saffron, walnut, henna, pomegranate, lapis lazuli, turquoise, gold leaf and silver leaf. Then comes the turn of two motifs, each inspired by a silk scarf: Dans un Jardin Anglais by Alice Shirley; and Promenade de Longchamp by Philippe Ledoux. Gum Arabic (acacia gum) is used to mix the designs in place, before protecting these Persian miniatures with a discreet layer of varnish. Both watches come in an elegant 39.5mm white gold case fitted with alligator strap; one in sapphire blue and the other matt Havana. Each is limited to just 12 numbered pieces.
Hermès Time
Immerse yourself in Hermès time in a single click and set off for New York, Buenos Aires, Paris, Mumbai, Sydney or Shanghai. In each case, discover an experience that differs according to where you are and what time it is. The digital adventure offered by the maison is that of the artists who have entered into the spirit of this project: in New York, author and illustrator Christoph Niemann; in Paris, David Luraschi, a Franco-American artist influenced by pop culture; film director Clara Cullen in Buenos Aires, where she was born and did her filmmaking training; in Sydney, Sammy Slabbinck, an heir to surrealism with his retro-futuristic collages; in Mumbai, the young composer, techno DJ, producer and sound designer Ateph Elidja; and finally, in Shanghai, Zachary Lieberman, who loves diverting technology for playful purposes.
To begin your adventure, visit http://time.h.fr and scan the matrix code onscreen, or click on the gif below.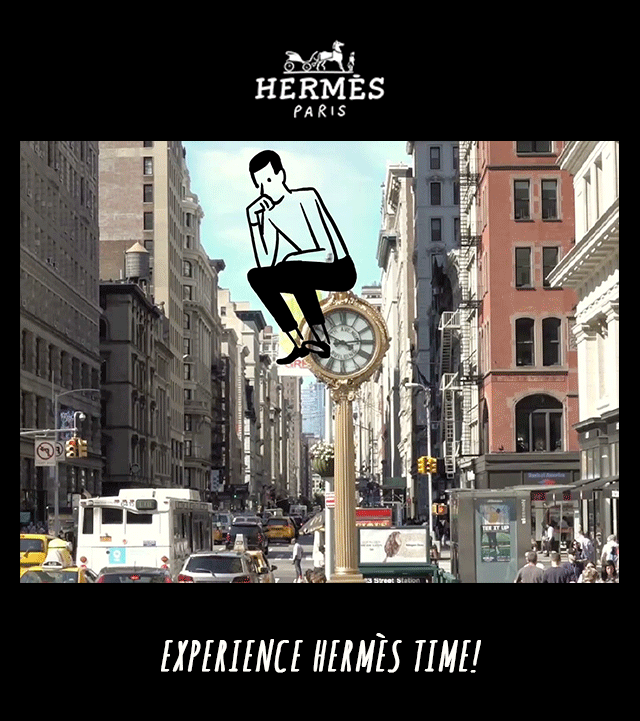 Experience Hermès Time in Sydney, Afternoon by surreal collage artist Sammy Slabbinck.
Experience Hermès Time in Shanghai, Evening by new media artist Zachary Lieberman.
Experience Hermès Time in New York, Night by author and illustrator Christoph Niemann.