The who's who of Bollywood and several Hollywood celebrities gathered under one roof to celebrate the grand opening of Nita Mukesh Ambani Cultural Centre (NMACC). Only the Ambanis could make such a magnificent event possible on a scale that even the Hollywood press took note of. But more than anything, Anant Ambani and his Patek Philippe watch – the Grandmaster Chime, made noise on the internet. The younger son of Mukesh Ambani sported one of the most expensive luxury watches for the event.
Anant Ambani walked the red carpet with his wife to-be, Radhika Merchant. Radhika opted for a Shahab-Durazi black-hued Indo-western lace saree while Anant complimented her look in a black bandhgala and matching pants. He accessorised his look with a Grandmaster Chime watch, which is the most complex Patek Philippe luxury watch ever made.
What makes this Patek Philippe watch stand apart from other luxury watches? There are not one but several reasons that make this wristwatch unique than other luxury watches. The official website of Patek Philippe describes the Grandmaster Chime as the most complicated one from their collection. The watch boasts of twenty complications, a reversible case and two independent dials and six patented innovations. It also states that the development, production and assembly process takes a staggering 100,000 hours to complete.
How much does the watch cost?
The retail price of this luxury watch is around US $2.2 million. The watch boasts of alligator leather with square scales, and a hand-stitched, shiny navy blue, fold-over clasp.
The rich history of Patek Philippe's Grandmaster Chime wrist watch
Patek Philippe harbours a long legacy of assembling 'Supercomplications', a collection of the world's most complicated luxury watches. To commemorate its 175th anniversary, the brand designed a collection of limited-edition memorial timepieces in 2014. The centrepiece was the Grandmaster Chime Ref. 5175; a grand complication wristwatch. Only seven examples were made, one of which is displayed in the Patek Philippe Museum in Geneva.
What is so unique about this luxury watch?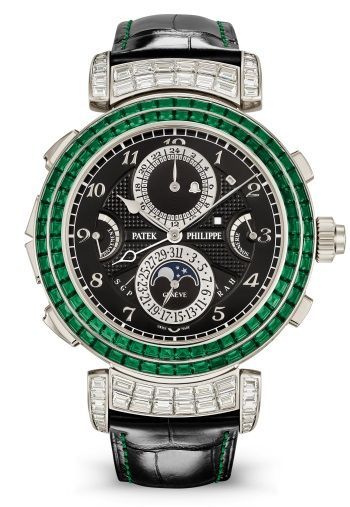 The Grandmaster Chime features no less than 20 complications which include a Grande and Petite Sonnerie, minute repeater, alarm with time strike, date repeater, second-time zone with day and night indicator, instantaneous perpetual calendar (date on both sides, day of week, month, leap-year cycle, four-digit year display, 24-hour and minute subdial, moon phases), strike work mode display, strike work isolator display, alarm ON/OFF, crown position indicator, 291 baguette-cut diamonds, 22 baguette-cut emeralds, 118 baguette-cut emeralds and power reserve indicators for the movement and the strike work.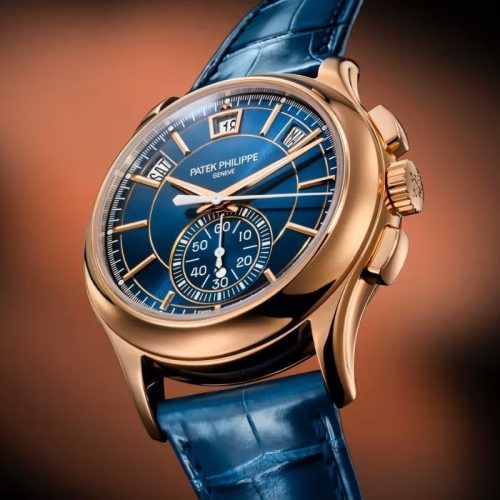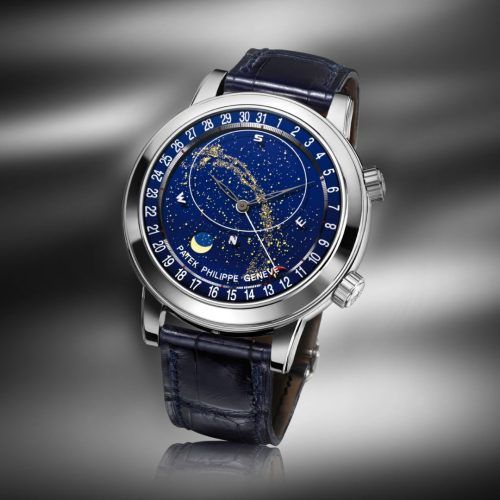 The acoustic functions of this Patek Philippe watch
Unlike other luxury watches, the Grandmaster Chime presents a remarkable repertoire of five acoustic functions. This includes a Grand and Petite Sonnerie, minute repeater, date repeater (patented) and alarm (patented). For the first time in the history of watchmaking, the wristwatch uses the minute repeater strike sequence as an acoustic alarm and to indicate the date. Seven patents and innovations were specifically developed for the Grandmaster Chime movement, calibre 300.
Other specifications of the watch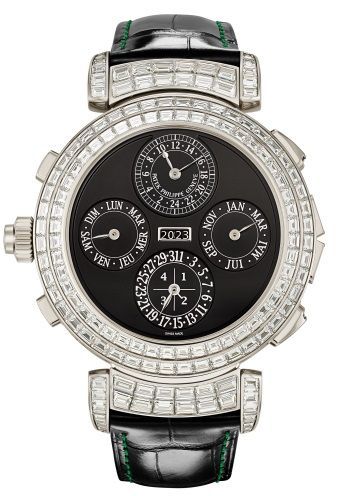 The beating heart of this luxury watch is the calibre 300 movement that consists of 1,366 individual parts. The case also has no fewer than 214 components. It also does not have a front and a back face but has two dials, both crafted from solid 18K gold plates. This means you can wear it in whichever way you desire. When the crown points to the right, one can read the dial with the time displays. The other side shows the full perpetual calendar with a 24-hour dial and a four-digit year display.
(All USD conversions done at the time of writing)
Hero Image credit: AFP; Feature Image credit: Patek Philippe official website
This story first appeared on Lifestyle Asia India