We might be 'Thinking Out Loud' but it seems like Ed Sheeran's 'Bad Habit' is his penchant for collecting expensive watches. The 32-year-old British singer-songwriter, who boasts a cool net worth of over USD 200 million (MYR 905 million), has often impressed watch aficionados with his timeless pieces. Rough estimates by experts even peg his collection at a monumental USD 6 million. From a few limited editions by Patek Philippe to classic designs by Rolex, we dissect Ed Sheeran's impressive watch collection.
Speaking of limited editions, Sheeran has been dominating headlines recently for his involvement in an alleged plagiarism lawsuit filed by the heirs of one of Marvin Gaye's co-songwriters. While the British singer-songwriter emerged triumphant in his case, it was his extraordinary claim of quitting music altogether that left fans worried. With his newest album '-' hitting the markets only recently, we can safely assume, much like his expensive watches, that his time has just arrived.
How Ed Sheeran's watch collection began
In a sit-down interview with Hodinkee's Ben Clymer in 2022, the Grammy-nominated artist revealed that his fascination with watches began several years prior to his celebrity days. However, his passion was limited to owning a single ToyWatch, a piece he believed would "the one". It was fellow singer and watch connoisseur John Mayer who acted as a catalyst in turning Sheeran from a one-watch-wonder to a decorated collector.
"I have bought watches for big occasions or momentous things that have happened in my life and career. I can pinpoint each watch to a special moment in my life. An IWC Big Pilot for my 22nd birthday, or a Patek Philippe 5004 for being nominated for my first Grammy (in 2012). Many memories and many watches, but they are all just as special and hold just as much meaning," he further added.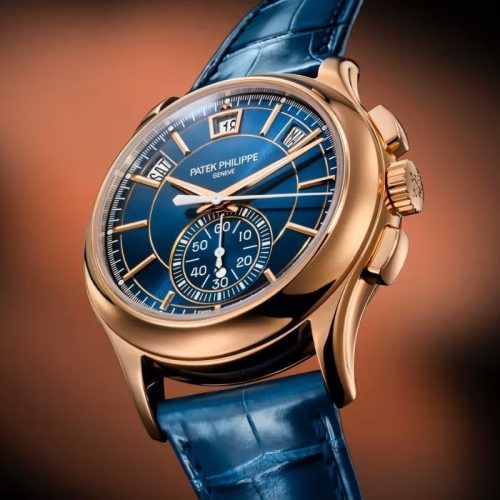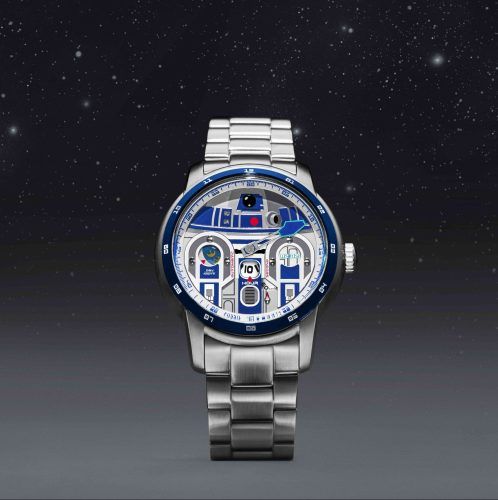 The most expensive watch collection of Ed Sheeran
Apart from making a beeline towards his everyday favourites like the Patek Philippe modified Nautilus 5726A, Sheeran's wrist has housed some of the most extravagant watches ever made like the Richard Mille RM 38-01 Tourbillon G-Sensor Bubba Watson White Quartz TPT. We take a look at his full collection.
1. Rolex Daytona Rainbow 116599RBOW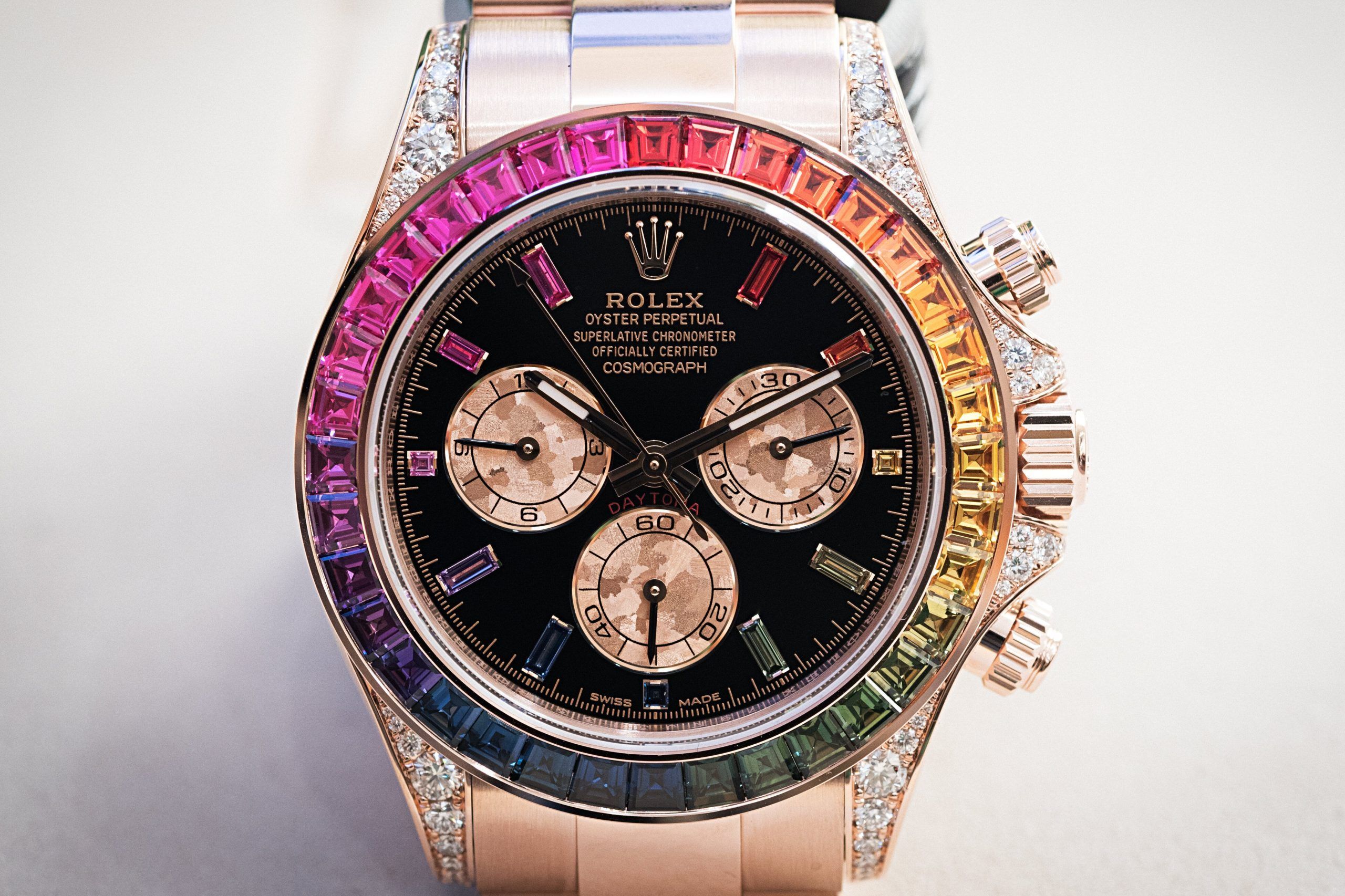 Sheeran's steel Daytona with a white "Panda" dial happens to be one of the hottest Rolexes to get your hands on in recent years. Set with 36 baguette-cut sapphires that decorate the bezel in rainbow colours, and 11 additional colourful sapphires serving as the hour markers, this watch is a flashy addition that can be found in Sheeran's friend John Mayer's collection as well. Did we mention the 56 brilliant-cut diamonds sitting on the lugs and crown guards? It does not get more opulent than this.
2. Rolex Daytona 'Paul Newman' 6239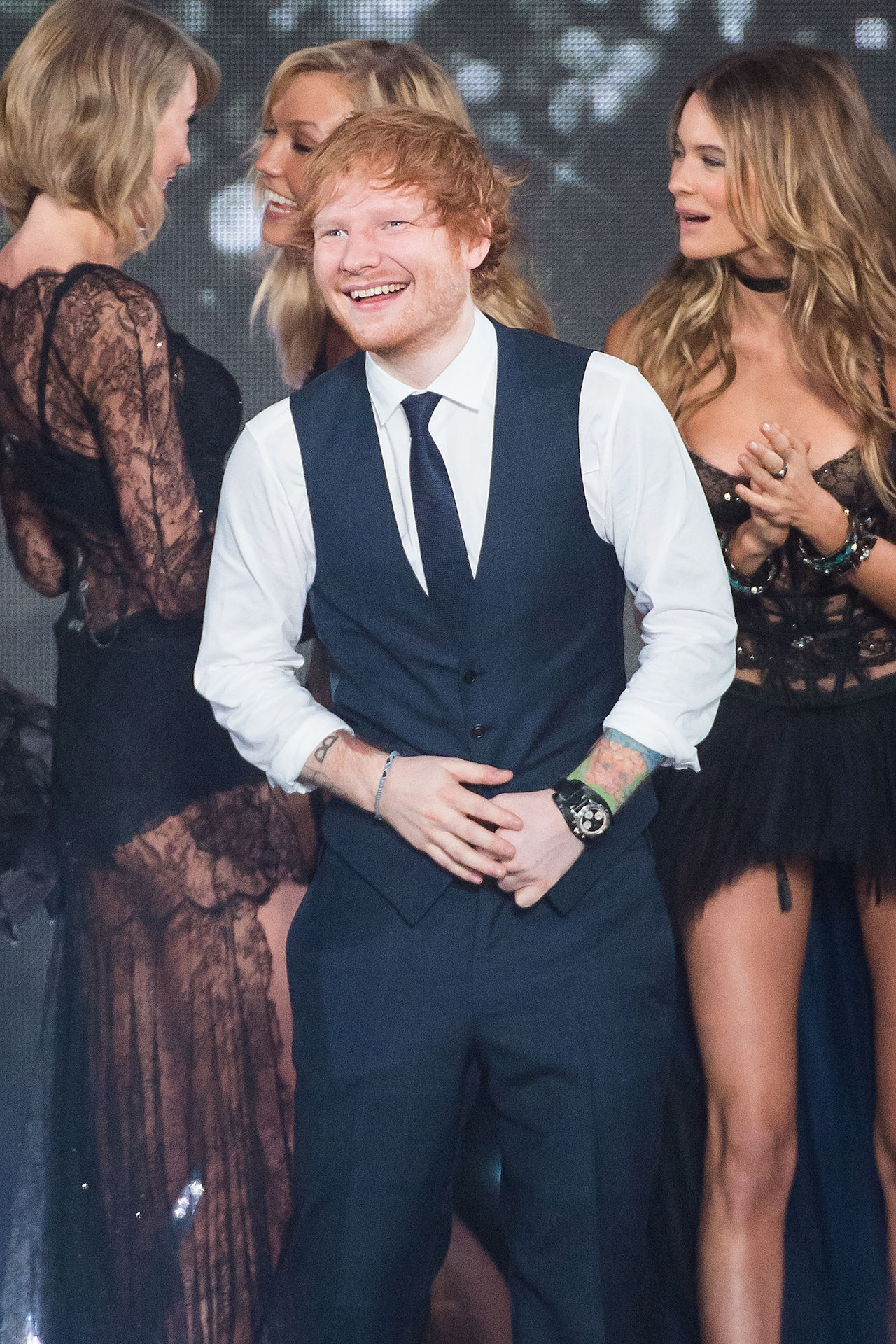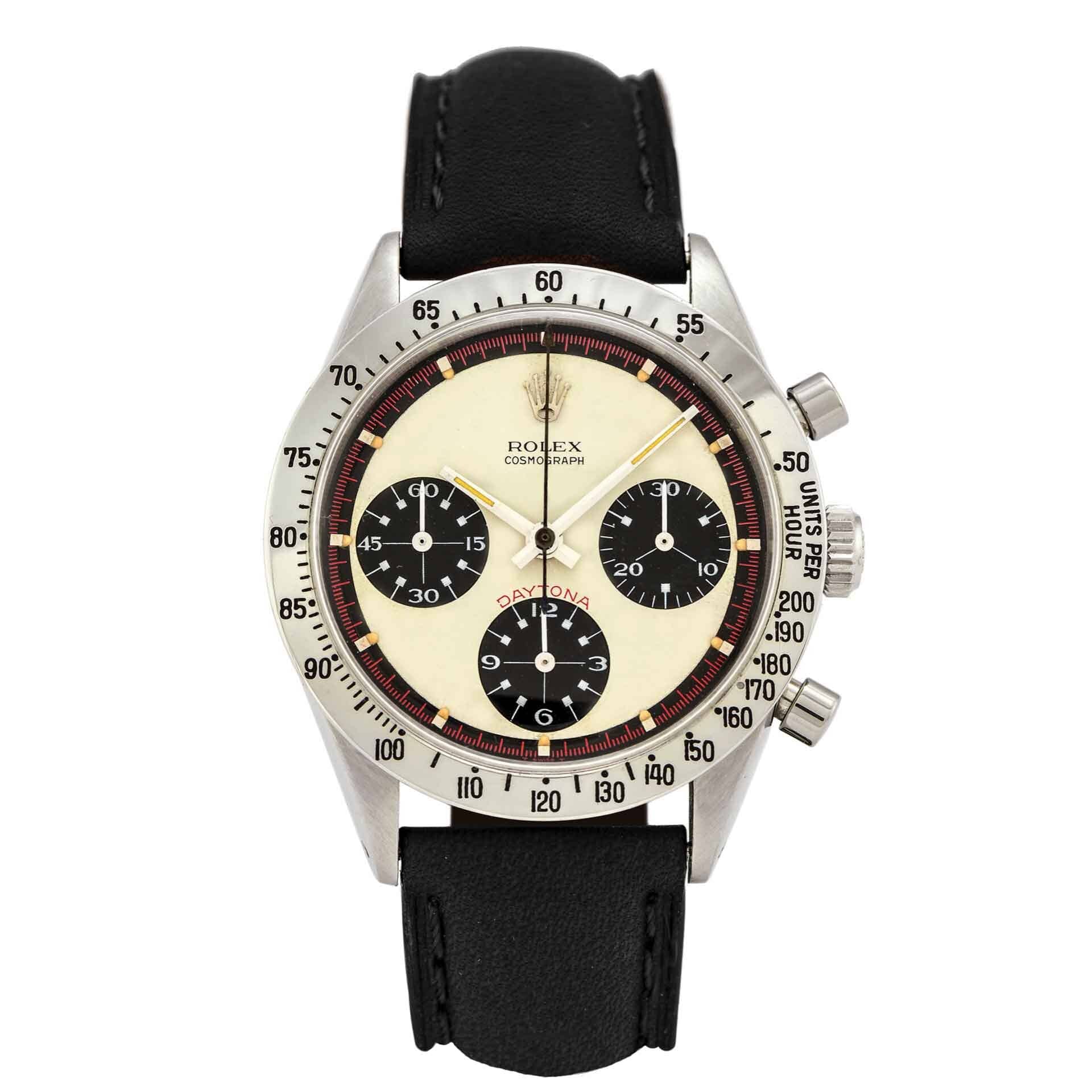 If expensive watches are to be considered, Ed Sheeran's 'Paul Newman' version of the Rolex is a timeless collectible, complete with a steel bezel, black dial, and with Daytona in red at 6 o'clock. This luxury accessory sold for a record auction deal at USD 17.8 million back in 2017, making it one of the highest sales in watch history. While the Rolex has found several buyers in the likes of Eric Clapton, Adam Levine and a bevy of other global superstars, Ed's event of choice for this rarity was the Victoria's Secret annual fashion show held in 2014.
3. Rolex Yacht-Master Ref. 116655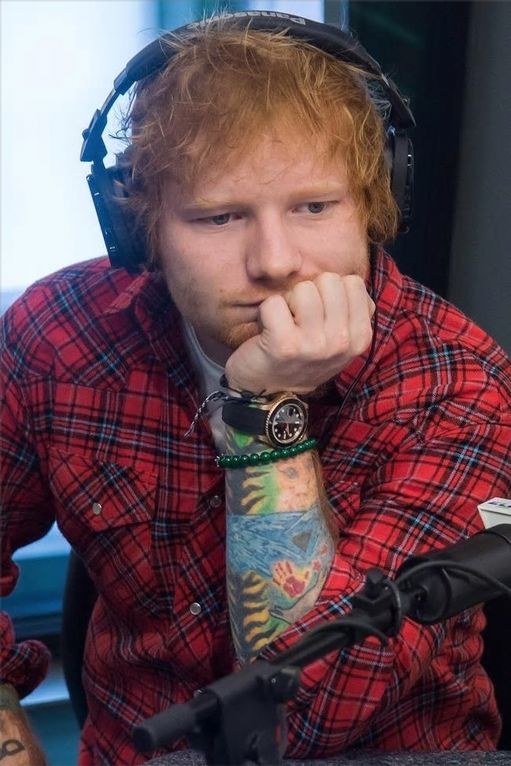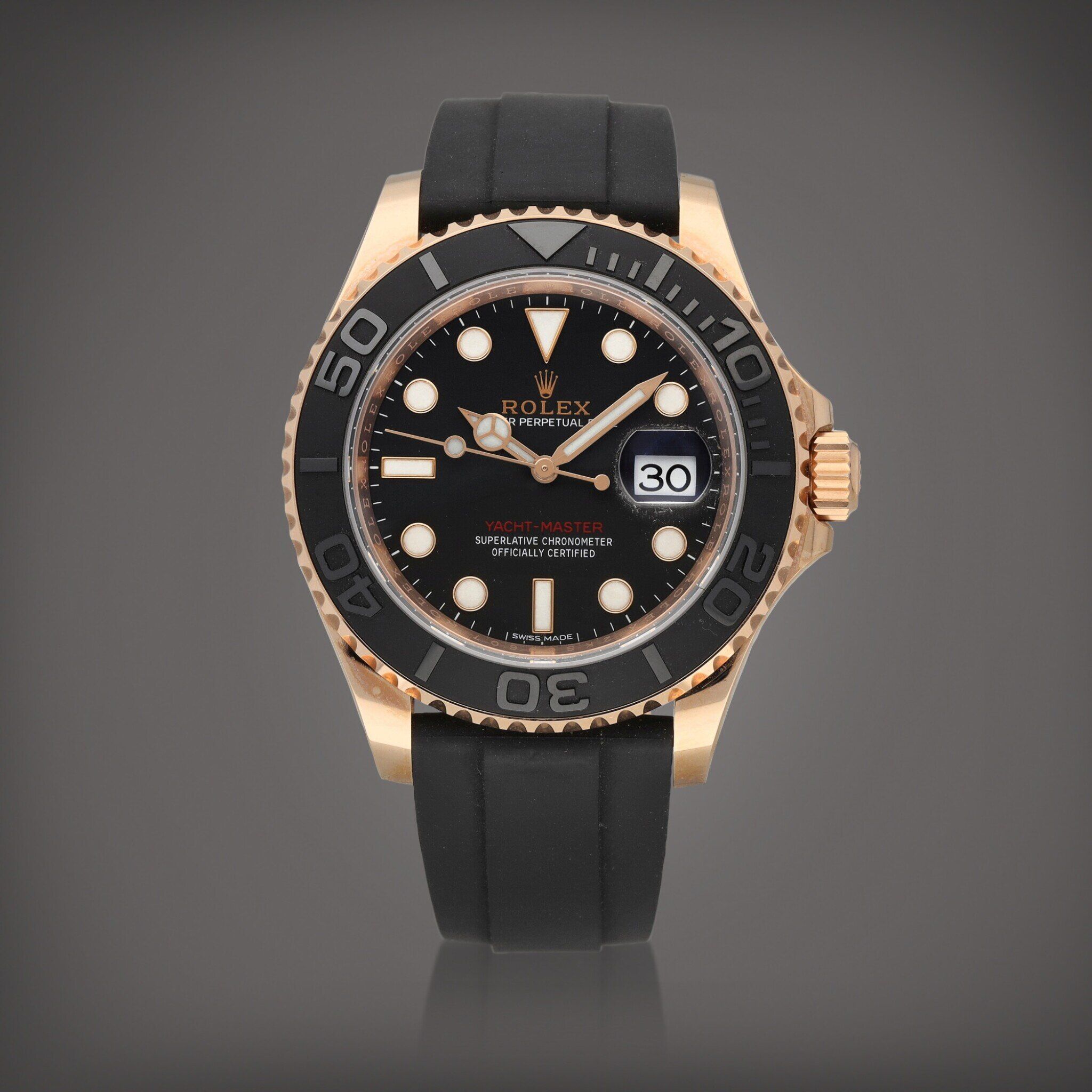 Perhaps one of the more modest pieces from Ed Sheeran's watch collection, this particular 18k rose gold timepiece was spotted on the singer's wrist during his 2015 interview on The Elvis Duran Z100 Morning Show. Superlative in its construction and characterised by its highly durable black ceramic "Cherachrom" bezel insert, this specialised Yacht-Master is priced close to USD 30,000 today.
4. Richard Mille 26-02 Tourbillon Evil Eye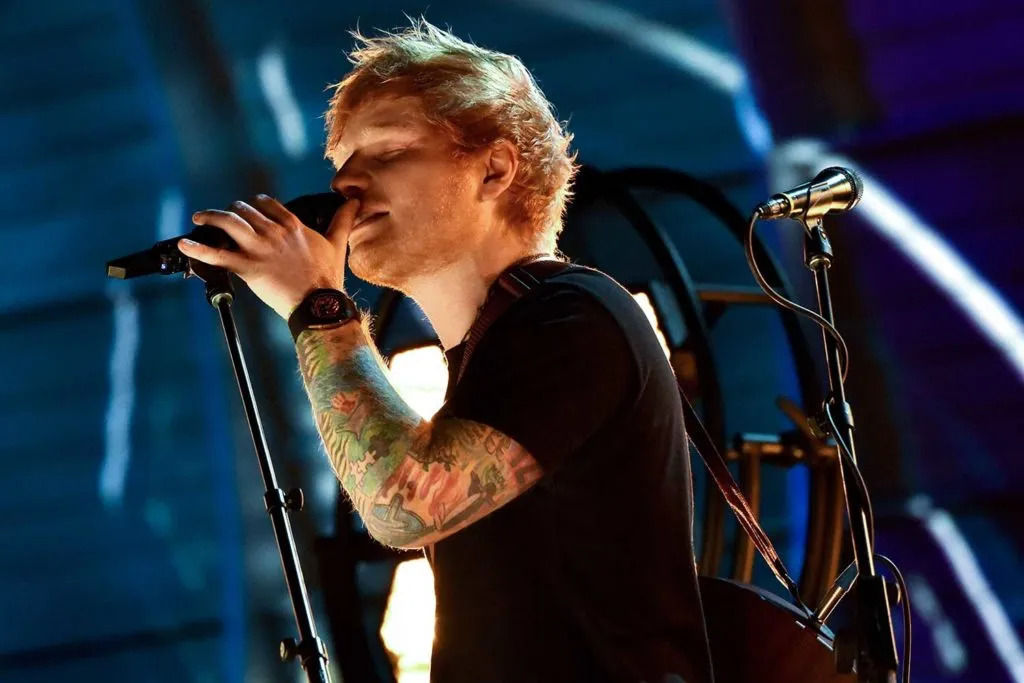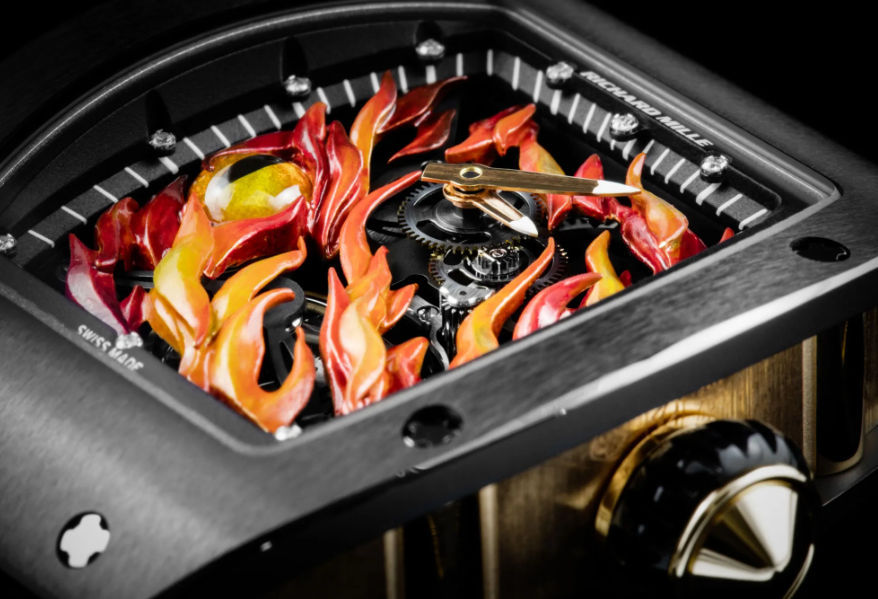 Retailing at a staggering USD 600,000, this Richard Mille stunner is inspired by "Eye of Sauron" from the Lord Of The Rings trilogy. Limited to only 25 pieces globally, this watch involves some of the best artistry in the world. The flames and eye detail are hand-carved using chisels that perfect the tiniest details, reveals Richard Mille on its website. The specialised art of grand feu enameling gives the eye its striking depth and realism. Topped with several layers of transparent and hand-crafted micro lacquer work, the final product is one of the rarer yet quirkier timepieces from the Swiss watch giant. Sheeran's love for the watch became immortalised on the internet when he was spotted wearing it in an episode of James Corden's iconic show Carpool Karaoke.
5. Richard Mille RM27-03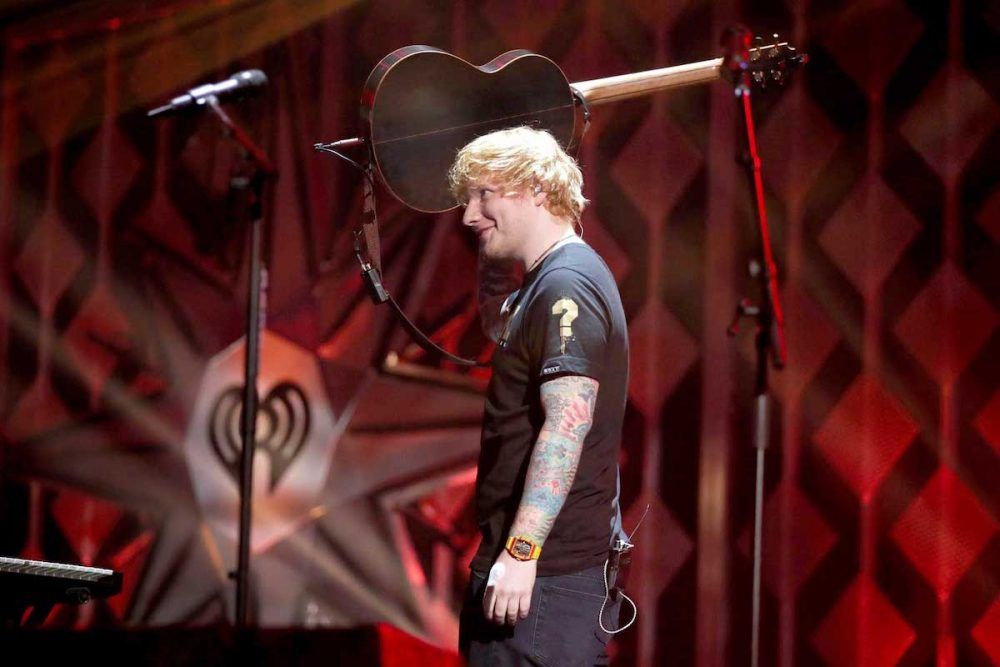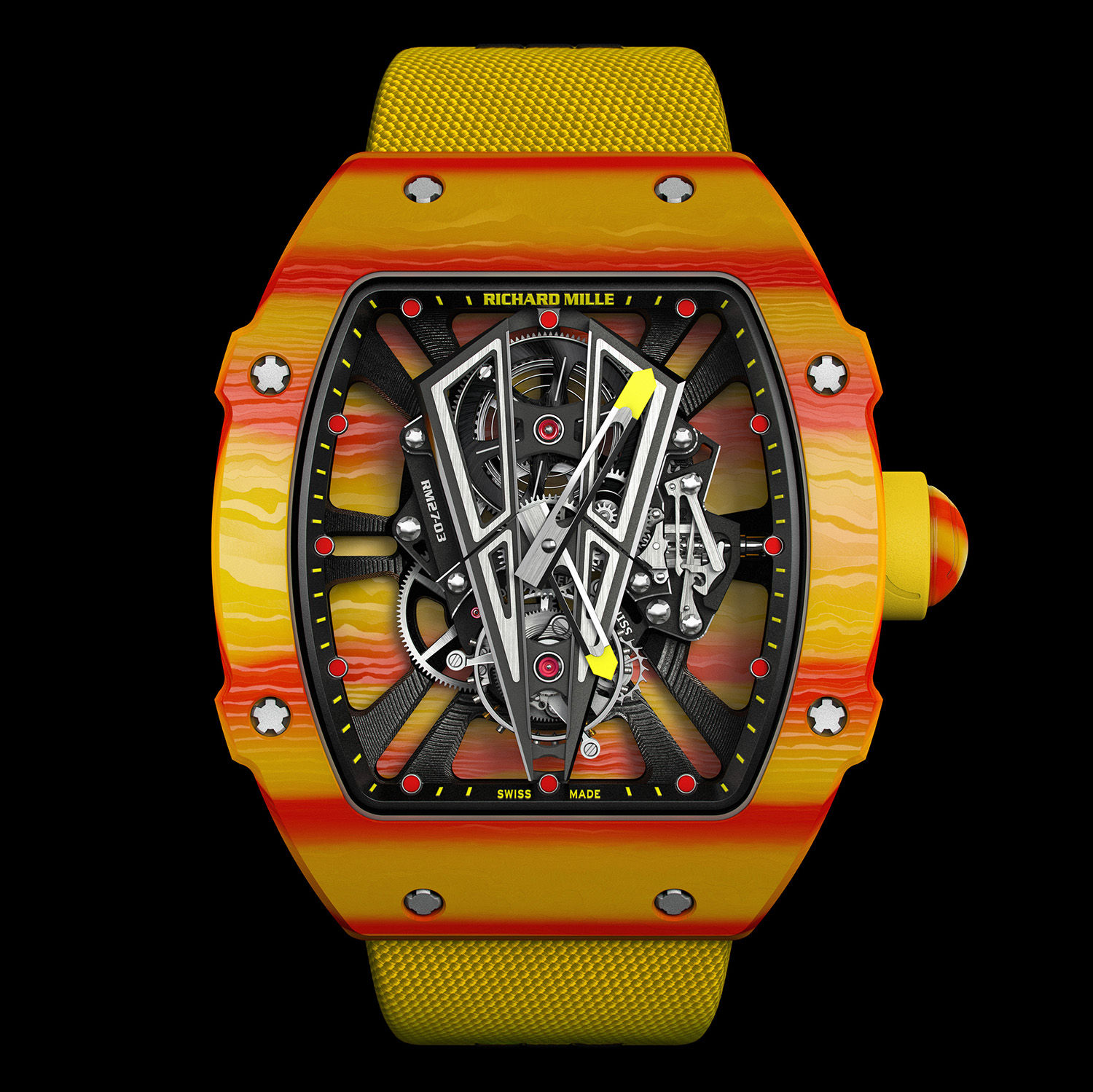 Specially designed for tennis legend Rafael Nadal, the Richard Mille RM27-03 was worn by Sheeran during his performance at 102.7 KIIS FM's Jingle Ball back in 2021. This ultra-sporty watch features sleek orange, yellow, and red hues, meant as an homage to the courts at Roland Garros. Designed with a tourbillon mechanism and a 10,000G shock resistance, this edgy accessory retails at upwards of USD 720,000 and there's only 50 of it available in the world.
6. Richard Mille RM 38-01 Tourbillon G-Sensor Quartz TPT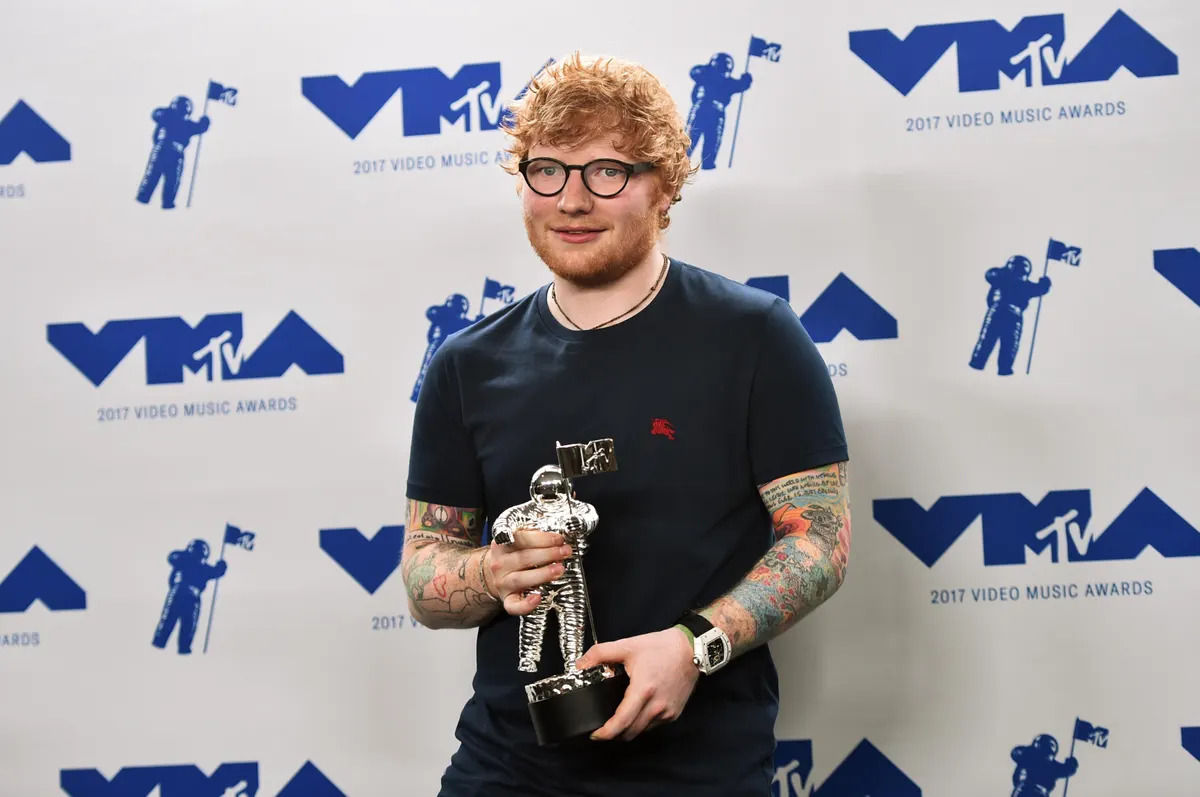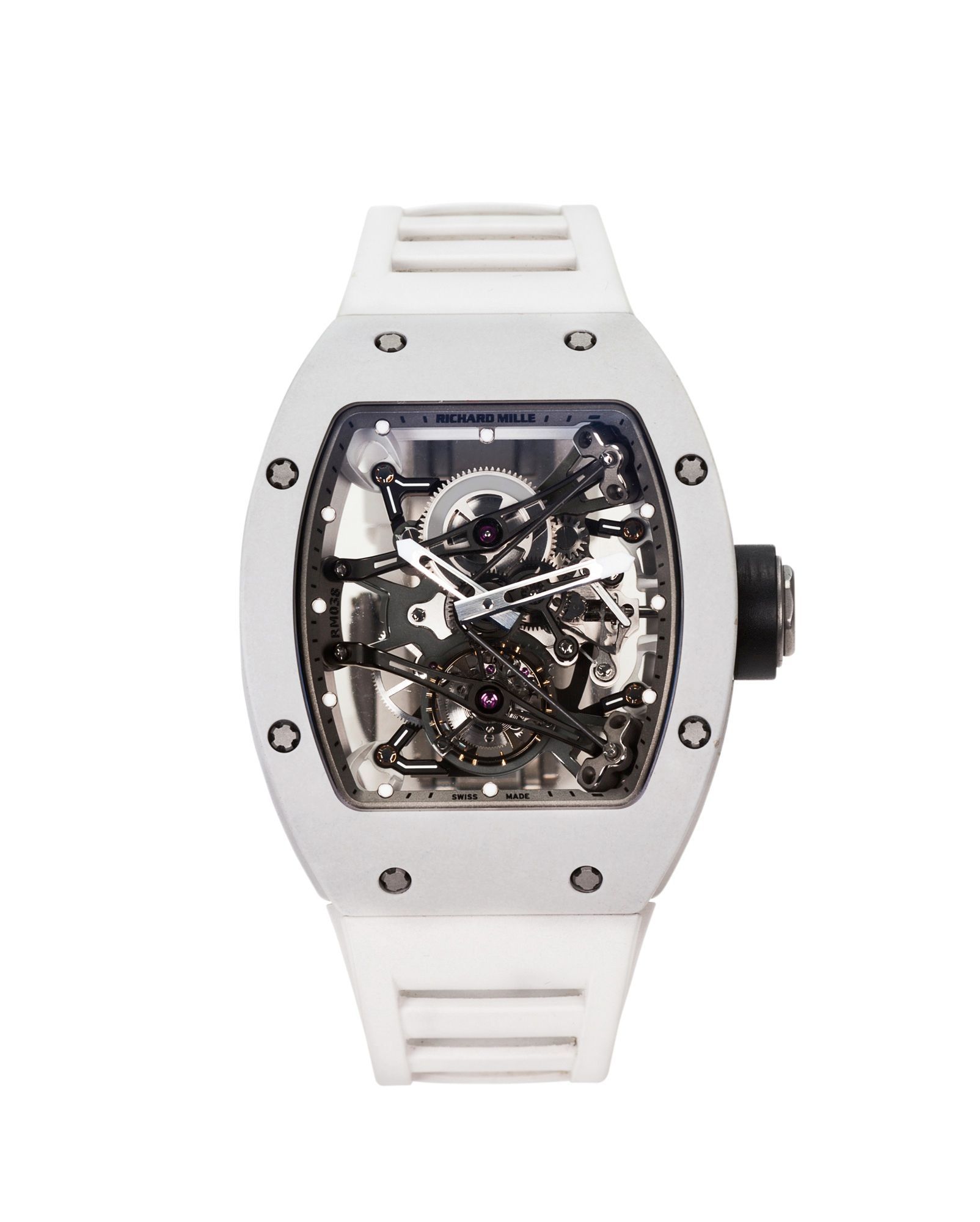 Taking home the trophy for 'Artist of the Year' and 'Best Male Video' at the 2017 MTV Music Awards called for some flashy wrist candy. Designed for golfing pioneer Bubba Wilson, this Richard Mille production offers manual winding tourbillon movement as well as one of the most intricate G-force indicators ever produced by the brand. Its futuristic Quartz TPT case makes it one of the lightest in the market. With a price tag upward of USD 800,000, the RM 38-01 is one of the most exclusive watches with only 50 pieces released worldwide.
7. Richard Mille RM 030 Americas Limited Edition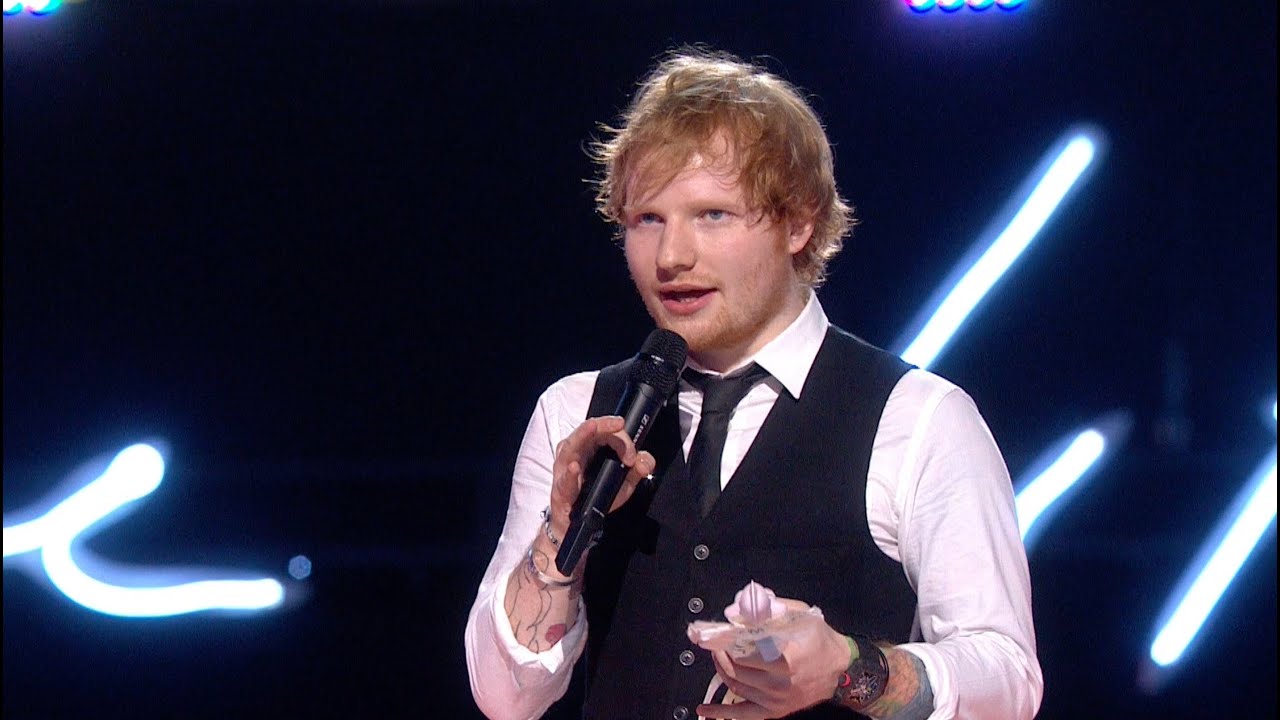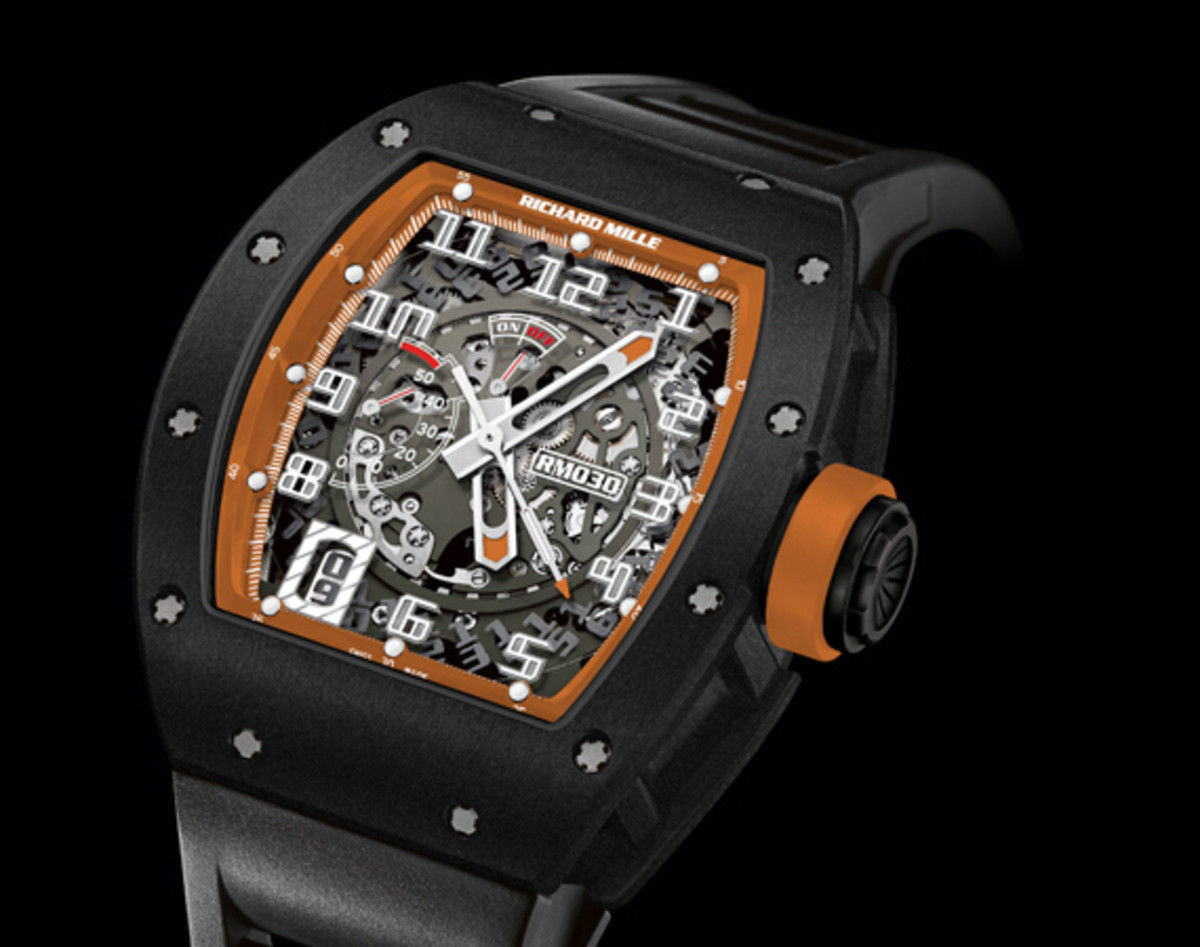 Produced in a limited run of only 30 pieces, the RM 030 Americas Limited Edition is a cleaner, more straightforward variant of the brand's 2011 release, the RM 030. Lightweight in its finish but otherworldly in its technical prowess, this capsule timepiece features orange accents on the flange, hands and crown guard. Sheeran grabbed quite a few headlines with the watch, choosing to wear it to the Grammys, on tour in Shanghai and Dubai, and at the Brit Awards where he won 'Album of the Year' back in 2015.
8. Patek Philippe Calatrava Pilot Travel Time 5524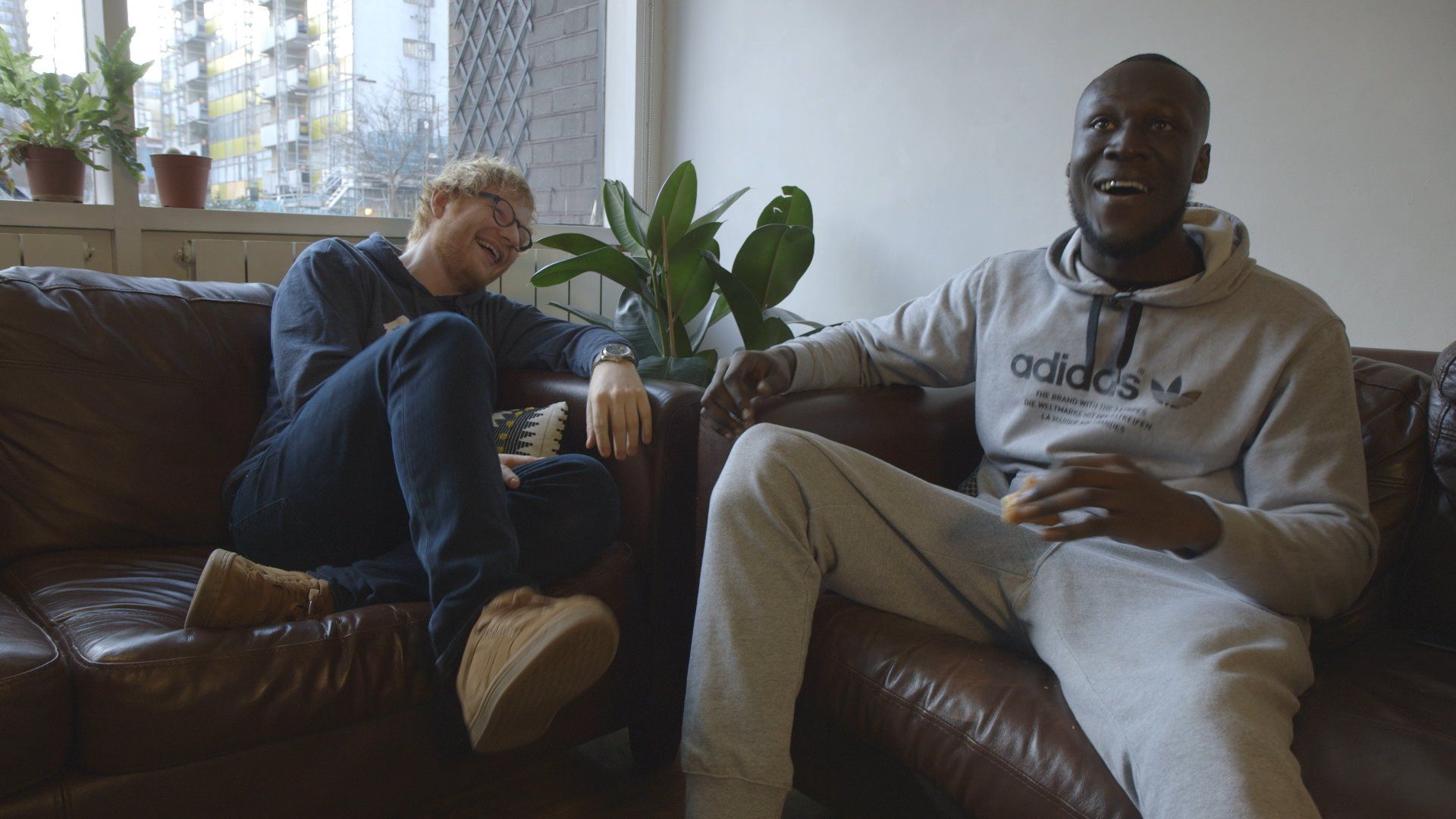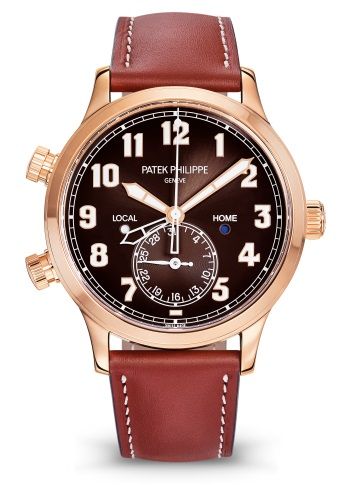 During a casual chat with rapper Stormzy for VICE, Ed pulled out the big guns with his Patek Philippe Calatrava Pilot Travel Time 5524. He even featured on the cover of British GQ in it back in March of 2017. This rose gold beauty comes with a 42 mm case, a brown sunburst dial and tan leather straps for the ultimate wear. Launched in 2015, this masterpiece from the Swiss traditionalists costs a mere USD 54,000. However, due to its very limited production, it remains one of the harder Pateks to secure from authorised dealers. Ed, on the other hand, has his Tiffany's-stamped, lending him the reputation of one of music's most avid watch collectors.
9. Patek Philippe Nautilus 5711/1300A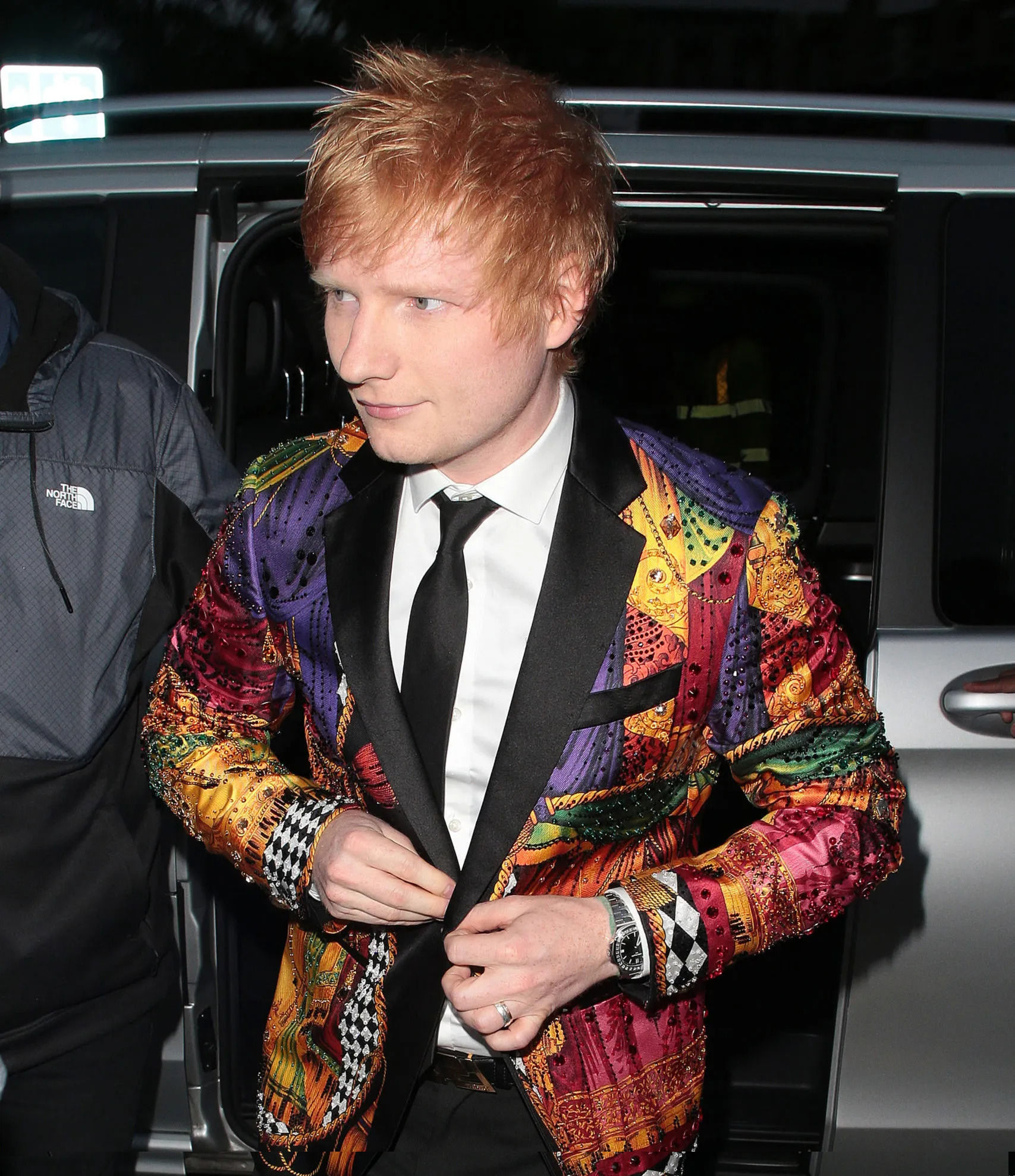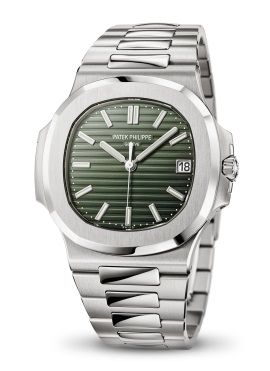 Attending the British GQ Men of the Year Awards calls for something a little more off-the-charts. Ed did just that by pulling out his rare green dial Patek Philippe Nautilus 5711/1300A back in 2021. If the sleek stainless-steel exterior was not flashy enough, the watch's bezel is lined with 32 baguette diamonds, skyrocketing its worth to a whopping USD 325,000. The interesting anecdote about this watch stems from the fact that the green-dialed Nautilus was only produced in limited numbers back in 2021, the same year Sheeran got his hands on his. The base model of the Nautilus (the original blue dial Patek) wound up in production in the same year, making the 5711/1300A variant one of the most coveted and inaccessible in the world.
10. Patek Philippe Nautilus Tiffany 5711/1A-018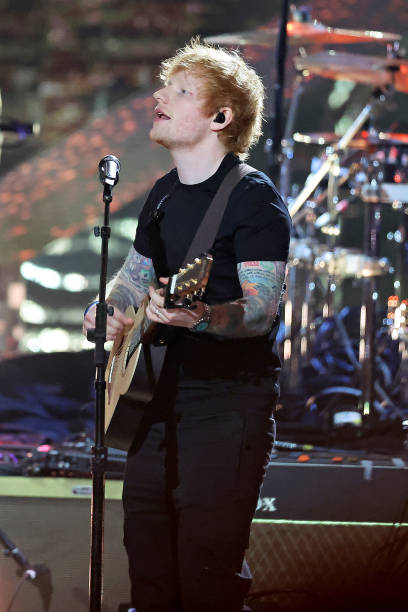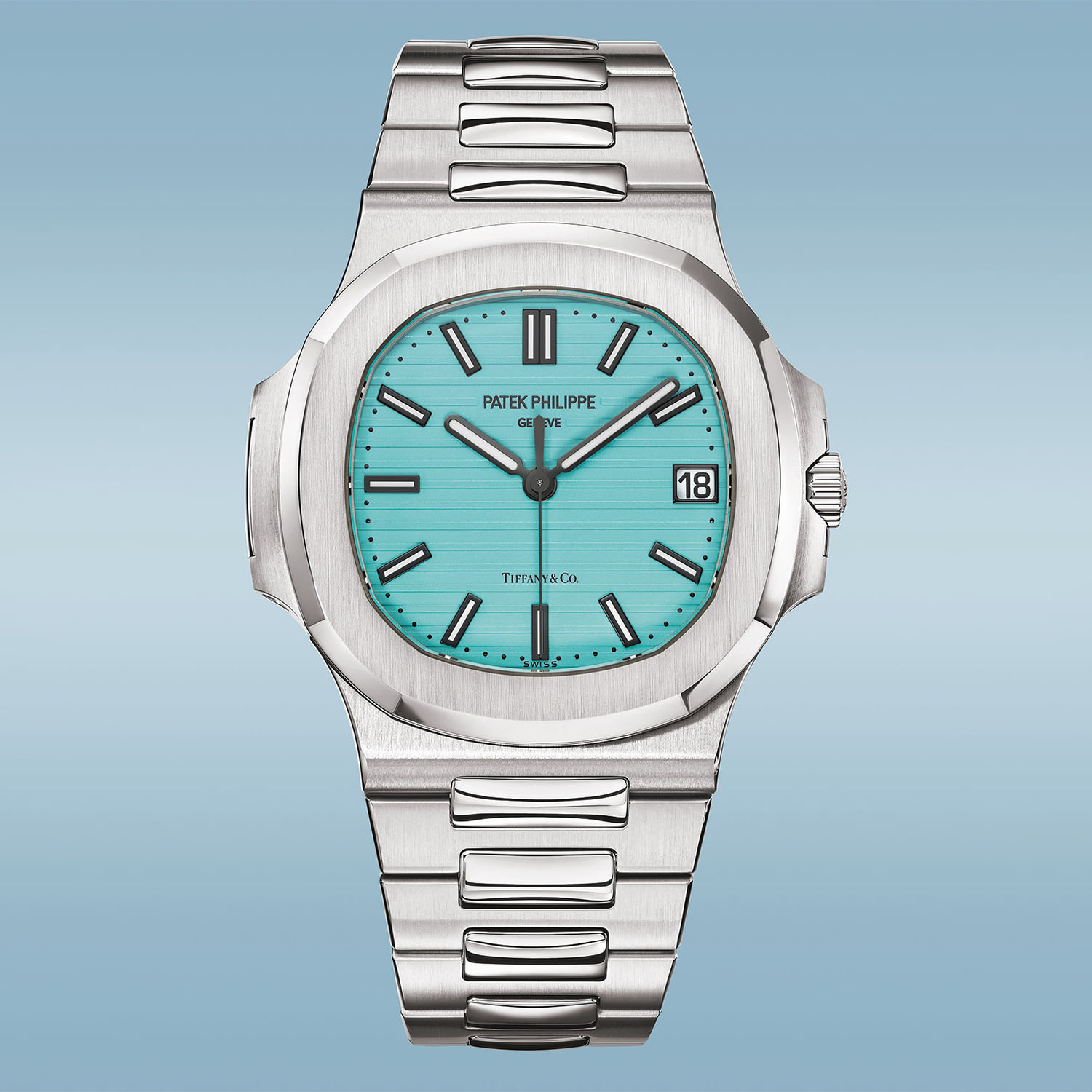 A key takeaway from Ed Sheeran's watch collection is his ability to style his pieces for his many performances worldwide. Take his December 2021 showcase in Los Angeles for the 37th Annual Rock & Roll Hall of Fame Induction Ceremony. Strumming his guitar at the Microsoft Centre in his signature black t-shirt, Ed jazzed up his efforts with an impressive Patek Philippe Nautilus Tiffany 5711/1A-018. The iconic Tiffany's blue dial makes it a watch on the wish lists of many of the world's A-listers. Manufactured only in 170 units worldwide, the Nautilus Tiffany has witnessed auction bids at upward of USD $ 6.5 million.
11. Patek Philippe 2499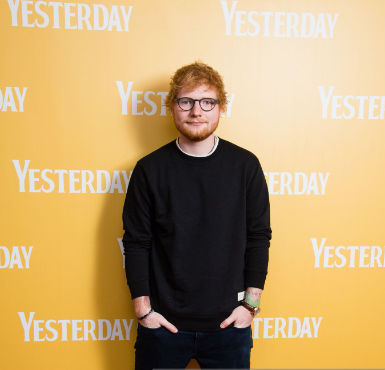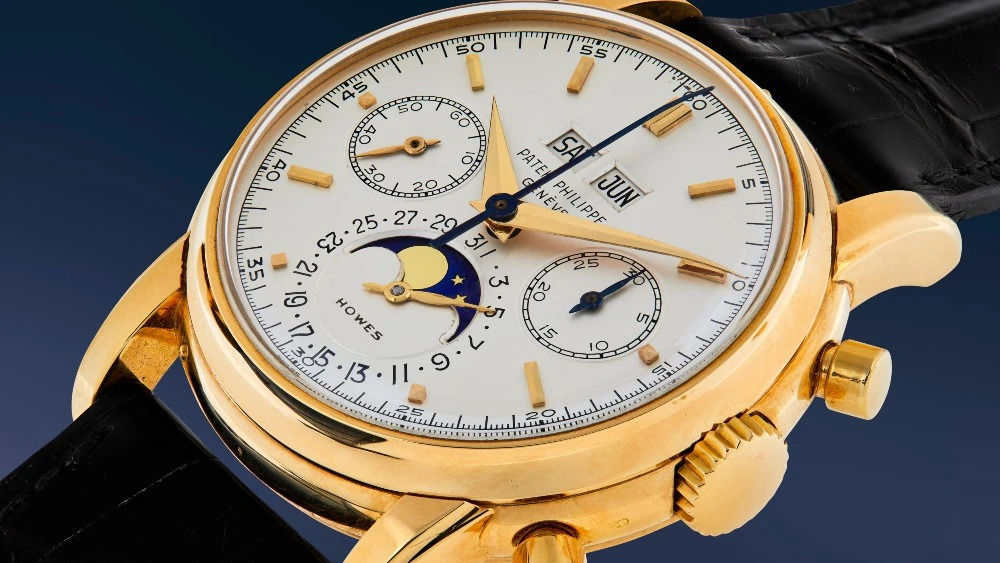 Owning a vintage collectible from the Geneva-based luxury giant was never a hurdle for Ed Sheeran, who whipped out the rare Patek Philippe 2499 during the UK's movie premiere of Yesterday (2019). The perpetual calendar chronograph with moon phases was only produced between 1950-1985 and was limited to a 349-piece collection. Regarded as one of the most spectacular watches produced by the brand, the 2499 was auctioned at Sotheby's in 2018 for USD 3.9 million. Some watch observers also believe that Sheeran's collection includes the Patek Philippe 1518, the world's first mass-produced calendar chronograph.
12. Patek Philippe Ref. 5370P-011 Split-Seconds Chronograph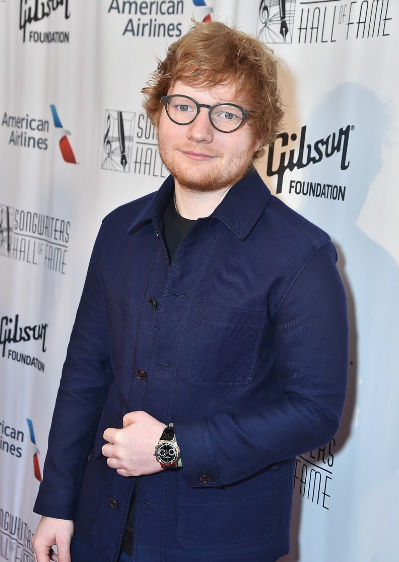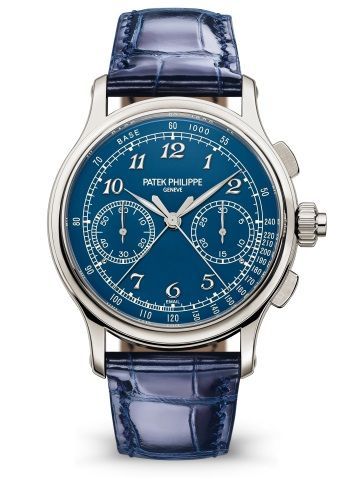 For his gig at the 48th Songwriters' Hall of Fame Induction in 2017, Ed was photographed in his Patek Philippe 5370P-011. Designed meticulously with 312 parts that support the 65-hour power reserve, the split-second chronograph comes with a column wheel and a horizontal clutch. The watch is a more premium version of the blue base model, 5370P that was launched back in 2015. It is one of the more prominent heavyweights from Patek Philippe's as well as Ed Sheeran's watch arsenals.
13. Audemars Piguet Royal Oak Perpetual Calendar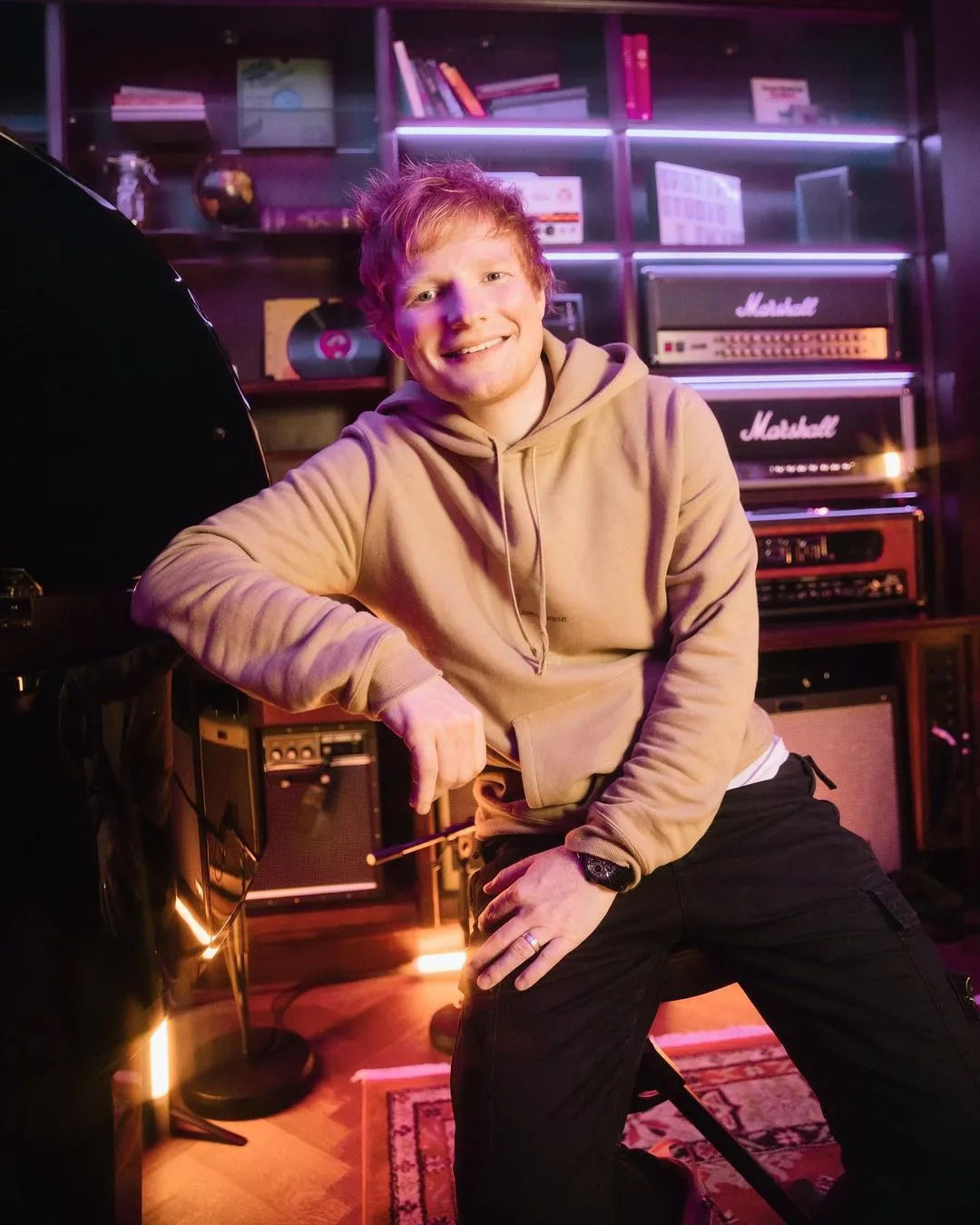 If owning a single piece from the Audemars Piguet Royal Oak collection was not enough, Ed is the proud proprietor of the watch in both sleek silver and black. The former was spotted on his wrist during his performance with Stormzy in 2022 while the latter showcase was on the back of an Instagram post. This statement accessory displays the day, date, the month, and the week of the year accompanied by an astronomical moon. Currently retailing at upwards of USD 125,000, this Audemars Piguet in the 32-year-old's collection continues to astound watch enthusiasts worldwide.
14. Audemars Piguet Royal Oak Tourbillon Extra-Thin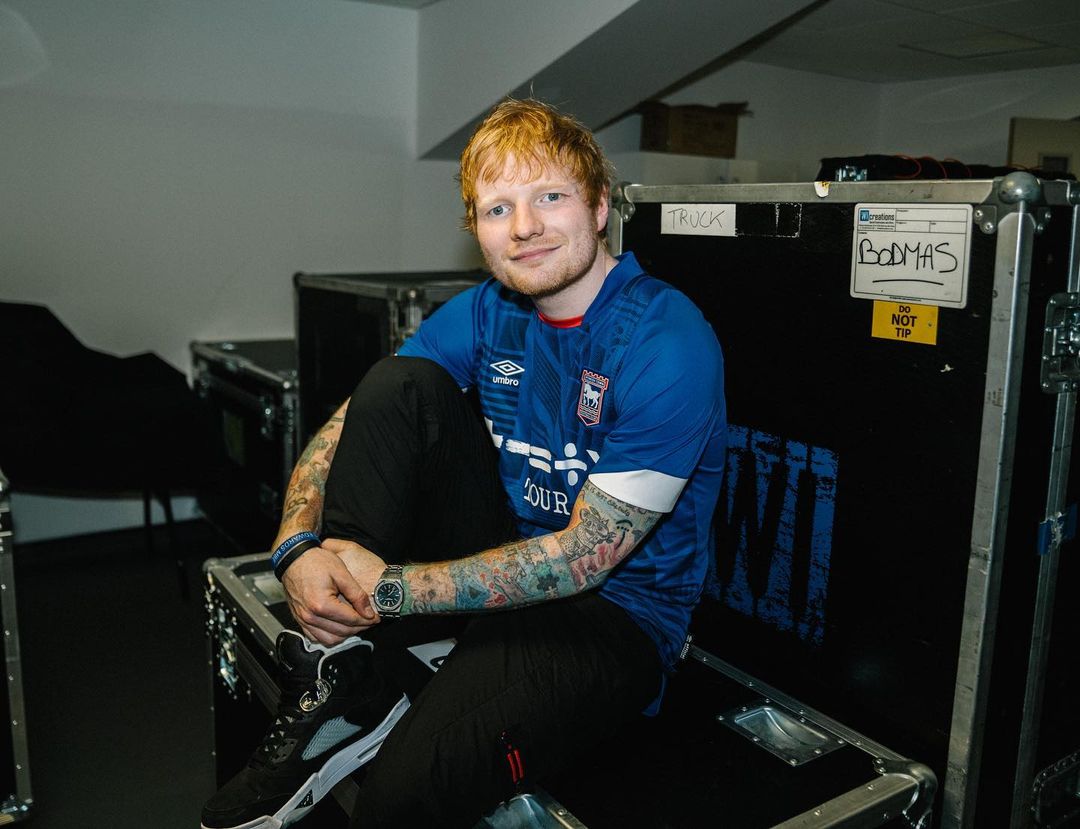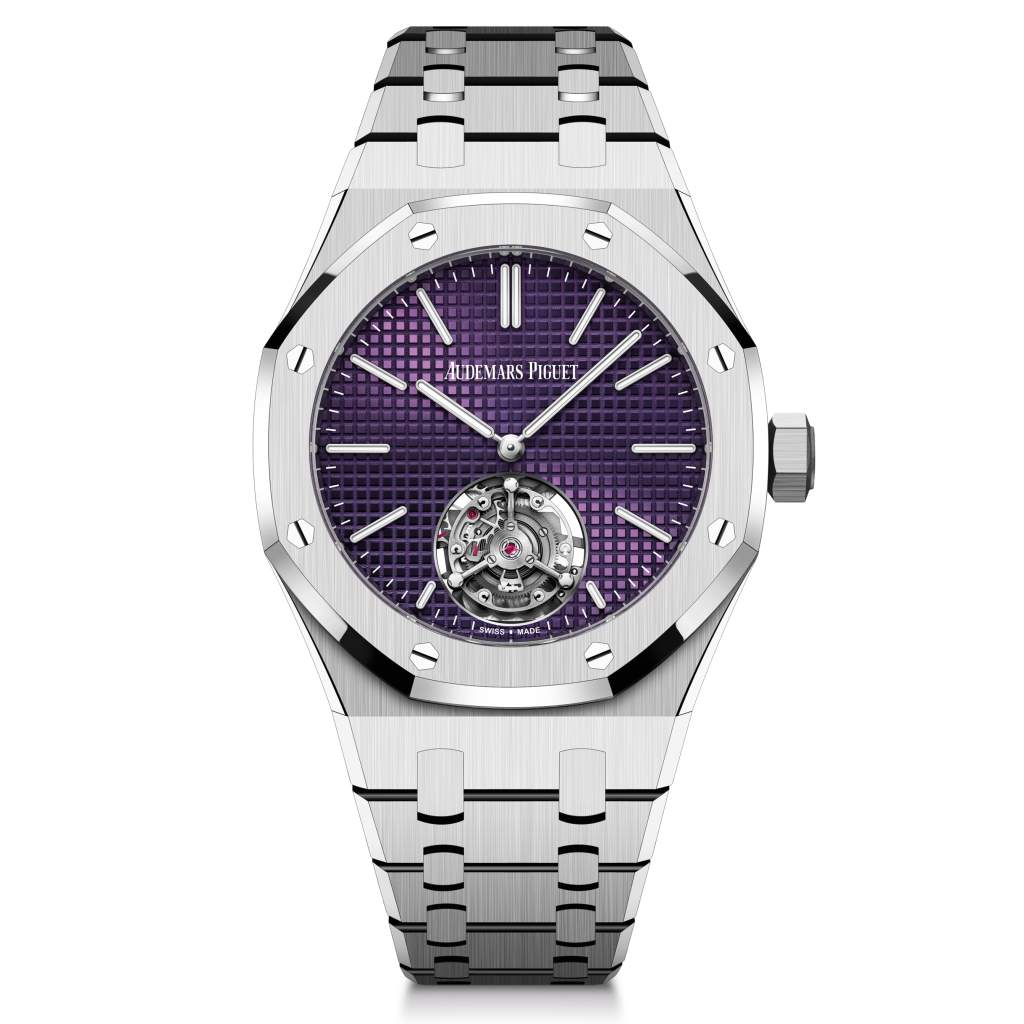 The Tourbillion strain from Audemars Piguet's Royal Oak capsule is merely 9mm thick, making it one of the more lightweight watches in Ed's collection. Unveiled in 2019 as a limited edition of 100 pieces with an eye-watering price tag of USD 375,000, the watch is adorned with sapphire crystals while still adhering to a clean, minimalist aesthetic. A sunburst motif in black that radiates outwards from the tourbillon, called the "Tapisserie Evolutive", makes the design all the more appealing.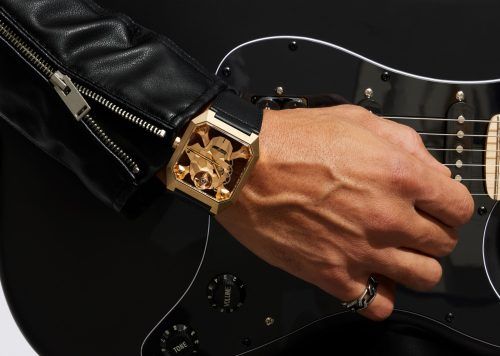 15. A. Lange & Söhne Zeitwerk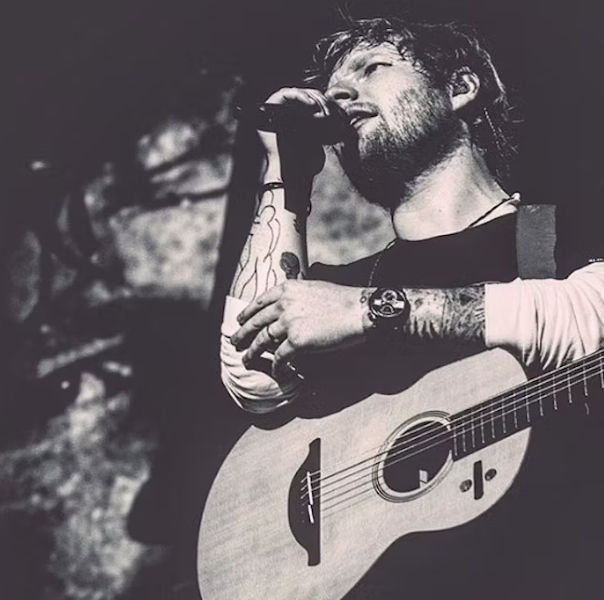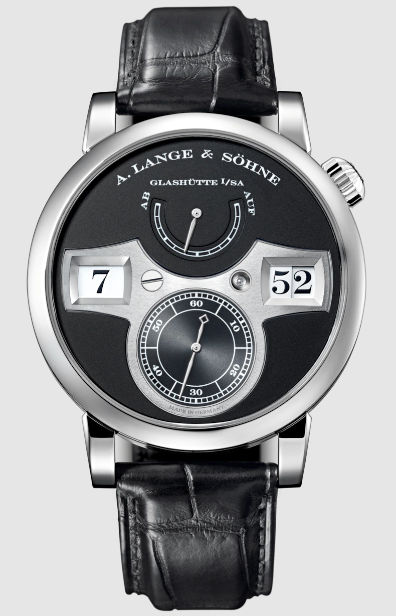 Apart from his spectacular watch collection that ranges from Rolex to Patek Philippe and Richard Mille, Ed Sheeran's favourites from the Germany-based A.Lange & Söhne are also prominent features. It was during a concert in Dresden's Semper Opera House that fans spotted the Zeitwerk in a shade of white gold. Crafted with ingenious digital display concept, this mechanical wristwatch is designed with an innovative time bridge. Rough estimates suggest this watch is currently retailing at USD 135,000.
(Main image: Johannesgenger/Twitter and Michael Stuart/ FilmMagic/ Getty Images; Featured image: Zakary Walters/Instagram)
This story first appeared on Prestige Online Malaysia
Frequently Asked Questions (FAQs)
Question: How much is Ed Sheeran's Patek Philippe watch?
Answer: Ed Sheeran's collection features several Patek Philippe watches like the Nautilus 5711/1300A and the Calatrava Pilot Travel Time 5524. They range from USD 50,000 to over a few million dollars.
Question: Who owns the world's most expensive watch?
Answer: Floyd Mayweather, an American boxing promoter and former boxer, owns the Billionaire watch from Jacob & Co., which is considered the most expensive watch ever sold. Its worth is estimated at USD 18 million.
Question: How much is Ed Sheeran's Richard Mille collection worth?
Answer: Ed's collection ranges from the Richard Mille 26-02 Tourbillon Evil Eye to the RM27-03. All of these luxury watches range from USD 600,00 to USD 720,000.
Question: Which is the world's most expensive watch?
Answer: The Graff Diamonds Hallucination is the most expensive watch in the world, with a price tag of USD 55 million.