Over the years, Hu Bing has not only been popular in Chinese films and TV, but also been living the high life on the international fashion stage with an exquisite appearance and a tall figure. His elegance and imperturbable style, persistent and devoted attitude perfectly embody the "craft your dreams" philosophy of Corum.
Though professionally trained in rowing and a member of the Chinese Olympics Team at the 1988 Summer Olympics, Hu Bing's athletic career took a more glamorous turn when he suffered a back injury in the early 1990s. Since penetrating the global fashion scene as the first Chinese male model to walk the international runway, Hu Bing has pursued a career in TV and film with vivid roles in such series as True Confession and Pink Girl. Determined to succeed, he focused all his time and energy on his craft and chose to accept different and challenging roles on his way to stardom. The passionate interpretation of each character and the excelsior performance on each fashion stage eventually paid off with a long, lasting career both in fashion and in entertainment. Glad to have found the man who personifies the brand's tenets, Hu Bing is truly a typical Chinese gentleman. His achievements in diverse areas have definitely proved his magnificent talent. As one of the earliest representatives, a Chinese model who presented in international fashion shows, his devotion with unparalleled self-discipline and persistence make him a successful star and an actor for years. His pursuit of excellence and continuous breakthrough is precisely the best interpretation of Corum's persistent progress in fine watchmaking.
Upon assuming his role as Corum's global brand ambassador, Hu Bing expressed his admiration for the watch manufacture and excitement over the partnership, saying, "Corum is a pioneer in watchmaking. As a fan of Corum, I am very honoured to be their global ambassador. Corum has positioned itself at the forefront of the watch industry by creating a number of iconic collections in the past 63 years. This proves that 'Craft Your Dreams' is not merely a slogan, but a belief in continuous exploration and a determination to go beyond itself."
In the following interview, the superstar from China speaks to us on his ongoing career and his collaboration with Corum. We noticed that your first name means "soldier/ fighter" plus both your parents hail from military backgrounds, and couldn't help but wonder what kind of childhood you had growing up. Was it strictly regimented? Tell us about some of the important values that your parents have instilled in you since young.
Yes, indeed I was raised like a proper soldier during my childhood. Discipline and obedience were the rules to observe in order to not get into trouble. I was born a rebel yet every time I did something wrong, I would apologise and adapt, and move on. I've learned to humbly accept and never compromise. My family is always my top priority. My parents have taught me everything about what being a good man should be and I'm always grateful to them.
Do you miss rowing, or sports in general? And do you still row on a leisurely basis?
Yes, I miss rowing and all kinds of water sports. Recently, I was in Lagos, Portugal as an ambassador for ChinaOne Ningbo sailing team at the GC32 World Championship. It was such a lifetime experience where I got to be on board with the whole team and experience the spirit of teamwork and professional sportsmanship. Nowadays I don't have much time on my hands, so hitting the gym regularly would be my "leisure" activity.
You career has taken you from athletics to fashion, to film, TV and music even. What was it like for you each time you transitioned into a new territory?
I think my career path is very much connected with my personality. I always like to challenge myself with something new; I'm always curious about what's trending and try to be on top of it. Changing careers for me sometimes happened by chance, like becoming a model. I was in Rome during one of my rowing training trips and was approached by a modelling agent out of the blue who asked me if I would be interested in modelling for a photoshoot, to which I said, 'Oh, that's interesting. I'm in.' That was how I started. I think I can literally write a book on my career trajectory, and maybe a film? I don't get into something new with fear, just more prepared.
As one of the first Chinese male models to grace the international fashion scene, what kind of obstacles did you face and what did you do to hold your own?
I think the hardest part of being accepted by another fashion territory is to let them trust you. You have to put in all your efforts to keep yourself in the best form and never get discouraged by any negative comments. Once they were familiar with who I was and what I could do, things got pretty smooth from there as people considered me as trustworthy with great personal values.
Chinese cinema and TV dramas have progressed by leaps and bounds since your entry into the business in the 1990s, from modest, indie films to today's epic blockbusters. Do you feel a sense of national pride having been a part of this evolution, and what is our outlook for the industry's future?
I think the Chinese cinema and TV industry have learnt a lot from the past as well as the international scene, the most important being to produce movies and dramas that people, including those outside of China, actually like to watch. The Chinese culture is very different from the rest of the world in that a filmmaker has to make sure he knows the Chinese history and culture in order to produce a movie that could appeal to the Chinese audience, which, in the meantime, also makes it difficult to capture a wider, international crowd. Recent years, however, have seen more and more Chinese movies and series resonate with audiences around the world, but it still has a long way to go. I'm very proud of being a part of this and wish to participate in more amazing productions in the near future.
In view of the vast number of young and eager good- looking newcomers who emerge from the Far East every year, do you ever get affected by the fierce competition? How do you cope with that, and what is your secret to staying at the top of your game?
I think it's a cycle of life, you can't prevent anyone from entering the industry and thriving. My secret is to maintain my best form at all times, have an optimistic outlook and be on top of what everyone is doing so that I can have a good view of the big picture. I also learn new things that come with new blood, of course. Most importantly, I will never lose sight of who I am. I'm a man of classic taste, and classic never goes away.
How did your relationship with Corum begin, and how does the brand and its products complement your taste, lifestyle, history, personality, etc.?
Corum and I crossed paths for the first time during one of my visits to the London Fashion Week and since then I've fallen in love with the watches. As my father always said, "A true gentleman should have a gentleman's watch." I think the Corum philosophy matches perfectly with my personality – classic with a touch of creativity. I could wear all the lineups; there's a piece for every occasion and people would always be amazed by the watch I'm wearing, which I take as a compliment. For example, when I'm attending a gala dinner, the Golden Bridge would be the perfect one to wear. I was wearing the Admiral during the Lagos sailing competition and I felt so confident wearing it. Truly remarkable experience that I'm being the ambassador of Corum Watches.
Did you get a chance to visit the Corum manufacture and experience first-hand its heritage and authentic Swiss watchmaking? What was the main takeaway for you? Also, did you find any connection between watchmaking and what you do in your line of work?
I would love to visit the manufacture someday soon and see how the Corum masterpieces are made. I believe watchmaking is very much similar to what I do in that both require dedication, hard work and respect for their craft.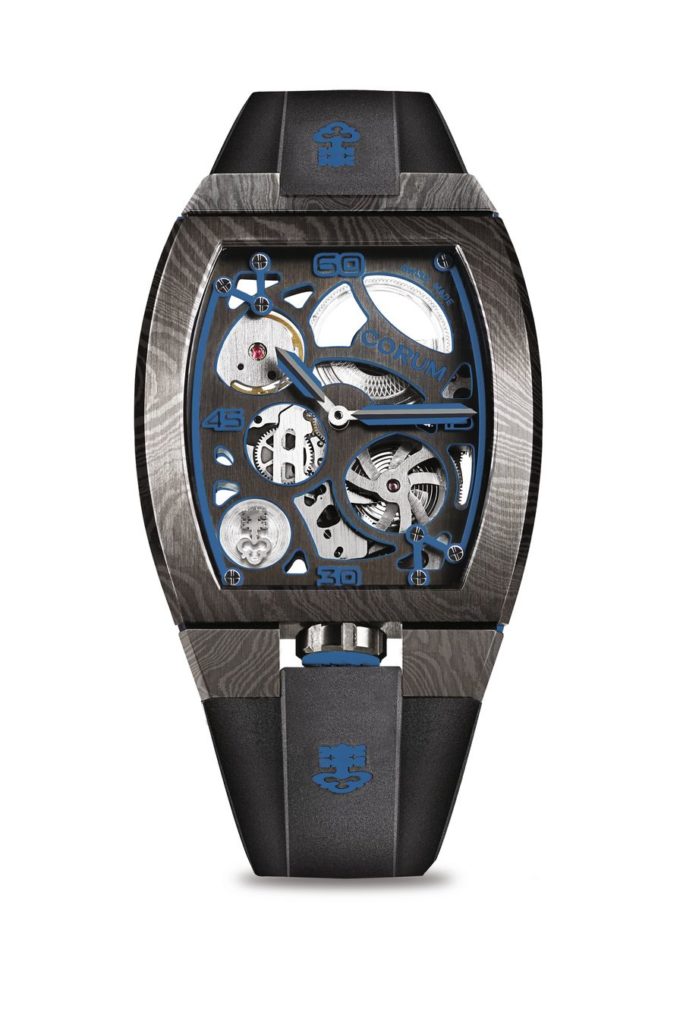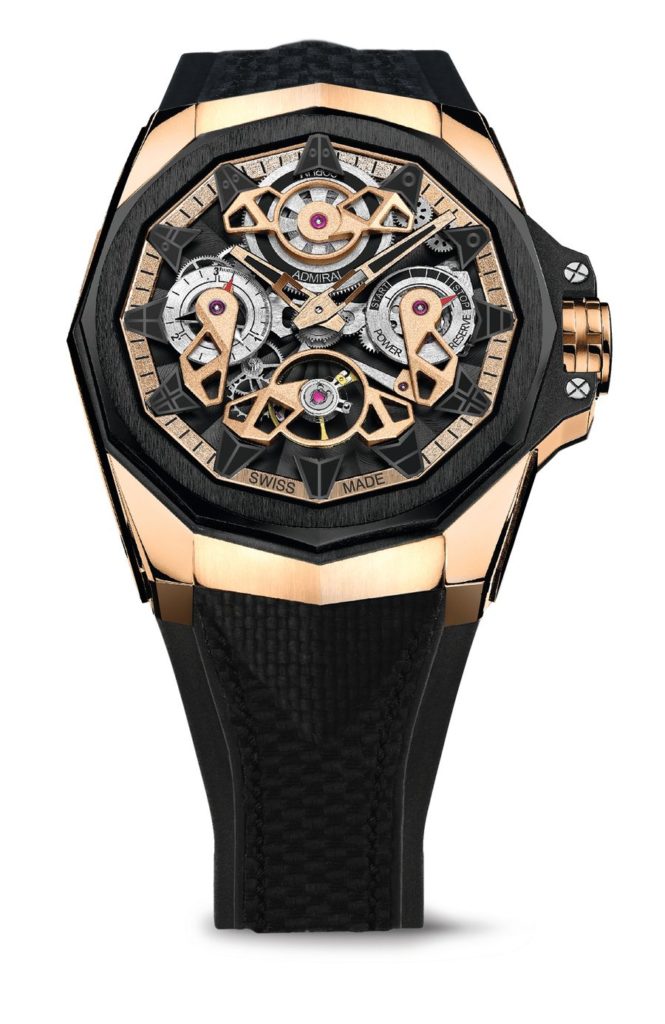 What do you think of the 2019 novelties? Any piece or feature that particularly stands out to you?
I was totally amazed by the Admiral AC-One 45 Openwork Tourbillon, which features Corum's top-of-the-line technology and craftsmanship. It's my personal favourite from the latest collection.
Corum is especially glad that you embody its philosophy "Craft Your Dreams". In what way do you think you can relate to the brand's motto?
Being successful in my field is not as easy as "dreaming". You have to put in all your energy and dedication, and "craft" it in the same way you craft a masterpiece. That's how it's done. It makes perfect sense that the brand's motto works hand in hand with how I've been doing it.