 Visit Malmaison at Knightsbridge or his offices in Tong Building and one will undoubtedly discover that horology and art are twin passions of Michael Tay, CEO of The Hour Glass Singapore. Hence, it was with little surprise that during an interview with Takashi Murakami in the artistic The Standard, High Line hotel nestled in the heart of New York's Meatpacking district, that the jovial artist (with a dark side – we'll get to that later) explained Mr. Tay's involvement in encouraging him to say yes to a collaboration with Swiss watchmaker Hublot.
Tay himself took an interest in Murakami's work, explaining, "I first met Murakami in 2009 when he was interested in identifying ways in which he could use the wristwatch as a medium to express his art. Nothing eventuated from it but we maintained contact and as an art collector himself, I appreciated his views on other artists. When discussing with Ricardo Guadalupe [Hublot CEO] and Miwa Sakai [Asia Pacific Regional Director at Hublot, Japan] the prospective roster of artists that Hublot could collaborate with, his name was put forward and the rest as we know it is history."
Oriental yet occidental, Murakami is widely regarded as one of the most influential artists of his generation and an undeniable impact on the world of contemporary art. His blend of traditional Japanese art and contemporary pop culture has inspired countless artists and designers, and his unique vision has helped to shape the aesthetic of the 21st century. One of the most iconic aspects of Murakami's art is his use of "Superflat" theory, a term he coined to describe the flattened, two-dimensional quality of traditional Japanese art – exemplified by the flat, simplified shapes and bold, graphic lines that give his works a highly stylised, almost cartoon-like quality.
But why Murakami? One wonders, and Tay is happy to elucidate, "I have been an enthusiast of Murakami's work from 2000 and my earliest encounter with his art was seeing his Superflat masterpiece 727 hanging at MOMA in New York." On his love for art, Tay told local publication The Peak, "I believe in collecting the art of our time. It identifies the issues of our time and forms part and parcel of our lives, (helping us) to be in touch with what's currently happening in the culture of the world. Art always gives great insight." Indeed, Murakami, known for his distinctive Neo-Pop (in which the line between pop culture and high art was not simply blurred, but rather, completely obliterated) blending traditional Japanese art with elements of pop culture, is often characterised by the use of bold, bright colours and cute and quirky characters. But as the artist quickly points out, he is a man of "light and shadow" and that the Tohoku earthquake and tsunami that devastated Japan in March 2011 got him thinking differently about an upcoming show.
On 10 November 2014, New York City woke up to a "different" Murakami – In the Land of the Dead, Stepping on the Tail of a Rainbow was a dark departure from Murakami's best-known smiling cartoon flowers; a 25-metre-long canvas emulating the style of Kazunobu's paintings, depicted grotesque figures and young children in peril. In another instance, Murakami layered arhats, often portrayed in Japanese art in the wake of a natural disaster, on top of an abstract painting he had been working on at the time of the catastrophe. What we then realise is that Murakami himself is truly a multifaceted artist, managing that interplay of "light and dark", a man of contrasts. If artists are indeed mirrors of society, Murakami is a lightning rod of cultural dichotomies, having proven himself capable of evoking conversation about a reality that has almost forced us to suppress any appearance of vulnerability in light of highly staged, well-stylised social media fuelled existence.
It's a sentiment that Tay agrees with, "Whilst on the surface, Murakami's paintings elaborate visible symbols of positivity, joy and kawaii-ness, they are all but that. He is deeply inspired by a generation of German artists from the '70s through to the '90s the likes of Sigmar Polke and Martin Kippenberger; whose artistic practices centred on the role of an artist in the shaping of popular culture within society and whose works were both humorous, self-deprecating and dealt with deeper agendas such as guilt, failure and embarrassment. Ideas that perpetuate through Murakami's paintings. What is admirable and appealing about him as an artist is that he is authentic and unafraid to expresses his vulnerabilities. "I was privileged to acquire one of his works featuring Mr. DOB, not vastly dissimilar to the 727 I encountered at MOMA and have the pleasure to engage with it daily."
In addition to his artwork, Murakami has also been involved in numerous other creative endeavours, including fashion design, music production and film animation. He has collaborated with many high-profile brands and artists, including Louis Vuitton, Kanye West and Pharrell Williams, and his work has become synonymous with expressions of joie de vivre and irreverent pop culture. Hublot x Murakami is yet another potent symbol of the man's cultural and aesthetic relevance. What conditions must a brand meet in order for you to say yes to a collaboration? Is there a special element you look for?
Miwa-san and I met over 20 years ago at a watch fair in Switzerland where I was invited to attend by Japanese magazine Brutus. The Editor had a lot of knowledge about watch complications and then he introduced me to Miwa-san. During that time, I was already collaborating with Louis Vuitton and Japanese media had positioned me as some fashion and luxury artist which I don't feel that I am, but I was nevertheless very interested in learning more about complications.
After the collaboration with Louis Vuitton, I was pondering the distinctions between art, commercialism and branding, it was all very confusing to me. I thought the watch industry was an industry that happened to straddle these concepts. One day, Hublot invited me to a dinner and I felt that Miwa-san was very kind to me because I still considered myself a "no-name" artist at that time. Around four to five years ago, Hublot began to request for collaboration opportunities which I refused, because I didn't want to make a run-of-the-mill collaboration where we just decorated a case with my flower design or simply added some of my colours and design motifs, this was very boring to me. I turned Hublot down about three to four times.
That said, Michael Tay from The Hour Glass in Singapore encouraged me. Having spent millions of dollars, he was a big collector of my artworks [and] he said, "Please, Takashi, please take one meeting." I agreed.
Michael and Miwa-san facilitated the meeting at the Manufacture and they gave me a tour of the facilities, where I told them I wanted to make something unique and special; this was one of my conditions. Visiting before the pandemic in 2020, I was amazed by the level of quality at the factory and the combination of computerised and handmade processes. The handcrafts were super impressive. After a final meeting with then CEO Jean-Claude Biver, I said yes.
When it comes to collaborations, I desire to do something fresh, merely slapping my design on it is not appealing. I'm already 61 years old and I no longer have any time to lose. That's why the Hublot collaboration is a completely new approach to my work.
Indeed, when people think of Murakami, 'Flowers' comes to mind; but instead of the bright kaleidoscope of hues for his first collaboration with Hublot, Murakami opted to go all-black echoing his original raison d'être and muse – a tribute to trauma and collective dark emotions Japanese locals experienced from the 1945 Hiroshima and Nagasaki bombings. That was later followed up by the fanciful and captivating all-sapphire Rainbow model capturing the zeitgeist and Murakami's, well, true colours. At the Glass House in New York on 2 February, Hublot and Takashi Murakami announced their fourth joint artistic project: the launch of 13 new NFTs and 13 unique timepieces. Twelve of these watches will be available for purchase exclusively online on hublot.com, which can only be accessed by owners of at least one of the 324 NFTs issued in April 2022 as part of the third collaboration between Hublot and Takashi Murakami.
The 13 unique NFTs are inspired by Japanese video games and TV from the 1970s as well as the Classic Fusion Takashi Murakami All Black, the first collaboration between the Swiss watchmaker and avantgarde artist launched in January 2021.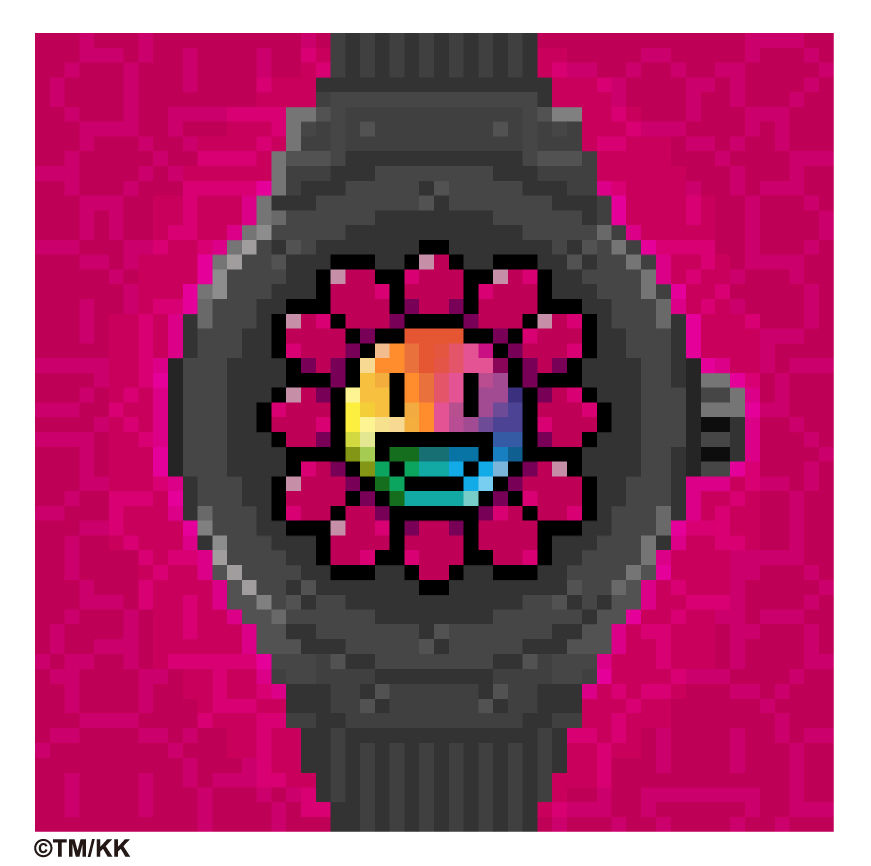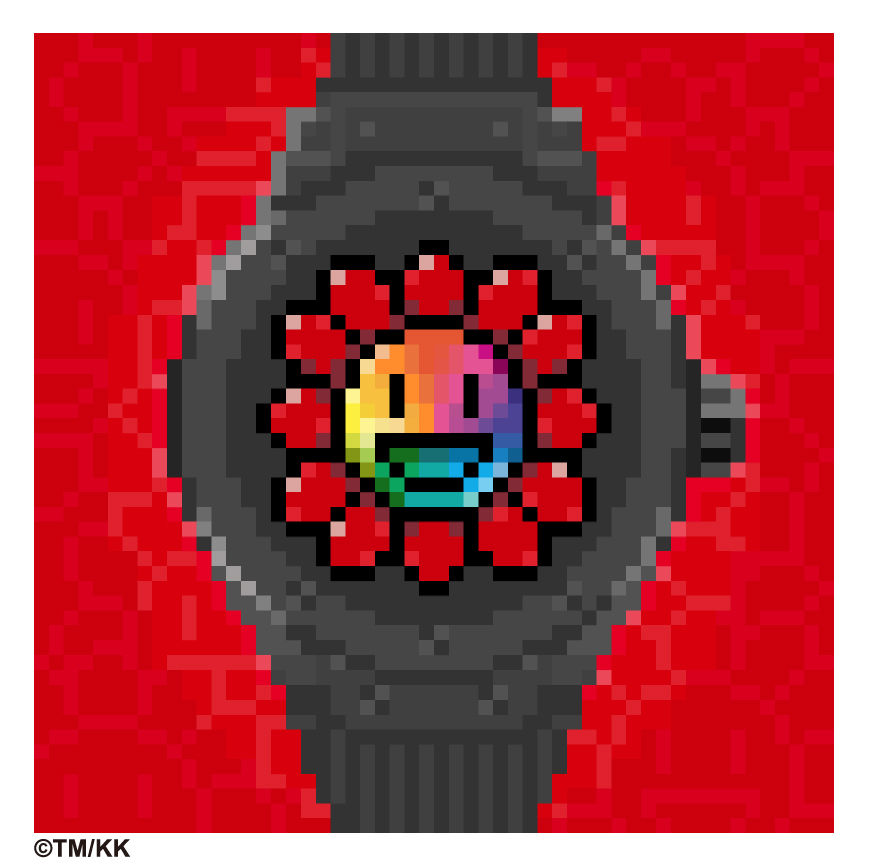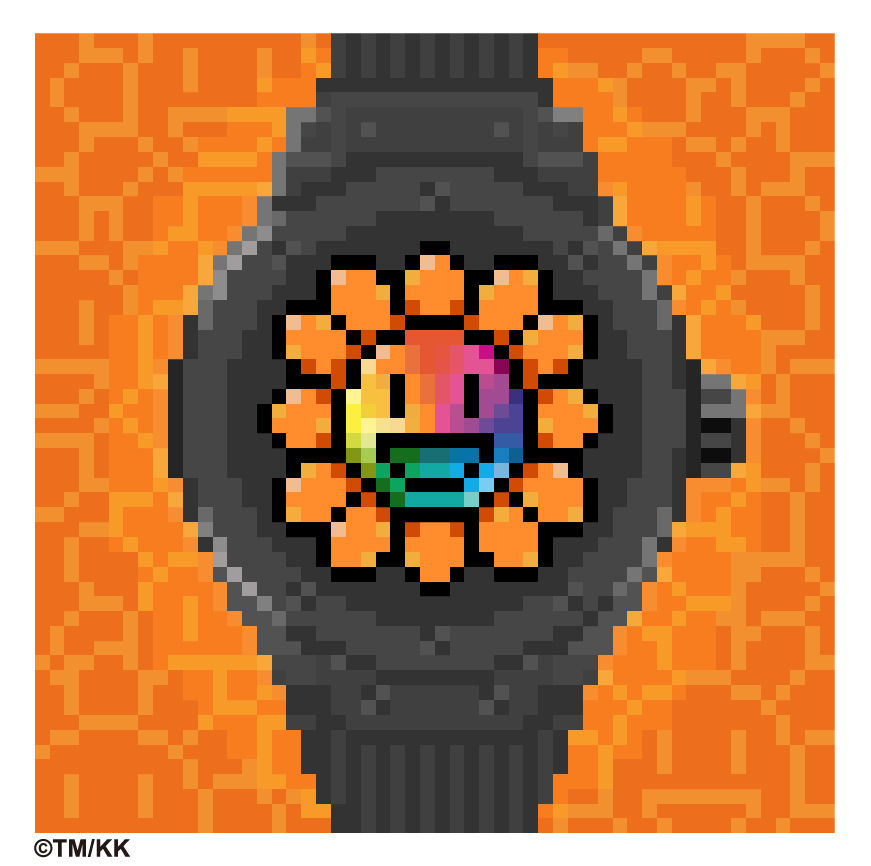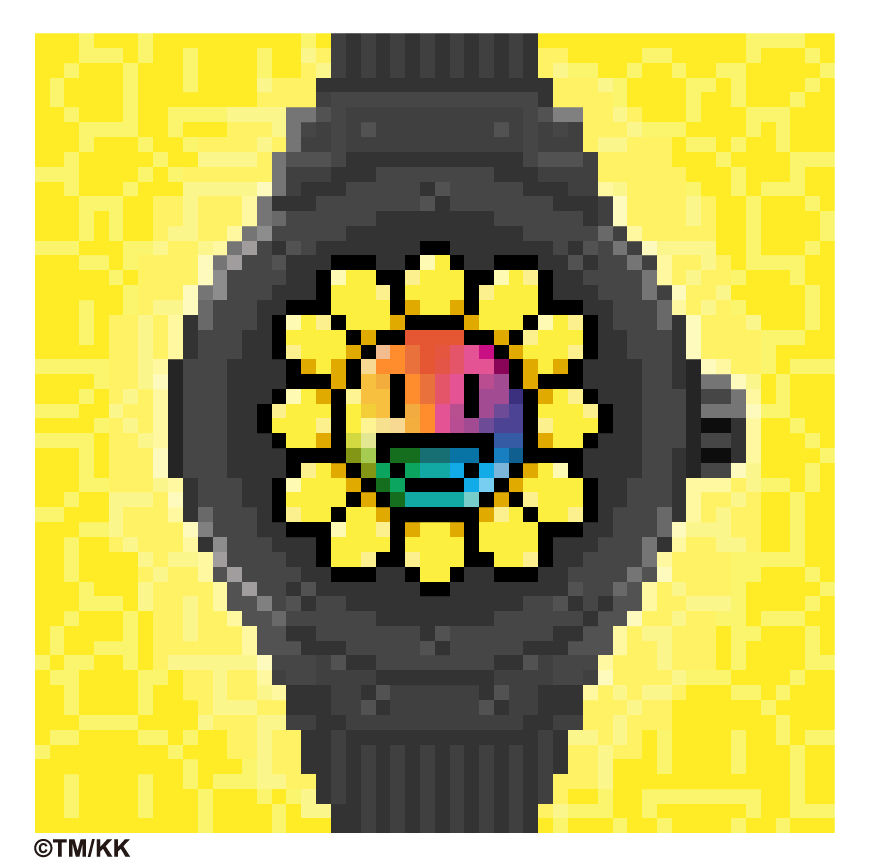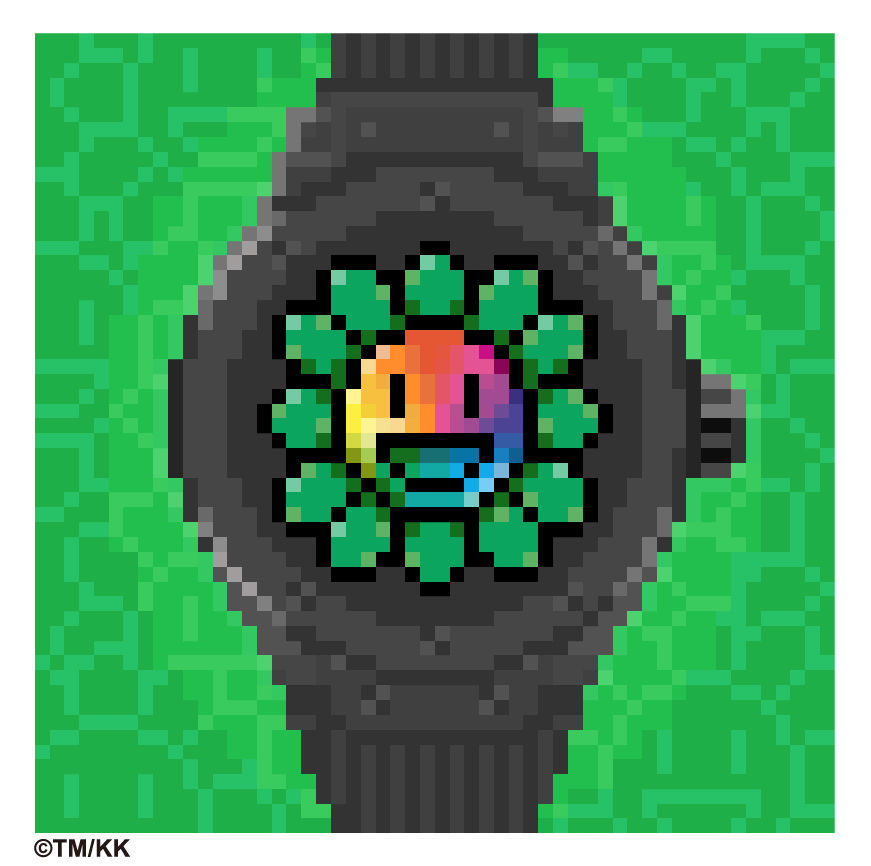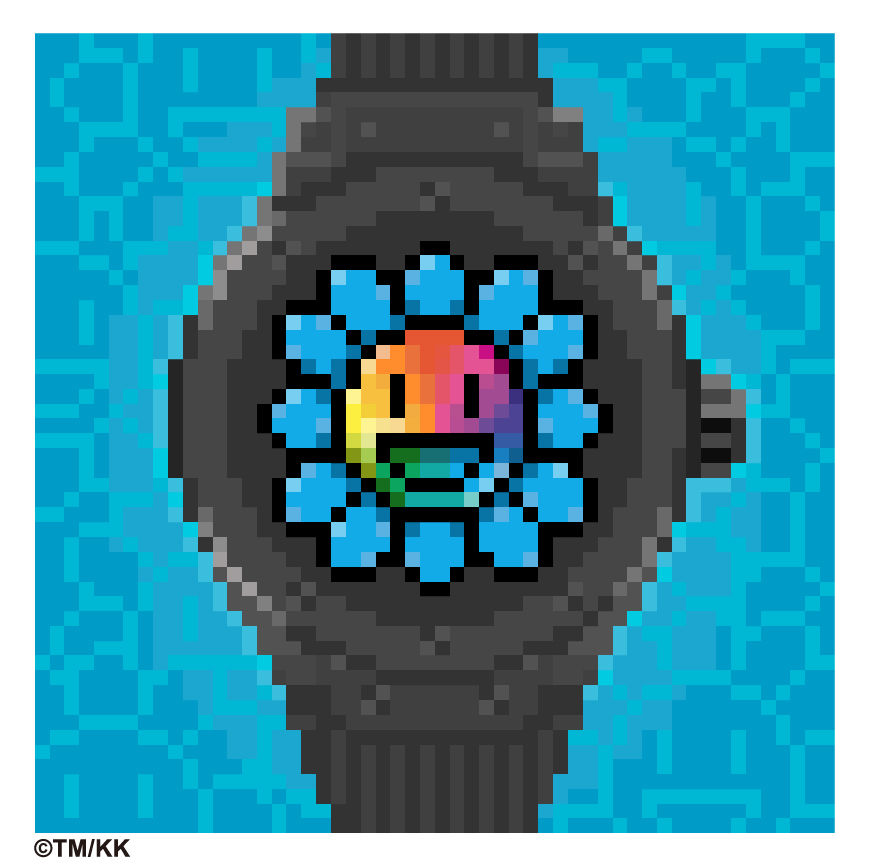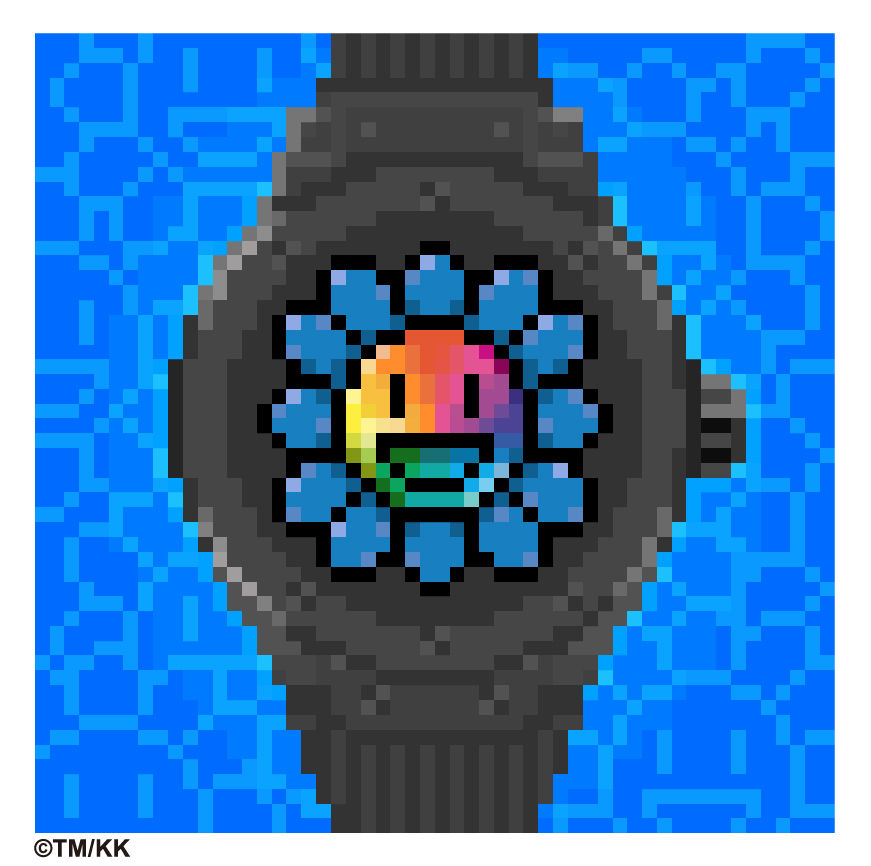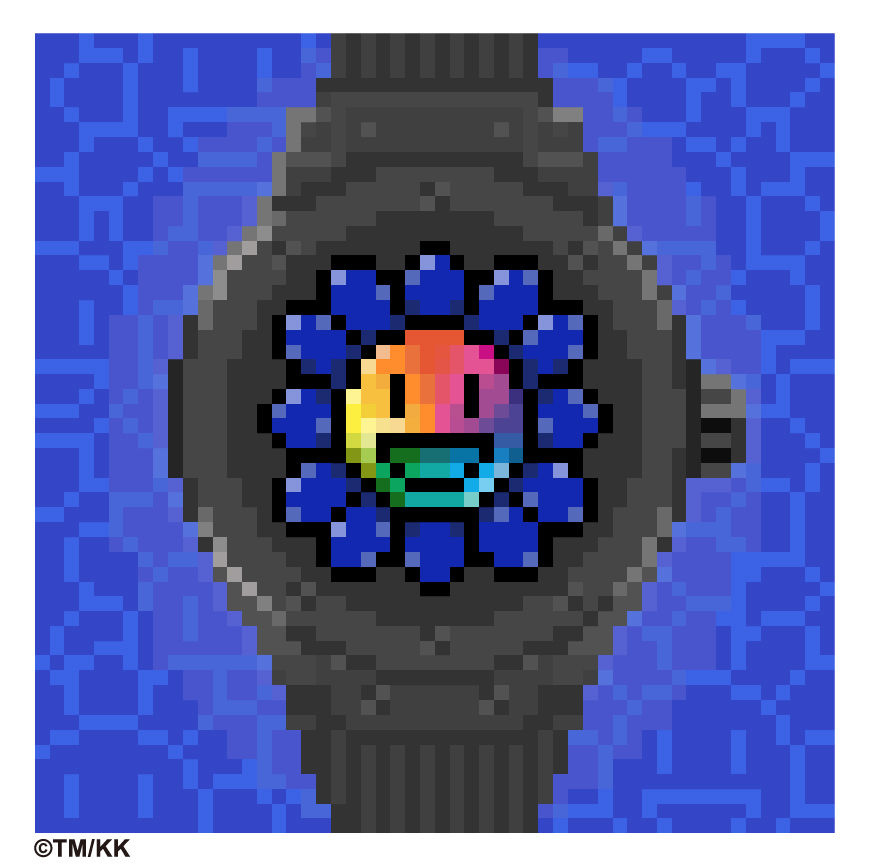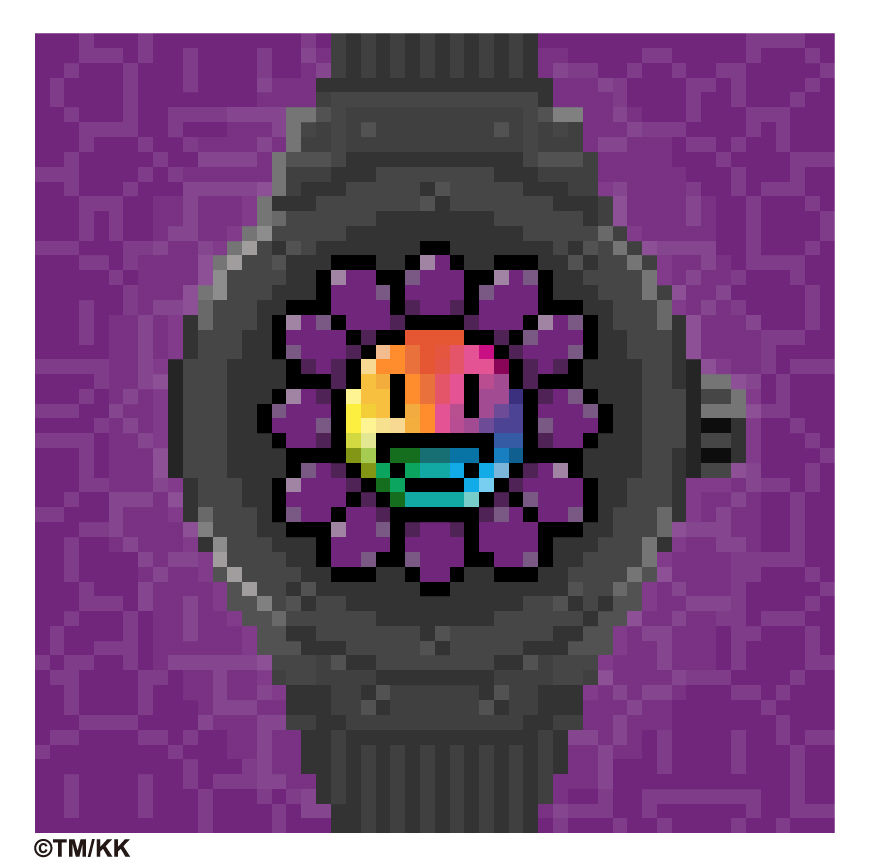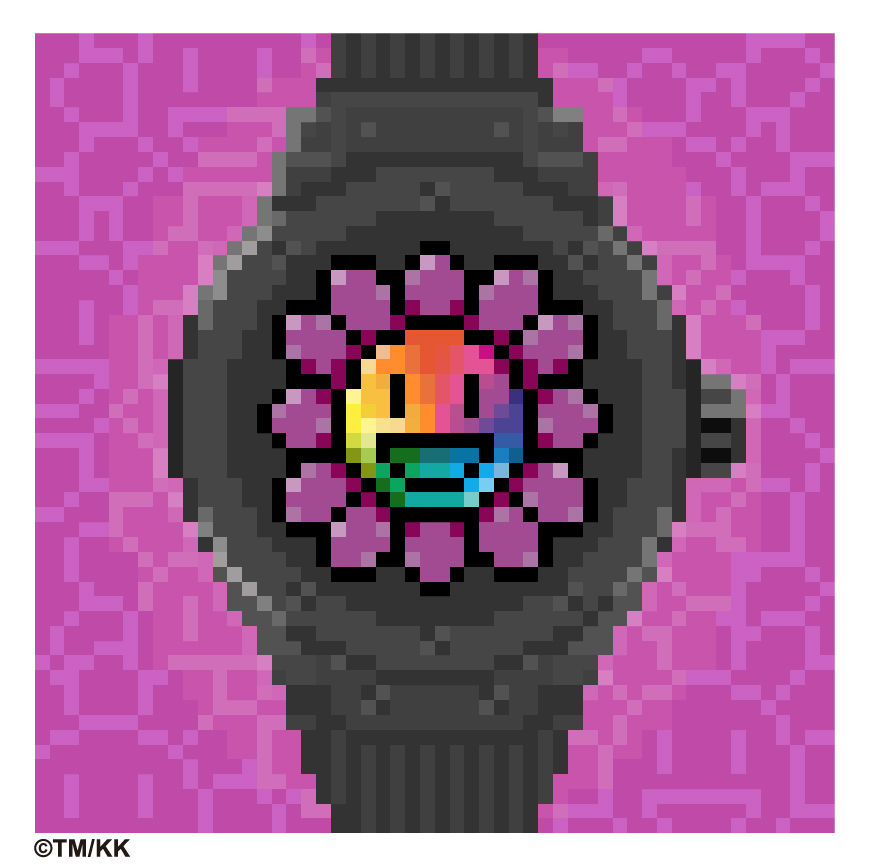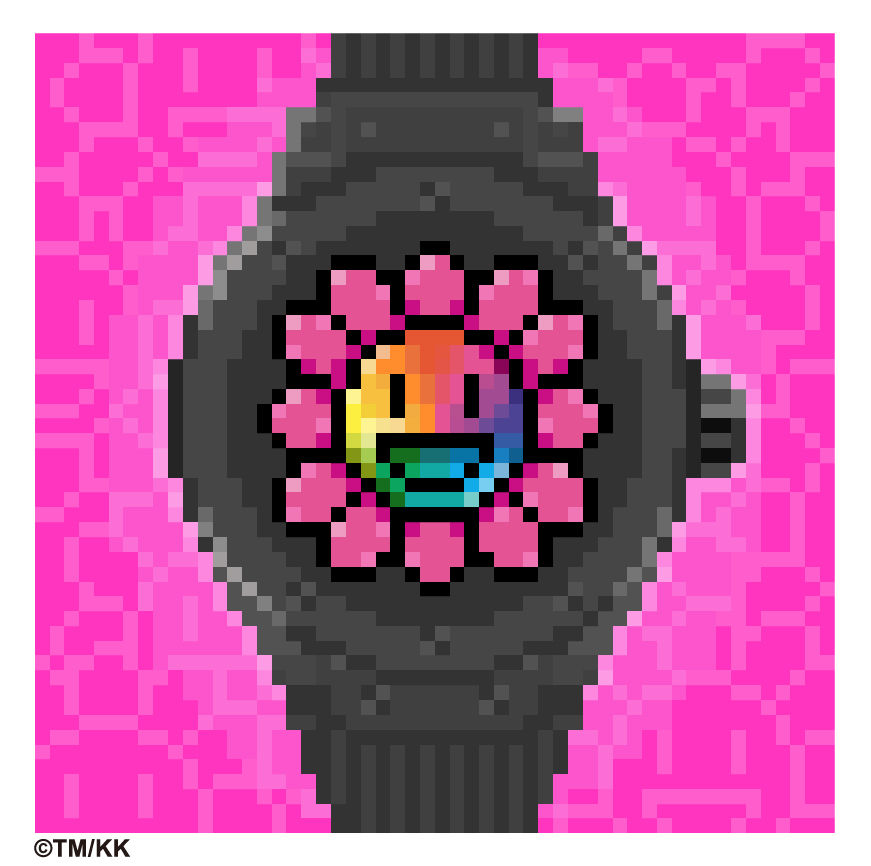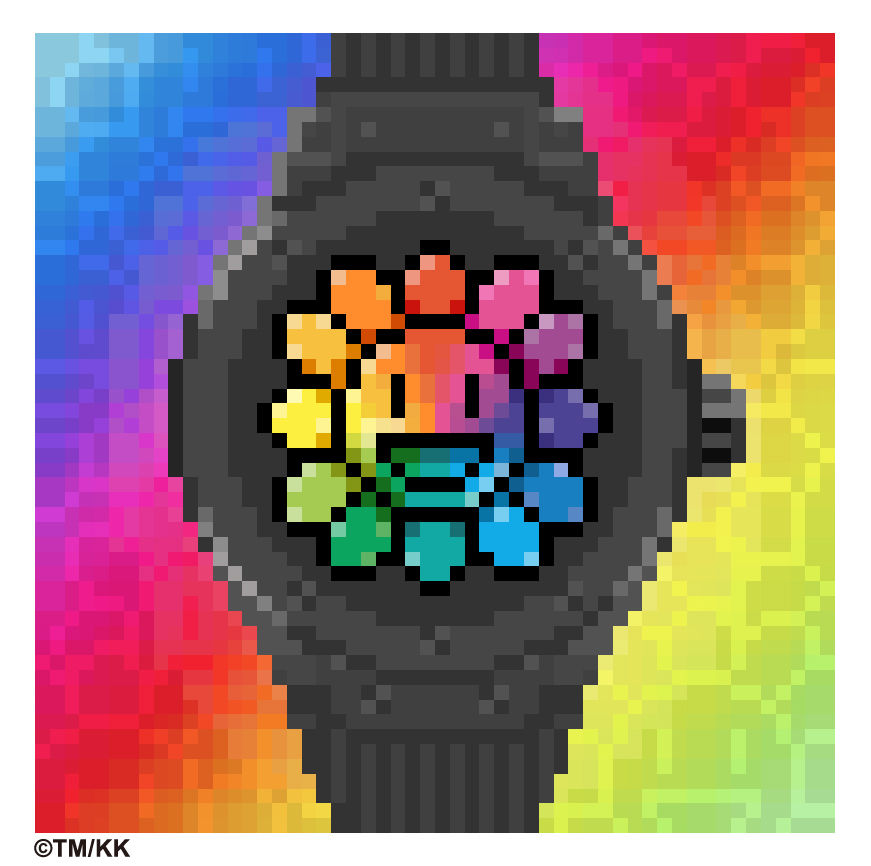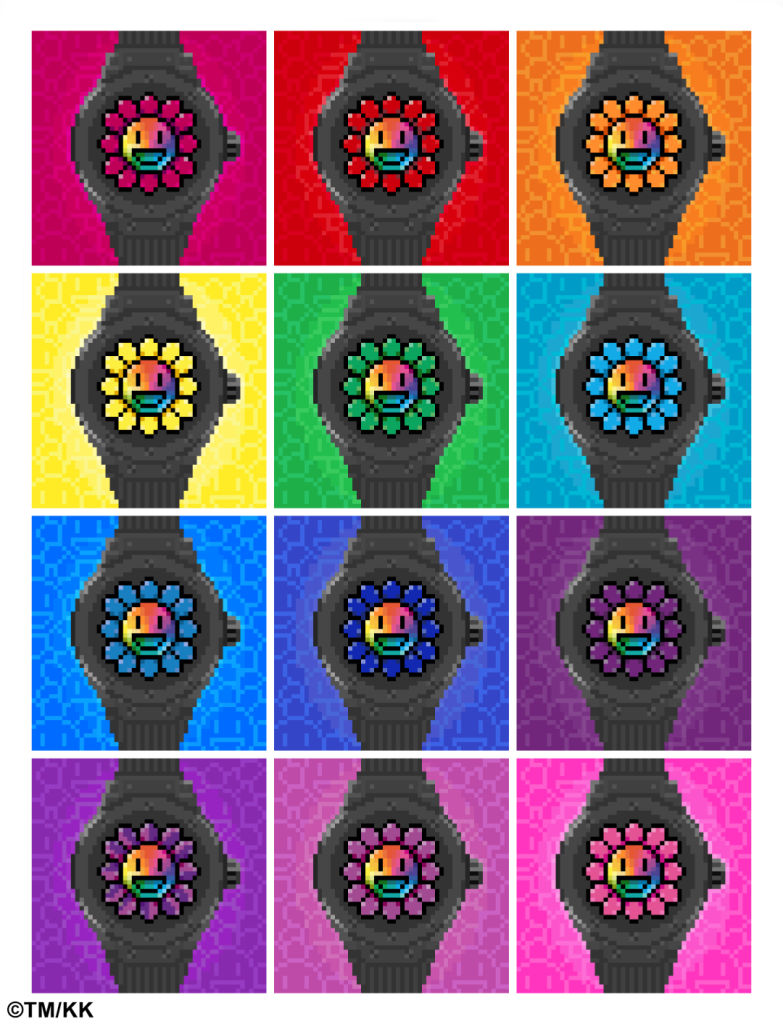 Do you believe NFTs will have the permanence of art equal to a sculpture, or a painting or something on your wrist?
An artist's mind works to create artwork by thinking about the distance between the art history and my own work while always thinking about the relationships between the works I create. At the same time, I am always trying to create something that the collectors wish to collect and those are the aspects I'm always thinking about; the reason that I have been survived for over 30 years in the art world is because my work has still been selling and the reason they sell is because I'm creating the works that the collectors actually want to purchase and I'm focused on that.
Research shows that the brain releases dopamine in anticipation of a reward. Unpredictability of the reward increases anticipation and the amount of dopamine release. When we make a purchase, our brain releases endorphins and dopamine. When we collect rare objects, a similar chemical reaction happens in your brain and so I am always thinking about what kind of experience I can create that would really make that type of chemical release happen in the collectors. When I started my own NFT project (Murakami.Flowers and Clone X NFT series), I also tried collecting NFT and such chemicals were released in abundance. It was too much and I almost went crazy with the desire to collect. And so in that sense, it's not really important whether there's the material reality of what you collect. By collecting NFTs, you start to understand the mystery of what the act of collecting art means.
So, if NFT can be art that means, it has, for me, the aspect that we can create desire for people to want to collect them. I'm still continuing to work on it with new projects and by launching different events or releasing fresh projects.
What went into the design of this particular watch, and how has your understanding of watches changed through the collaboration?
Since the pandemic started, the world of art and probably watchmaking expanded because people stopped going out, yet their desire to go places and do things turned towards the collection. When people were no longer able to physically come and go, we started to focus solely on ideas, and the act of sharing the abstract like NFTs or collecting objects of timelessness like watches.
When I think about it, a watch is not something to just measure time. We live and die, but time is always there. A timepiece is not just equipment to measure time because you don't need any of them with digital devices today. Instead, it is something like conceptual art to present the concept of time and so I have been involved in the understanding of watchmaking and how it develops from the perspective of conceptual art since the pandemic. Hublot places a lot of importance on brand values and imagery. Does that limit your work as an artist?
Miwa-san has always been in the middle or facilitating all my communication and she's always been making sure that I have the creative freedom.
You are notorious for experimenting with many different mediums in your art. Why are you attracted to new digital media?
And how is the process of developing an NFT different from other art forms? For this collaboration with Hublot, I felt that we should use my own Murakami.Flowers. Physical art needs materials such as canvas and paint, or stone and metal, to represent ideas and concepts in the real world. But it's possible that actually such materials are not required for art to be art. That's the most notable thing that is revealed when you start making NFT.
I think the collectors get most excited when the new doors are open to them. So I thought, my art, the watch and NFT together can open a new door for Hublot collectors, and that's what I proposed and that's why we're doing this collaboration. But having said that, even if you understand the concept of the physical art and digital art, you always feel that there's a separation and there's a distance between the two. So that's why we have to keep presenting them over and over to kind of close that gap. This presentation is the second time around and I think we still have to do more and repeat the process in order for people to really understand it.
You used your happy smiling flower, the flower is cheerful. Do you believe, like French Impressionist Renoir, that a work of art should be pleasant, joyful and pretty?
Just one of my works is the smiling flower. But actually more than 70% of my work and motifs are characters and themes that are sort of on the darker side. So I absolutely do not believe that art has to be something bright and happy. But it just so happens that my most famous artwork is the happy one and it is fine to enjoy that and then think that is a happy work. But if you only see that part of my work, then you lose sight of the contrast of light and shadow that existed in my work and so I do think the reason why my career and art has longevity is because over half of my work is actually dark. Has the collaboration with Hublot influenced how you see your own practice, and are there techniques that you took from the watchmaking universe to implement as your own?
I loved visiting the factory. I got to see so much there and the CNC machine cutting the sapphire case really rapidly was really impressive. After visiting Hublot, I thought my own studio where I created my paintings and sculptures really needed to keep evolving. Right after that trip, we went into a pandemic, but since then I have been implementing a lot of changes based on my experience from that visit.
Both you and your work have a distinctive style. How important is style for your personally?
When I was young and starting to study art, I always wanted to find my own style. But while I was chasing after my own style, I did not discover it and I started to really look into myself. Diving deep and wondering what it was that I desired, what is the chaos within me? It was when I was thinking about these things, that style just followed. So rather than thinking about what kind of style I should have, the important thing is to really go look inside and let it come to the surface. I'm not really thinking about my own style.
Is the creative process different when it comes to using a canvas like a timepiece?
It is similar with the NFT art when I'm working with different media, I actually feel released from the sense of scale, whether my work is too big or small because it's more about how my imagination can be conveyed. When something is very small, like [a] watch, everything has to be very detailed. But yeah, I'm not really concerned about scale or size.
If there's one thing that you hope your work has achieved in the art and luxury world, what would it be?
I don't feel like I've accomplished much yet. And so whenever I see something, NFT art for example, that achieves a crazy price at auction, I would think, "Oh, what is that? Why is that?" And I will go do my research, study and then move into that world because I don't feel like I have accomplished much yet and I still have to keep trying. So between now and when I die, maybe another 10 years if I can manage to create another bridge or two in different cultural realms, then if you see my entire career in total, maybe you can start to see what I might have achieved.
The period between the announcement of the project in New York in February 2023 and the start of sales in early April 2023 in Geneva, will allow any collector interested in one of the new watches to collect one of the NFTs available on OpenSea. Each buyer who is lucky enough to purchase one of the 12 new unique watches will receive a corresponding exclusive NFT. At the end of this period, the sole collector who has managed to collect all 12 of the new unique NFTs will be eligible to purchase the 13th and most sought-after watch: the Classic Fusion Takashi Murakami Black Ceramic Rainbow. In the event that no single person has managed to gather all 12 NFTs, the watch will be auctioned by Hublot to raise funds for charity.
written by.
Jonathan Ho
Managing Editor
Jonathan Ho might have graduated with a business degree but he thumbed his nose at commerce and instead opted for a harder life in journalism. He edits Augustman, a title he first joined when he became a writer after a career in advertising and now, earns a living writing commentaries on the luxury industry.