In Hollywood, some actors like Christian Bale are known for completely transforming their body for a role, either losing or gaining weight rapidly. That's nothing new for Eddie Peng. The 41-year-old actor, who was born in Penghu (a small island off the coast of Taiwan) and partially raised in Canada, has been known to dedicate months to prepare for a role. Whether an MMA fighter in Unbeatable, a gymnast in Jump Ashin! or a cyclist in To the Fore, he not only acquires new skills for each role but also transforms his body in such a way you swear he's been doing it all his life. In 2011, Peng was nominated for Best Actor at the Golden Horse Awards. He also appeared with Matt Damon in Zhang Yimou's The Great Wall. For Peng, acting is a craft requiring dedication, hard work and focus, and only relying on his good looks is never an option. Fans have noticed – he now has millions of followers both on Instagram and Weibo.
Outside of work, Eddie Peng leads a quiet life, content with walking his dog and spending time outdoors while rarely going out at night. How could someone be so intense onscreen, but so calm and down-to-earth in his daily life? We flew to Taipei to find out. Peng was eager to talk and shed some light on his transformations past, present and future.
AM: How central was Jump Ashin! to the launch of your film career?
Eddie Peng: Jump Ashin! is indeed a very special movie for me. My character was a gymnast, and I underwent intensive training that was both physically and mentally gruelling at a challenging period in my personal life. Yet, finding the courage to give myself completely to something as intense as training for gymnastics made my acting even stronger. I regard the experience as a turning point for me as an actor. I realised my respect for the craft of acting means I will take on the role completely, transforming myself into the character no matter how tough the demands may be. I remain very proud of Jump Ashin! and the attention it received. I'm really happy that audiences connected with the authenticity of my character. Subsequently, I was offered even more interesting and challenging roles, which eventually led to Unbeatable.
Your success didn't happen overnight, it took time. Does success taste sweeter since you had to wait?
My career has evolved. Perhaps in the early stages, the opportunities were based more on my looks. Since then, I'd like to think my career has matured and deepened to a point where now the opportunities are based on my reputation for the dedication I have for the craft and the transformation I go through for each role. I still use my appearance. But I use my looks and my physique as key elements in the character I am creating. I've gained and lost weight for roles [and] taken up gymnastics, cycling and martial arts for others. When I can physically manifest myself into the role, then I can fully shape the character I want to bring to life. You're known for playing a lot of physically demanding roles throughout your career. Is this something you seek?
At the beginning of my career, most of the roles involved romance and school life. When I was offered roles in sports and action films, I jumped at those opportunities because I've always been athletic and played multiple sports. I also watched a lot of action films growing up, and there's the pure thrill of living out the boyhood dream of being in an action film. That's what makes it easy for me to embrace the physically challenging roles. But by no means do I limit myself to just these types of roles. As my career progresses, I am open to a variety of roles. What's more important to me now is experiencing different characters, acquiring whole new personalities to immerse myself in each role. I used to be on the table tennis team when I was in elementary school, but I was quite chubby. So, I started running laps around the school to lose weight. I also did swimming, and made it to the swimming and basketball teams in high school. I'm more of a team sports kind of guy. But because of my acting career, I'm worried that team sports might jeopardise my acting career if I get injured, so now I mainly work out in the gym, lifting weights. Every morning, I try to hike with my friends, as well as run and walk my dog.
You've portrayed a gymnast in Jump Ashin!, a bicycle racer in To the Fore, an MMA fighter in Unbeatable and a martial artist in Rise of the Legend. Which one was the hardest to prepare for?
Honestly, they're all tough! Most people train for one professional sport in their lifetime, and I've had at least four super intensive trainings for very different sports. But the experiences have been rewarding and taught me stamina and discipline that I've applied to my acting. If I want to achieve even the appearance of a professional athlete, I need practice a lot. In this journey, I've reached a point where I don't feel like I am merely performing. I have adopted the sport and become that athlete and character. When audiences appreciate the authenticity of the performance, it makes all the hard work worthwhile. I think if an actor takes his craft seriously, all the work that goes into preparation is not a problem; it's actually joyful.
How was your experience working with Jiang Wen on Hidden Man? There's a special rhythm to his films – do you think he has a special way to direct actors?
Jiang Wen is one of my favourite directors. I always wanted to work with him. I learnt so much from him on set. Prepping for the role, I had to transform myself for the role. It's set at the time of the Republic of China, in the 1920s. It's based on a novel. I read the book first and then went to audition with Jiang Wen. The main character needs to speak with a Beijing accent. It's not the Beijing accent of today, it's the Beijing accent of the 1920s. I had to spend a lot of time trying to get that accent. It's not something I love to do. It's a tough one because Jiang Wen is an actor himself. Then for the choreography, I spent two weeks with Jackie Chan's stunt team. I had to train hard and then diet to achieve the physical transformation to become the character. Jiang is more like an artist; he treats his craft very seriously. On set, since he's an actor himself, you can't fool him. He can understand immediately if you're in the zone or not. He will wait until you're there, until you're ready. If the weather isn't good, he's ready to wait a whole week for the sun to come out! We went to Baltimore to shoot part of the movie. We shot the entire movie with natural light, isn't it crazy? You have to give credit to him. We live in this fast-paced world obsessed with making money, but some people are still able to do what they really love. That's something that inspired me. I loved working with him.
You've also done your fair share of romantic comedies and dramas including, most recently, Love After Love, directed by Ann Hui. Which genre comes more naturally to you – action movies or dramas?
It is a great honour to have the opportunity to work with director Ann Hui twice. I still remember when we shot the film Our Time Will Come in 2016, I couldn't believe that I could be cast in her film since I had met her several times at the Golden Horse Film Festival, and I asked to take photos with her almost every time. I'm a fan of hers and I was really excited that I could be one of the leading roles in a romance film directed by Ann Hui. What is more amazing is that she asked me to work with her a second time, for Love After Love, which meant a lot to me. As I could see, director Ann Hui loves her career very much, she followed some traditional shooting rules but always wanted to develop something fresh from the tradition. The whole process with her was such an enjoyable and rewarding experience. I have gained a lot from working with her and will benefit from this experience for the rest of my life.
But I don't take on a film project based on genre. For me, it's about saying yes to roles that stretch me as an actor. I've been in the industry for a while now, and the more varied and different the roles, the better. What excites me these days is less the physical demands of a role than the mental aspects. To be able to get into the mind of the character is what really excites me. I am drawn to roles that challenge me, that make me step back and look at everything differently. I want roles that inspire me to research, to read history, and to apply a bit of psychology. I become a detective, psychologist and actor all rolled into one. Then, I can put my own thoughts and emotions into building the character.
The crew of Love After Love were all very professional. Our costume designer Emi Wada is very charming. Every time I wear clothes designed by her, she wants to take a photo with me since she loves those looks very much, and I also wanted to take photos with her. And the late world-class musician Ryuichi Sakamoto did the perfect original soundtrack for the movie, which earned the Best Original Film Score at the 40th Hong Kong Film Awards. Naturally, Christopher Doyle is a very artistic Director of Photography; he always wanted to shoot at relatively close range so that the audience could feel our emotions more truthfully. All of them are masters in their field and were using their expertise to help actors, so that we could fully concentrate on ourselves during the performance. They would pay great attention to every detail, to everything related to the actors, and if we had new ideas and made changes, they would also adjust to our performance.
You've done four movies with Dante Lam, the most recent one being The Rescue. What do you think is the reason you guys work so well together?
The first time I met Dante, I saw that we have the same work ethic. We always try to push ourselves to the limit, and we push each other as well. We like the same movies, we like the same genre. The first movie I worked with him on was Unbeatable. Not that many directors are willing to do months of training, to do pre-production for a long time and achieve the transformation for the character. Sometimes, there's a time issue or a budget issue. I think it's because he saw Jump Ashin!, he saw I was willing to do serious prep for a role. I was willing to learn MMA in order for the character to be more believable. With Unbeatable, luckily we had a huge success. He had always wanted to do a cycling movie, because he's a serious cyclist himself. We hadn't even finished editing Unbeatable that he came to me to tell me he wanted to do a cycling movie with a bit of romance. He told me, "Eddie, let's do something easy, you don't even have to train that much; there's a bit of cycling, a bit of romance." I said, "Oh yeah, romance, great, I need something easy after Unbeatable!" But it turned out being even crazier. I had to train to get the licence to become a cyclist.
Cycling is actually really hard…
It is, no doubt! I had to train a lot plus the diet for cycling and MMA is different. But the reason I like to do all this training is that you get to know a lot of people who dedicate their whole life to this sport. They don't do it just for fun, they devote their life to it. They do one thing in one lifetime. I always respect that. I got to know cyclists and MMA fighters. I loved training with them. You can learn so much from these people. Athletes have a different mentality, that's why people look up to them. That's why brands spend a lot of money pursuing their endorsements. So, when I do a movie like that, I hope I don't let them down. It's also for the younger generation, telling them, "If I can do it, you can do it, too." Go after your dream!
The third movie I did with Dante is Operation Mekong, a movie with a lot of gun fights. We shot mainly in Malaysia. It's the first time I did a serious gun-fighting movie. For this movie, Dante asked me to train with the real CQB (closer quarter battle) people.
The fourth one is Rescue. It's about a group of people that put their lives on the line. Every time they go on a mission, there's a chance they won't come back to see their families. That's something Dante wanted to do to send a message to the world. I agree with that vision. A movie should be more than just a happy "eating popcorn" experience. You can have that, but at the same time you can have a message for people who want more. That's why I love working with Dante, because he's so serious and dedicated, he makes me want to be even better. I look forward to working with him again.
I've read that some people say you're the new Andy Lau or Chow Yun-Fat – how do you feel about these comparisons? Really? I've been lucky enough to work with these legends. There's no way I can compare myself to them. I don't want to put myself in a box – not only in movies, but in life as well. I want to learn new stuff, make new friends and try new hobbies. I just think that no one can replicate anybody. I have to find my own way to express myself. Of course, I love working with Andy Lau. I just did a movie with him, we finished it at the end of last year and it will come out soon. It's called I Did It My Way, a Hong Kong crime movie about cyber drug dealing, it's about something pretty new.
The director is Jason Kwan, who I worked with on Cold War. It's amazing and beautiful that I have a chance to work with legends I looked up to when I was a kid; I saw them when I was going to the movie theatre with my grandma at a young age. When you dream about something bold and it happens, be grateful! Hopefully I can keep doing this business for another 20 years. Maybe work in Hollywood too.
You've been to Singapore several times. Do you have fond memories of your trip there?
I have friends there. I met some of my good friends there during the Covid period. They're beautiful and down-to-earth people. They're also foodie friends! All the Singaporeans I met love food! They can always find good food spots, good coffee, good restaurants. Last time I was there, I was doing promotion for Cold War 2.
Singaporeans are very genuine and energetic! I'm looking forward to going back there and having good seafood and bak kut teh!
Subscribe to the magazine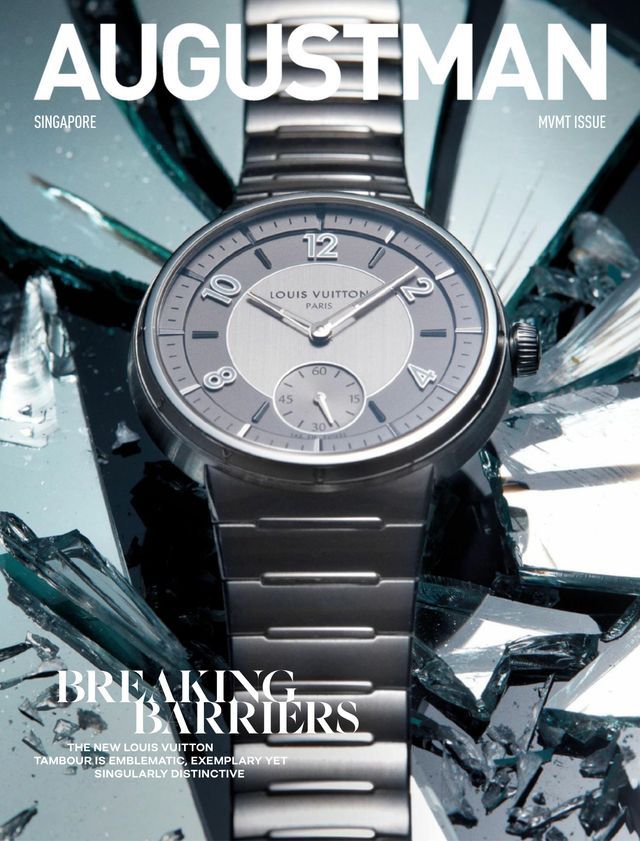 Subscribe Now