It has to be said that Ahāra is, in its entirety, a breathtaking work of art. It is the latest addition to Keong Saik Road, a Mod Indian restaurant, with a tasting menu inspired by Chef-Owner Vikramjit Roy's personal experiences growing up in India, and his professional journey. He is a well-travelled man, having conceived and led iconic restaurants Pan Asian in Chennai and Tian in New Delhi under ITC Hotels, and has also spent five years in Japan working as Masaharu Morimoto's protégé and even brought his artistry to Hong Kong's three-Michelin-starred Bo Innovation. Though the vibe is cosy and intimate (truly perfect for date nights), the establishment is nevertheless a celebration of all things Indian, from the cuisine, to the art and décor, and the stories that inform each item in their multi-course offerings. Even the press materials put it as 'Chef-owner Vikramjit Roy's rock ballad to India.' Guests may choose from the 9-course, Explore ($248++) and 16-course Expedition ($338++) menus. Both are presented with motifs central to Indian history and culture, and carefully paced to lead diners towards Roy's intended crescendo of comfort and soulful satiation.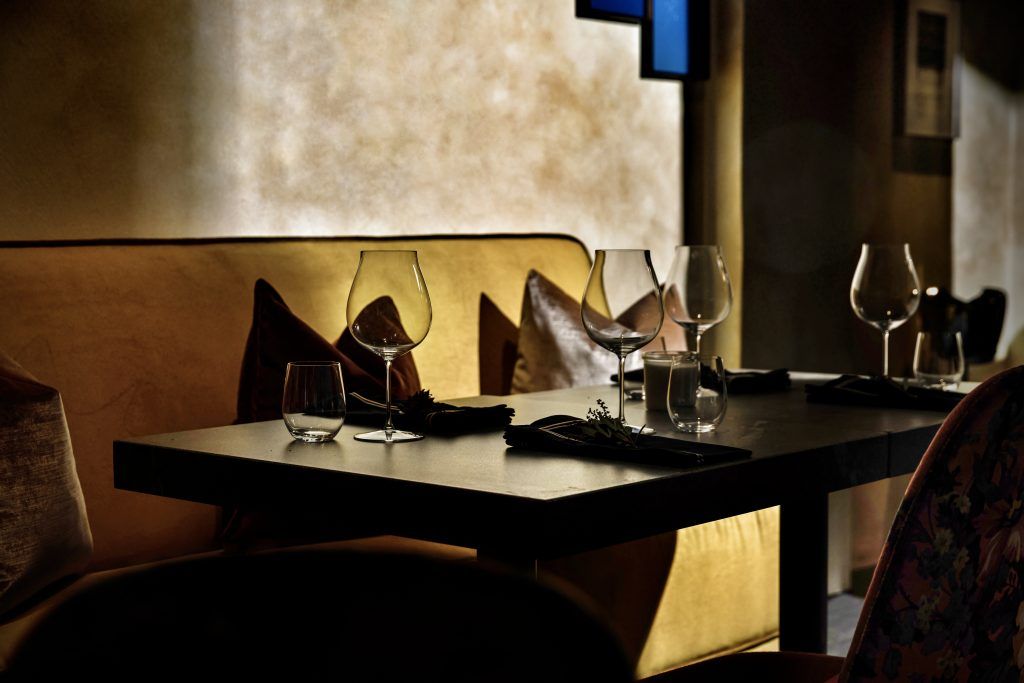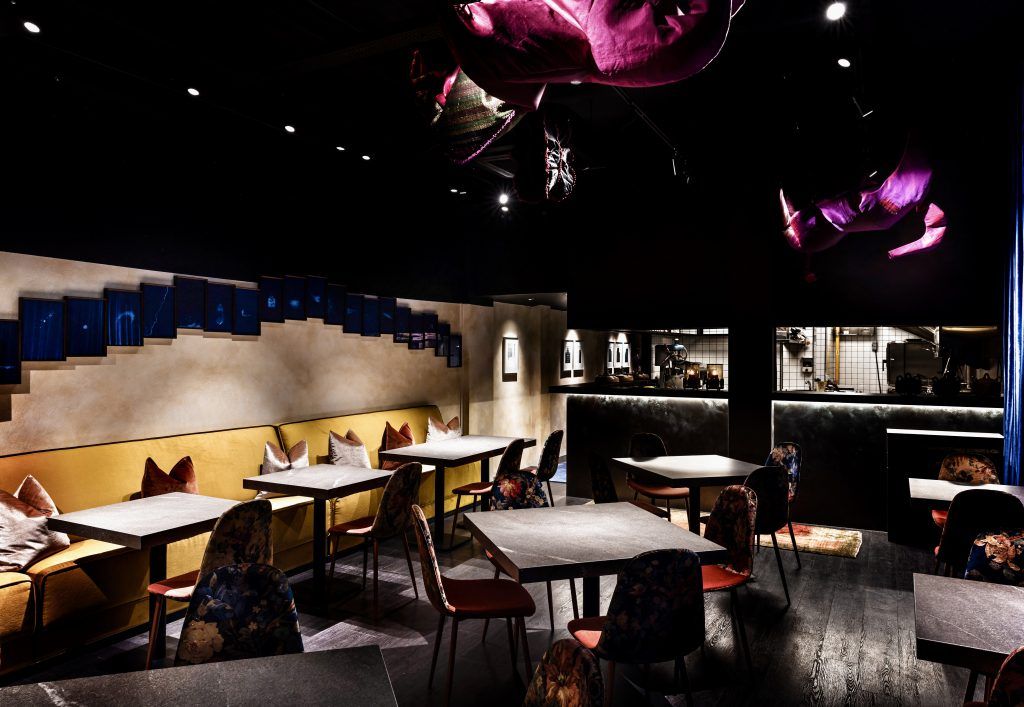 Both menus feature some truly amazing offerings. One of the earliest courses is the Hay Smoked Oysters with Sol Khadi. The Kumamoto oysters (from the West coast of Japan, known for their larger flesh) are handpicked by Chef Vikramjit for their plump juiciness and briny-sweet flavour profile – flavours further accentuated by the curry leaf oil and sol kadhi (a drink made of kokum and coconut milk) that the oysters are placed in. The oysters are presented upon a tray of hay, lightly singed so the smokiness further highlights the taste notes of this dish. This is inspired by "arti", the act of blessing a special guest, or welcoming a friend, with fire and smoke. The coconut milk gives the dish a nice creamy, slightly spiced finish. There are other similarly delicious and richly storied items in the two menus, such as the the Wagyu Shaami Tartlet, the Yakhni's Scallops and the spectacular Ahara's Bread, which stands out as one of the highlights of the menu. It is both comfort food and elevated gourmet in equal measure. There bread here is a mix of plain buns and litti, dough balls stuffed with black gram flour, pickled carrots and chilli, onions, ginger and carom seed. The litti is baked to perfection over charcoal, packing flavour and a delightful toastiness. There are a few ways to pair or dip your Ahara Bread. It is served served with an exquisite slab of herb butter churned in-house, a smoky, savoury chorizo dip and a uniquely prepared chicken Korma Gravy by cooking the chicken in a host with aromatics such as melon seed paste and dried rose. The Ahara Bread is also served with a Champaran Meat Paté – goat meat marinated in a mix of mustard oil, ghee, garlic bulbs, onions, ginger, whole green chili and a paste of spices. The meat paté is great, but there was something simple yet beatific about breaking bread and eating it with those you share kinship with.
The Bombay Toastie is another example of Chef Roy taking inspiration from his roots. Here, he reinterprets the Bombay sandwich, a popular street snack originating in Mumbai in the 60s consisting of two slices of white bread slathered in thick green chutney, then filled with a combination of boiled potatoes, beets, cucumber, tomatoes & onions depending on the maker's recipe. Chef Roy's version stays true to the original, only he uses modern appliances rather than toasting his over hot coals.
The piece de resistance is the aptly named The Grandeur. We especially loved this one – a playful combination of history and culinary artistry.
The centrepiece of The Grandeur is the goat shank Nihari. For this one, Chef Roy goes further back in India's history to draw inspiration, taking the 'Nahar' from the Mughal period – Nahar meaning both 'morning' in Arabic as it is a delicacy from that era. The goat shanks are cooked in stock, aromatics and spices over a slow fire for 6-8 hours, resulting in a fragrant, hearty dish that hides its gaminess over a complementary spiciness that Singaporean palates would love. The Nihari is accompanied by carefully curated side dishes – seasonal vegetables, dal makhni (lentils cooked in butter and cream), roasted onion pulao and pickled baby carrots. Guests can request for Ahara's Caviar to elevate proceedings. The presentation is spectacular – a luxurious layer of obsidian Russian Hybrid caviar, known for its nutty, creamy notes, served with hazelnut emulsion to complement the strong flavour of the caviar and laid atop a bed of puffed buckwheat. It is a salty, earthy dish, an intriguing dance of textures and flavours. The combination of caviar, a premium ingredient, and buckwheat, which is a staple among India's middle to lower class, also hints at Chef Roy's humble beginnings, and the lofty career he has had at some of the world's finest restaurants.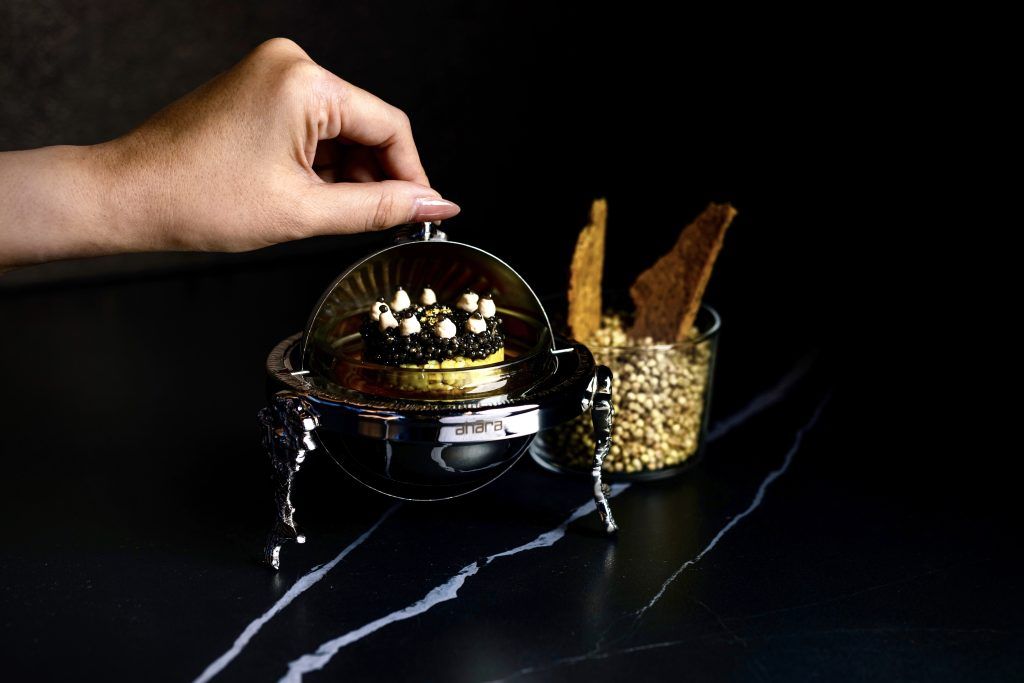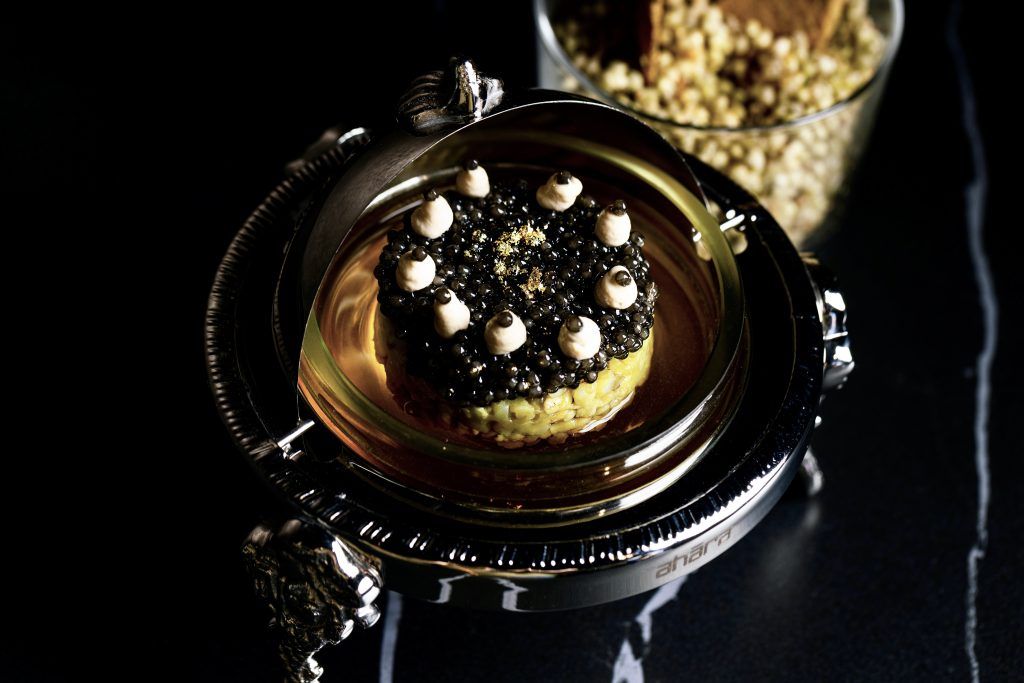 Things then come to a spectacular end with The Rose – the dessert and final course. The Rose features phirni, a creamy slow-cooked sweet pudding made with ground rice, sugar, milk, almonds, saffron and cardamom powder, aesthetically heightened with petals of cryo-roached rose – it was poached in Himalayan honey and flash frozen in liquid nitrogen. It sums up the Ahara experience perfectly – something traditionally and culturally Indian, but ennobled by modern methods and tools, as well as Chef Vikramjit Roy's experience and mastery.
"Ahāra is a product of our deep rethinking of what it means to have an elegant, unhurried, slow food restaurant that truly represents the depth and sophistication of Indian cuisine," says Simran Kotak, Founder of Ahāra. "It is an ideal of who I, and many of my generation, would like to be in the 2020s: someone with a deep sense of identity but with an unabashed internationalism."
And we can't help but agree with her.
Ahāra is at 20 Teck Lim Road. For more information, visit ahara.sg or call +65 9726 9720 to make reservations.
written by.
Suffian Hakim
Senior Writer, Augustman Singapore
Best-selling novelist, playwright and screenwriter Suffian Hakim is AUGUSTMAN Singapore's Features Editor. He writes articles on arts, culture, entertainment, cars, watches, travel and more - all in an effort to properly investigate and define that nebulous, all-encompassing L-word: lifestyle.